The Offshore Technology Conference (OTC) showcases leading-edge technology for offshore drilling, exploration, production, and environmental protection. The world's foremost event for the development of offshore resources brings together energy professionals to exchange ideas and opinions to advance scientific and technical knowledge for offshore resources and environmental matters. Since 1969, the world has come to OTC to make critical decisions, share ideas, and develop business partnerships to meet global energy demands. OTC's flagship conference is held annually in Houston. The conference gives you access to leading-edge technical information, the industry's largest equipment exhibition, and valuable new professional contacts from around the world.
OTC is considered by many in the global oil & gas industry to be the place to hear about global developments and activities within the industry. From CEOs to royalty to U.S. governors and secretaries, the world comes to OTC to develop markets and business partnerships, look for networking opportunities, and gain valuable knowledge and insights to help them take their business to the next level. Its large international participation provides excellent opportunities for global sharing of technology, expertise, products, and best practices. OTC brings together 70,000+ energy professionals which include industry leaders, investors, buyers, and entrepreneurs to from 100+ countries. The exhibition covers 500,000+ square feet of exhibit space with ground-breaking innovations and 2000+ leading providers representing 44 countries in one place, at one time. 300+ journalists from around the world attend OTC provides great media coverage.
OTC offers key insights by global experts on technological advances, safety and environmentally focused solutions, and economic and regulatory impacts. OTC is unlike commercial organizations and reinvests proceeds back into the oil and gas industry through the 13 societies. Members and other industry professionals benefit from enhanced technical and professional competence because of the societies' investments. The conference features 350+ peer-selected technical presentations, leveraging 13 societies' collective knowledge and covering topics from the wellbore to topsides and everything in between. Working with the US Department of Commerce, OTC organizes industry breakfasts which offer expert views on doing business in emerging geographic areas of interest for the oil and gas industry. OTC attracts the biggest names in the oil and gas industry. The result is the opportunity for companies to develop business relationships and tap into emerging regions that are vital to offshore development.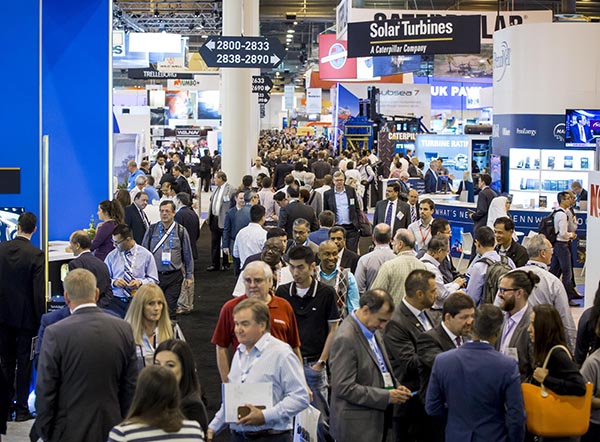 Contact Organizer
Mailing Address: 10777 Westheimer Road, Suite 1075, Houston, Texas 77042, USA
Phone:
Fax:
Email: