NeoCon, the most important commercial interiors show in North America, brings the latest products, trends and ideas to market. Held every June at The Mart in Chicago since 1969, NeoCon serves as the commercial design industry's launch pad for innovation—offering ideas and introductions that shape the built environment today and into the future. Trends in residential, hospitality, health-care, education, and workplace interiors continue to converge and intersect. NeoCon is committed to building a sustainable environment that supports the growth and success of the industry while creating networking opportunities as well as dynamic and diverse learning experiences for the commercial design world's manufacturers, dealers, architects, designers, end-users, design organizations and media. Through its first five decades, NeoCon has showcased commercial design's response to technological advances, cultural change, and growing ecological consciousness.
NeoCon today remains the premier platform for connecting, learning and doing business in the industry, providing unparalleled access to the latest and most innovative solutions in commercial design. The three-day event attracts nearly 50,000 design professionals. NeoCon showcases over 300 brands, 200 Contract Showrooms and 200 Residential Showrooms which are organized to provide a comprehensive, easy-to-navigate experience as well as a myriad of game-changing products and services from both leading companies and emerging talent on nearly 1 million square feet of exhibition space. The trade show launches thousands of new products every year to satisfy a wide range of specification needs. These products include building products, contract accessories, floor coverings, furniture, lighting, outdoor products, technology, textiles, tile, stone & other surfaces, wallcoverings and more.
NeoCon is vibrant hub for a non-stop schedule of networking, events and celebrations. The commercial design community converges each year at NeoCon to connect, learn and do business. The exhibition is complemented by first-class educational programming featuring over 100 accredited seminars, special programs and keynote presentations that help continue to push the boundaries of design and be a crucial incubators of ideas in the industry. The show has remained focused on being at the forefront of changing commercial design and business trends. The marquee presentations and CEU programs will offer world-class expertise and insight about today's most relevant topics as well as the future of commercial design.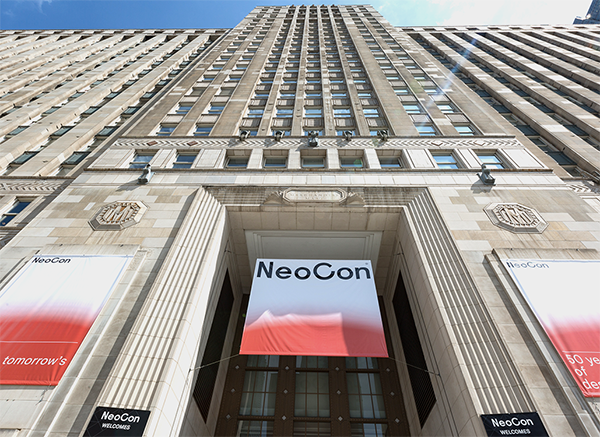 Contact Organizer
Phone:
Email: