Guangzhou International Lighting Exhibition (GILE) is an influential exhibition with a huge selection of interesting lighting products and technologies appealing to suppliers and customers. GILE is huge when compared with other conferences, and participating in this fair enables you to see and be seen in the market. Here, you can interact with industry professionals and competitors to better comprehend the real market situation and dynamics. The exhibition also provides attendees a great chance to learn how many players are in the industry and how active they are.
As a professional platform among industry fairs worldwide, the show makes business opportunities, the most up-to-date technologies and design concepts open to the lighting community. Accompanied by a wide-ranging concurrent event program, the expo will address hot topics encompassing convergence in the world of lighting. The last edition of GILE welcomed a total of 2,626 exhibitors who demonstrated the latest in lighting and LED products and solutions across 200,000 sqm of exhibition space. at the China import and Export Fair Complex in Guangzhou, China.
Guangzhou International Lighting Exhibition (GILE) continues to be seen as the industry's most vital platform for information exchange, education and business transactions. Over 172,856 visitors from 133 countries and regions gathered at the 2019 fair. The rise in visitor figures demonstrates the renewed industry-wide confidence and positive future outlook for the lighting community. The top 10 overseas visiting countries and regions, in order of highest attendance, were Hong Kong, Taiwan, India, Korea, Thailand, Singapore, the US, Australia, Italy and Germany. Among them, trade based visitors accounts for 44%. Ther're chain stores, commercial agents, E-retailers, distributors, exporters, importers, and wholesalers. Project based visitors including architects, building contractors, building technicians, service providers, design studios, energy suppliers, planners and engineers, procurement authorities, property developers, and system integrators represent 19% of the total visitors classified by business nature.
Guangzhou International Lighting Exhibition as more than just a business platform, but as an insightful and engaging industry gala featuring specialists from around the world. The fair put into perspective how lighting and its many applications may have an impact on people's daily lives and increase living comfort. The lighting industry has embraced the concept of "Internet of Things". As the lighting industry continues to undergo its digital revolution, thoughts are now turning to how lighting can expand its scope by becoming fully connected and a smart device. The event program will go into depth about how the lighting industry can leverage on cross-industry technologies in order to develop smart lighting and link seamlessly with other devices.
The Guangzhou International Lighting Exhibition runs concurrently with Guangzhou Electrical Building Technology. Both are a part of Messe Frankfurt's Light + Building Technology fairs worldwide, headed by the biennial Light + Building event. Messe Frankfurt also offers a series of other light and building technology events worldwide, including the Shanghai International Lighting Fair, Thailand Lighting Fair, BIEL Light + Building in Argentina, Light Middle East in the United Arab Emirates, Interlight Moscow powered by Light + Building in Russia as well as Light India, the LED Expo New Delhi, and the LED Expo Mumbai in India.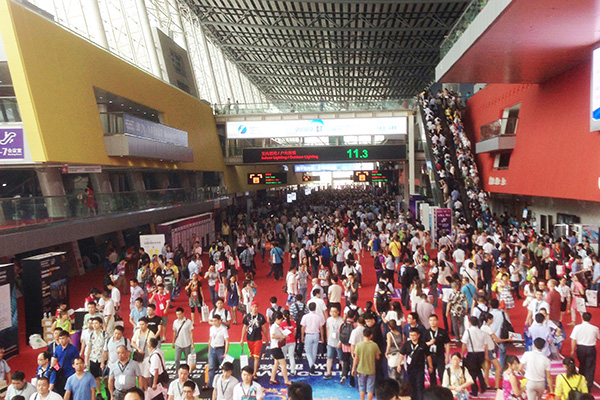 Contact Organizer
Phone:
Fax:
Email: