The World Energy Engineering Congress (WEEC), presented by the Association of Energy Engineers (AEE), is the largest energy conference and technology expo held in the U.S. specifically for business, industrial and institutional energy users. The event is designed specifically to facilitate those seeking to expand their knowledge of fast-moving developments in the energy field, explore promising new technologies, compare energy supply options, and learn about innovative and cost-conscious project implementation strategies. The conference and technology expo focuses on the global strategies, technologies, services and solutions marketplace for energy management, high-performance buildings, energy supply, and power and facility management, as well as the latest developments in clean, renewable and sustainable energy technologies. It brings together the top experts in all areas of the field to help you set a clear, optimum path to energy efficiency, facility optimization and sustainability.
The conference is designed to provide hands-on, up-to-the-minute information you can use right away to improve your energy management program, and get up to speed on the current generation of innovative technologies available to help you meet your goals. WEEC show attendees are top energy decision makers from business, industry and government. Reach customers who are actively seeking the latest generation of innovative and cost-saving energy technologies and services for their facilities by placing your product and sales team on the show floor. If you market any of the products or services listed here, exhibiting at this high impact sales event will place you in the forefront of the energy marketplace. Benefit from multiple events designed specifically to help you network with conference attendees. The Expo Hall Luncheon brings conference attendees directly to the tradeshow floor. The Expo Hall Reception allows expo and conference attendees to wind down and enjoy a social atmosphere on the tradeshow floor and at your booth.
The WEEC conference features prominent keynote and guest speakers, as well as recognized industry experts from commercial business, academia, facilities, municipalities, and government. The multi-track conference allows attendees to learn about the latest developments in the industry. Every seminar is led by an instructor with extensive industry knowledge and expertise. The seminars are designed to provide preparatory training for professional certification exams. A number of special networking events will be held in conjunction with WEEC, including the AEE International Awards Banquet and Legends in Energy. Awards programs extend special recognition to individuals and organizations that have demonstrated notable contributions to the profession through individual accomplishments, noteworthy projects, or outstanding corporate energy programs.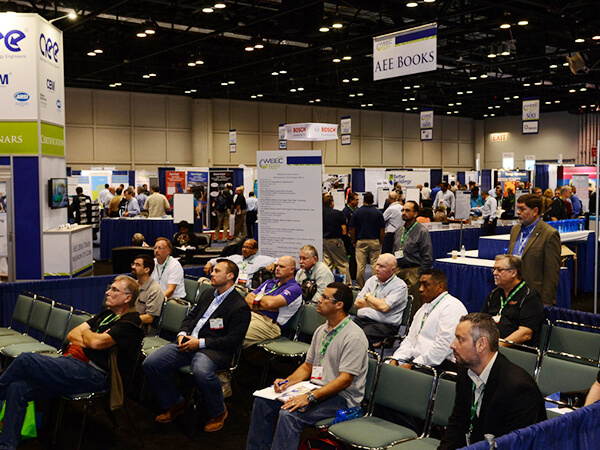 Contact Organizer
Phone:
Email: