LIGHTING FAIR 2019 is the largest comprehensive lighting exhibition in Japan. The exhibition is jointly held by the Japan Lighing Manufacturers Associatioon and Nikkei Inc. It will present a vast array of the latest lighting products that are fundamental elements of building comfortable, safe, and highly convenient lighted environments, as well as the latest control systems and measuring equipment that help improve lighting performance. As a venue for gathering and providing the latest information for the construction of the spaces for the development of comfortable cities, LIGHTING FAIR 2019 is expected to attract 200 companies (700 booths), 80,000+ visitors, from different industrial sectors, including construction, designing, electrical construction, electrical equipment, retail, distribution and manufacturing, during the four days. Urban restructuring and infrastructure rebuilding are being carried out at an accelerated speed with the opening of the 2020 Tokyo Olympic and Paralympic Games in 5 years' time. The realization of a lighting environment that is more pleasant, safe and user-friendly is one of the key phrases in the "next-generation city development." It is likely that the significance of the holding of this exhibition will continue to increase at the social level as well. It is an extremely effective exhibition for you to grasp business chances for lighting in Japan!
The fair consists of following zones:
General Lighting Zone
Residential lighting, Office lighting, Store lighting, Factory lighting, Street lighting/securitylighting, Exterior lighting, Stage and studio lighting, Vehicle lighting, Lighting for agricultural, fisheries and medical use, Lighting control equipment, Dimmers, LED modules for lighting, LED bulbs, Straight tube LEDs, Fluorescent lamps, CCFL, OLED light
Applied Lighting and Lighting for New Purposes Zone
IoT or AI network services/solutions, use of big data, location information connectivity, agricultural lighting, fishing lighting, medical lighting, ultraviolet or infrared light source, etc.
Material, Component and Device Zone
LED chips, Primary LED materials, Packaging materials, Power Supply, Drivers, Heat sinks, Light guide and diffusion materials, Lenses, Reflector plate, Switches, Stabilizers, etc.
Measurement, Manufacturing Equipment and Simulator Zone
Photometry and colormetry equipment for lighting, Testing equipment, Manufacturing equipment, etc.
Space Rendering Zone, "Connected" through Lighting
Manufacturers, developers, retailers or leasing companies of lighting, sound, or digital design equipment or staging equipment operators. Digital signage, video walls, projection mappings, sound equipment, image or video processing software, AI/VR services, laser staging equipment, staging equipment for studios, stages, and other large-scale facilities, software and application development, entertainment-related commercial material, and special lighting, etc.
Information and Publishing Zone
Lighting design, Lighting consulting, Lighting-related information and publications, etc.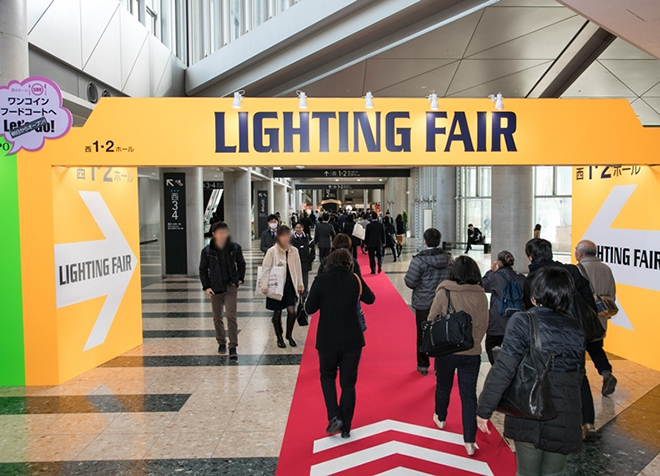 Contact Organizer
Mailing Address: 5-1-2F, Kojimachi, Chiyoda-ku, Tokyo 102-0083
Mobile:
Phone:
Fax:
Email: