The 2019 Australian Smart Lighting Summit is tailored to reflect an all-inclusive range of topics prevalent to public lighting; including but not limited to, human centric lighting, funding opportunities, connected lighting, smart pole technology, sustainability and street light replacements. The Summit will shine a light on the challenges faced when developing and executing smart urban, outdoor, street and public lighting. Taking place on the the 28th - 29th of August 2019 at the Melbourne Convention and Exhibition Centre, the event will bring together a wide range of knowledgeable senior-level professionals to present on developments faced by both councils and lighting professionals.
Annually attracting upwards of 200 attendees, the Australian Smart Lighting Summit brings together a wide range of local and international expert speakers as smart lighting controls and networks are rolled out across Australia. The Summit featured both national and international speakers who will present on and discuss the technological innovations, long-term sustainability and implementation surrounding exterior lighting. Participating in this distinguishable lighting event allows delegates the opportunity to network with industry peers while exploring the aesthetically pleasing, architecturally sound and visually captivating lighting technologies on show for the duration of the summit. The event will examine the technology contributing to the concept of smart lighting, how to strike a balance between natural and artificial lighting and how councils can utilize it.
The Australian Smart Lighting Summit is once again the lighting industry's must-see even. It features keynote presentations covering intelligent street lighting, sustainable lighting retrofitting and the ever-expanding Internet of Things delivered through a combination of keynote presentations, case-studies, panel discussions and roundtables. With populations across the globe steadily increasing, upgrading our city infrastructure becomes highly pertinent. Smarter street lighting solutions can lead to increased safety, lower crime rates, economic savings, decreased light pollution and an increase of the night-time economy. Intelligent lighting poles and its impact in society, the role of smart lighting in a smart city and the future of smart lighting are just a few topics the summit will touch on.
Participating in this distinguished event allows attendees an unparalleled opportunity to engage in networking events with industry experts, whilst simultaneously exploring the latest and most innovative lighting technologies being exhibited for the duration of the summit. With keynote presentations covering intuitive lighting fixtures, expansive case studies and the ever-changing environment of urban, public, outdoor and street lighting, the 7th Annual Australian Smart Lighting Summit is a must-see event.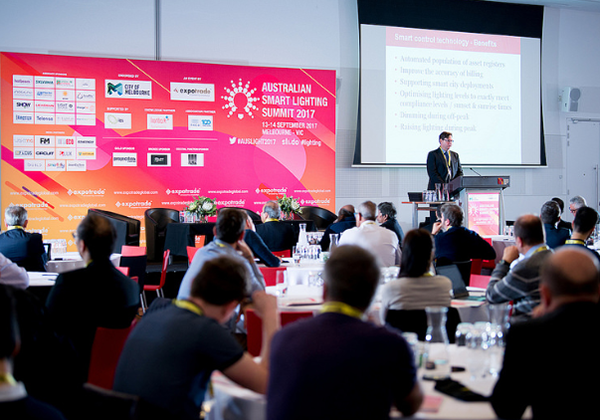 Contact Organizer
Mailing Address: Suite 1, Level 1, 2 Brandon Park Drive, Wheelers Hill VIC 3150 Australia
Phone:
Fax:
Email: