The world of lighting comes together at Lighting Technology in Essen, Germany. With its combination of international trade fair and workshops, Lighting Technology serves as the interface between the different stages of production. The event acts as a platform for dynamic discussions about the ever changing world of lighting technology and its innovations, and, as such, is an important factor in the competitiveness of the sector. The success of last edition demonstrated that Lighting Technology is perfectly designed for developers and other experts in the industry: intense discussions created a productive working atmosphere and generated valuable leads, concrete requests and new ideas for the exhibitors to take home with. The will be held in Essen, which is in the heart of North Rhine Westphalia and at the gateway to the lighting industry in Germany. It is easily accessible for visitors from Germany and abroad, whether by car, train or plane.
The high rate of innovation, new applications for intelligent light, topics such as human centric lighting, the internet of things or smart home, amongst others, are attracting start-up companies and industry-leading innovators that are developing new ideas and solutions. Whether it's for indoor or outdoor lighting, for decorative or technical lighting, or in areas such as human centric lighting, vehicles (road, rail, water air), the internet of things, smart home, engineering, medical technologies, furniture or shop-fitting, you will find the latest products and solutions for today's and tomorrow's production challenges at lighting technology. The exhibition at Lighting Technology will cover following categories:
Communication electronics and bus-systems
Wlan modules, Bluetooth, LAN, DALI, DMX, EIB, KNX, ENet, LON, digital current
Control gear
Power supplies, electronic ballasts, constant current sources, transformers, LED operating devices, control units, dimmer
Controlling software
Electricity, power supply units, operating devices, constant current sources
Conventional Illuminants
Discharge lamps, induction lamps, plasma lamps, halogen lamps, light bulbs
Cooling
Heat sinks, heat pipes, active cooling elements, heating conduction pastes, thermal adhesives, heat conduction foils, thermal control pads
Day light control
Light pipes, light sail, light collectors
Development software
Light simulation, raytracing, cooling simulations, layout software
Electronics packaging
Metal core boards, ceramic boards, FR4 boards, FPC, lamp holders, direct bonding, coating, installation elements, plugs, jacks, terminals, cables, power distribution units, switches, construction materials
Equipment for technical and decorative lamps
Glas scatter varnish and coating for lamps
Housings
Aluminum housings, thermal conductive plastics, semi-finished products, aluminum profiles
Lighting control system
Control panels, operating systems, switches, controls for building system technology
Measuring instruments
Electronic measuring instruments, light measuring equipment
Optical components
TIR-lenses, fresnel-optics, free-form optics, light conductors, reflectors, optical components, scattered discs
Power electronics
AC/DC-converter, DC/DC-converter, switching regulators, LED drivers, power semiconductors, power transistors, inductors, capacitors, EMC-anti-interference components
Sensors and light control systems
Precision sensors, motion detectors, IR-Sensors, radar sensors, illuminance sensors, dusk sensors, light sensors
Services for development and test
Services for the development of lighting systems
Lamps and light designers, design engineers, light simulation software, raytracing programs
Solid State Lighting
LED, LED-Arrays, OLED, laser diodes, LED modules, LED-Stripes, rgb- and rgbw-LED, uv-LED
In the workshops at lighting technology specialists will help foster a broad range of know-how and speed up the pace of innovation in participating companies, by sharing their hands on and user oriented practical knowledge as well as results from research and development projects at the workshops. The event the focus will be on the digitization of lighting with presentations on topics such as connected lighting, wired and wireless lighting control systems, Smart Home, IoT (Internet of Things), bus-systems or appdevelopment for lighting control systems. Ideas, concepts and processes with considerable application and innovation potential will be presented and discussed at the workshops.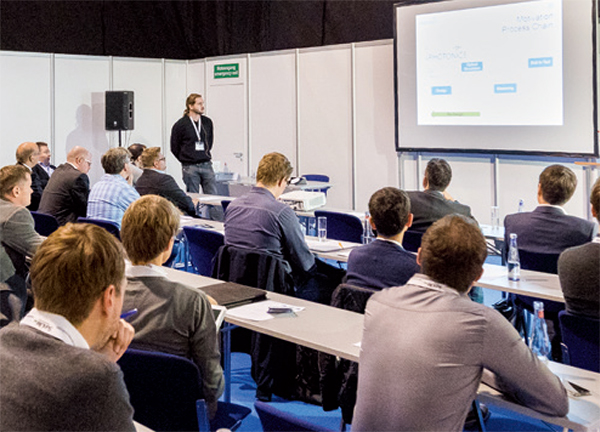 Contact Organizer
Mailing Address: Heilbronner straße 150, 70191 stuttgart, Germany
Phone:
Fax:
Email: