The SEMA Show is the premier automotive specialty products trade event in the world. It is the only trade show that brings together every segment of the automotive industry, from hot rods and off-roads, to mobile electronics and collision repair. The event presents your latest creations to more than 70,000 buyers from every segment of the specialty-equipment industry. The displays are segmented into 12 sections: Business Services, Collision Repair & Refinish, Global Tire Expo Powered By TIA, Hot Rod Alley, Mobile Electronics & Technology, Powersports & Utility Vehicles, Racing & Performance, Restoration Marketplace, Restyling & Car Care Accessories, Tools & Equipment, Trucks, SUVs & Off-Road, Wheels & Accessories. A dedicated New Products Showcase section will showcase more than 3,000 new and featured products to a global audience of buyers and media. The sales exposure and brand-building visibility you will gain in SEMA is sure to boost your business. The SEMA Show is a trade-only event and not open to the general public.
This years' SEMA Show is going to be an event that you definitely don't want to miss. 2,400 exhibiting companies including veteran manufacturers and brand-new-to-SEMA manufacturers will be displaying their latest and most innovative new products. New products. New technology. New resources, connections, ideas and information. When it comes to delivering everything you need to fuel sales and grow your business, nothing performs like the SEMA Show. With attendees from over 140 countries, SEMA recognizes the importance and value that international buyers have at the SEMA Show. The SEMA Show is the largest annual gathering of small businesses on the planet. It's the place where more than 162,000 industry professionals connect to do business. The SEMA Show gives exhibitors more opportunities to make new connections and build relationships with distributors and retailers outside of the exhibit halls at industry receptions, banquets and award presentations.
The SEMA Show not only draws the industry's brightest minds and hottest products filling over a million square feet of the Las Vegas Convention Center, the Las Vegas Convention Center. The event provides attendees with educational seminars, product demonstrations, special events, networking opportunities and more. Its robust educational program provides opportunities to develop new business through workshops and demonstrations to specific customers and prospects. Take advantage of free business-building seminars for you and your staff to empower your business, grow and succeed.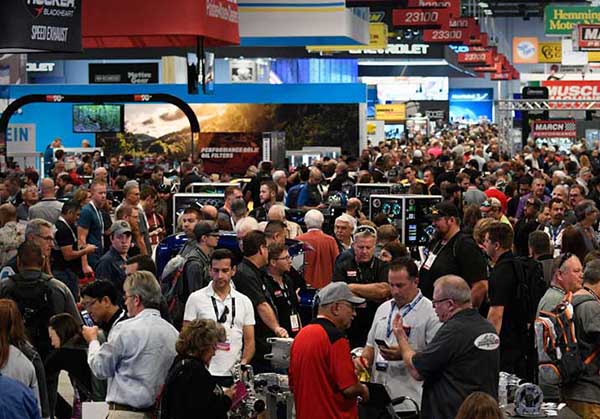 Contact Organizer
Phone:
Email: