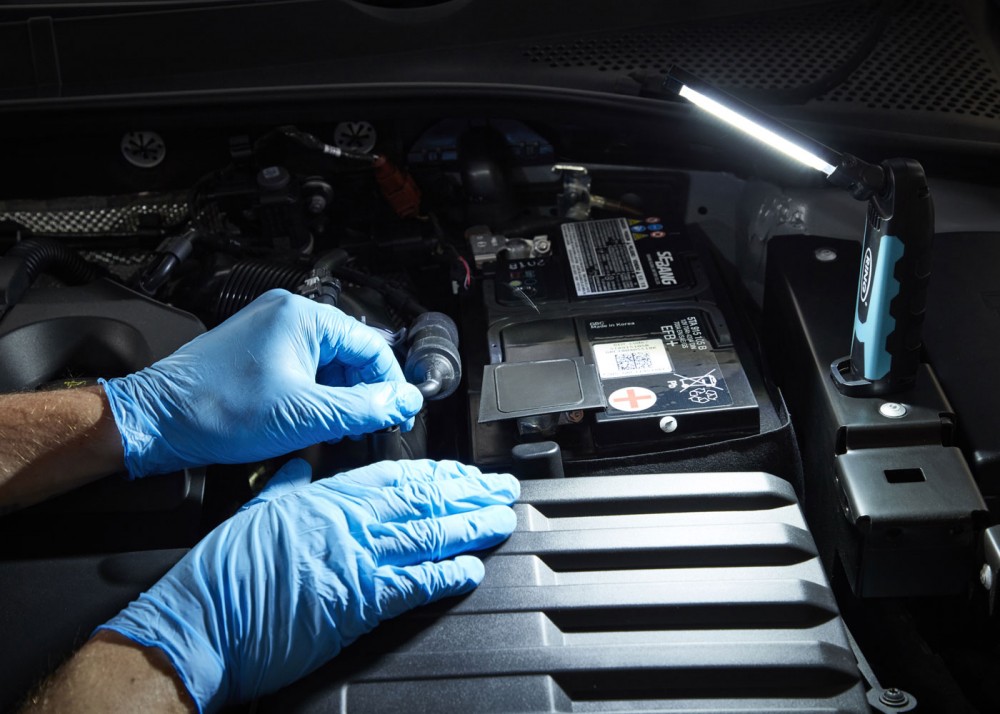 A handy LED inspection light designed to illuminate the tightest of spaces and difficult-to-access areas, MAGflex Pivot RIL3900HP/REIL3900HP created by Ring Automotive deliver unprecedented flexibility and convenience for all work on vehicles. This ergonomically designed handlamp is the ultimate mechanics tool for efficient, effective task lighting in car inspection, maintenance and repair facilities. MAGflex Pivot integrates work light and flashlight functionality in a slim, virtually indestructible package with a robust design. Not only does MAGflex Pivot make complex and challenging work in garages and workshops easier, faster and safer, this versatile LED inspection light has been developed to provide high quality lighting for industrial locations where precision work is being performed.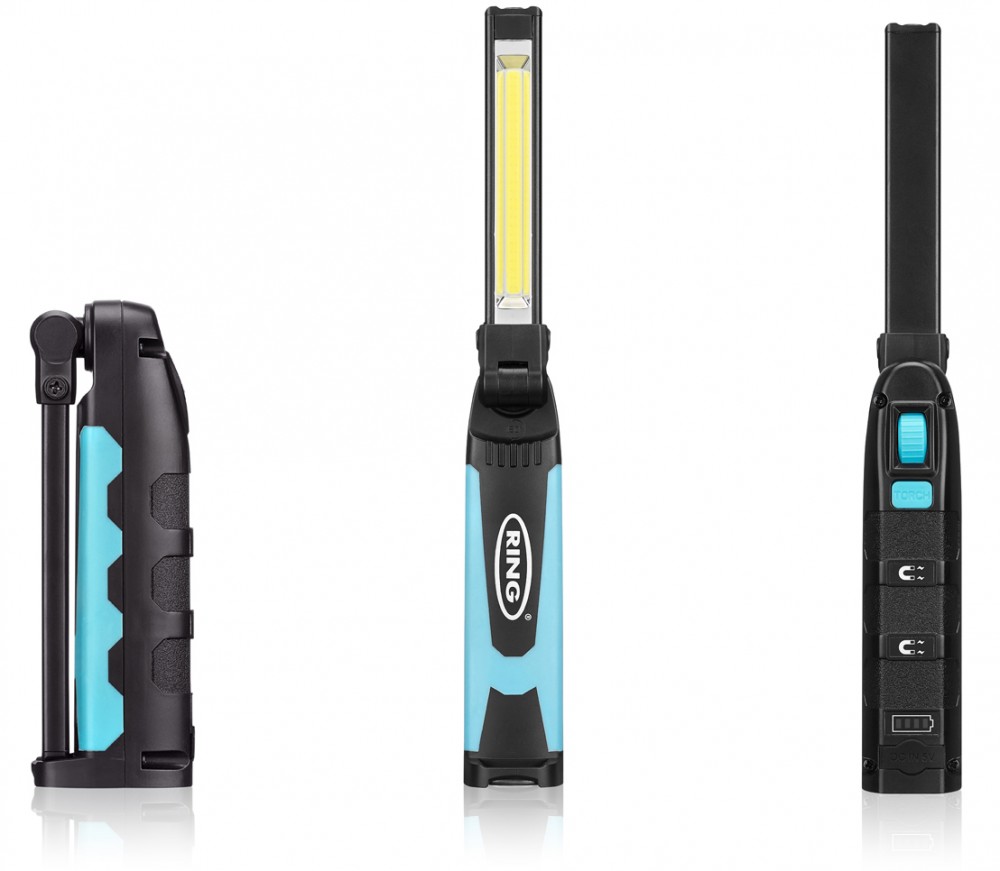 When folded the pocket-size work lamp carries a very small footprint with a measurement of 233 mm in height, 29 mm in width and 43 mm in depth. It weighs only 0.21 kg with battery, which translates to reduced operator fatigue. Thanks to a thoughtful, mechanics-friendly design, MAGflex Pivot boasts of superb mounting versatility and application flexibility that are nowhere to be found on the market. An inventive multi-axis rotation and tilt mechanism allows the beam direction of the lamp to be adjusted to direct the light exactly where it is needed. The unfolded light head is only 6mm thick, which means this super slim light can reach in even the narrowest of gaps in the engine bay.
Extreme user-friendliness is one of the defining features that set MAGflex Pivot apart from competition. The handheld work light is not simply designed for ergonomic single-handed operation, it offers even more hands-free versatility. An integral hanging hook allows for suspended task lighting. A strong magnet in the bottom makes the light stand stickered on any metal top. The backside of the lamp is also embedded with two magnets that allow vertical attachment to any metal surface.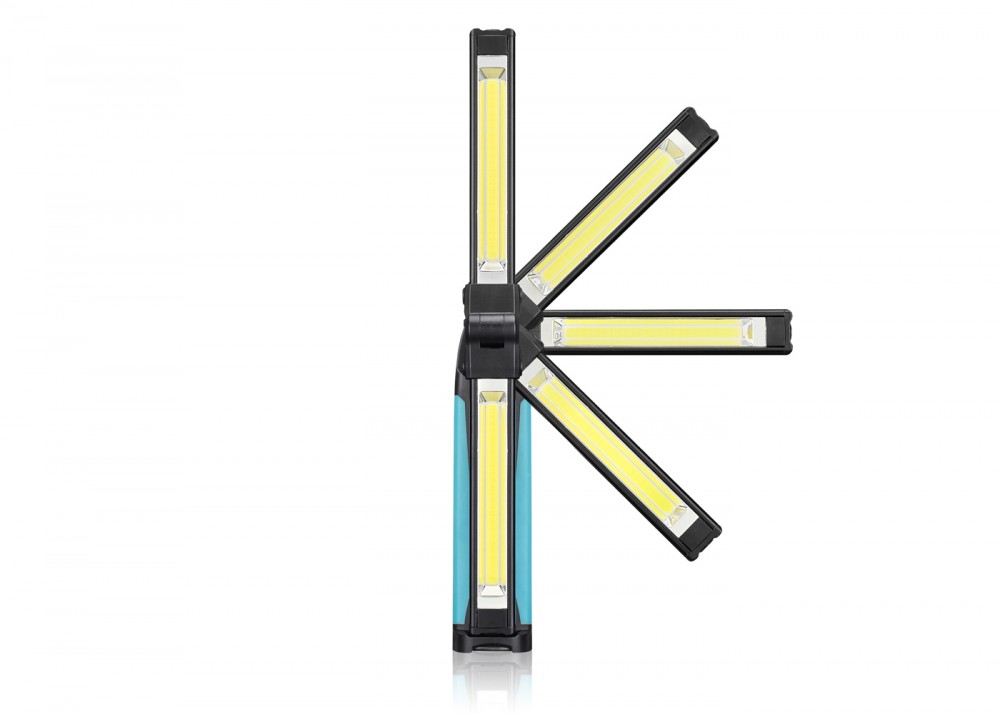 The MAGflex Pivot handlamp packs an exceptional punch with an impressive light output of 400 lumens. The lamp's floodlight module uses a linear array of COB LED which delivers an outstanding combination of high luminous efficacy and flux density. The COB technology supports the best-in-class light output uniformity across the module length. Uniform flood lighting balances coverage and intensity, ensuring excellent visibility on the illuminated area. The inspection light also comes with a spotlight module that is integrated in the front end of the light. It gives Pivot a flashlight function. Its focused beam can also be used to pinpoint an area of interest, which facilitates communication with foremen, inspectors, colleagues, etc. The LEDs are supplied in 6000K, a color temperature that makes people keep alert, concentrate better, and feel invigorated and excited to share ideas.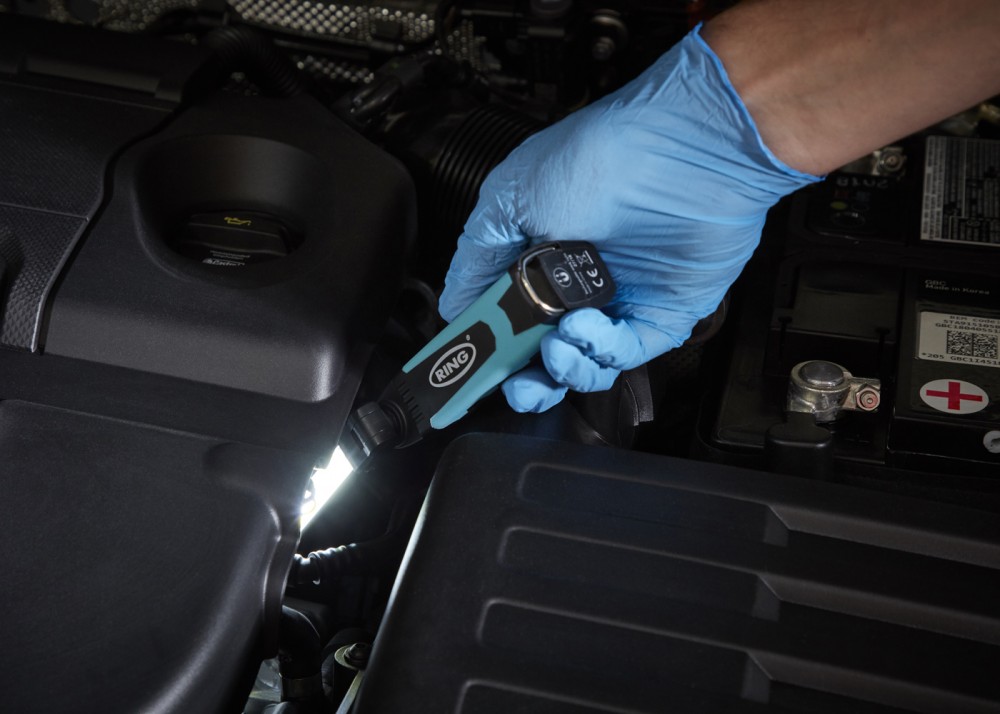 The high efficacy LED modules are powered by a rechargeable 3.7V, 2600mAh lithium-ion battery which provides 3 hours of burn time at full output on a single 4-hour charge. A dimmer switch allows fast and simple transitioning between full and dimmed power so that the user can control the light output to achieve maximum visual comfort while saving power for an even longer runtime. The battery is charged by an external power adapter that accommodates 230V AC 50/60Hz input and outputs 5VDC 1000mA. The handlamp has an indicator that shows remaining battery power. The RIL3900HP comes with a 3-pin charger and the REIL3900HP is supplied with a 2-pin charger.
The durable lamp is engineered to be tough enough to endure the rough, wet and dirty conditions of the professional working environment. Constructed with a scratch- and impact-resistant polycarbonate lens and high strength, crushing-resistant aluminum/ABS housing, MAGflex Pivot can survive knocks and drops that may occur within a garage or workshop. An anti-slip grip allows for comfortable hand-held operations. The floodlight dimmer switch and push button torch switch provide excellent ergonomics for convenient hand control even with safety gloves.