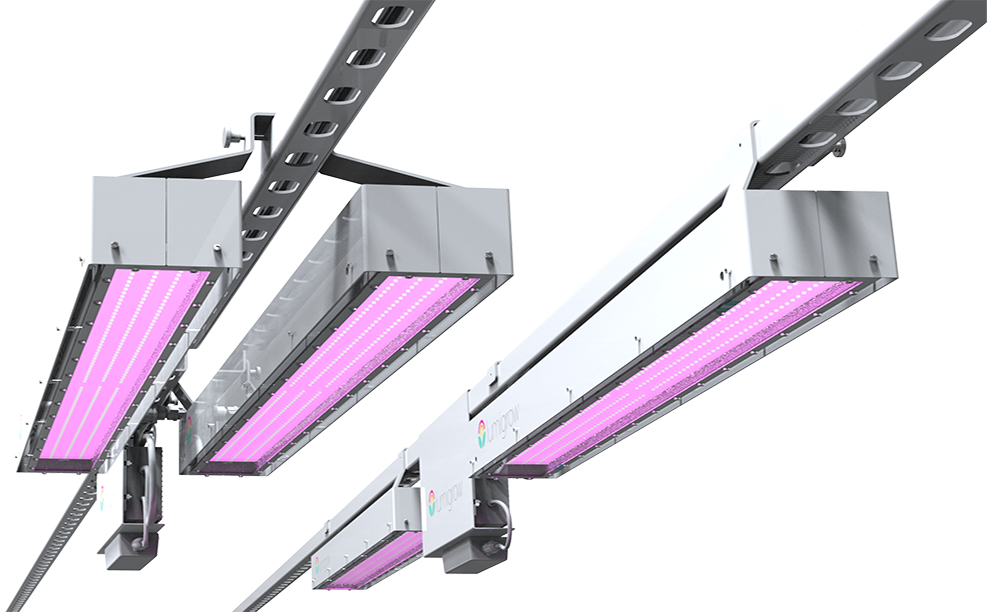 LumiGrow TopLight is a smart horticultural lighting solution capable of being dynamically controlled with remote light management software to optimize spectral outputs in a way that makes the most sense economically. LumiGrow engineers partner with growers and scientists to develop a robust fixture that is rugged, energy efficient, easy-to-install, and spectrally adaptive to the lighting needs of different plant species and growth stages. This dependable, spectrum-adjustable LED fixture is designed for professional horticultural lighting applications, including indoor (single or multitier) cultivation facilities and commercial greenhouses where production is pushed to the maximum and a higher ROI is an endless quest.
The TopLight fixture comes with two light bars connected to one TopLight Node, LumiGrow's proprietarily developed smart power supply, for flexible deployment and powerful growth. Drawing a total power of 620 Watts, the grow light produce a market leading PPF of 1440 µmol/s. High intensity lighting allows TopLight to provide lighting for ultra-dense farming applications commonly found in controlled environment agriculture or to satisfy the PPFD requirement in a specific stage of the plant growth when a high photosynthetic rate should be reached. With a system efficacy reaching 2.3 μmol/Joule, significantly less energy is required to produce an equivalent amount of PAR compared to high pressure sodium (HPS) lamps. With this high power, high efficiency platform, TopLight effectively delivers penetrating light onto targeted plants to excite every photosystem. This commercial grow light is engineered to offer all the proven benefits of LED technology, including minimal heat radiation that allows for maximum irradiance at close proximity to plant canopy.
The 2-bar system provides high configurability for versatile deployment and is built to deliver the reliability required to handle the harsh conditions of greenhouse and indoor environments. TopLight can be configured for in-line deployment or double-mounting deployment. In-line deployment allows you to string the discrete light bars across the length of a strut for the maximum footprint possible at the lowest cost. Double-mounting deployment arranges the light bars side-by-side using double-hanging brackets, thereby increasing both lateral coverage and light intensity. The discrete design not only provides great mounting flexibility, but also enables LumiGrow to build the most rugged fixture in its class. Most LED horticultural lighting systems available on the market integrate the power supply and LED light engines into one enclosure. This will inevitably expose the high temperature sensitive driver electronics to thermal stress imposed by the neighboring LED engines.
TopLight's external driving scheme relieves the critical electrical system from thermal-induced performance degradation and premature failure. Aside from that, the self-contained light assembly offers unprecedented durability and thermal performance because no compromise in system design has to be made in order to accommodate the otherwise built-in power supply. The light bar housing is constructed from extruded aluminum which provides efficient heat sinking to draw away the waste heat from the LED junction. The LED module is protected by tempered glass and sealed to an IP67 rating. Together with electrostatically applied thermoset polyester powder coating that lends excellent corrosion resistance to the housing, TopLight can withstand even the most stringent cultivation environment where daily watering, high pressure wash-downs and airborne contaminants pose a significant challenge to enclosure integrity and durability.
The TopLight Node is a smart 3-channel power supply that allows for precise spectral control. Designed as a constant current source with high performance regulation at exceptional operating efficiency over a wide range of operating conditions, the TopLight Node provides superior output characteristics that match the electrical requirements of the LED module as well as high reliability that matches the long lifetime of the LEDs. Integration with various LumiGrow accessories enables precision lighting management through wireless control and addresses the complicated demand for controllability and flexibility in horticultural lighting. The external power supply is provided with a complete kit of mounting accessories that facilitates hassle-free installation and ensures high watertight integrity. The driver operates on standard voltage (120V-240V) with NEMA 5-15 cabling or high voltage (277V-480V) with pigtail cord connection.
With the smartPAR Wireless Control System, LumiGrow LED fixtures can be monitored and controlled in real-time to optimize lighting for optimal spectral output to promote photosynthesis while reducing energy consumption. The ability to use the smartPAR software to program light recipes, automate zones, and gain control over light intensity, spectrum, and photoperiod gives LumiGrow TopLight a gamechanging advantage. Simply plug the smartPAR module into the TopLight Node you'll be able to control the fixture from any smartphone, tablet, or computer. Control the spectral output to trigger healthy plant responses. Tweak the ratio of blue to red light to influence plant height, shape, size, color, flavor and nutrition. Set up growth zones across production batches and plant species for accurate light management. smartPAR for Greenhouse comes with LumiGrow Light Sensors which are used to automate your perfect lighting strategy and allows you to save a significant amount of energy while accurately meeting the crop's DLI needs.
Available in two spectrum options, the LumiGrow TopLight provides enhanced spectral output from either a targeted or hybrid LED array. Targeted spectrum customers take advantage of the industry's most advanced adjustable spectrum designed to excite the best photosynthetic and photomorphogenic responses to a multitude of plant species. This specifically formulated diode ratio emphasizes the output of red (600-700nm) and blue (400-500nm) wavelengths in the essential PAR range while offering adequate broad spectrum that can be tuned to control biochemical and biophysical processes for healthy plant development. Hybrid spectrum is a white-rich spectral composition which replicates high pressure sodium and metal halide lighting with improved curve of photosynthetically active radiation. This spectrum is designed to offer an easy and intuitive switch from HID to LED.