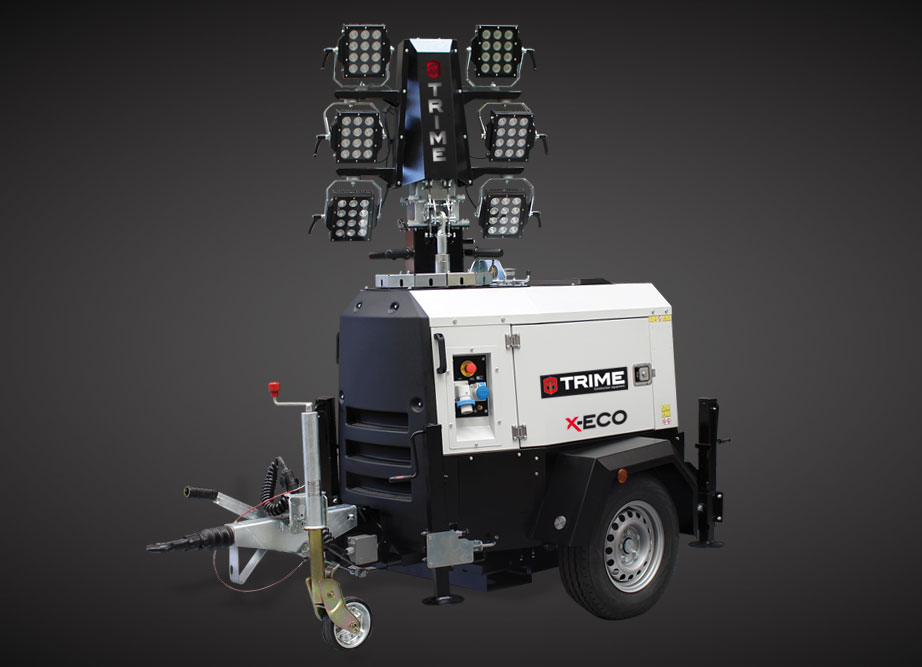 When it comes to mobile, powerful and dependable solution for temporary and emergency area lighting, look no further than Trime X-Eco. The mobile light tower is a fully featured, towable, and diesel engine powered LED lighting system that boasts long run times, high operational efficiency, outstanding optical performance, and excellent maneuverability. Robust power platform combined with state-of-the-art LED technology provides an impressive combination of brilliant illumination and extraordinary fuel savings. The X-Eco light tower is built to address the growing need for a product that provides maximum performance at minimum cost. Trime continued its tradition of design innovation and engineering excellence in mobile lighting systems. X-Eco is ideally suited to provide high quality, cost effective illumination for jobsites, mining areas, outdoor events, parking lots, road maintenance, construction sites, civil engineering works, airports, and any other application where on-demand lighting is desired.
The X-Eco towable lighting system takes advantage of the latest in solid state lighting to deliver extraordinary efficiency, volume of lumens, precise beam control, and unprecedented durability. The light lower is equipped with six 150W, 48V LED luminaires which combine to produce 112,000 lumens of bright white light. Powerful illumination guarantees an impressive light coverage over 3,800 square meters. These LED floodlights outperform metal halide technology in every aspect. Significantly improved luminaire efficacy translates to an extremely low fuel consumption of 0.55 liter per hour. In contrast to a comparable metal halide lighting system which has a typical fuel consumption of 1.93 l/h at an expenditure of 630 US dollars per month, X-Eco's energy efficient LED lighting system offers considerable savings of up to 460 US dollars per month on energy costs. This means a fast payback, which benefits rental businesses especially. A minimum LED L70 life of 50,000 hours vs. the 6,000-15,000 burning hours of metal halide lamps substantially extends X-Eco's high return on investment.
X-Eco's lighting system is more optically efficient, visually effective and mechanically reliable owing to the advanced lighting technology and system engineering. The directional emission pattern of LEDs, rather than sending light in all directions as with a metal halide bulb, enables more efficient use of the light energy. Trime's premium optics make the most effective use of every lumen produced while maximizing uniformity of illuminance and improving optical control for reduced light trespass and glare. High color quality allows the LED floodlights to shine with improved visual discrimination and more accurate rendering of illuminated spaces, objects, or people. Enhanced visibility helps improve nighttime operation productivity and ensure safety. The instant start LED lighting eliminates the concern of sluggish start-up and hot restrike issues that HID lighting faces. With instant full output from X-Eco's LED light engines, event organizers no longer feel embarrassed with the hot restrike process of metal halide lamps that can take up to 20 minutes when a momentary loss of power occurs. In life-critical applications such as outdoor rescues, split-second illumination recovery is essential.
No moving parts, no fragile glass, no mercury, no toxic gases, and no filament, these solid state diodes have a high resistance to shocks and vibrations. This property is highly desired in mobile lighting applications. Luminaire housing is constructed from die cast aluminum which contributes to the luminaire's rugged construction and efficient heat dissipation. High power LED packages are solder mounted to a metal-core PCB with high creep resistance that limits the amount of strain energy build-up in the solder joints and strong metallurgical bonding that reinforces the light engine's reliability. Exceptional thermal management which is attributable to the reliable and efficient thermal path and high capacity heat sinking ensures the LEDs maintain excellent lumen maintenance and consistent color quality throughout their rated life. The optical assembly is protected by a tempered glass which is sealed to the housing with a high temperature silicone gasket. IP67 level ingress protection and corrosion resistant TGIC polyester powder coating over the aluminum housing allow the luminaires to survive the rigors of rental yards and jobsites, even in the most extreme environments.
The multi-directionally rotatable and tiltable floodlights are mounted on a vertical mast that extends to a maximum height of 8.5m and rotates 340°. Flexible adjustability of the beam direction and luminaire position facilitates optical aiming, light distribution and glare control. The 7-section hydraulic mast deploys quickly and a slightly longer descent time is designed to prevent counterblows that may damage the light assembly. A safety braking system prevents involuntary spins of the mast during transport and keeps luminaire orientation during operation. The retractable mast cable is coiled to avoid tangles. Never worry about the galvanized steel mast freezing up in cold weather or corroding in harsh environment as the light tower is 100% electric and maintenance free. The vertical mast carries Trime's confident lifetime warranty, which gives you peace of mind forever. To prevent transportation with an extended mast, the AMOSS security system will automatically retract the mast in case of an accidental release of the brake.
X-Eco is powered by Kubota Z482, a vertical, water-cooled, 2-cylinder, 4-cycle IDI diesel engine which operates at 1500 rpm. Don't be fooled by its compact size. Utilizing Kubota's proprietary E-TVCS technology which improves power output, fuel economy and engine start-up, while cutting down emissions, Kubota Z482 is one of the most powerful, efficient and cleanest running diesel engines on the market. The half-float valve cover and coated pistons provide integral sound attenuation and reduce transmitted vibration from valve area. The result is superior noise reduction—just 65 dBA at 23 feet (7 meters). The 110-liter steel fuel tank provide a run time of up to 100 hours on a single fill. A super glow system reduces pre-heat time and enables quicker engine starting in cold weather. A synchronous generator provides nominal power outputs of 3.5 kVA. Auxiliary outlets with 1.2 kVA provide plenty of extra power to run additional tools and equipment.
The generator features a Deep Sea DSE3110 control module that provides a comprehensive range of features for single-set applications. The digital controller informs users of generator voltage, generator frequency, engine speed and run hours with one button navigation. Configurable, auto on/off functionality with timer and photocell allows for scheduled start/stop and dusk-to-dawn daily harvesting. The light sensor is mounted on the top of the mast. Remote start input allows for autonomy even on remote aprons. The telemetric system enables rental companies to remotely monitor their rental fleet. The engine pre-heat alarm warms the engine to a safe temperature at start-up to increase engine life. The control panel has an electric fuel gauge that provides fuel level. A circuit breaker provides electrical protection against overload.
With a passion for perfection, Trime engineers its products to the last detail. The full tank is fully bunded to 110% of the tank capacity. Plug-and-play, color coded cables and connectors ensure fault-free electrical connection. The engine canopy is made of hot galvanized carbon steel sheets and coated with 80 µm powder for excellent rust and corrosion resistance. Off-road trailer package features a wide-stance torsion axle, front jockey wheel and two tires which allow mobile tower to be transported across rugged terrain. 4 height adjustable stabilizers ensure the light tower remains constantly level and provide additional stability. Low windload design of the luminaires and highly stabilized tower base allow the lighting system to resist strong winds up with speeds up to 110 km/h. Forklift pockets on the chassis and a central lifting eye ease loading and unloading. X-Eco's compact stowage footprint means up to 14 units can be loaded on a single truck.