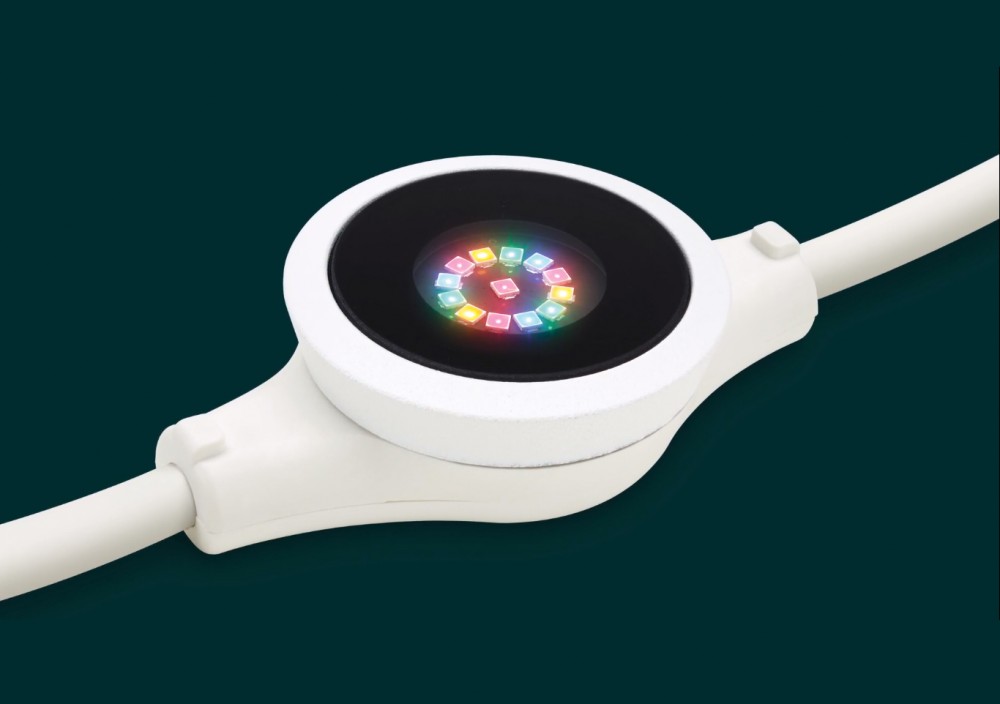 Color Kinetics, a Signify brand, continues to set new standards in intelligent LED lighting for a host of outdoor settings, including architectural, retail, hospitality, and entertainment installations. The FlexElite direct-view luminaires bring all the drama and excitement of the rejuvenating spectrum of breathtaking colors or spectacular light shows to nighttime environments. These flexible strands of individually addressable LED nodes can be mounted on the exterior of any structure and deployed in two- and three-dimensional configurations for extraordinary effects and expansive installations without the constraints of fixture size, shape, or space. Breathing life into nightscapes and creating boundless possibilities for architectural expressions, FlexElite helps landscape lighting designers to bring out the best in the appearance of arenas, skyscrapers, bridges, landmarks and theme parks.
Digitally controllable and modularly scalable, the full-color LED pixel nodes offer an intriguing architectural lighting solution to transforming building facades and architectural structures with stunning dynamic effects and spectacular light shows. The flexible form factor accommodates a variety of irregular shapes and surfaces. The exceptional illuminance of the high intensity LEDs affords superior long-distance viewing. Robust color mixing delivers intense atmospheric lighting that brings the subject alive. Dynamic integration of power, communication and control facilitates intelligent light management which automates many aspects of fixture configuration, addressing, and commissioning for unrivalled flexibility and convenience, especially in installations with multiple zones in different locations. FlexElite is the perfect all-purpose solution for highlighting specific features or elements in the environment, revealing the essential character of the architecture, and transforming building facades into attention-capturing media displays never before possible.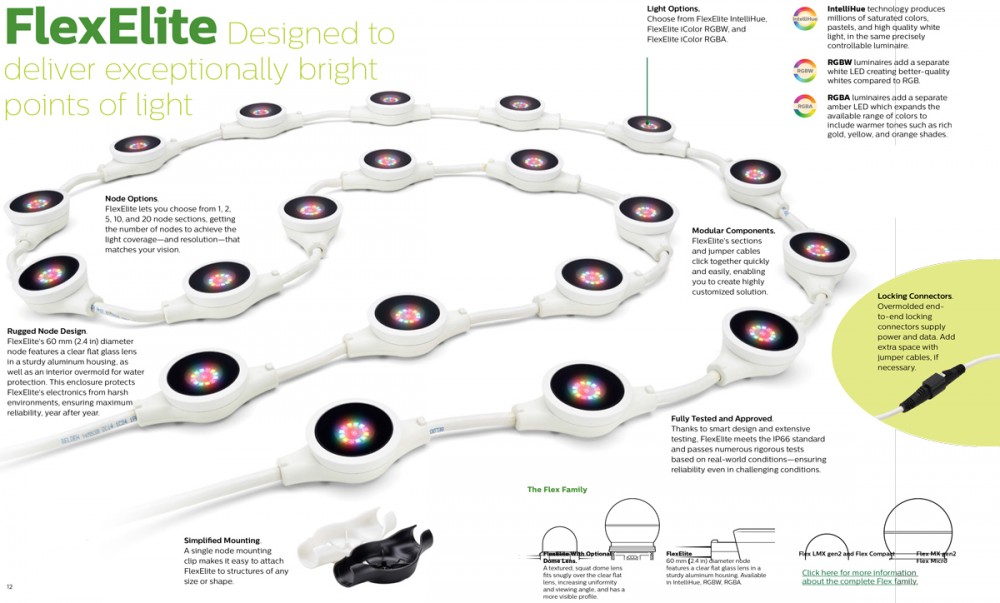 The FlexElite node is a 4-channel LED luminaire that produces over 100 lumens per node in RGBA versions, over 110 lumens per node in RGBW versions, and over 130 lumens per node in IntelliHue versions, all while consuming only 2.5 watts of power. Brighter nodes offer more reach and impact, allowing lighting designers to take on larger structures and create ambitious, large-scale designs that get noticed. The luminaire incorporates high flux density and high luminous efficacy LEDs which are thermally optimized to deliver an L80 life of more than 100,000 hours @ 25 °C or 80,000 hours @ 50 °C. The SMD LED packages are mounted to the low thermal resistance metal core PCB with strong metallurgical bonding for high reliability electrical, mechanical and thermal interconnectivity. The round LED node features a clear flat glass lens over which an optional textured, dome lens fits snugly to increase uniformity and viewing angle for optimal peripheral visibility.
FlexElite integrates advanced technologies from Color Kinetics who pushes the boundaries of what's possible in the color performance, consistency and accuracy of the multi-color ED luminaires. The additive color mixing system is endowed with the ability to produce any desired color across the visible spectrum at any level of saturation with vibrant fullness in tinted light. IntelliHue, FlexElite's advanced approach to color mixing, enables the precise control of color and high-quality tunable white light in the same luminaire. Multiple channels of LED light sources combine to produce an infinite color palette from pretty pastels to deep intense hues as well as highly uniform solid whites with unrivaled color accuracy across the entire range of color temperatures. The IntelliHue LED node includes Red, Green, Royal Blue and Lime Green LED channels. The FlexElite iColor RGBW luminaires add a separate white LED channel for creating better-quality whites compared to RGB LED nodes. RGBA luminaires include a separate amber LED channel which expands the available range of colors to include warmer tones such as rich gold, yellow, and orange shades. The full spectrum of precisely controllable light brings about unprecedented design freedom, making FlexElite a catalyst that unleashes your creativity.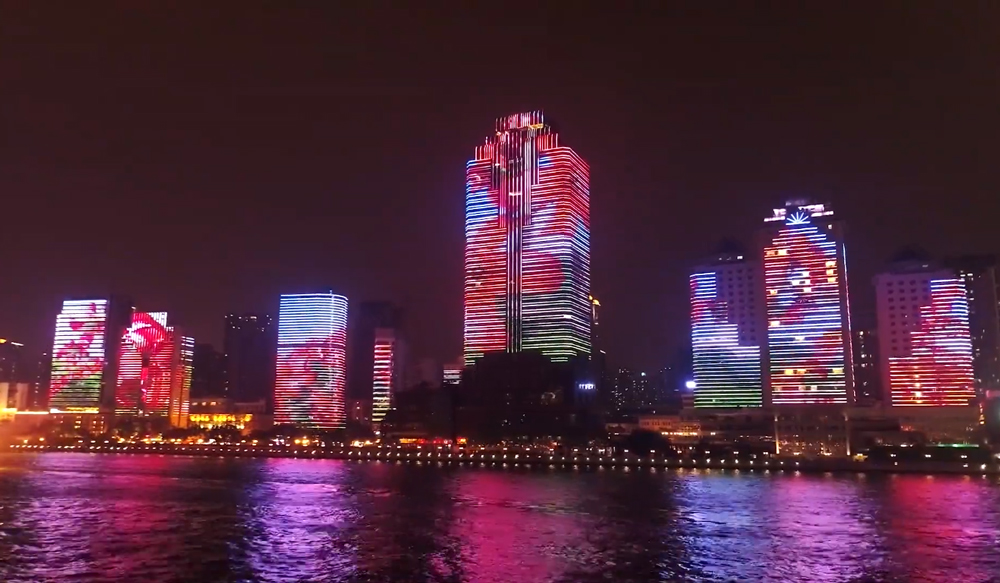 Color consistency is a critical detail in architectural lighting applications. Optibin, a proprietary binning algorithm for characterizing phosphors, guarantees the color consistency and uniformity of LED sources across individual luminaires, manufacturing runs, product families, and the entire FlexElite portfolio. IntelliHue also includes Color Kinetics' sophisticated Chromasync technology for maximum color consistency. Chromasync allows FlexElite luminaires to achieve color variation of less than 2 MacAdam ellipses (2 SDCM) across multiple luminaires and installations, without the need for programming or additional manual tweaking to find the optimal output and color mix. Tight binning tolerances ensure a coherent lighting design with fixture-to-fixture color uniformity and unnoticeable color differentiation.
At the core of all FlexElite luminaires is Color Kinetics' custom-designed microchip which combines digital LED control and communication technology in a tiny package. The fully-integrated, 12-bit LED driver integrates all components necessary to receive a serial command bitstream, decode and extract PWM values, and re-create a new serial bitstream. The microchip includes a high accuracy bandgap reference, external programming circuit, and all necessary circuitry to enable a distributed intelligence architecture where multiple LED nodes may operate independently in an autonomous manner in response to control signals. Chromasic allow the LED nodes within an installation to identify the specific control signals which drives the light sources to generate various colors, intensities, intervals, and sequences of light. Chained architecture eliminates the need to manually address individual LED nodes by placing the addressing mechanism within the chip itself. Chromasic technology creates whole new possibilities for small-scale installations comprising a few FlexElite nodes to large-scale installations with hundreds of thousands of nodes.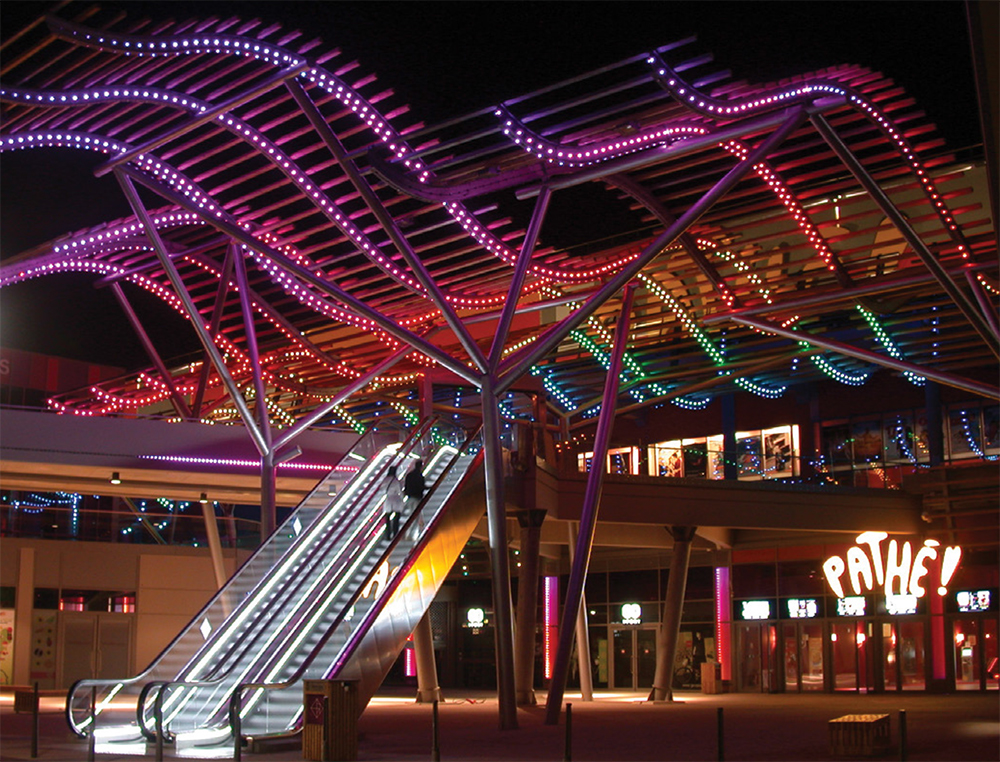 FlexElite installations can be controlled via either DMX or Ethernet. DMX control is appropriate for relatively simple installations or for light shows in which multiple light nodes act in unison. Simultaneous addressing and controlling the LED channels on multiple nodes enables a variety and combination of color patterns and dynamic effects. RDM (Remote Device Management) allows for bidirectional communication, automated discovery, configuration, and addressing of the LED nodes. For medium to large architectural lighting installations, Ethernet-based control is the preferred because it is not subject to DMX addressing limitations. FlexElite accepts Ethernet input from the PDS-400 48V CA4 to support long runs. With full-featured control systems from Philips Color Kinetics, LED nodes can be assigned to different zones for different application needs or to maximize energy efficiency. Automated dimming, selective on/off switching, and intelligent color mixing across multiple zones make it possible to create color-changing lighting scenes and complex translation of video content for display on LED matrix systems.
The rugged housing of this 60 mm (2.4 in) diameter LED node is constructed from black PBT plastic and powder-coated aluminum. The luminaire is fully sealed to ensure waterproof wiring and electronics. With I66 level watertight integrity and corrosion resistant enclosure, FlexElite passes numerous rigorous tests based on real-world conditions and can handle extreme conditions, humidity, heat, cold, and ice. The flexible LED strands are available in 1-, 2-, 5, 10-, and 20-node sections with overmolded end-to-end locking connectors supply power and data. FlexElite's modular design allows it to deliver run lengths of up to 100 meters (330 feet). A single node mounting clip makes it easy to attach the LED node to structures of any size or shape. No matter how large, curved, or irregular a building or structure might be, FlexElite's inherent flexibility and ease of installation allow lines of bright direct-view nodes to effortlessly follow the contours of unusual architectural designs.