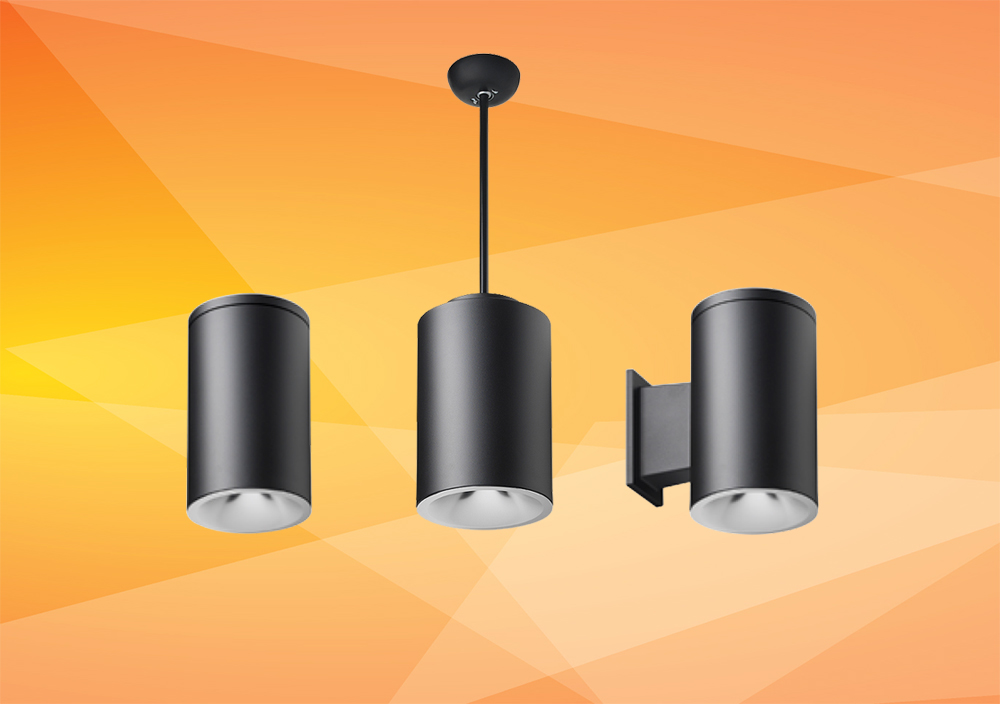 Ultra minimal and sophisticated in one take, the L-Series VC VW LED cylinders from Acuity Brands lend a contemporary statement to commercial and hospitality spaces. Whether it's a prestigious office building, an upscale merchandise showroom, or a high end restaurant, the LED cylinder is sure to deliver a comforting ambience that will automatically stir up conversations with your friends, colleagues or visitors. A clean, puristic aesthetic helps integrate itself into the surrounding environment and create a sense of modern grandeur and visual harmony as the eyes travel the contour of the sleek cylinder. Beyond its timeless simplicity, the cylinder light is engineered to heighten the visual perception of an artificially lit space through tunable white or dim-to-warm lighting.
With a choice of three luminaire sizes - 5 3/4˝ D x 10 1/2˝H, 7 5/8˝ D x 12˝ H, 8 7/8˝ D x 13˝ H - the L-Series cylinders are perfectly scaled for a variety of hospitality, office and business environments. Constructed from one piece heavy gauge aluminum, the cylindrical housing exudes seamless visual integrity while facilitating the thermal management of the light engine. The luminaire's clean geometric personality is strengthened by the pure white, black or silver baked textured powder coat finish. A low iridescent specular, semi-specular, or diffuse optical reflector with integral flange of same finish reinforces the refined quality of this cylinder light. The L-Series can be surface, pendant or wall mounted, which provides enhanced flexibility to integrate with various architectural spaces. Hang it solo or in multiples over a table, an island, or a countertop for a mix of atmospheric and task ambience. Install them in hallways, stairways, showrooms, and spaces where surface or wall mounted lighting would coordinate better with architectural themes.
The L-Series comes in 800, 1300 and 1500 lumen packages delivered by the built-in LED light engine that draws between 18 and 36 watts. The light engine includes an LED assembly that consists of an array of LEDs with mixed CCTs. An aluminum heat sink provides thermal management, mechanical support, and optical positioning of the LED assembly. The heat sink which is thermally interfaced with the cylindrical housing provides a robust thermal path that efficiently transports heat away from the junction of the diodes. The LED array is operated by an adjustable output current (AOC) driver which is dimmable via 0-10V protocol standard. Optional drivers are available for use with DMX. The driver accommodates 120-277 volt or 347 volt input and produces 24V DC, 1.25 amp output. A power factor correction (PFC) circuit maximizes the efficiency of the power grid over a wide input voltage range while suppressing the harmonic current. Built-in over temperature protection (OTP) circuit automatically tunes down LED current to prevent overheating.
This specification grade LED luminaire offers a selection of optics to address design requirements in the spaces it illuminates. The hyperbolic reflector features a specially engineered reflective geometry that provides unique aperture appearance and smoother light distribution. Available in narrow flood, medium flood and wide flood distributions (16º - 73º), the hyperbolic reflector with a unique geometry maximizes lumen delivery while reducing lamp image and aperture brightness. For those who desire a more traditional look, a parabolic reflector with frosted convex lens which is regressed into cone provides uniform distribution with no striations. The combination of white or black painted deep multi-groove aluminum baffle insert and frosted convex glass lens provides a softer beam spread. The wall mounted luminaire comes with a computer-optimized trim with integral wall wash kicker which, together with the frosted convex lens, creates a visually please spread of light.
The human biological process is hardwired for light. Our circadian rhythms – the physical, mental and behavioral changes that follow a 24-hour solar cycle –are regulated by the internal clock which consists of an array of genes and the protein products they encode. Throughout the day, the dynamics of natural light are registered by the human body which developed an internal biological clock to synchronize the day/night rhythm. Without regular and consistent exposure to the natural light cycle, the circadian rhythm can be disrupted. In today's world, however, human activities often take place inside buildings. Approximately 90% of our time is spent indoors. Although electric lighting provides visibility to support indoor activities, the dumb artificial light does not provide the dynamics of natural light cycle, primarily the change in color temperatures. This lends people to the risks of disrupted circadian rhythm which can cause sleep/wake cycle disorders, mood disorders and other diseases.
Solid-state lighting technology makes it possible to control the intensity and spectrum of light. CCT tuning through color mixing enables the white light to be tailored to different environments and for different purposes. Tunable white LED lighting provides unprecedented color versatility and enables daylight emulation through dynamic changes in color temperature. Biologically effective artificial lighting brings the dynamics of natural light indoors and help people to restore the human circadian rhythm and keep natural hormone production in balance. The spectrum of light is not only essential for cognition and mood, it also has social and behavioral dimensions as different tones of white can impart different feelings. For example, a properly created light scene promotes the communication and interaction of people. Warm light with a high percentage of red encourages relaxation in hospitality environments, neutral white light enhances concentration in educational facilities, and cool white light improves productivity in workspaces.
The exquisitely engineered cylinder light uses best-in-class LEDs to deliver the dynamics of natural light cycle. The multi-channel LED array features a tunable CCT range of 2700K-6000K (variable cool) for tunable white lighting or 1650-4000K (variable warm) for dim-to-warm lighting. Tunable white lighting simulates daylight in a way that is as close to the light cycle of the solar day as possible. With its scale of tones from warm white light, the L-Series LED luminaires offer the freedom to create different ambiences. Dim-to-warm lighting finds its fantastic applications such as hospitality and retail spaces where a welcoming ambience with the familiar glow of incandescents puts the finishing touches on a well-designed space. Aside from tunable light spectra, the L-Series produces superior quality of light than renders all colors accurately (90+ CRI), including red, across the entire CCT range. This helps deliver rich, vibrant colors and make whites appear naturally brilliant. And the luminaire delivers superb color consistency, a chromaticity variation of less than 2 SDCM (Standard Deviation of Color Matching) means no perceptible color differences from fixture to fixture. Calibration feature maintains color point over lifetime.
The luminaire's CCT can be tuned wirelessly via the Indy ChromaControl Bluetooth App or the Light Commissioning Tool (CTTOOL), or through a controls system or wall dimmer using 0-10V or DMX protocol. The wireless commissioning tools give you the capability to manipulate light - CCT, Dimming, Saturation, and Hue. With a touch of your fingertip on a smartphone or the button of a handheld remote device, choose any color temperature between 6000K - 2700K or 4000 - 1650K. The saturation and hue can be tuned to any point on the chromaticity diagram. Program scenes to your preference by adjusting light level, color temperature, saturation and hue. Set and store Scene Presets, copy lamps settings from one ChromaControl luminaire and "pastes" it onto another ChromaControl luminaire. The L-Series luminaires can be paired with the Indy Bluetooth/DMX/Ecosystem Enabled ControlBox for luminaire-to-luminaire connection and zonal control through various network systems.