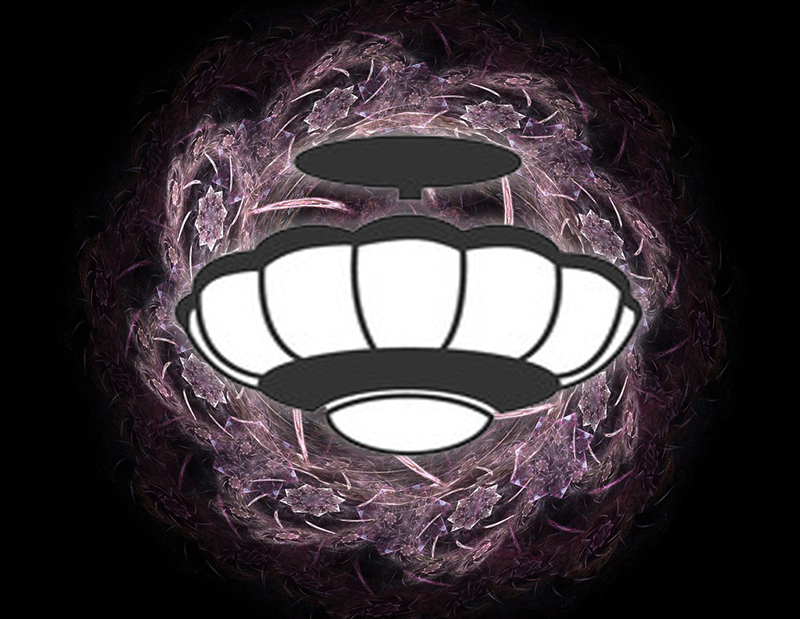 Rejuvenate the lighting in your home with semi-flush ceiling lights. Whether you are looking for a lighting fixture to make an impression in foyers and entry halls, create a dramatic focal point for your living room, or add a sparkling accent to your dining room, semi-flush ceiling lights are a compelling choice to round out a fantastic look in spaces where ceiling heights would make the grand chandeliers and graceful pendants frustrated. The big appeal of semi-flush fixtures is that they can provide practical illumination and double as decorative statement pieces. Blurring the boundary between art and function to enhance the decor and ambiance of a room, these lights bring high-class distinction to urban residential interiors.
What Is Semi-flush Lighting
A semi-flush ceiling light is an ambient light fixture that hangs 4-8 inches down from the ceiling. Rather than entirely hugging the ceiling surface like a flush mount ceiling light, the semi-flush light is suspended via a short stem with its base or canopy resting flush against the ceiling surface. These fixtures are designed for rooms with limited ceiling clearance, e.g., ceiling heights between 8-10 feet. Semi-flush lights strike a nice balance between the decorative look of a pendant light and the compact functionality of flush mount lighting. They bring the intriguing visual of low-hanging chandeliers and pendants into compact spaces. Without consuming much vertical space, a fancy semi-flush fixture with an intricate design and enchanting ambiance presents a true conversation piece that heightens the feeling of depth and dimension of a room. Unlike a flush mount light of which the low profile form factor poses design challenges, the pendant mount ceiling lights give more design freedom in geometric and artistic expressions.
Ambient Lighting
Semi-flush lighting fills the ambient layer of interior lighting. Layered lighting is composed to get the best balance of light in the space and is typically accomplished using a mix of ambient, task and accent lighting. Semi-flush ceiling light fixtures spread light evenly throughout the space while offering the same exquisite styling of pendant lighting in a more compact form. Decorative ceiling lighting in residential spaces has relied heavily on pendant light fixtures in the past. This is because these fixtures can fuse with architectural spaces in both function and form. Uplighting, probably the most favorite ambient lighting technique in the design toolbox of architects and interior designers, creates a soft, comfortable and engaging ambiance while triggering a spacious feeling and making the fixture look more elegant and sparkling. Uplighting id difficult to be incorporated into flush mount fixtures and therefore many lighting designers steer clear of this type of fixtures. Semi-flush ceiling lights can be considered as low-profile pendants. These fixtures can be designed as showpieces of decorative sentiment which create a visual drama to catch the eye and make statements about style or personality.
Universal Appealing
Semi-flush ceiling lights work in a variety of spaces that will showcase radiance and style. From minimalist contemporary pieces to glittering crystal showstoppers, there's no shortage of options to inject a perfect final flourish into your interior design scheme with semi-flush lights. The living room is a place to socialize and relax, a sculptural centerpiece is sure to add a splash of personality, inspire conversation and impress your guests. Dining room lighting isn't always about pendants and chandelier. A semi-flush light that carries the signature ambiance of a flush fixture in the elegant styling of a suspended artistic piece radiates fashion and glamour in even the most minimal of dining areas with ease. Cuddle your bedroom ceiling with a glass or fabric shaded semi-flush light to create visually captivating and pleasant ambiance that helps you to relax, recharge, and unwind. Whether shining in the foyer that welcomes you home or in hallway that usher you in, the upscale feel and inviting look of a semi-flush fixture in perfect symmetry will elevate your home in style and create an atmosphere that engages.
Types of Designs
Creativity abounds with semi-flush lighting. Conventional designs such as drum, globe, square, cage, bowl, bell, lantern, and empire shapes never fail to make a statement. Inside these fixtures nest medium base GLS bulbs or decorative candelabra base bulbs which are furnished or diffused by glass, fabric, crystal, metal or wood shades. Fixture frames come in a choice of finished including white, black, brown, beige, bronze, brushed nickel, chrome and gray. These fixtures give you options from classic elegance, understated presence and refined beauty all the way to fabulous luxury for a coordinated design aesthetic throughout your space. Beyond energy efficiency and extended lifespan, LED technology brings extraordinary design possibilities. No longer do lighting designers have to compromise aesthetical expression to accommodate the clumsy light bulbs. Whether it's a dynamic design accentuated by twisting and continuously shining light strips or a soft-looking light panel that floats in mid air to create a dream-like atmosphere, integrated LED ceiling lights will do the wonder.
Most Popular Styles
Light fixtures are a design element which serves to reinforce the theme or style of a space. A ceiling light resides in the central of a room and gives people the first impression about the space. What this means is that a light fixture can truly make or break a space. Luckily for us we have an array of choices to make a style statement with a semi-flush ceiling light. Showcasing a timeless modern mix of masculine and feminine borrowed from both traditional and modern design, transitional style semi-flush lights are incredibly popular. The elegant, enduring design makes it possible to infuse most interior decor trends with ease while exuding an updated classic. When your decor calls for an uncluttered, streamlined and sophisticated look, contemporary style lighting does the job pretty well. Traditional design is still quite prominent today. Its ornate crafting and elaborate detail enhance all of the vintage elements throughout the home. Rustic fixtures which shine with natural inspiration are a surefire way to make the home feel as close to the outdoors as possible. Other design styles like Mediterranean, Industrial, Coastal, Mid-century Modern, Farmhouse and Cottage are also welcomed in the market.
LED Lighting Is Tricky
While lighting designers are creating captivating, minimalist design through reduction of what is not essential, many lighting manufacturers are strengthening cost competitiveness through reduction of what is critical. LEDs, unlike incandescents and fluorescents which are simple in technology, are semiconductor devices that require accurate power regulation, efficient thermal management, wide spectrum phosphor coating and precise optical control to ensure high quality illumination and system reliability. The consumer-grade residential lighting market is witnessing a degradation in lighting quality because LED technology gives manufacturers a chance to play tricks with uneducated consumers. What most consumers care is the cost of ownership. But they don't know that LED lighting is much more complicated than the previous technologies. Many LED lighting products that are sold dirt cheap are at the cost of compromised light quality, deteriorated reliability, and even worsened safety. Among them is the notorious SMD LED bulbs. It's nearly impossible to find an A19 LED light bulb on the market that has light quality comparable to an incandescent bulb. And many light fixtures still use LED bulbs as the light source.
Color Quality
Color quality has been one of the key challenges facing LEDs as a general light sources. White light from LEDs is achieved through phosphor conversion in which a blue or violet LED chip is coated with phosphor(s) for a mixture of light emissions. Most currently available white LEDs are based on the blue LED + phosphor approach. The phosphor coating determines spectral power distribution (SPD) of the white light emitted. Only when phosphor layers of different wavelengths are used can the emitted spectrum be broadened to deliver radiant power across the visible spectrum. The wider the spectrum, the more colors the light source will render. In order for the LEDs to mimic the full spectrum of natural light, a higher cost phosphor mix must be coated on the LED chips. Such LEDs are mostly used in museum and retail lighting applications where color performance is critical to bring out the delicate details in the objects.
When we retreat to recharge and relax in our home after long hours of work, we deserve a good color experience as well. This is not a luxurious enjoyment as the human world had a wonderful time with incandescent and halogen lighting which exhibits qualities closest to sunlight with a high color render index (CRI) of 95 and high fidelity reproduction of saturated colors (R9-R15). Whereas the LEDs incorporated in most light fixtures have a much lower CRI (80 typical) and are unable to trigger visual responses to saturated colors. This means you're most likely staying in an environment where your lighting kills the vibrancy in your decor, your skin tone looks unflattering, and color sensitive tasks cannot be performed. Don't let your world in front of you appear distorted in colors. Go for light fixtures that use high CRI LEDs.
Integrated Design
The trend of light fixture design is shifting toward taking an integrated approach. An awesome LED ceiling light fixture is almost always a dramatic blend of art and engineering. Separating light sources from light fixtures is an outdated design practice in the era of LED lighting.
Every LED array used in a fixture should be paired with an LED driving circuit of which the output is matched to the electrical characteristics of the LED array. This ensures the LEDs operate with high luminous efficacy and no photometric flicker is produced. Low end products that are proliferating on the market use low cost circuitry which provides awful load regulation and limited protection against damage caused by abnormal operating and electrical conditions. Such driving solutions usually do not have components to smooth out high frequency ripple which leads to flicker and other visual anomalies.
Integrated LED fixtures also take thermal management into consideration. Effective management of LED junction temperature is critical to maintain the luminous efficacy and color stability of the LEDs.
Optical engineering is an important part of LED light fixture design. LEDs are directional light sources that require secondary optics to mitigate glare, regulate luminous flux and produce breathtaking lighting effects.
Lighting Control
LED ceiling lights have a number of lighting control options ranging from simple switches on the wall to a cloud-hosted system run from a smartphone. Before making a purchase identify the dimming technologies or protocols that the light fixture offers. Residential lighting typically use phase control dimmers including triac and ELV dimmers while 0-10V analog dimming may also be offered. Smart lighting control harvests ZigBee, Wi-Fi or Bluetooth wireless connectivity to regulate the light without need of additional control lines. It make a single environment flexible enough to accommodate different visual needs and lighting tasks, including human centric lighting, atmospheric lighting, time scheduling, etc.
Unaffiliated Recommendations
There's a vast selection of semi-flush mount light fixtures that invite radiance and intrigue into your interior. Let's take a look at some impressive products that we come across. (Disclaimer: We're not affiliated with any beneficiary of the external product links in this article.) This is a continuously updated list. We welcome product suggestions from those who take pride in building compelling value into their products. (Owners of products listed here are authorized to use our badge to promote your achievement. Please include a link to this page for listing verification.)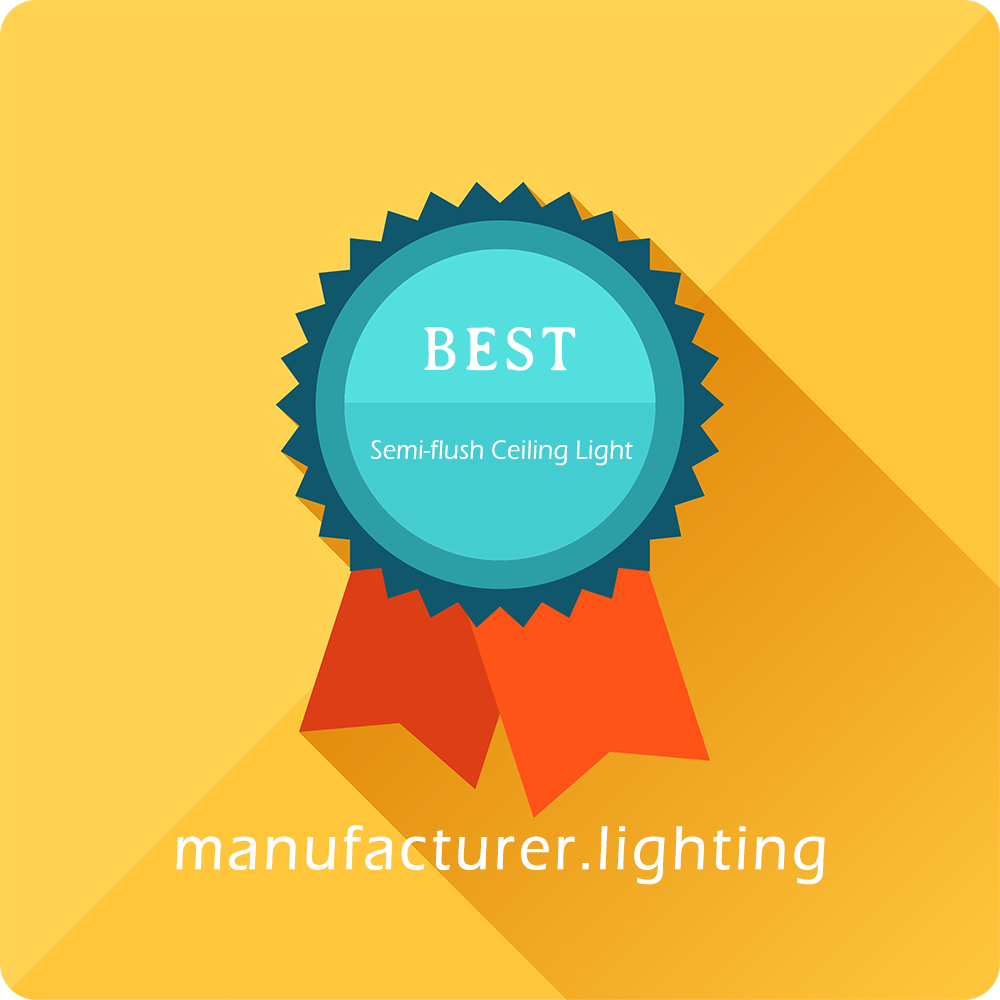 Astep Le Sfere
Le Sfere features six opaline glass spheres, which are inspired by the natural poetry of the Moon and capture the delicate moonlight in a gracious design. Blown opaline glass spheres are held in place by painted aluminum rings, lending the luminaire a graphic expression and bringing forth its distinctive aesthetic.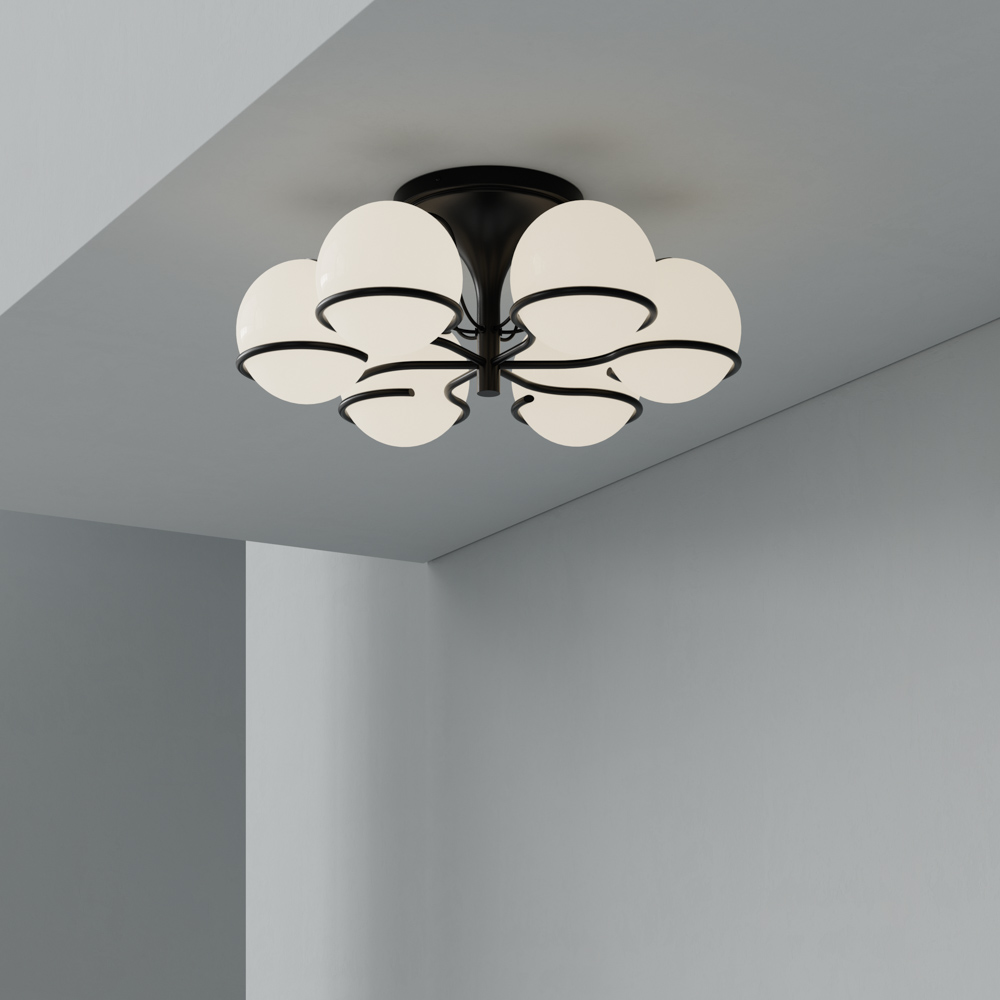 Bover Siam
Siam breathes an oriental air derived from the inverted shade. Six lights in cream or transparent polycarbonate shades are arranged in a graduated pattern. These lamp shades are superposed partially one over the other to create a compelling silhouette and a perfect mural for any space.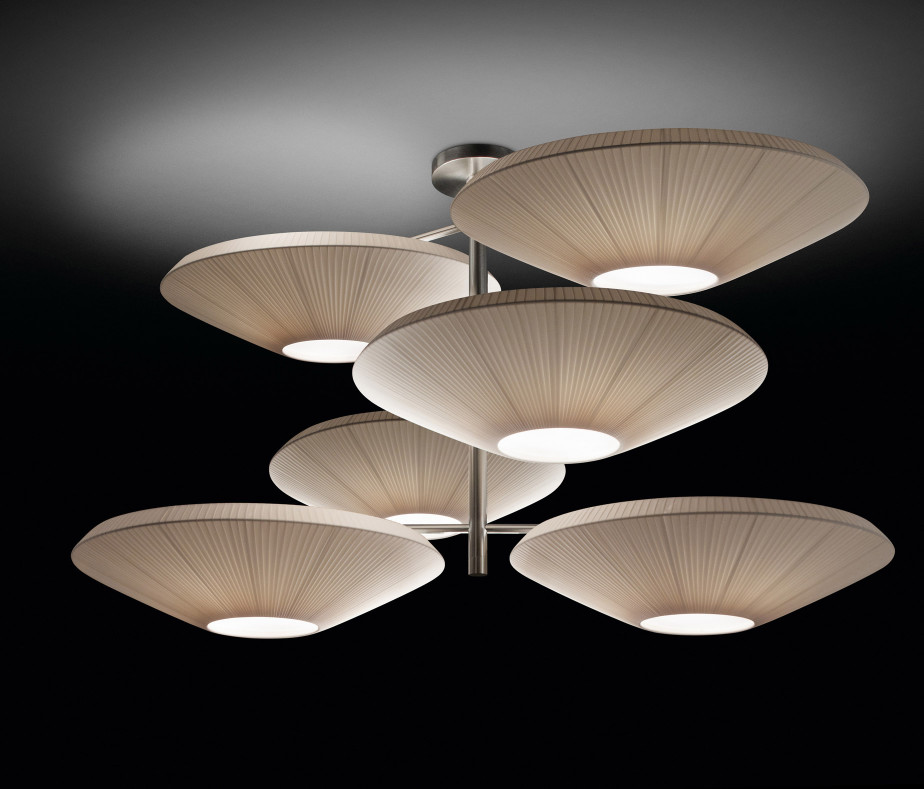 Marset Discocó
The appealing gradation of light emanating from the layered disks on Marset Discocó creates a showstopping illumination in an instant. Further reflections dance off the chrome-covered semi-sphere at the core, where the disks are anchored. When the light is turned off, it retains its attractive presence, hinting at the expansion of energy that is fully expressed when it is turned on.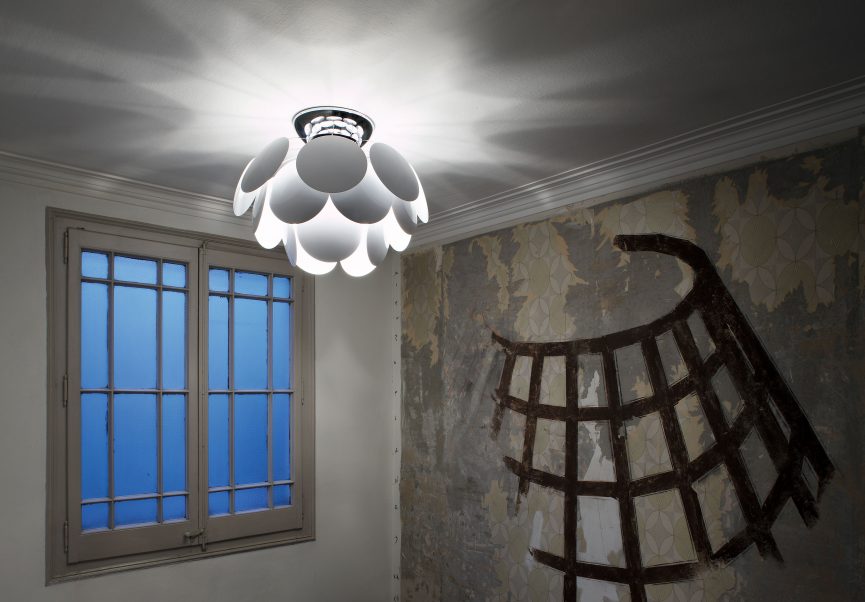 Adot Sunflower
Delivering a dramatic punch of robust illumination, this fabulous ceiling light from Adot Lighting presents a true conversation piece that speaks the languages of creative architectural lighting. It delivers the striking visual presence of decorative light patterns to otherwise minimalist settings. A true marvel that makes the ordinary extraordinary.