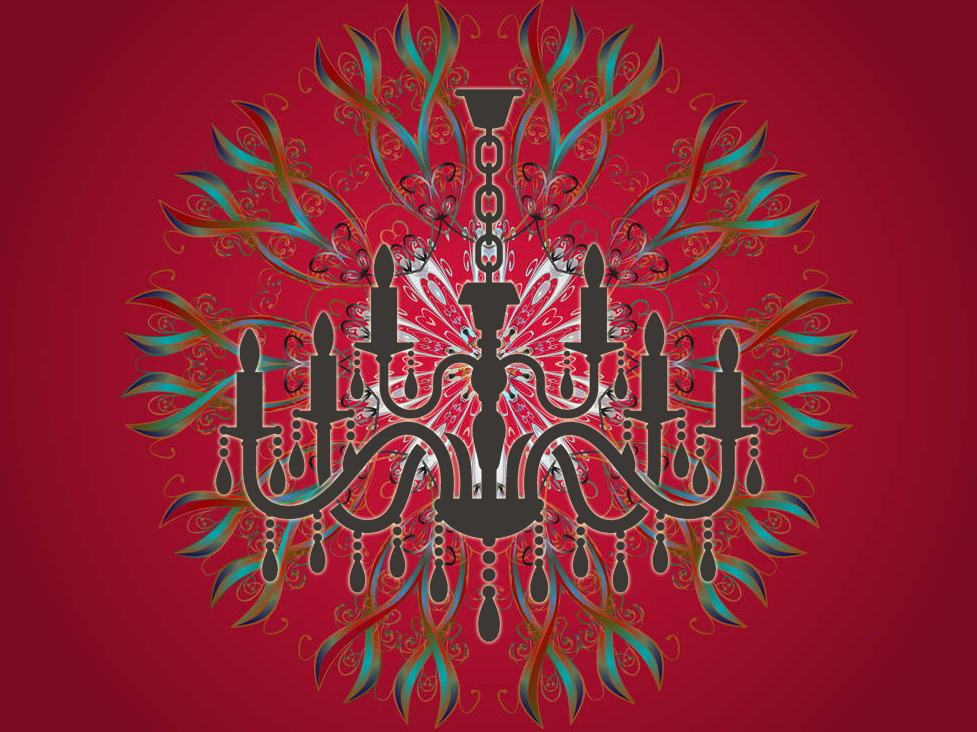 A crystal chandelier is a decorative light fixture that uses the fascinating light refracting and reflecting properties of crystals to create a visual sparkle for a room. Visually striking in any sized interior, crystal chandeliers make for a gorgeous centerpiece that invites radiance and intrigue into your favorite space. Whether you want to add some glamour, keep it traditional or go contemporary, the glittering pendant light is a true artwork of its own which is sure to inspire conversation and ignite the spirit of the space. Sculptural and graceful in form, this statement chandelier is an instant showstopper for dining areas, living rooms, bedrooms, and foyers in residential spaces. Its bejeweled splendor invites people into a world of wonder in the entrance halls, hotel lobbies, and grand rooms of hospitality facilities and commercial buildings.
The Crystal Fascination
Celebrated by design aficionados the world over, crystal transcends fashions and trends with its breathtaking beauty. Exuding sparkle and glamour, crystal has turned into an essential element of creative expression. Crystal refers to glass that has a minimum lead oxide (PbO) content by weight of 24 percent. It is made by melting silica (sand) in a furnace heated to a very high temperature along with potash, lead oxide, and other ingredients. The addition of lead oxide in glass composition alters the chemical and physical properties of the glass. This glass modifier increases the refractive index, dispersion of light, light transmission efficiency, and density of the glass. The presence of lead oxide gives the glass a high refractive index (nd > 1.56) which allows crystal to shine with astonishing brilliance. High dispersion contributes to a highly visible spectrum of colors, which give crystal high refraction and reflection performance. The combination of optical properties (refractive index, Abbe number, dispersion) endows crystals with intriguing charm, flawless purity and superior optical performance.
Not All Crystal Is Created Equal
We have known that glass with at least 24 percent lead content is called 'crystal', though it is not crystal at all in a scientific sense. Lead crystal refracts, reflects, and disperses light in a way that soda-lime glass simply can't. Very fine crystal may contain higher-than-standard lead content and looks more sparkling. In addition to lead content, technical knowhow, and the blowing, grinding and polishing processes, crystal quality varies according to a plethora of factors, including but not limited to raw materials, junctures of the facets, cutting precision, and surface coating. Just as the value of a diamond is graded on the 4 Cs system - Color, Clarity, Cut and Carat Weight, the value of a crystal can be determined by a similar grading system:
Cut
A crystal must be faceted with geometrical precision to exploit the prismatic effect of the crystal to a maximum and bring out its full beauty. Only cutting with exact geometry and precise angles is capable of taking advantage of total light reflection within the faceted crystal to achieve exceptional brilliance.
Clarity
Presence of cloudy spots, streaks, and bubbles distorts light reflection and affects light transmission, which means compromised visual appeal of a crystal. Only crystal with the highest level of purity and clarity can produce the stunning luminance. This requires the purest raw material, such as pure sand that contains only very little iron, and a tightly controlled production process.
Color
High color intensity and fidelity independent of size and cut are also essential in light reflection and faithful spectral color delivery. Effects are applied to clear crystals as part of the finishing process. Colored crystal is permeated with a base color during the production process for complete color integration.
Contour
Only perfectly shaped, flawlessly faceted crystal can deliver the visually striking allure and desired design aesthetics. This entails meticulous quality control in the production process.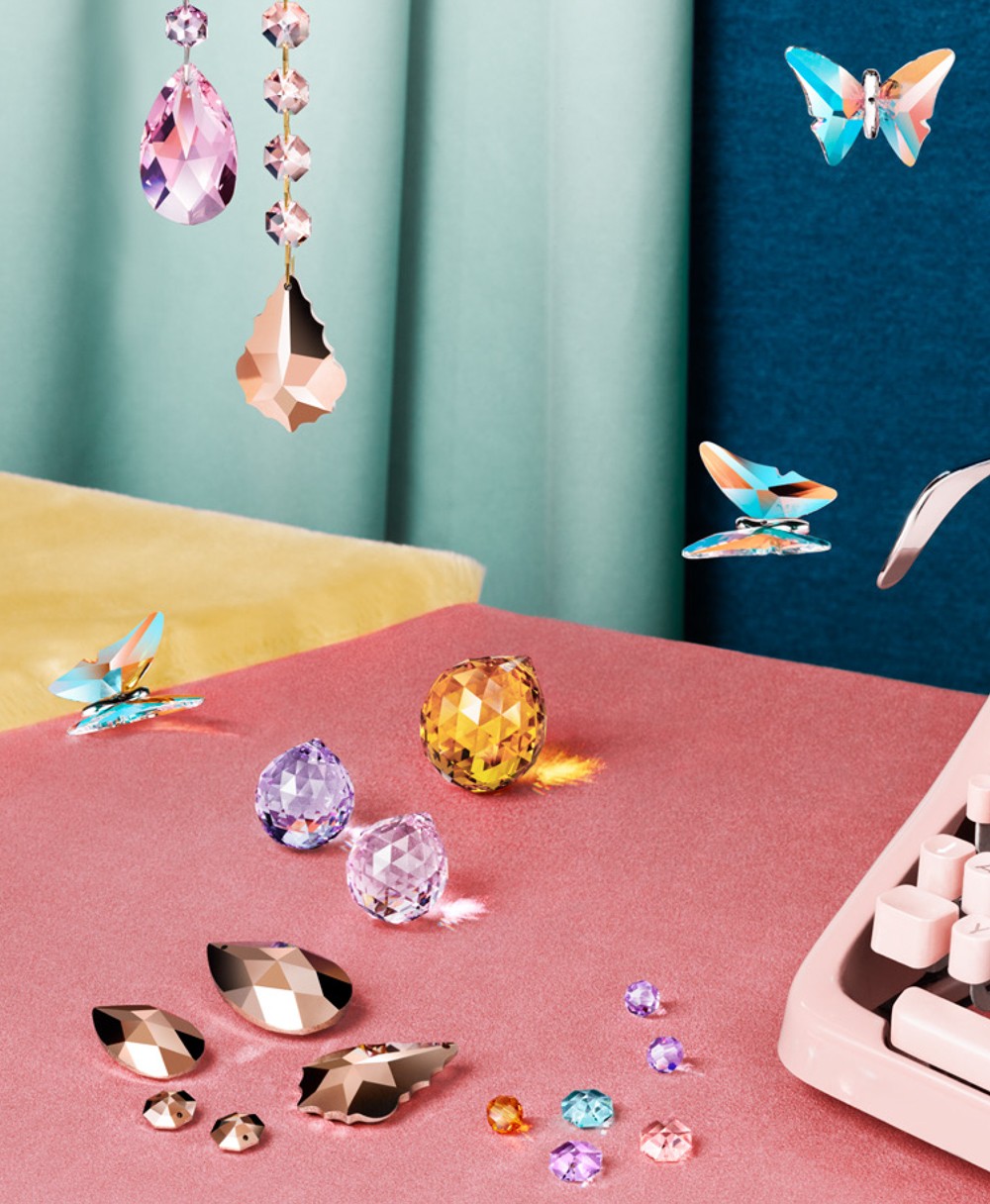 Image courtesy of Swarovski Distribution GmbH
Types of Crystal Glass
The form factors, artistic characters and optical performance of crystal can be quite different across the market. Aside from rock crystal which is naturally mined from the earth, different synthetic and mechanical processes yield a wide selection of crystal products, each with a unique capacity to capture and to reflect light. Here's a round up of different types of crystal available on the market. The concern of lead leaching drives crystal manufacturers to develop lead-free compositions. Lead-free glass products that characterically emulate lead glass also fall into the crystal category.
Swarovski crystals (Swarovski elements)
Manufactured by Swarovski AG in Wattens, Austria, the Swarovski Elements range of extraordinary precision-cut crystal provide a fabulous palette of inspiration for designers in the lighting industry. The crystal is fired using a combination of natural minerals and quartz sand, and then cooled in a controlled flow to avoid stress and inclusions. The absolute precision of the grinding and polishing processes ensures its incomparable brilliance. Vacuum-coating processes are used on the surface of a crystal to create a clear surface luster, with no stains, scratches or oily sheen.
Spectra crystal
Spectra Crystal is a range of machine cut Swarovski crystal with above-average results regarding light reflection and brilliance while offering an excellent price-performance ratio. Spectra crystal is lead free and optically pure.
Gemcut crystal (Egyptian / Moroccan)
Machine-cut crystal with a high lead oxide content and sharp faceting that creates a pleasing balance of internal reflections of light. Gemcut crystals offer brilliant clarity at industry standards, but not as optically pure as Swarovski crystals.
Handcut crystal
Handcut crystals, including the Czech, Heritage, Regal, Crystalique and Turkish varieties, are crafted with traditional methods that use a two-stage cutting process to achieve the appealing prismatic effect. The crystal is first cut on an iron and then on a sandstone wheel, followed by polishing on a wood wheel with marble dust in it.
Legacy crystal
Originated from the traditional glass-making region around Venice, Italy, Legacy Crystal is molded and fire-polished which create smooth, rounded edges. The crystal looks softer as it contains soda and lime instead of lead oxide. It is not as brilliant and shiny as cut crystal, but is a budget friendly option for the price-conscious customers.
K9 crystal
K9 crystal is an optical borosilicate crown glass crystal produced by the China-based Knine Crystal Limited. It does not contain lead but is cut and polished to look like lead crystal. Glass composition: SiO2(69.13%), B2O3 (10.75%), BaO (3.07%), Na2O (10.40%), K2O (6.29%), As2O3 (0.36%). Optical properties: refractive index (1.51630), dispersion (0.00806), abbe number (64.06).
Crystals for chandelier accents can be cut and polished into various pendalogues (prism shapes). Some common cuts of pendalogue include octagon, icicle, spear, rosette, square stone, Swedish drop, kite, hexagonal prism, baguette, finial, cut ball, and French (a highly detailed pear shape).
Showstopping Focal Points
Glittering, shimmering, enchanting and thrilling, nothing imparts glamour and sparkle quite like a crystal chandelier. From modest homes to magnificent mansions, contemporary decor to traditional settings, the vast array of crystal chandeliers ranging from small pendants to extravagant multitiered masterpieces never fails to impress. Ideal as a centerpiece for dining room, a crystal chandelier hanging from the ceiling with subtle radiance is perfect for channeling a ravishing sense of elegant depth into the environment. In bedrooms, exquisite crystal chandeliers create a refined glow that ushers an inviting sensibility. A chandelier centered above the seating area of a living room creates flattering light for family and guests while transforming space into something remarkable. In grand interiors such as hotel lobbies, dining halls and height ceiling foyers, a magnificent crystal chandelier creates captivating hierarchies of perception.
A Grand Scale of Visual Dimension
Crystals are the perfect partner for light. When the prismatic brilliance, visual purity and timeless elegance of these sparkling pieces are organically fused into an inspiring fixture design, art marries with light to create a dream-like atmosphere and speak the poetry of illumination in a compellingly expressive form. Crystal chandeliers are more than just about delivering the classic elegance that recalls a vintage European aesthetic, modern design elements have created a new wave of artistic presentations, fusing transitional and contemporary elements for more contextualized integration in modern settings. Crystal chandeliers can add drama and style to a room anytime. These delightful chandeliers, when not lit, create a decorative accent and exude design sensibility. The glistening crystal captures even the tiniest ray of natural light and embellishes the sculptural fixture to bring intriguing charm and character to the overall design.
Unaffiliated Recommendations
Here is a run-down of some favorites. (Disclaimer: We're not affiliated with any beneficiary of the external product links in this list.) This list will be continuously updated. We welcome product suggestions from those who take pride in building compelling value into their products. (Owners of products listed here are authorized to use our badge to promote your achievement. Please include a link to this page for listing verification.)
Yellow Goat Design Chrysalis
Interior lighting doesn't come any more stylized than this, a swirling piece of fine art that graciously curves in elliptical splendor. A skeletal series of acrylic blades curve outward from a satin aluminum donut ring to form an entrancing pattern. Mounted crystals sit at the top of each blade, while tiny LED bulbs are placed at the base of every other blade. The light created by the bi-pin LEDs reflects off of the blade pattern, creating an unrivaled glimmering shine for each position from which the Chrysalis is viewed.
Masiero Chic
Glittering, shimmering, enchanting, sparkling, the sparkling crystal chandelier promises to impress and inspire. Chic shines with astonishing brilliance and shows off luxurious grandeur that will make your guests stare. Colored crystal inserts and colored crystal pendants that adorn the metal cast brass frame create a visual sense of organic depth.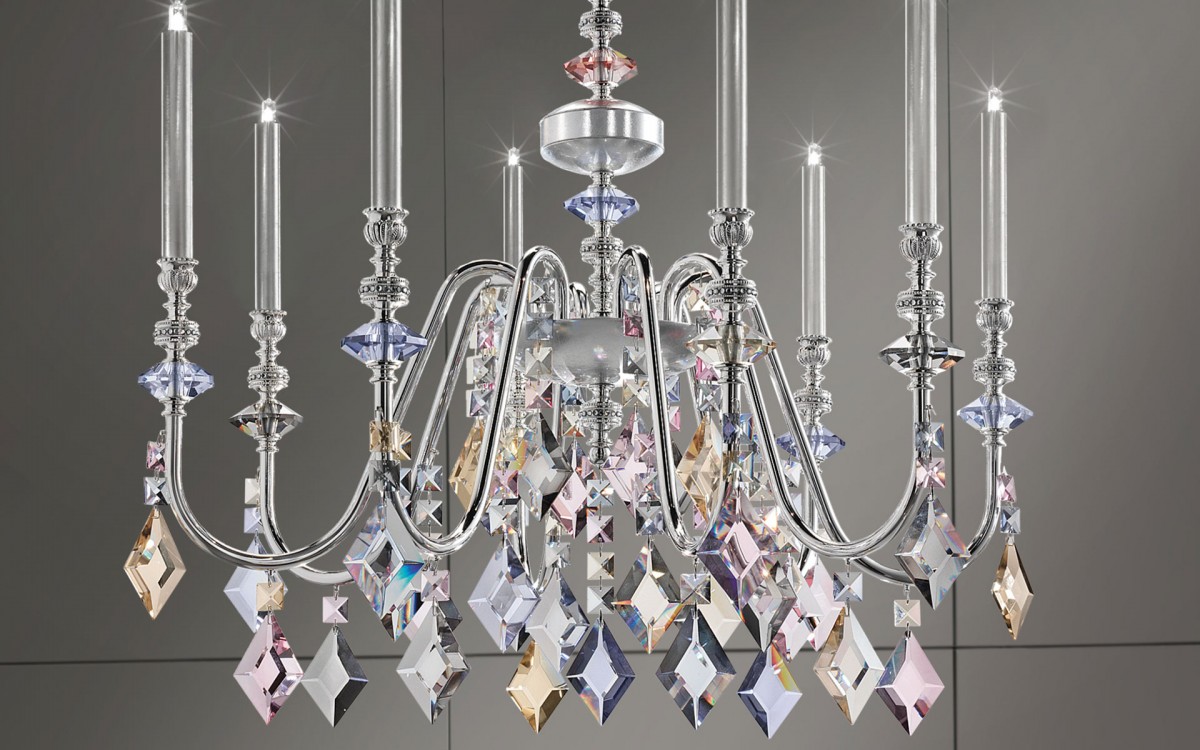 Yellow Goat Design Deneuve
The Deneuve will stun with its simple yet classic ring pattern, around which hundreds of teardrop crystals are arrayed. The base of this fixture is a circular aluminum tube around which lasercut acrylic blades hold each line of crystals, upon which LED bi-pins are strategically placed in another circular pattern. The crystals reflect the light from the LEDs and scatter it across the fixture, for a glittery effect.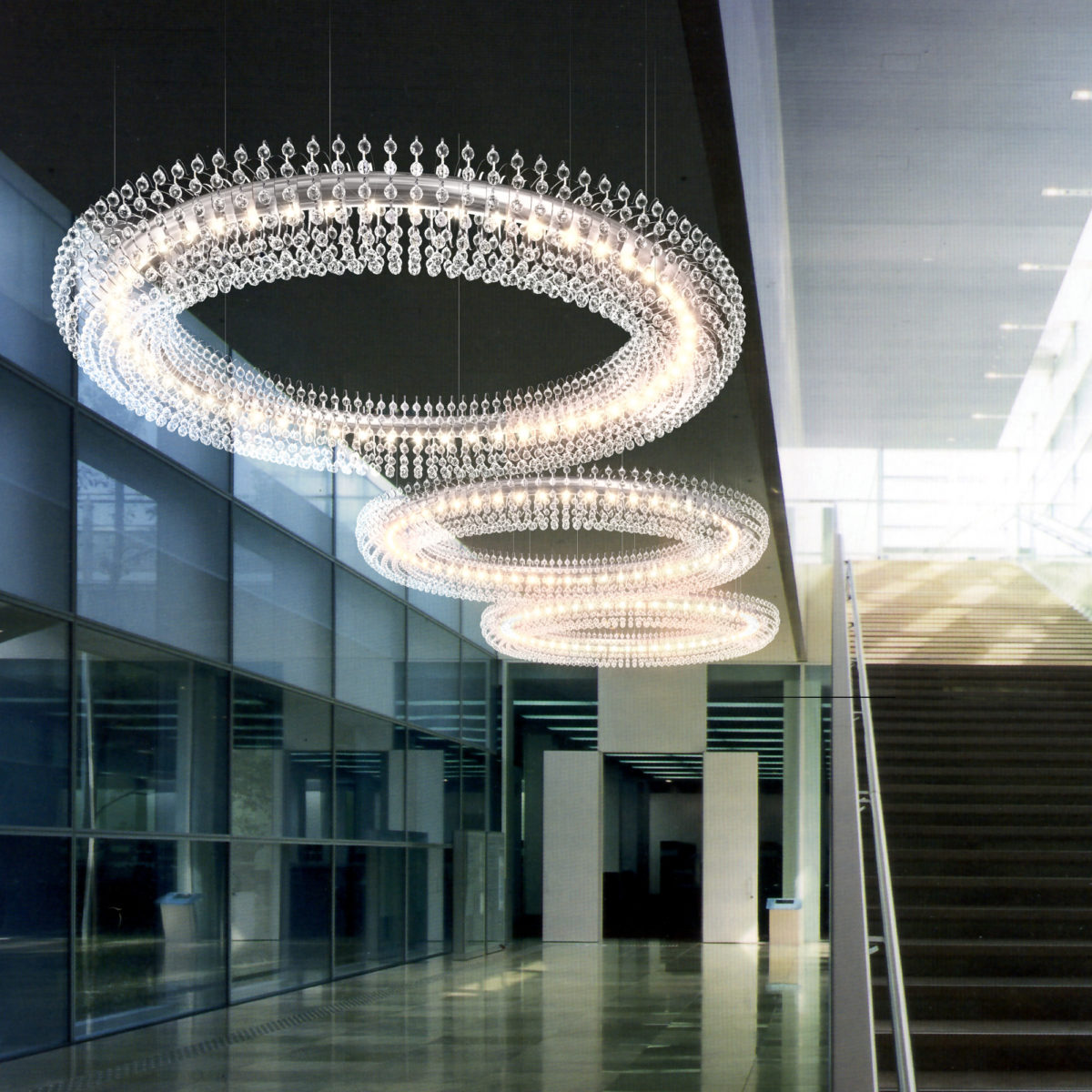 Lolli e Memmoli Ugolino Circular
Ugolino Circular—Pure Italian crystals hand-cut in Milan with the traditional Bohemian-cut techniques are woven together to create an embroidery of gems, hung from a two-dimensional frame that carries its weight. Light seeps through the weave of the gems, and is gently nudged by the soft slow swell of gravity.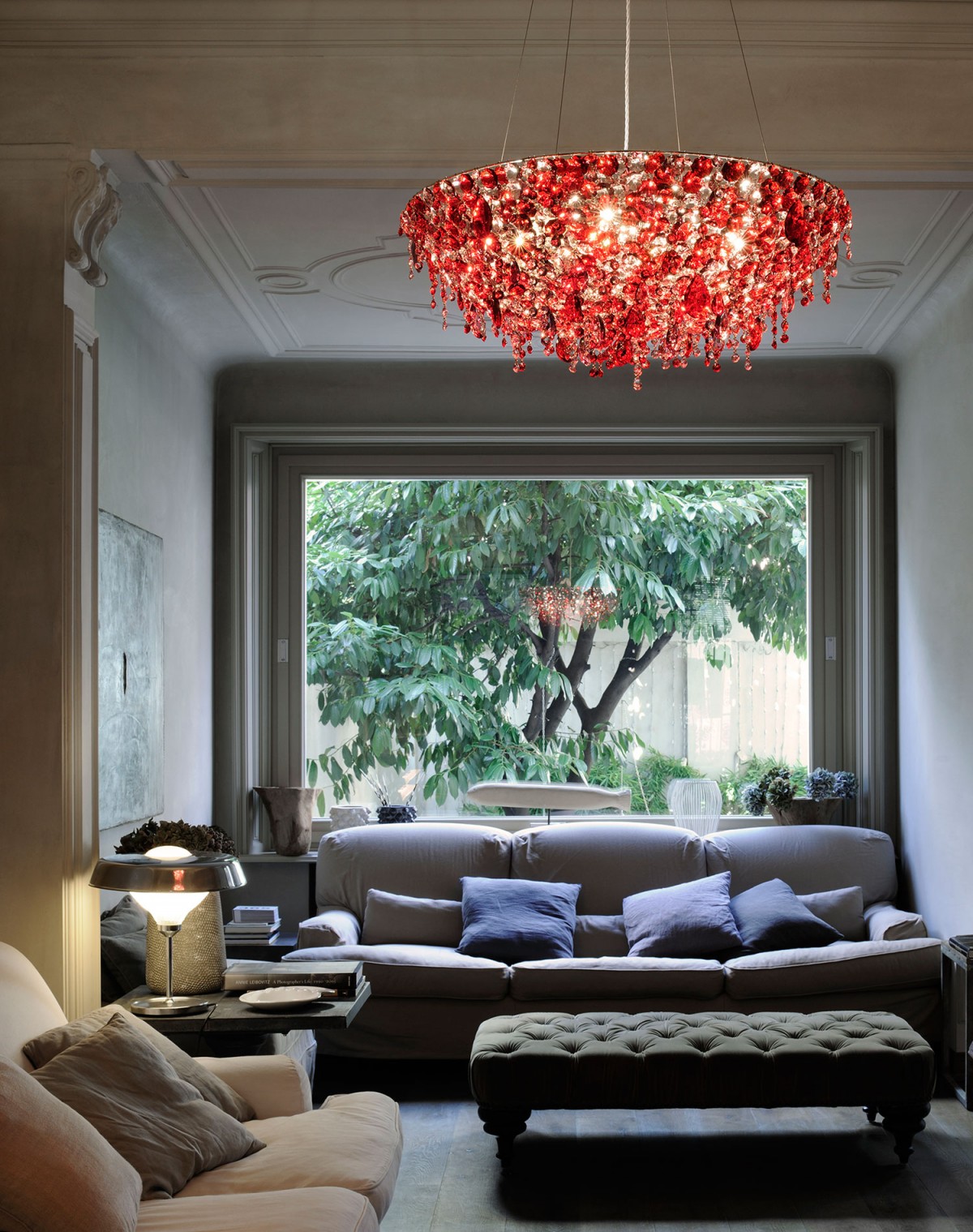 Fornasier Luigi Blown Glass Chandeliers
Each glass piece of the chandelier is hand-blown by the artist and fashioned by hand at extremely high temperatures. Old-fashioned craftsmanship, the creative act and modern technology combine to produce a composition of blown-glass shapes that seem to be moving and change appearance depending on where they are viewed from, making a strong uncompromising statement to give the room a distinctive look.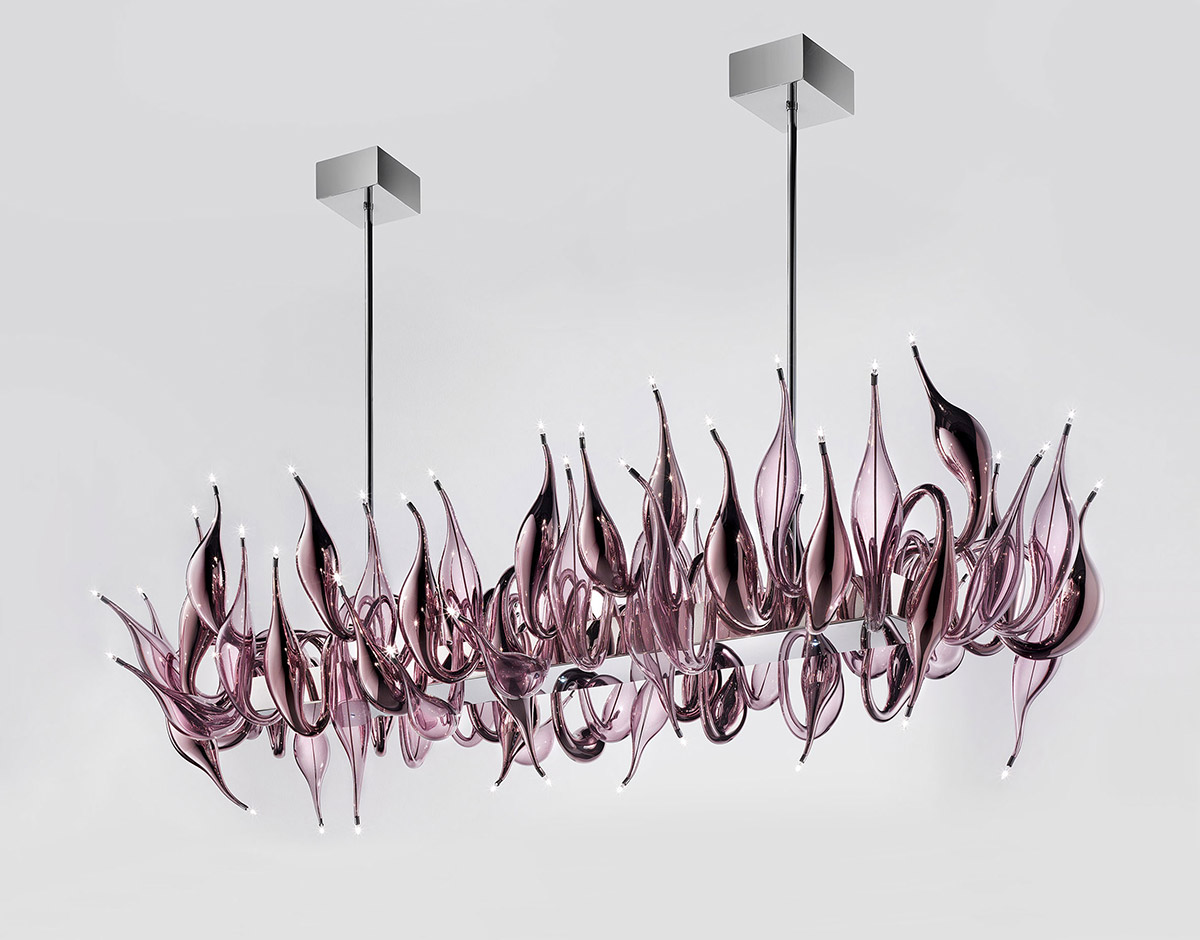 Baccarat Paris
Inspired by the Maison specific codes, interior designer and decorator Stéphanie Coutas has ventured to blend different components from emblematic collections: the diamond point of the Zénith chandelier, the twisted arms of the Solstice and the Venetian style of Mille Nuits imagined by designer Mathias. Wholly original in terms of size, the chandelier fits every interior. Authentic luxury adapted to today's art of living.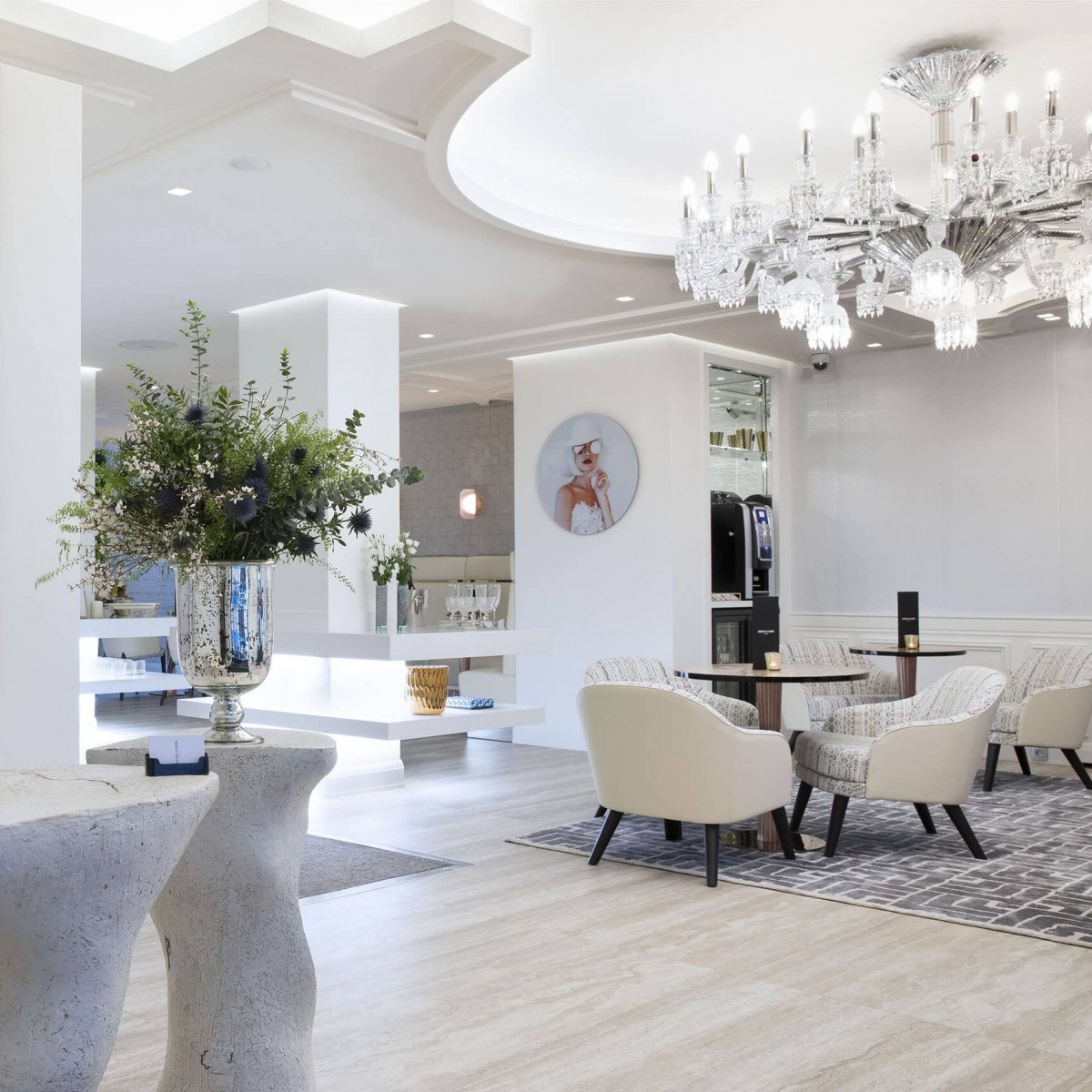 Aysan Flo
With a gracefully curved frame, crystal accents and two-tiered design, Flo brings timeless elegance and intriguing charm into your home. Showing off decorative sentiment and gorgeous aesthetics, the showpiece effortlessly sets the stage for an exquisite decor scheme.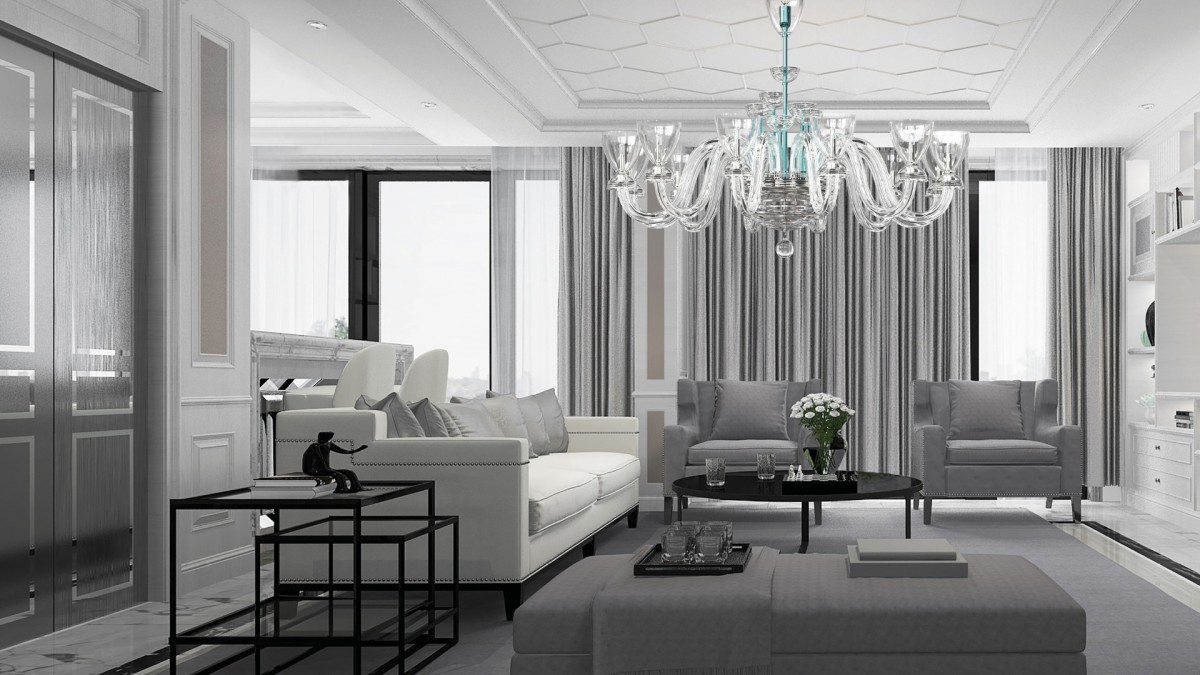 Yellow Goat Design Dipped
The dramatic effect of this fascinating chandelier is produced by its combination of glimmering crystal and blown-out Glass. A giant silver donut forms the basis for Dipped, with its crystal strands hanging below and spectacularly illuminated by several recessed LED bi-pins. The contrast between the giant, mirror-like donut and the individual crystals as they sparkle in multicolored splendor directly beneath, creates the illusion of the fixture having been 'dipped'. This custom chandelier is also available in an array of sizes to fit specific interior room needs.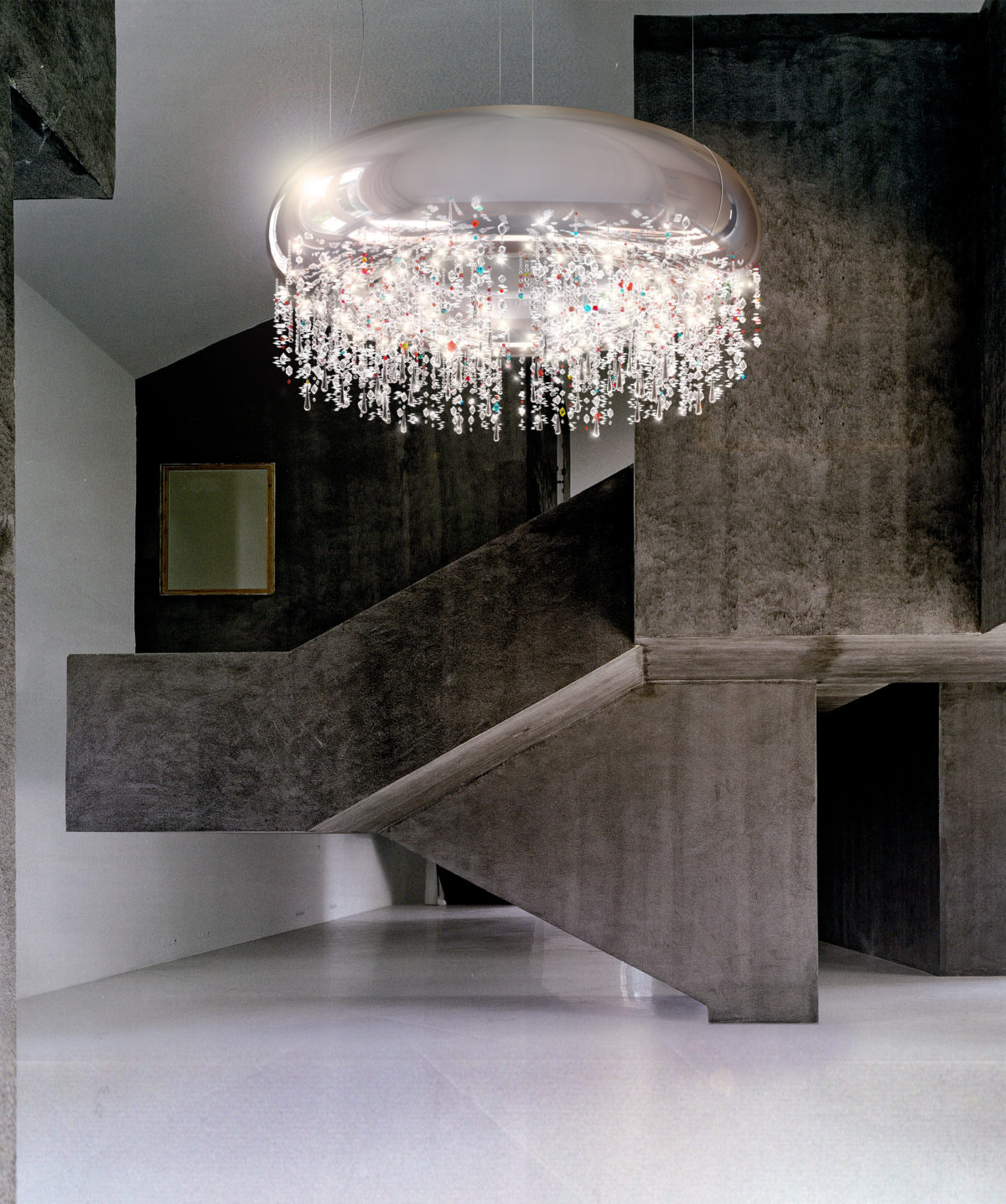 Euroluce Bora
Synonymous with elegance, Bora L8 is designed and made exclusively in Italy by skilled and experienced craftsmen. The blown glass are molded in the most acclaimed Italian furnaces by the greatest master glassmakers. The chandelier is enhanced by Swarovski crystals, characterized by extreme precision cutting which conveys the purest, brightest light to every element.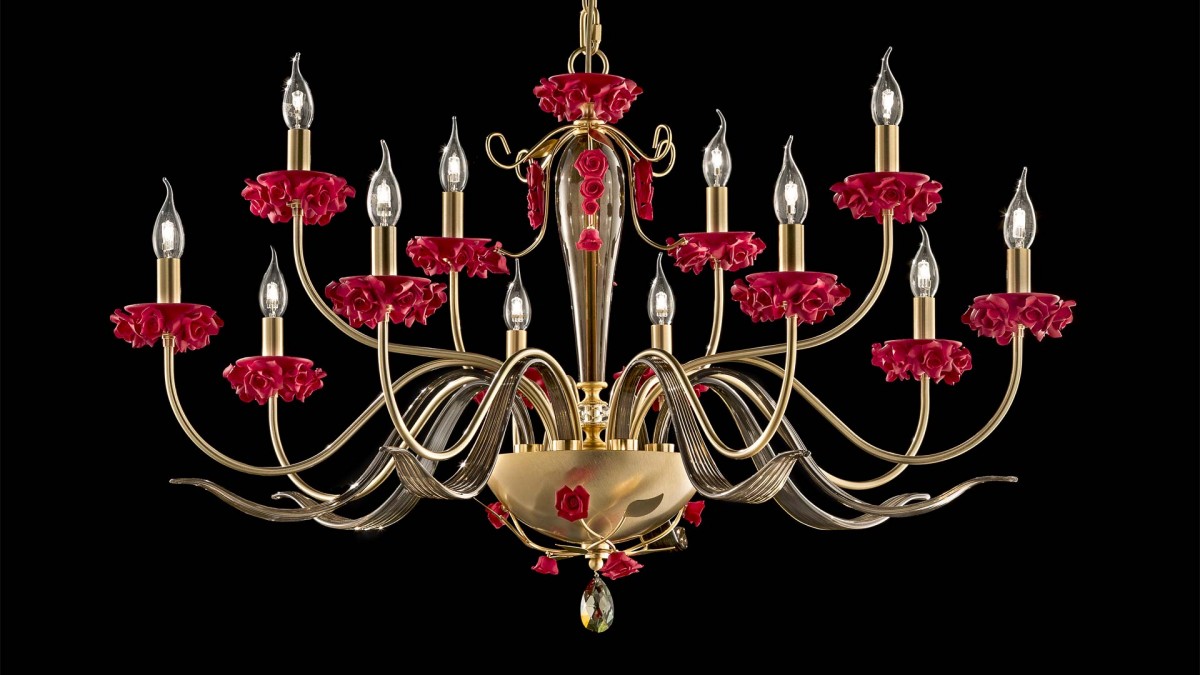 Barovier&Toso Madame J
Youthful, alternative, but not for this reason should it be excluded from important buildings, Madame J is a collection that stands out for its freshness of combinations and for the return of the flower element of the traditional Venetian chandelier. A flower nevertheless redesigned and enhanced with the glass paste opaque colors. Madame J thus represents a contemporary chandelier with careful doses of the more typically traditional refinements.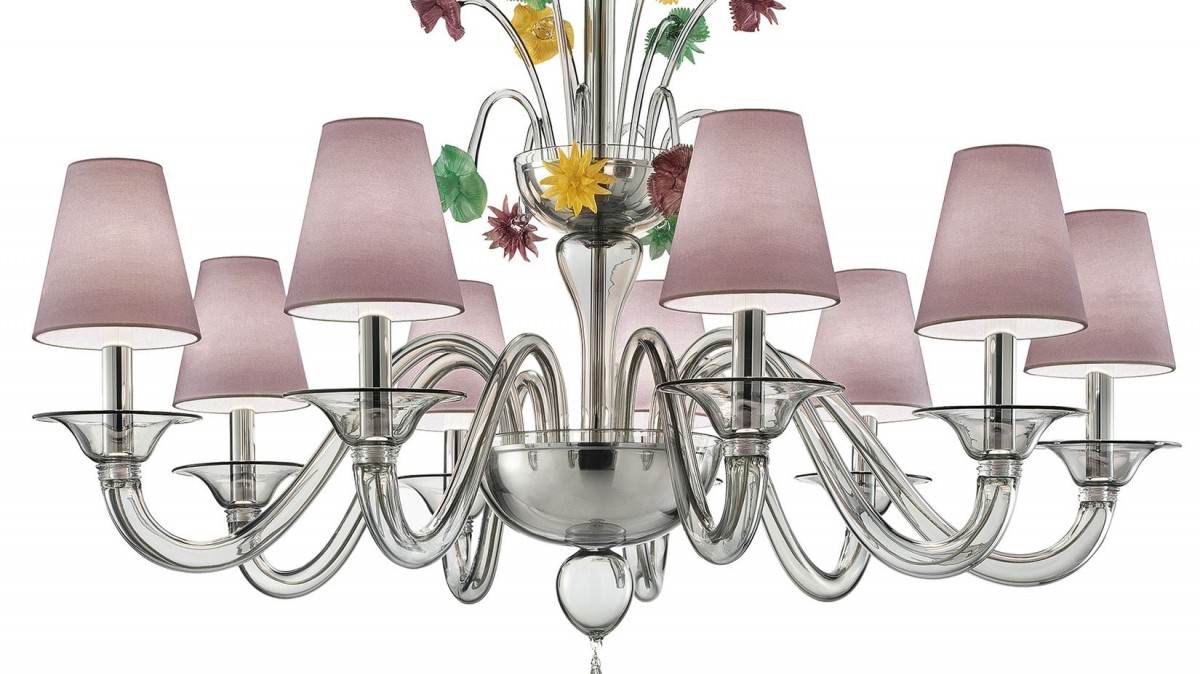 Schonbek La Scala
The soft curves, leaf-like motifs, rich crystal garlands and flower-shaped cups of La Scala evoke the sixteenth-century chandeliers of the Rococo. Its ornate arms and scrolls are cast by hand from Schonbek family molds.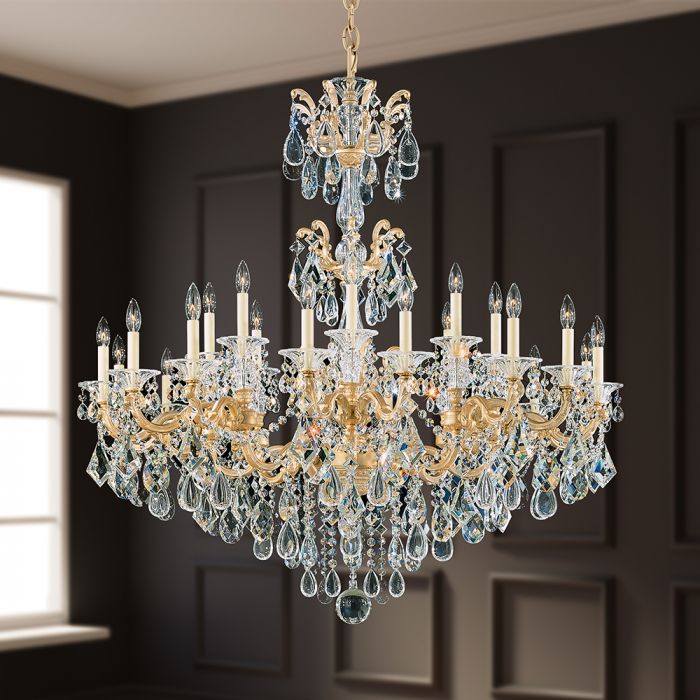 Beby Fruit Collection
The artful blend of refined details and rich colors allows the Fruit collection to impart refined glamour to everything they embellish. It has a classic metal structure with fine finishes and traditional transparent crystal pendants. Murano blown glass fruits of numerous shapes and colors, rigorously handmade in every detail, characterize the Fruit collection. The collection easily suits the taste and needs of each client thanks to a wide range of possible customizations.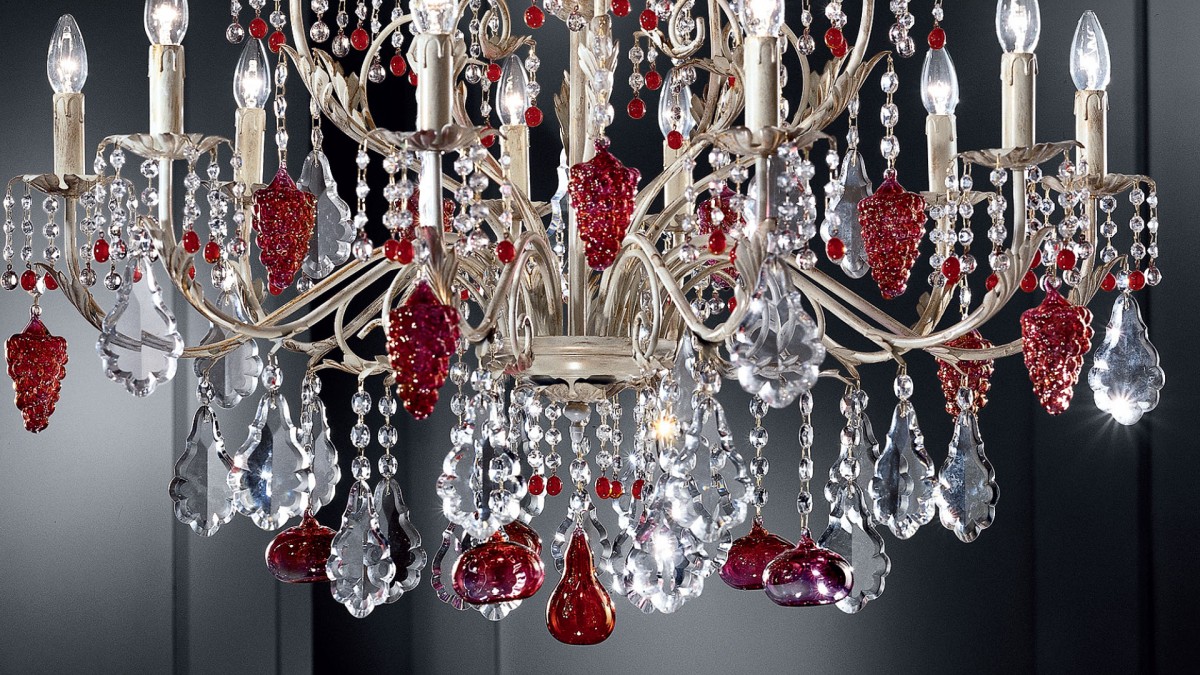 Schonbek Jasmine
The subtle grace of Jasmine, with its silver and crystal frame and stark lines, and thick single stalactite, is the ideal choice for a chic, contemporary interior.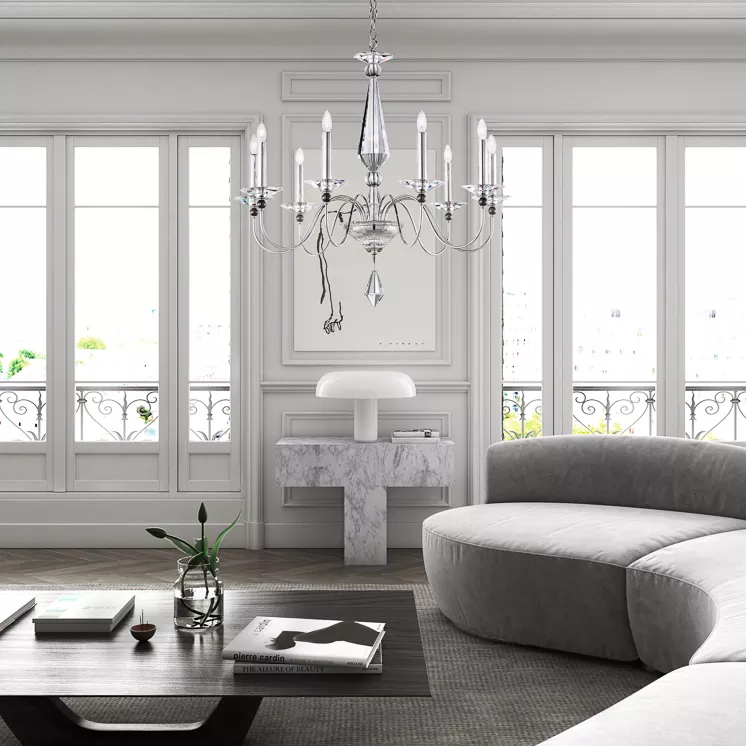 Schonbek Filigrae
The masquerades of the Renaissance, in Florence, Venice or Paris, were remarkable in their lavishness and inventiveness. Filigrae, a chef dâoeuvre of ornate precious branches and heavy crystals, celebrates the festive spirit of the sixteenth centuryâs masked balls.