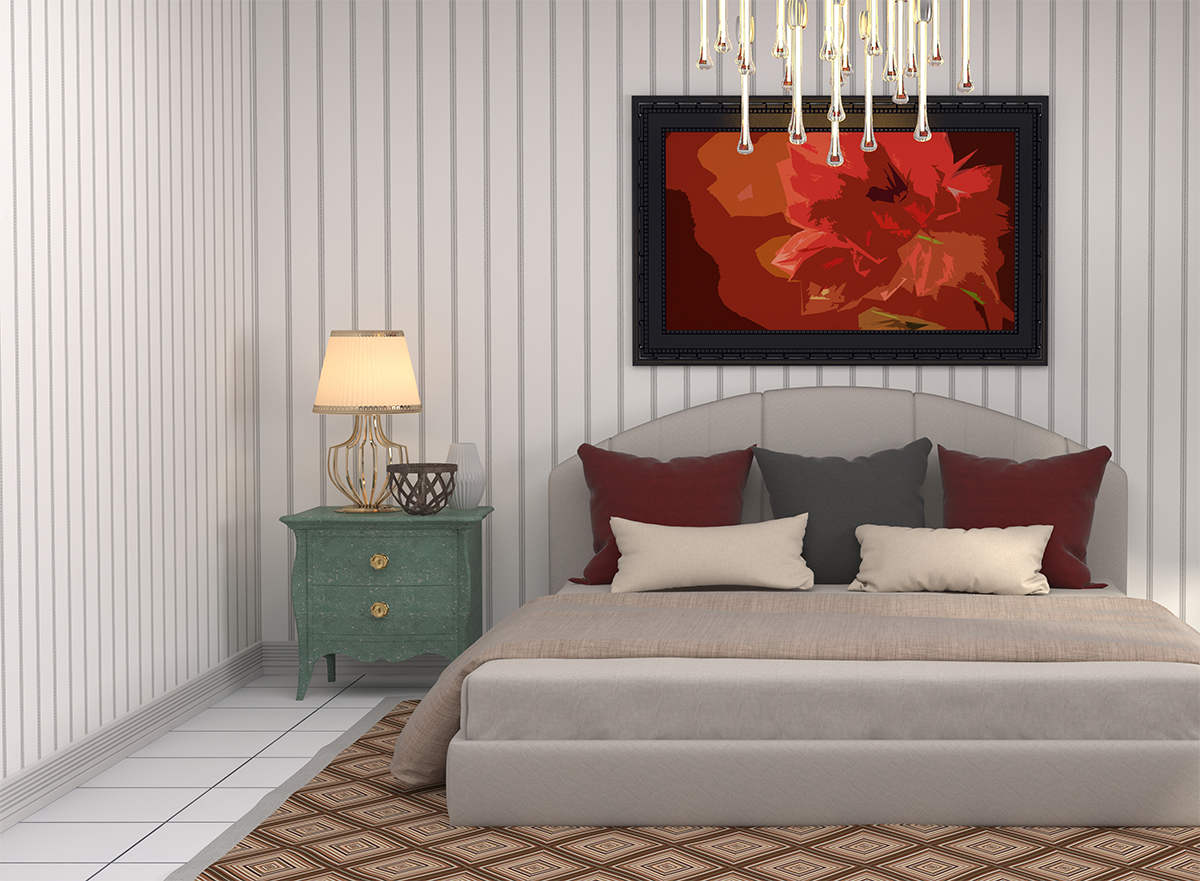 A table lamp is a portable luminaire that delivers a symbiotic union of design and practicality. The design of a light fixture for living spaces goes far beyond providing sufficient illumination and useful functionalities. Often placed on side tables, dining tables, consoles, nightstands, window-sills and dressers, table lamps are designed to offer localized pools of light at eye level. While the portability of a table lamp makes it a versatile solution for task lighting applications, what contributed to its universal presence in residential and hospitality spaces is its ability to create an alluring ambient enchantment and a unique decorative accent. A perfect table lamp is a dramatic blend of conversational aesthetics exuded by the light fixture itself and the visual satisfaction provided by thoughtfully composed lighting.
Functions
Table lamps are mainly utilized for providing layered lighting in which ambient, task and accent lights are mixed within a room to create a fully usable, adaptive space and ensure that the interior look has rich visual depth. Well-layered illumination is achieved in concert with overhead light fixtures, wall sconces, and portable luminaires including floor and table lamps. Task lighting is a fundamental component of a layered lighting design. However, in residential and hospitality environments, emphasis of task lighting is not only placed in providing sufficient illuminances for users to perform visual tasks, but to add visual interest and create intimate ambiance. And therefore a table lamp is employed to optimize a room space, both visually and functionally. Finding a table lamp that doesn't just provide task visibility but also imparts positive mood and feel can be tricky. A good product is sure to strike a balance between ambiance and function.
Aesthetics
Table lamps also serve as a decorative element that blends with the rest of your decor and enhances the beauty of your fine furnishings. Whether you aspire to make a striking sculptural statement, explore the interplay of geometric shapes, inject contemporary glamour, celebrate iconic modernism, or create a vintage allure, a masterfully designed table lamp will definitely channel a striking dimension into your interior design scheme. A poetic unity of breathtaking sculpture and inspiring design gives your home a fashionable flourish and an artistic flair. An empty table can be easily transformed into a show stopping focal point with a portable accent piece that exudes organic aesthetics. A table lamp can either be as ornamental as a vase which makes bold interior statements in a bland room, or be crafted in the simple shape of pure geometry to deliver understated refinement and harmonious elegance.
Inspirations
Table lamps can be used in a multitude of places to accentuate the vibe of a home. Place them in a lost corner of a living room to create a relaxing reading nook. Invite a welcoming serenity in lounges or hallways by putting a pair of lamps at either side of console tables to produce a dash of delicate symmetry. Channel a touch of boutique hotel elegance into bedroom settings by casting gentle glows on the bedside tables with atmospheric bedside lamps. Illuminate a dining room buffet to bathe displayed items in a flattering light. A unique designer table lamp composes a greeting accent for hotel lobby areas. Wherever they reside, opportunities for creative expression abound with table lamps. This versatile light is a great addition to interior spaces of which the lighting scheme comes as an afterthought or needs appropriate balance of lighting and decor.
Illumination
Task lighting deliberately attempts to project a strong but shorter-range light on a local area. The delivered illuminances for task lighting range from 300 lx (30 fc) to 500 lx (50 fc). Unlike other task lights that provide uncontrolled downward illumination, table lamps typically use translucent shades to filter a small portion of light horizontally. This avoids high contrast with the adjacent environment caused by high luminance ratios. The presence of horizontal illuminance is particularly useful to ensure visual comfort when no ambient light is provided. It avoids task illuminances that exceed three times the ambient illuminance so as to eliminate noticeably dim areas. Neither full horizontal cutoff of light nor exposure of the eye to the light source is a good practice in the design of task light fixtures. When hunting for a table lamp, make sure it is optically designed to radiate a soft shade of light horizontally while delivering task illuminances downward.
Construction
Table lamps have a similar anatomy which typically comprises a base, column, light assembly, lamp shade, and switch mechanism. A weighted, anti-slip lamp base provides stability and allows the electrical wiring to feed through. In LED table lamps, the lamp base also houses the LED driver and other control circuitry. In many designs the base is tall and holds the light assembly without using a vertical column. The base may also be integrated with the column with a smooth or creative transition. The base and column are usually made of metal, wood, plastic, glass, marble, and/or ceramic. They come in various geometric expressions, design themes, graphic patterns, color schemes, and ornamental motifs. The aesthetically emphasized base, along with the meticulously crafted lamp shade, defines the style of table lamps and differentiates them from desk lamps.
The light assembly typically includes a lamp socket, a socket shell, an insulation sleeve, and a light bulb that screws or twists into the socket. Modern LED table lamps usually feature an integrated LED module for optimal light distribution and customizable lighting effects. The light is controlled (on/off switching, dimming) by a pull chain, rotary, or touch sensor switch that can be mounted anywhere from the base to socket or integrated in-line.
The lamp harp which rises up from below the lamp socket and serves as the lampshade frame provides lightweight support and adds a structured look to the overall appearance of the shade. All fabric shade harp assemblies consist of a fitter, a tripod spider, top ring, ribs, and a bottom ring. Some table lamps allow vertical positioning of lampshades using a shade riser which extends the threaded pole on top of the harp fitter.
Lamp Shades
Lamp shades are the crown-jewels for table lamps. The prominent part of most table lamps makes a strong aesthetical statement. Its optical property is essential in delivering a comfortable ambiance. Lamp shades come in a variety of shapes, which include classic drum, tapered drum, shallow drum, shallow tapered drum, oval drum, classic empire, pembroke empire, gallery empire, bell, horn, cut corner inverted square bell, sharp corner square, sharp corner square tapered, and sharp corner rectangle. Table lamp shades can be made of either fabric, glass, paper, or plastic. Wood, bamboo, metal, ceramic and shells are occasionally found in some novelty designs. Fabric shades in a plain color are most widely used because they allow the light to pass through and create a soft horizontal luminance that is gentle on the eye while providing the layered composition of light. The most favored shade colors include white, beige, brown, and gray. While lamp shades with these pale colors serenity exude a feeling of serenity, the richly colored shades invite a vibrant edge into your home.
Styles
Table lamps provide opportunities to treat the eye with exciting visual presences as well as pleasing lighting that transforms a lost corner of your home. Streamline your portable lighting to revive your interior, facilitate task performance, establish emotional relations, and inspire a dialogue within the room. There are myriad interpretations of this type of light fixtures, which come with distinction in styles and designs.
Contemporary table lamps are clean, uncomplicated, and elegant in a new world sense. Sculptural pieces with pure simplicity take precedence over ornamental embellishments. Their simple, uncluttered geometry heightens the sense of drama either organic or abstract.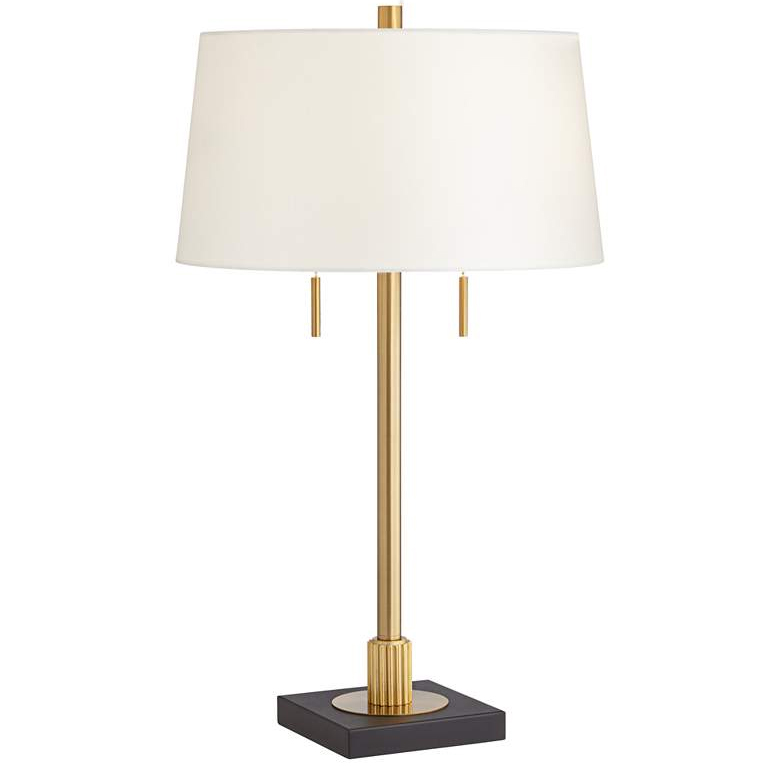 A transitional table lamp is a fusion of vintage and modern design. These lamps embrace gentle curves, intricate geometry, and neutral color palettes, but without the excessively elaborate and ornate details of traditional styling.
Table lamps with a traditional look are rooted in European sensibilities. Their ornate beauty which is showcased by relief work, scrolling and fluted bases, and exquisite finishes brings depth, layering and dimensionality to a space.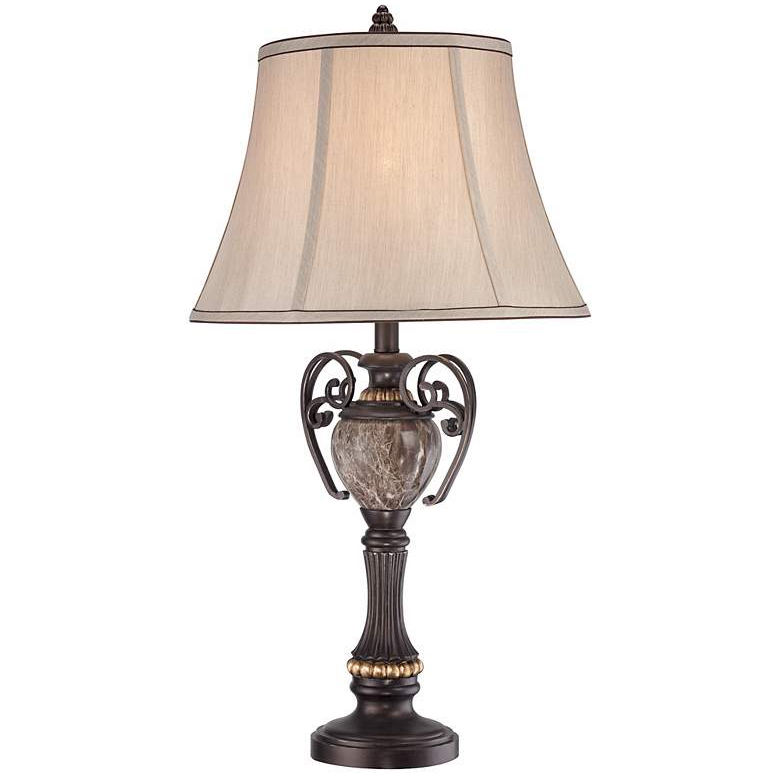 Usher a rugged, resilient spirit with rustic table lamps which are inspired by the simplicity and organic beauty of nature. From unfinished metal to reclaimed elements, these lamps help a room feel as close to the outdoors as possible.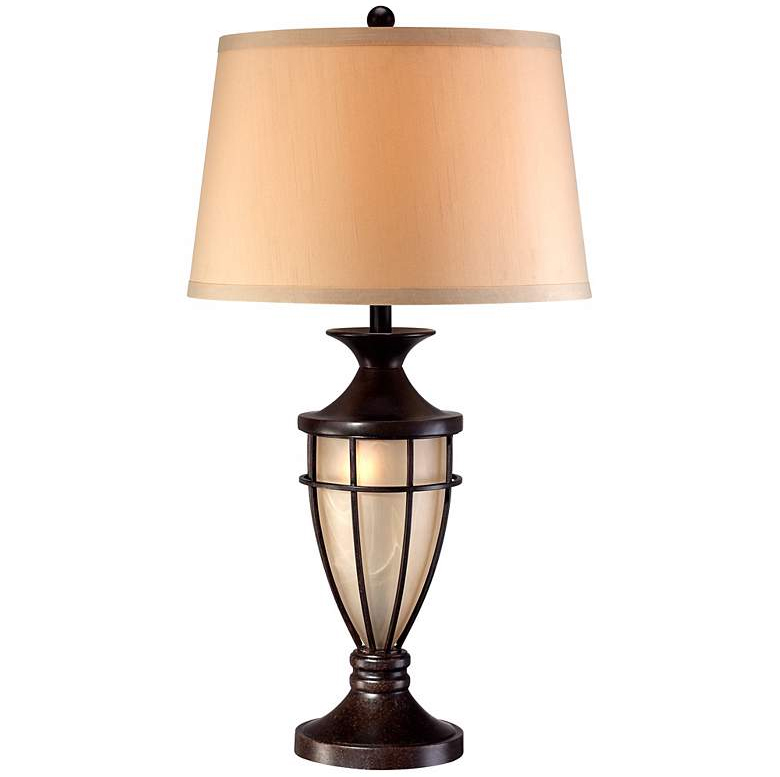 Invite a touch of industrial glamour into your room with a lamp that exudes stylishly undone aesthetic. Industrial-inspired pieces offer a rugged charm and an aesthetic combination of modern and vintage stylings.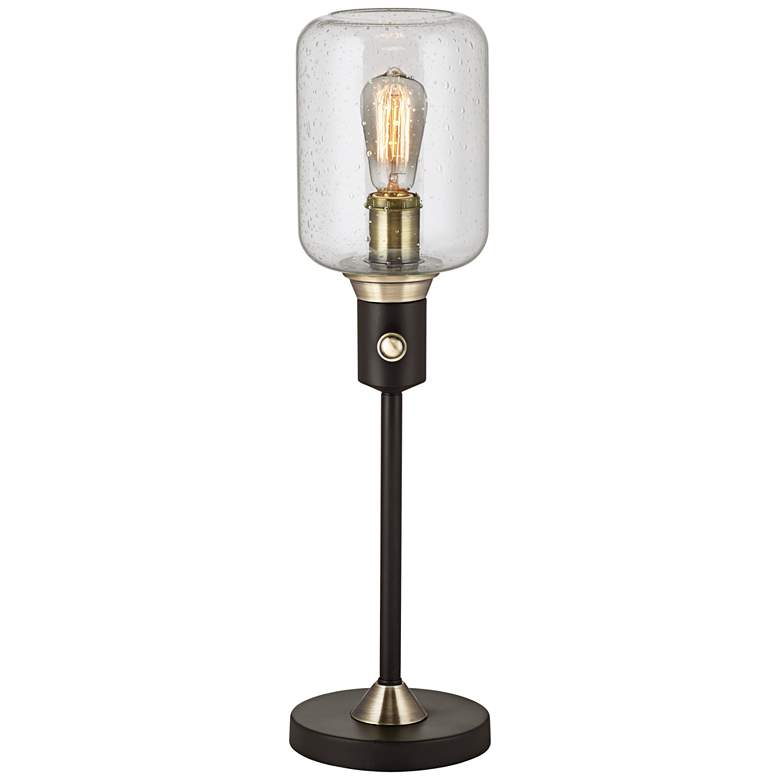 Tiffany style lamps, known for their vibrant designs on stained glass shades, are wonderful as accent pieces. The intricate designs like floral, dragonflies, peacocks, butterflies and geometric patterns allow the lamp to shine with a magical and captivating illusion.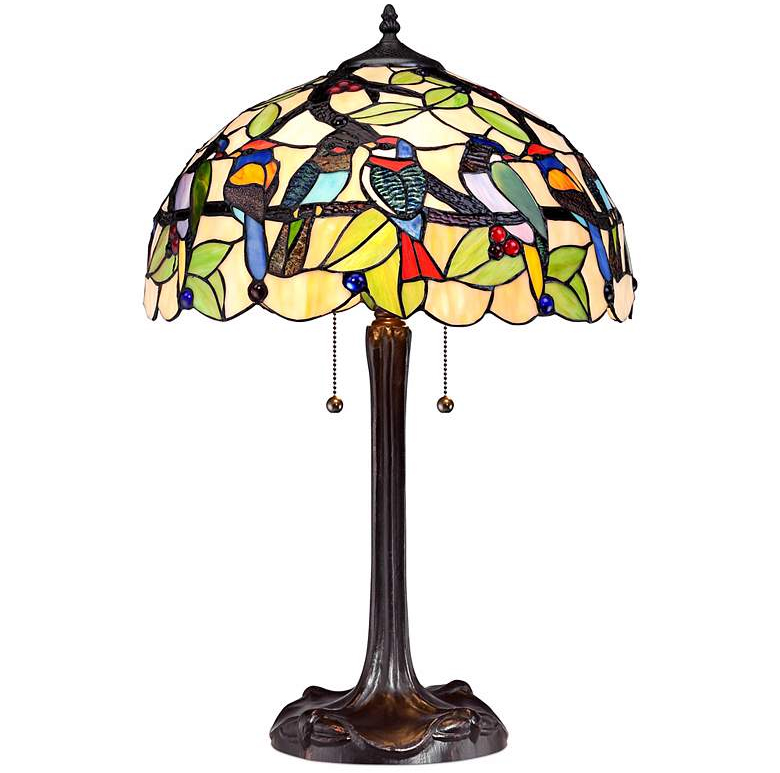 Light Source
The light source for table lamps is often overlooked. Most lighting designers and consumers don't know that their table lamps are most likely using light bulbs with the worst light quality ever. LED lighting has swept the market for its high energy efficiency and long lifespan. But this semiconductor based lighting technology doesn't sound as good as what you might have expected. Challenges lie in the fact that it's difficult for LEDs to simultaneously provide good light quality (e.g., high CRI, low flicker lighting) in combination with high luminous efficacy while maintaining a low cost. Because there're no tight regulations on the light quality of LEDs, manufacturers of consumer grade lighting products sacrifice light quality for luminous efficacy and cost competitiveness. And LED bulbs are a victim of this industry practice. These light bulbs typically use the least costly LEDs, driving solutions and thermal design.
As a result, most SMD based LED bulbs have a poor spectral power distribution (SPD) throughout the visible spectrum. The LEDs incorporated in these bulbs are packaged using the lowest cost phosphor compositions which fail to provide the most accurate color rendition. With a typical 80 CRI, LED bulbs are nowhere to be comparable with incandescent lamps which have a CRI of 95. These LEDs also perform poorly with highly saturated colors, including R9, a deficiency of which leads to rendition of lifeless skin tones and reds. Unconscious consumers wouldn't notice this deterioration in color quality because they had been used to de-saturated, poor color rendering fluorescent light. In fact, LEDs can have a color spectrum as good as that of incandescent lights as long as a wide spectrum phosphor mix is disposed on the blue LED dies.
The problem with LED bulbs isn't as simple as that of fluorescent lamps. LED lighting is more delicate as it requires accurate current control and efficient thermal management. A failure in providing regulated DC output power with a low ripple content will cause the LEDs to flicker, which is invisible to the eye but can result in eye fatigue and trigger additional health implications. LED bulbs often come with a lightweight aluminum heat sink which provides very limited heat dissipation. The consequences of poor thermal management include color shift, efficiency degradation, and shortened LED life. Thermally induced color shift usually leads to increased amount of emission in the blue spectrum. High blue content disrupts circadian rhythms by suppressing the release of melatonin, a pineal hormone that helps control the sleep and wake cycles.
The Design Trend
There are, of course, LED bulbs that produce high quality light. Soraa, a lighting manufacturer founded by Shuji Nakamura who was awarded the Nobel Prize in Physics 2014, is offering a premium line of LED bulbs that have a color rendering index of 95 CRI, 95 R9, and 100 Rw (white rendering). Cree's A19 Pro Series LED bulbs also provide excellent color rendition with a minimum CRI of 90. However, these LED bulbs are less affordable and not easily available for consumers worldwide. The constraint in bulb size makes impossible to incorporate robust digital circuitry for advanced lighting features, such as tunable whites for human centric lighting and dim-to-warm for atmospheric lighting.
The quest for high quality illumination and extraordinary fixture designs calls for an integrated approach to address the challenges of LED lighting. Only with carefully selected LEDs, precisely matching driver electronics, state-of-the-art optical control and exceptional thermal engineering, can the benefits of LED technologies be exploited to the full. The design freedom of solid state lighting product rests with designers' expertise optical, thermal, electronic, and mechanical engineering. Table lamps have a sluggish transition to integrated design as opposed to desk lamps which place high demands on the quality of light. For the sake of bringing the near-sunlight quality of incandescent light back to our living space and embracing smart lighting technologies, it's a pressing need to design table lamps around LED technology, rather than LED bulbs.
Unaffiliated Recommendations
Looking to inject your home interior with unrivaled style and character with fabulously designed and rigorously engineered table lamps? We've pulled together some of the best table lamps that might give you some inspirations. (Disclaimer: We're not affiliated with any beneficiary of the external product links in this list.) This is a continuously updated list. We welcome product suggestions from those who take pride in building compelling value into their products. (Owners of products listed here are authorized to use our badge to promote your achievement. Please include a link to this page for listing verification.)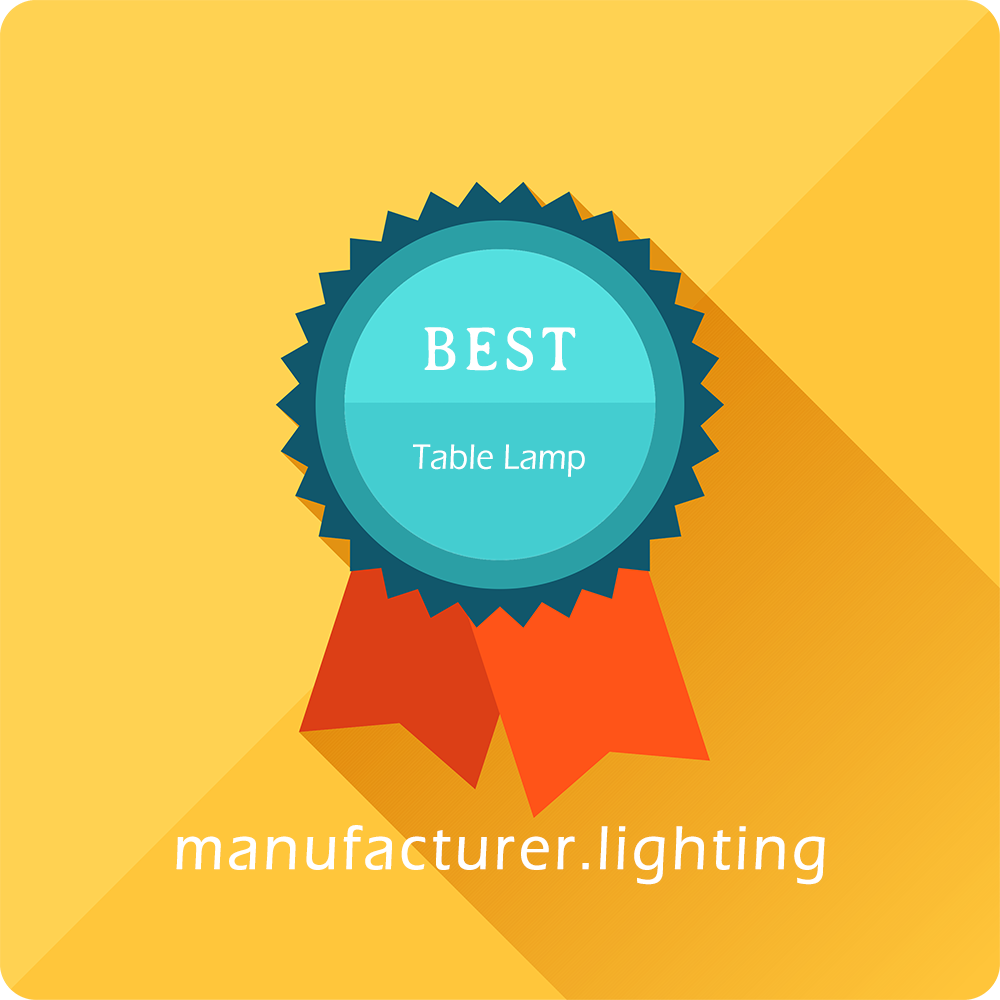 Foscarini Lumiere
A contemporary restyling of the classic bedside lamp, the Lumiere table lamp has become an icon of design, and it is distinguished by the blown glass diffuser combined with an unmistakable aluminum tripod.
Martinelli Luce Pipistrello
A table lamp that, through its diffuser and the sinuous and curvy telescopic base epitomizes discontinuity, modernity, humor and grace, elegance and dynamism. Pipistrello continually remains current and fascinating, in part due to its style and the design ingenuity of Gae Aulenti and also due to company's desire to keep the design fresh while implementing up to date technology. Intervening on your home's lighting fixtures becomes easy and intuitive thanks to the app designed and built in collaboration with CASAMBI, compatible with Apple and Android systems, that easily allows controlling multiple lighting devices and adapting the light to your needs.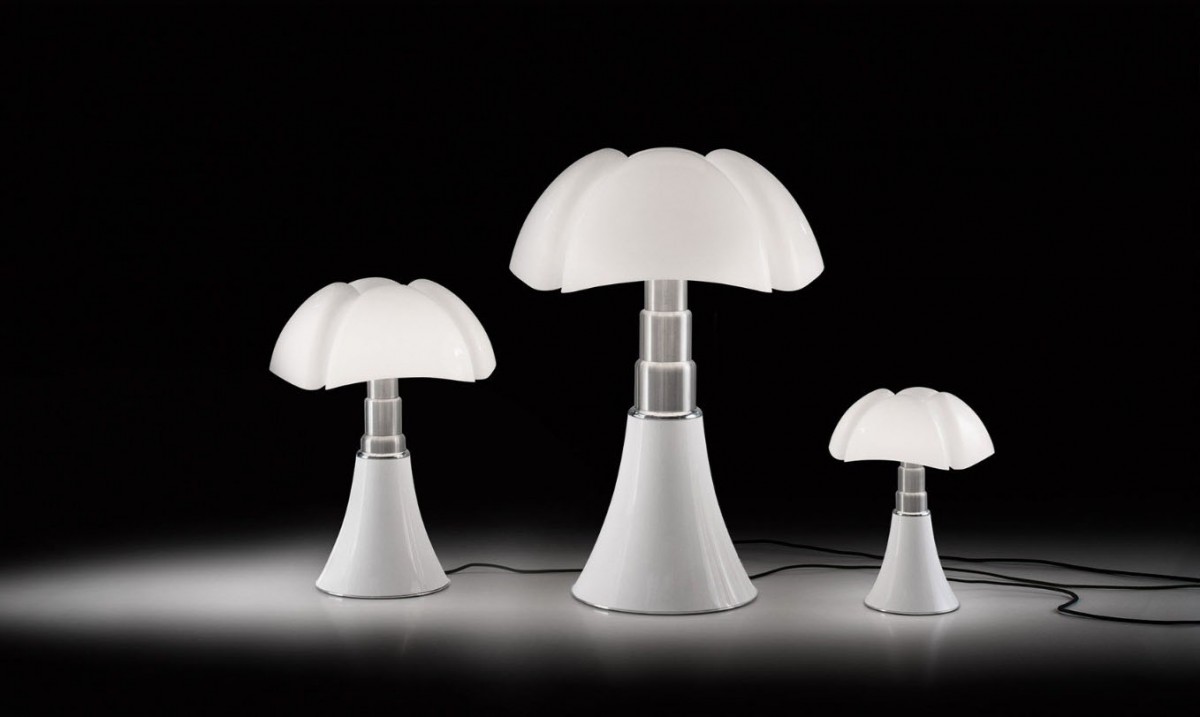 Foscarini Buds
Sophisticated wealth and valuable materials: in Buds, blown glass plays the starring role, combined with a transparent base that emphasizes its pure shapes. Buds 3 is the smallest of the lot: the color of its glass is a characteristic bamboo green or warm white.
Artemide Sisifo
Sisifo radiates a comfortable shade of light. The head and cylindrical base are made from extruded aluminum. The adjustable stem comes in chrome-plated brass, and the diffuser is injected molded from PMMA. The spherical central joint guarantees maximum freedom in adjusting the light with minimum restrictions due to the small size of the base, allowing its use on both larger tables and small-sized surfaces. The iconic flat lamp can be tilted in all directions, providing warm relaxing light for any environment.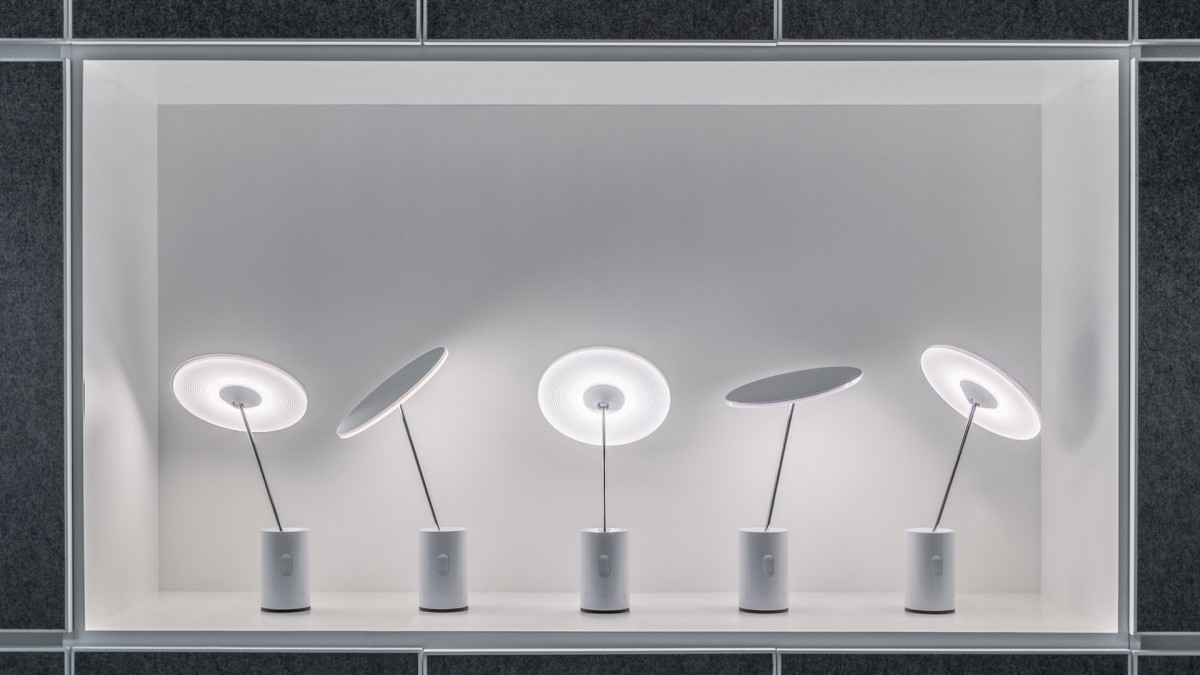 Artemide Nesso
Designed by Giancarlo Mattioli and Gruppo Architetti Urbanisti Città Nuova, Nesso is an international icon of futuristic, democratic design. A dash of color and a design inspired from nature, Nesso stems from the visionary identity of Artemide. Its iconic curves wind into a true collectible, an expressive statement piece of internationally acclaimed caliber and fame. An iconic piece having staged its presence in various landmarks, Nesso is considered a valuable piece of art. An icon of design, part of the permanent collections of The Metropolitan Museum of Art and The Museum of Modern Art.
Artemide Empatia
Empatia is inspired by the association between the great glass-blowing tradition and the LED technology of Artemide. High interest in the expression potentials of this material resulted in co-operation with master glass blowers to gain full control of the special suppleness of Venetian glass and to work on the balance between surface and light, between subtle densities and transparencies. Transparency and opacity are wisely dosed to obtain a glass that reflects light without glaring and without losing efficiency. Light is controlled with maximum yield and driven towards the glass diffuser through a transparent pipe with a very low absorption coefficient.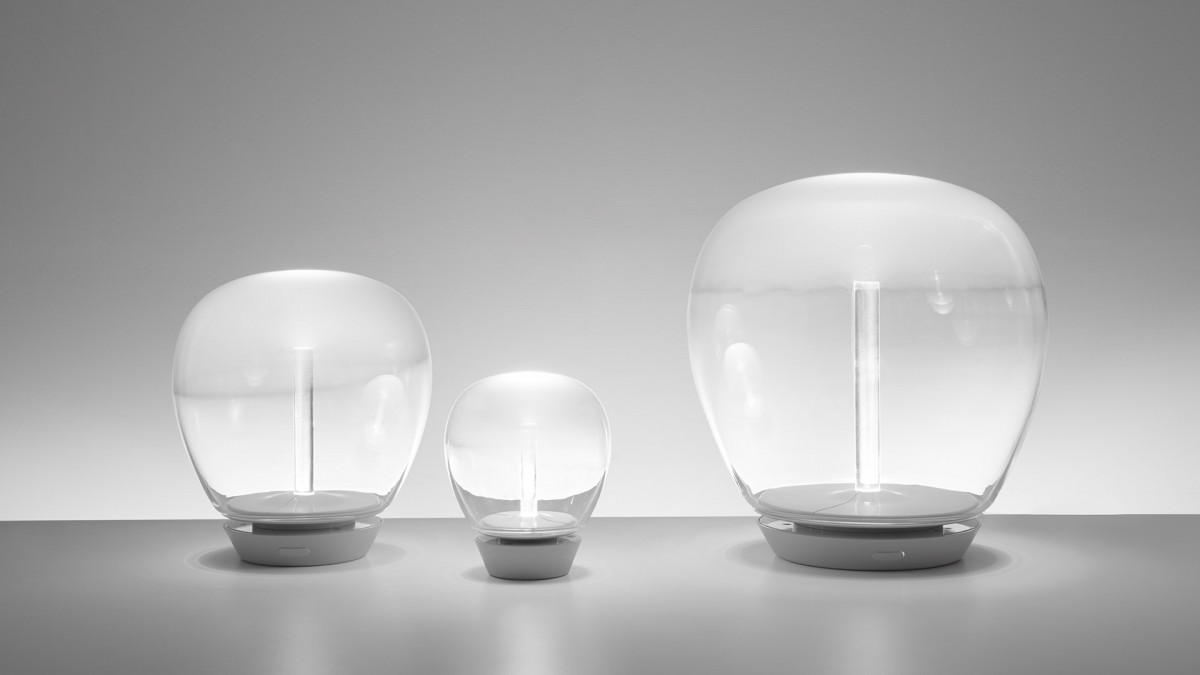 Slamp Mille Bolle
Slamp Mille Bolle—Soap bubbles, fleeting emotions from the near past captured in a romantic, timeless play light and weightless reflections. The handcrafted diffusor is a series of small folded iridescent polycarbonate pieces, illuminated by an almost invisible light source. The ample collection (wall, floor, table, and suspension) enchants the onlooker with its design and varied refractions.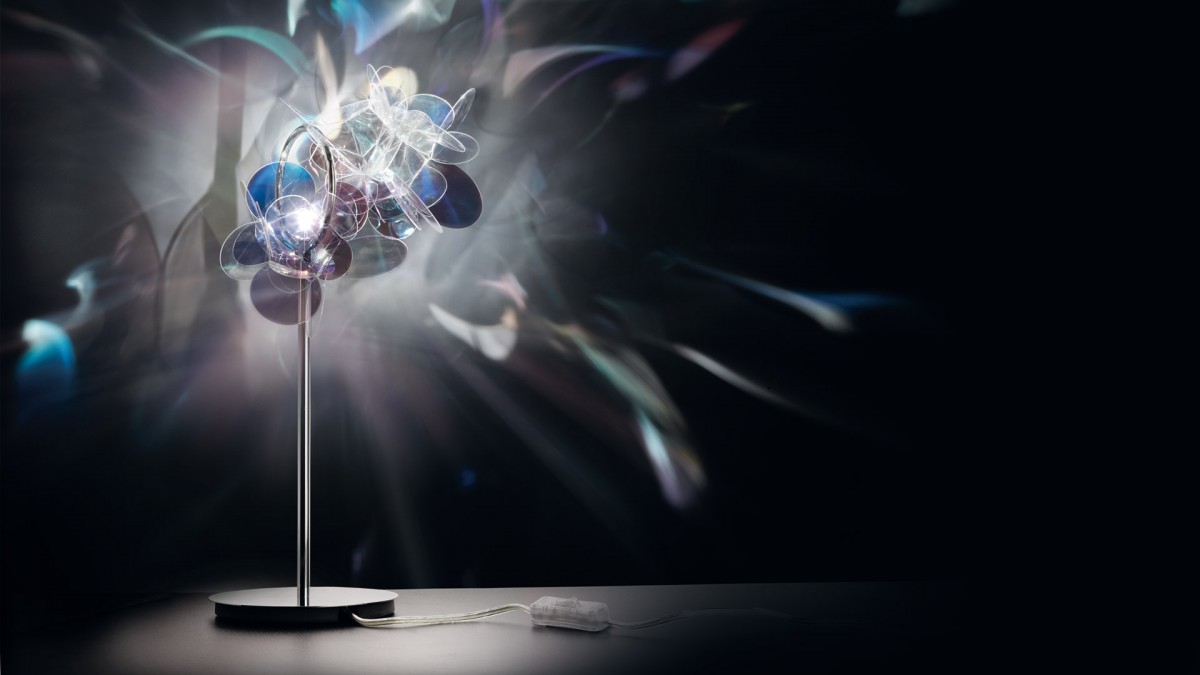 Slamp Las Palmas
A few kilometers from the Moroccan coast in the Atlantic Ocean, sunlight bathes the palm fronds covering the island of Las Palmas. This suggestive landscape brought life to the eponymous collection, staring from a two-dimensional sheet of Opalflex®, sculpted into a three-dimensional form. Las Palmas brings a monochromatic, minimal summer breeze to every interior.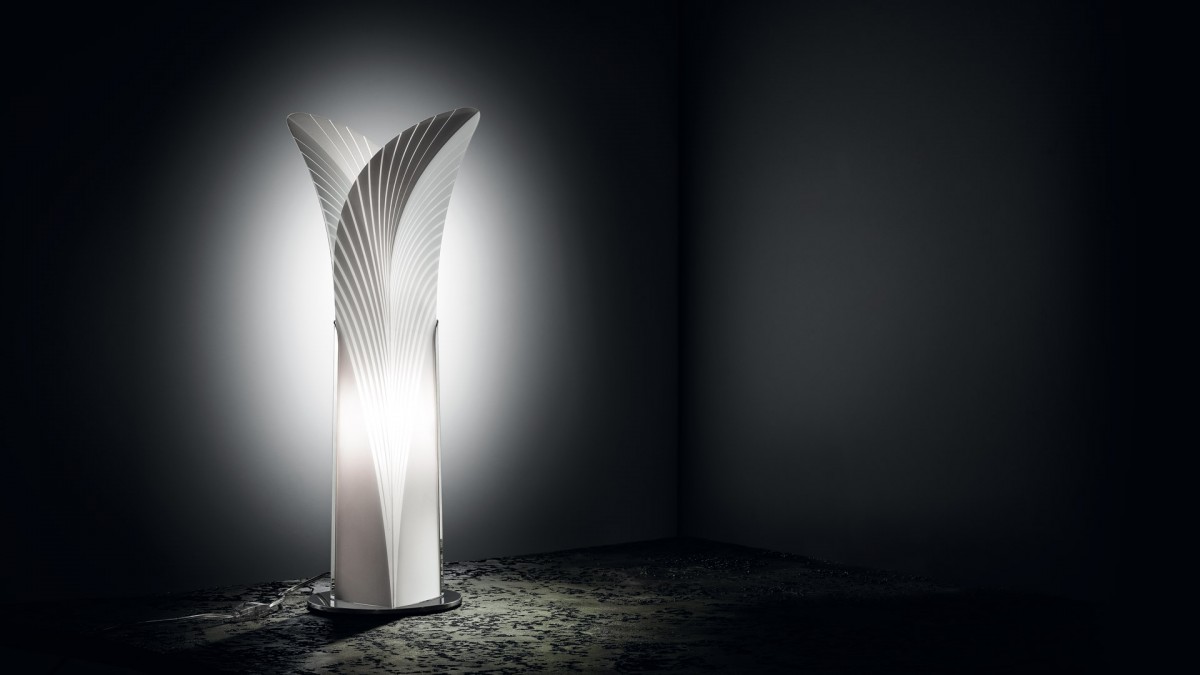 Marset Vetra
Designer Joan Gaspar uses a completely closed glass diffuser as a reflector, and creatively places the light source outside the shade. Like an echo multiplying the light, when it's on, its entire outline is drawn out and seems to come alive. The table lamp gives off more light than one would expect, without glare. Much of the light is directed downward, and the rest is filtered toward the inside of the shade, subtly illuminating it.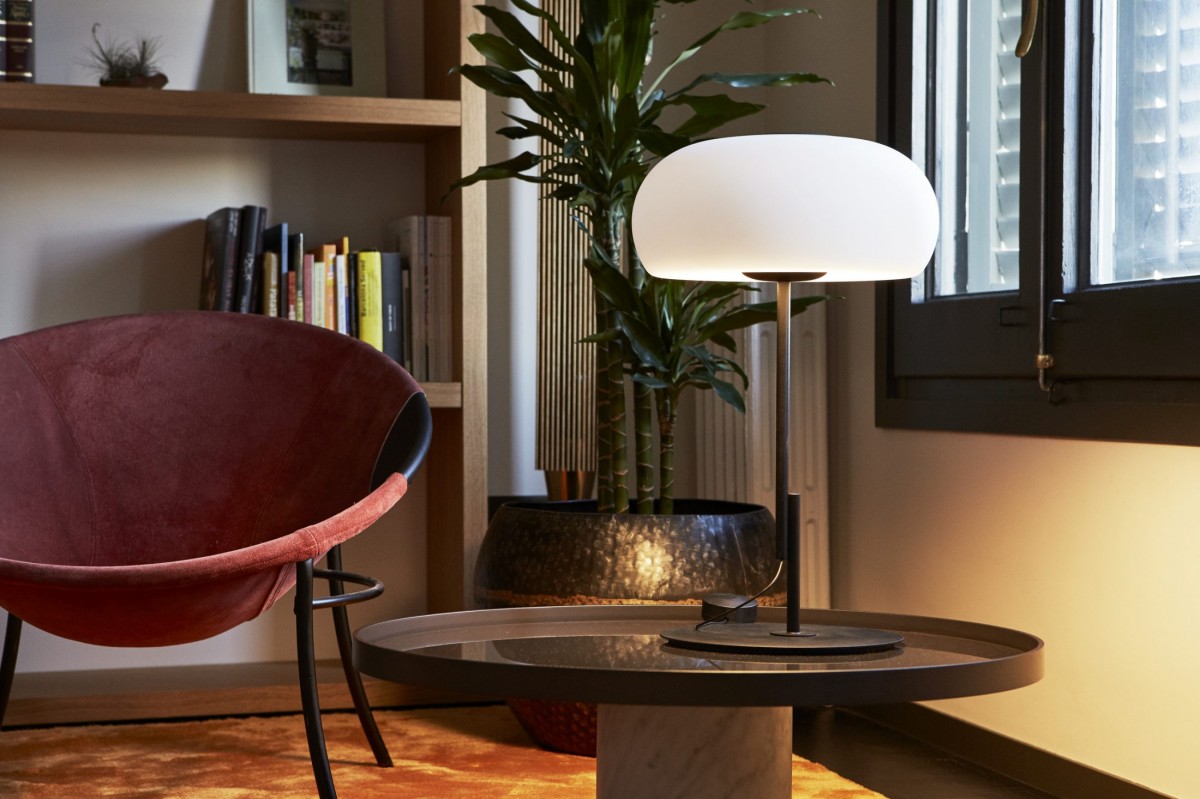 Marset Ginger
Wood is a great ally of cozy lighting. It is a material that is hard to mold, a challenge that the Ginger collection neatly resolves. The lamp shade of Ginger is a combination of wood, paper and resins pressed together under high pressure. An LED module sits on the aluminum cup and distributes light in a wide beam pattern towards the shade for a soft, uniform spread of light. Radiating expressive minimalism, the Ginger table lamp will bring harmony to any modern setting.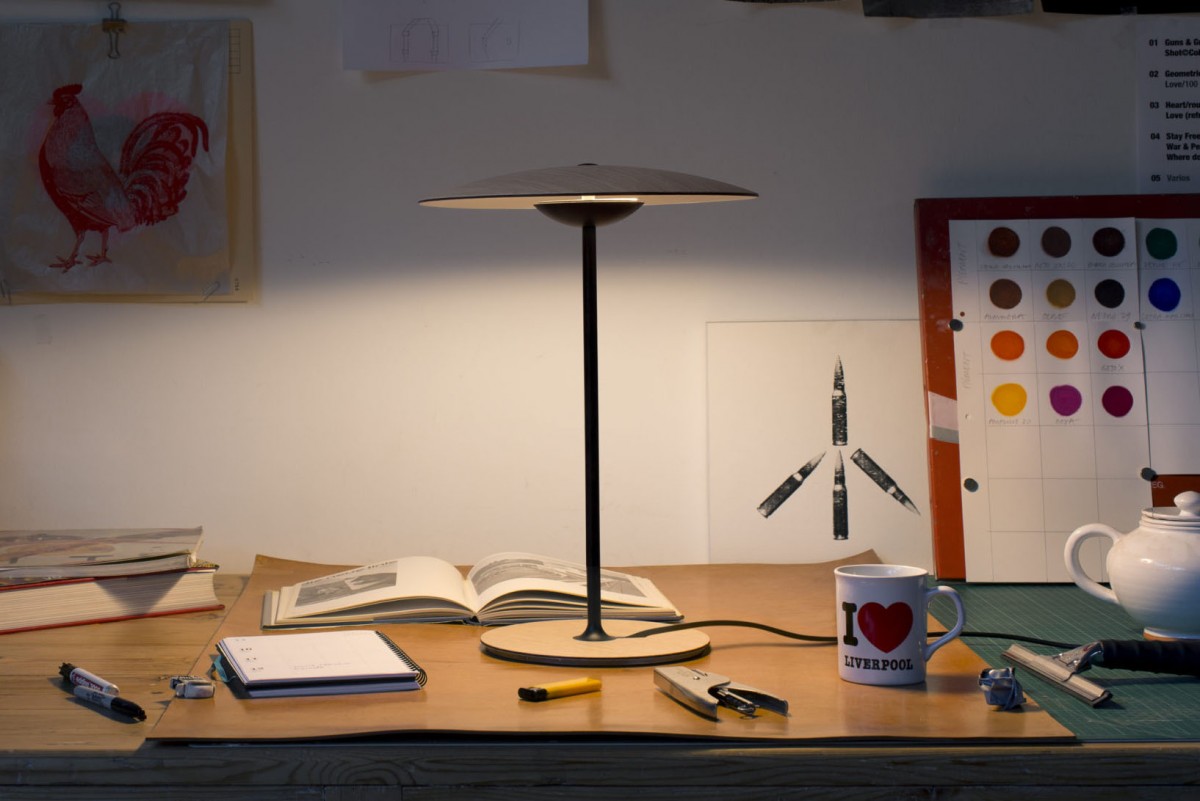 Flos Bon Jour Versailles
The Bon Jour Versailles collection solves the paradox between industrial precision and artisanal know-how, between aristocracy and democracy, between science and poetry. It reveals timeless lines with unfailing lightness and empirical modernity that evoke our collective memory of the past, of the present and the future. The lamp sits on top of a finely sculpted transparent crystal or polymethacrylate stand whose lines are reminiscent of the Maison Baccarat most iconic pieces. Crowned with a chrome plate, the lamp features a unique and innovative LED Edge Lighting technology developed by Flos.
Marset FollowMe
This daring pioneer of portable lighting has become a design icon in just a few short years. Its simple, airy lines, its tilting shade and its varying light intensity have established it as a beautiful and practical lamp. The FollowMe collection is offered in multiple colors: pink, blue, green and terracotta.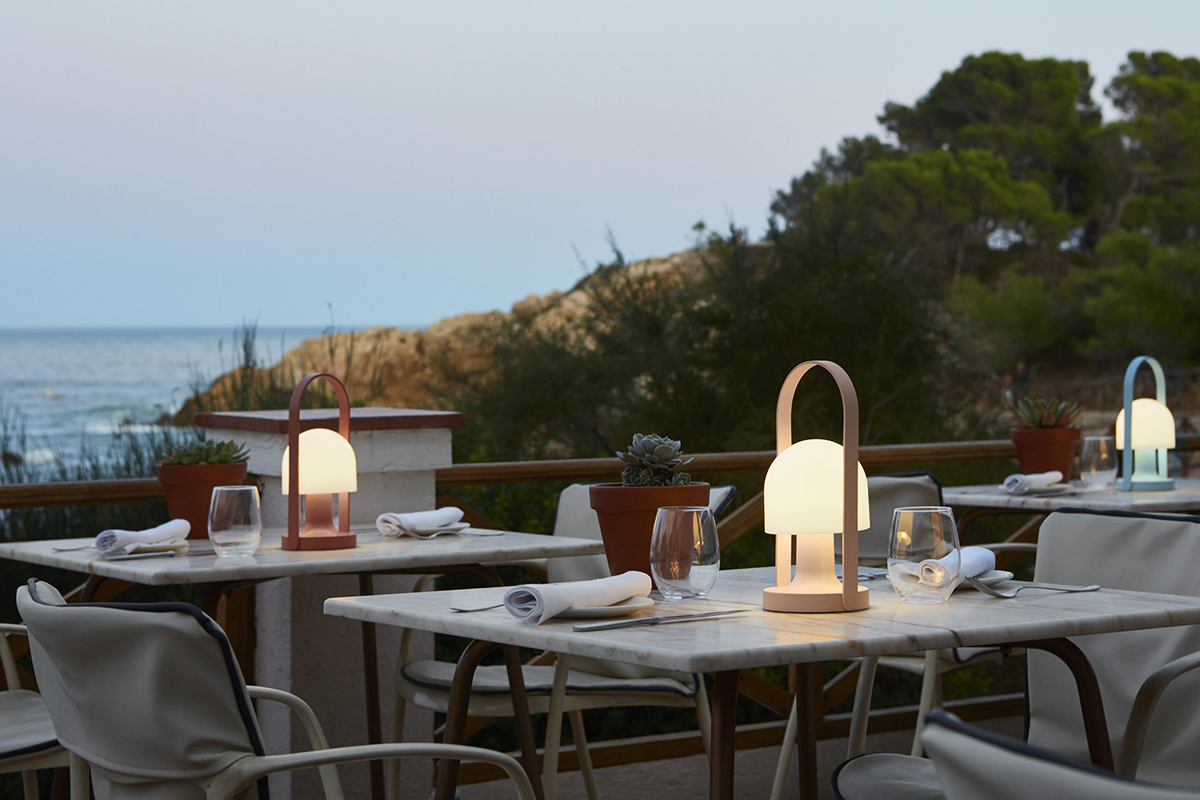 Brokis Bonbori
Bonbori was created by world-renowned Japanese designer Fumie Shibata, who took inspiration from the traditional paper lamps that line the paths to shrines and temples during the annual paddy harvest festivals in Japan. Whether in the garden, on the terrace, or in other outdoor settings, the soft, gentle light of Bonbori pays tribute to a Japanese tradition by creating a unique and festive ambience to be enjoyed as thoroughly in solitude as with family and friends.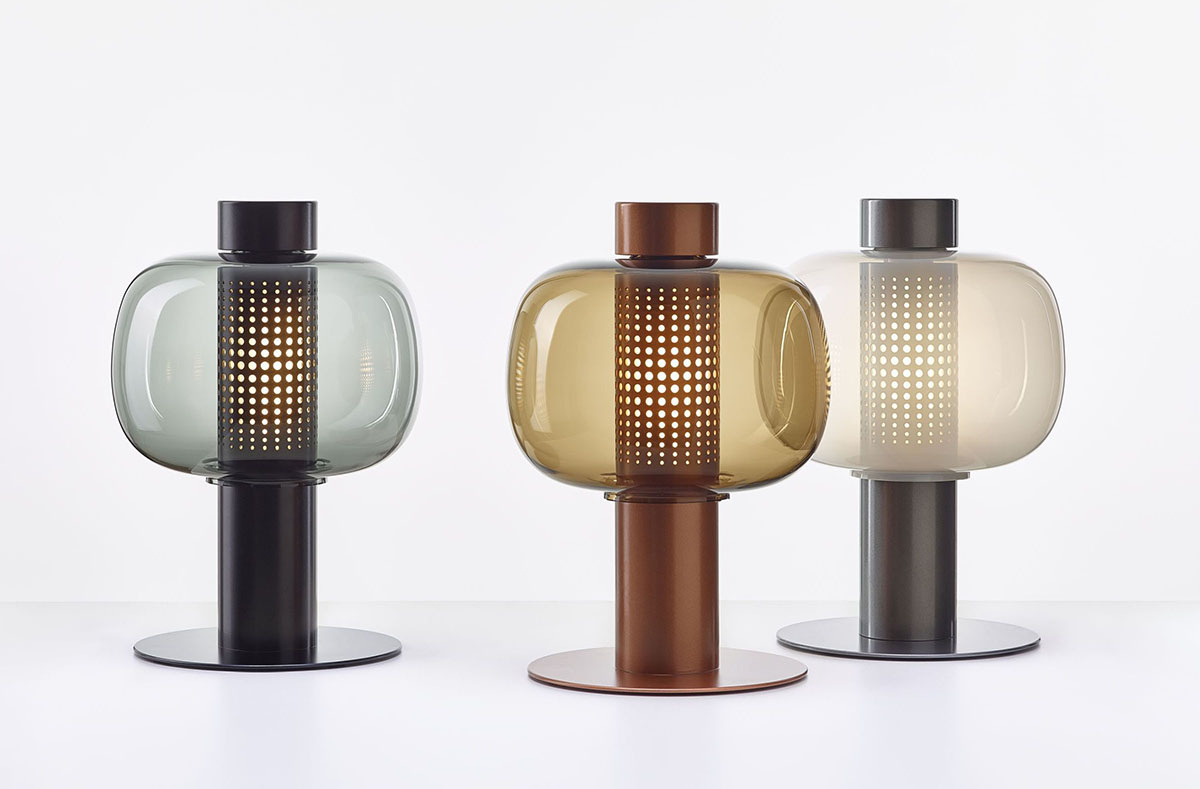 Brokis IVY
Nature and its life-giving beauty and strength serve as the model for a unique lighting concept called IVY. Just as the plant grows and climbs up the walls of a house, creating multiple images, IVY offers a special system of modular components, thanks to which it can be used to achieve a highly innovative take on decorative lighting in both vertical and horizontal compositions. Variable, elegant, and precise in workmanship all the way down to the smallest detail, IVY is a high-tech lighting concept well suited to both commercial and residential applications.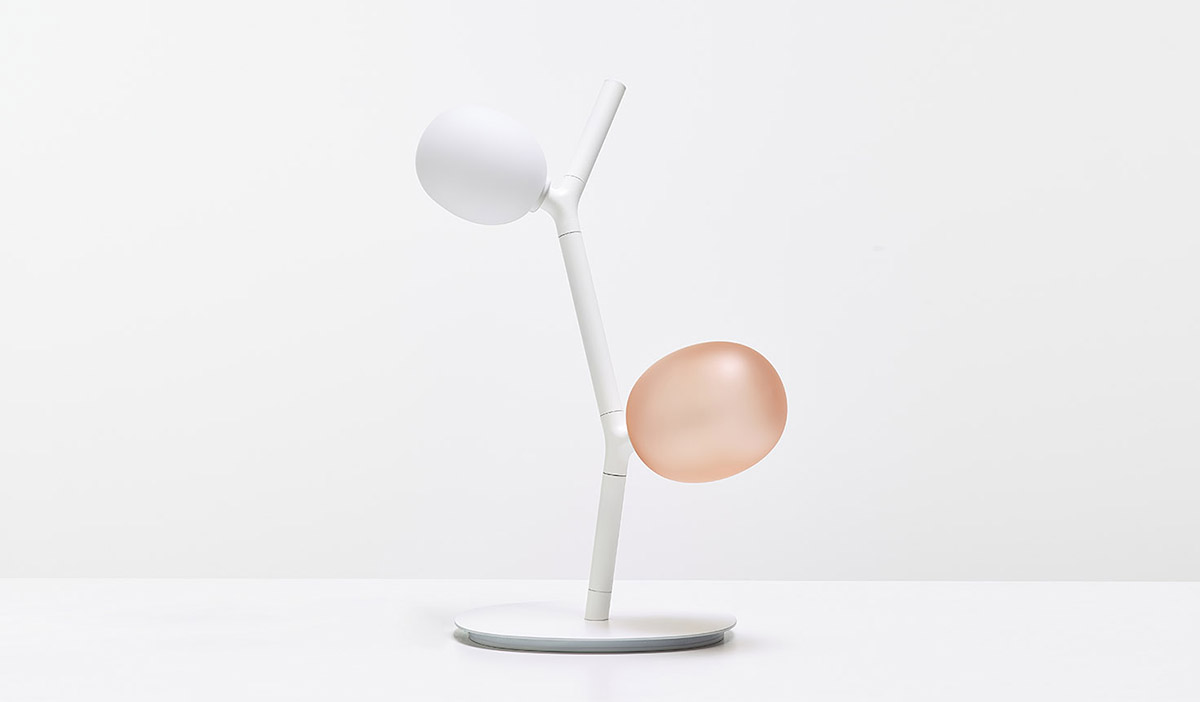 Resident Bloom
Bloom is inspired by the gentle dynamic flow of paper lanterns. Its glorious lit effect is the result of light passing through a finely perforated mesh core and onto the inside of the frosted blown glass shade, thus creating a distinctive pattern. Sitting proudly atop a plated stainless steel base, Bloom projects a warm consistent hue upwards into a space.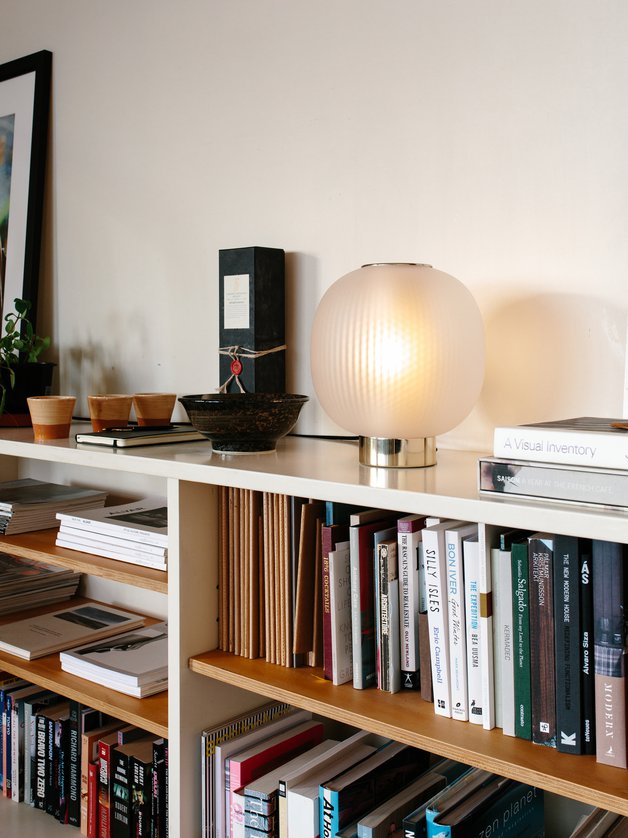 Fogia Persimon
Persimon features a soft form inspired by the segments of the fruit that gives the lamp its name and are dimmable. The shade is in white opal glass, which emits an inviting, even glow that's powerful without being too harsh. Place them on any surface as you see fit, with both sizes giving huge scope as a part of your interior design.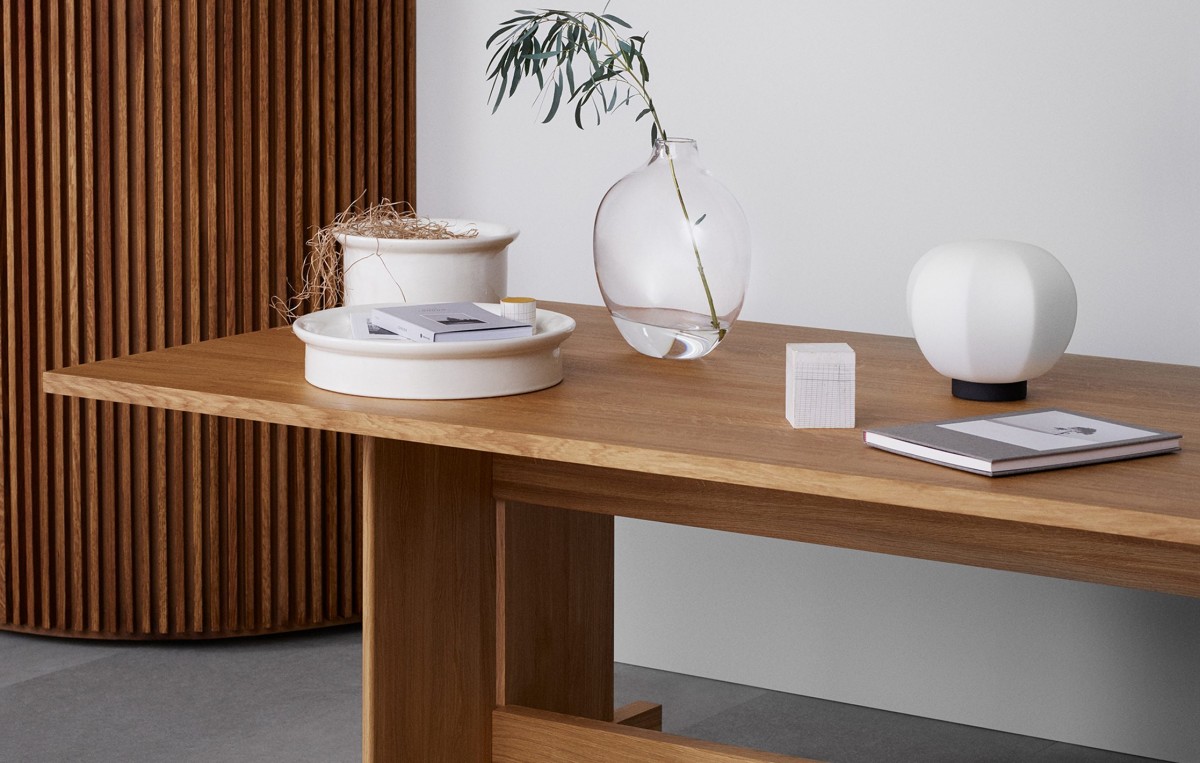 Herman Miller Ode
Poetic in their simplicity, elevated in their attention to detail, Ode Lamps shine a light on the moments people spend together. Soft, anti-glare LEDs and spun steel shades create a pool of diffused illumination, appealing to our instincts to come together around light. Touch technology lets you grasp any part of lamp's stem to turn it on or off. Table lamps are also dimmable, a function that operates the same intuitive way.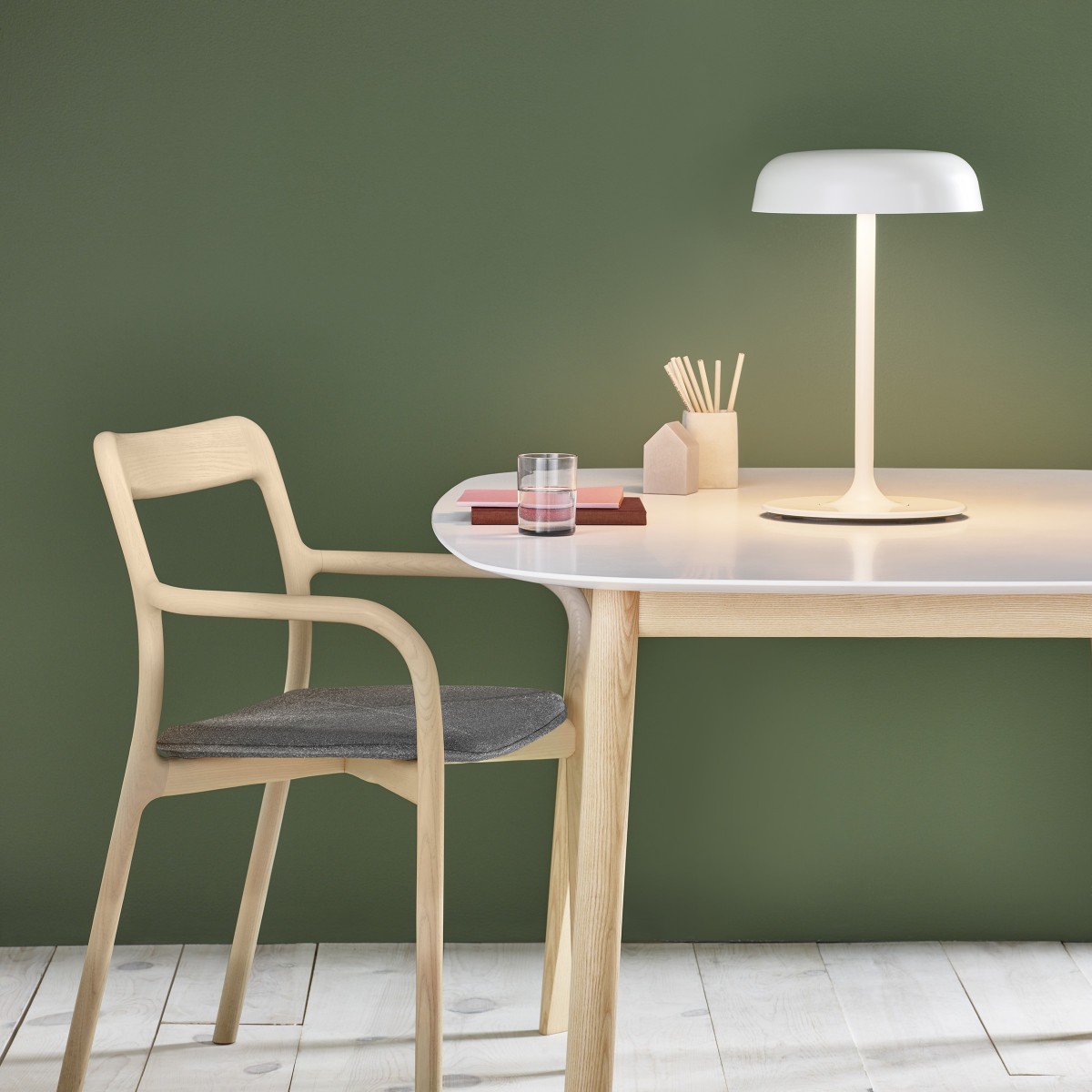 Opinion Ciatti LAlampada
A lighting system that combines tradition and modernity, easy to locate on bedside furniture, as well as on living room tables. Available in two sizes, it can be colored, with textural finishes, with precious leaves (in gold, silver, copper or black), sophisticated with liquid metal finishes (brass, bronze, aluminum, iron) and also with a mirrored effect in the gold or chrome polished steel version. The lining of the diffuser is silver or gold, glossy or opaque depending on the outer finishing.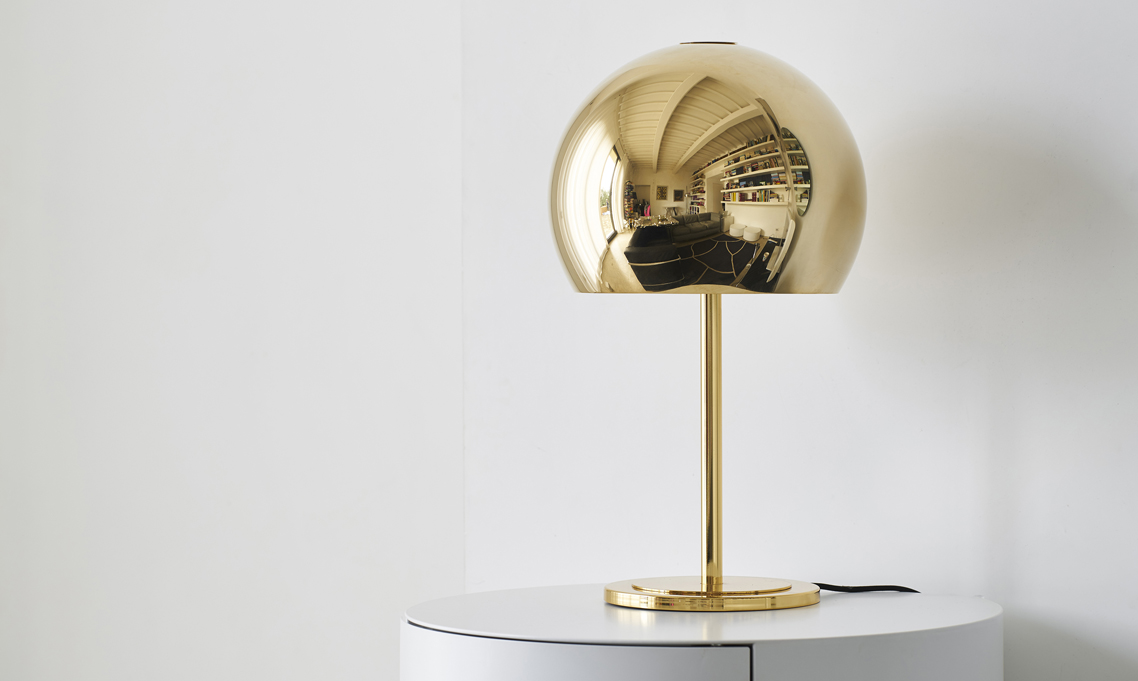 Pedrali Colette
Colette is a table or bedside lamp that stands out for its sculptural shapes and the color. A translucent cylinder diffuses the light only in correspondence of the half-sphere. Its transparency gives lightness to the whole lamp. It is completely made of polycarbonate, available in different colors.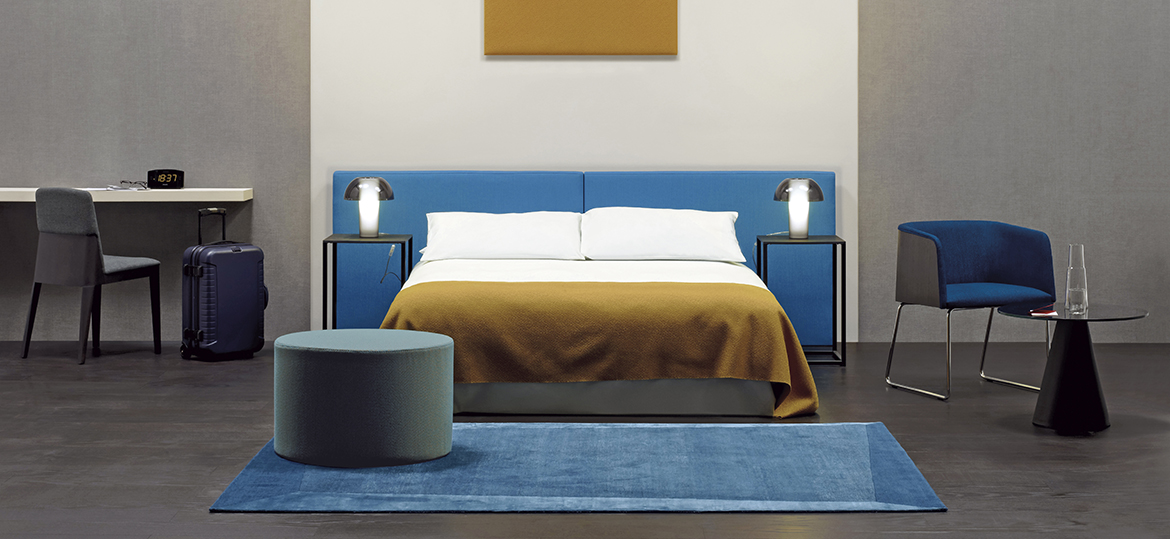 Leucos Aella
Aella remains one of the icons of Leucos, representing our vision to bring a fresh, contemporary point of view to traditional handblown glass techniques. As a Maestro from the Veneto region of Italy hand blows Aella, they create a stunning cone of glass frozen in its diffuser. As if by magic, a vortex of light appears to float inside this glass cone and beautifully illuminates your space. Toso & Massari's design inspiration for this glass shape came from Aella (the Ancient Greek word for "whirlwind"), who was the first Amazon warrior bold enough to lunge at Heracles.
Il Fanale Bon Ton N12D3O
Within this creative project simple shapes and different materials are superimposed to design lamps intended as pieces of jewelry. The different volumes of the diffuser, cleverly declined in numerous pastel shades, and the natural brass closing curl, have made Bon Ton an iconic object.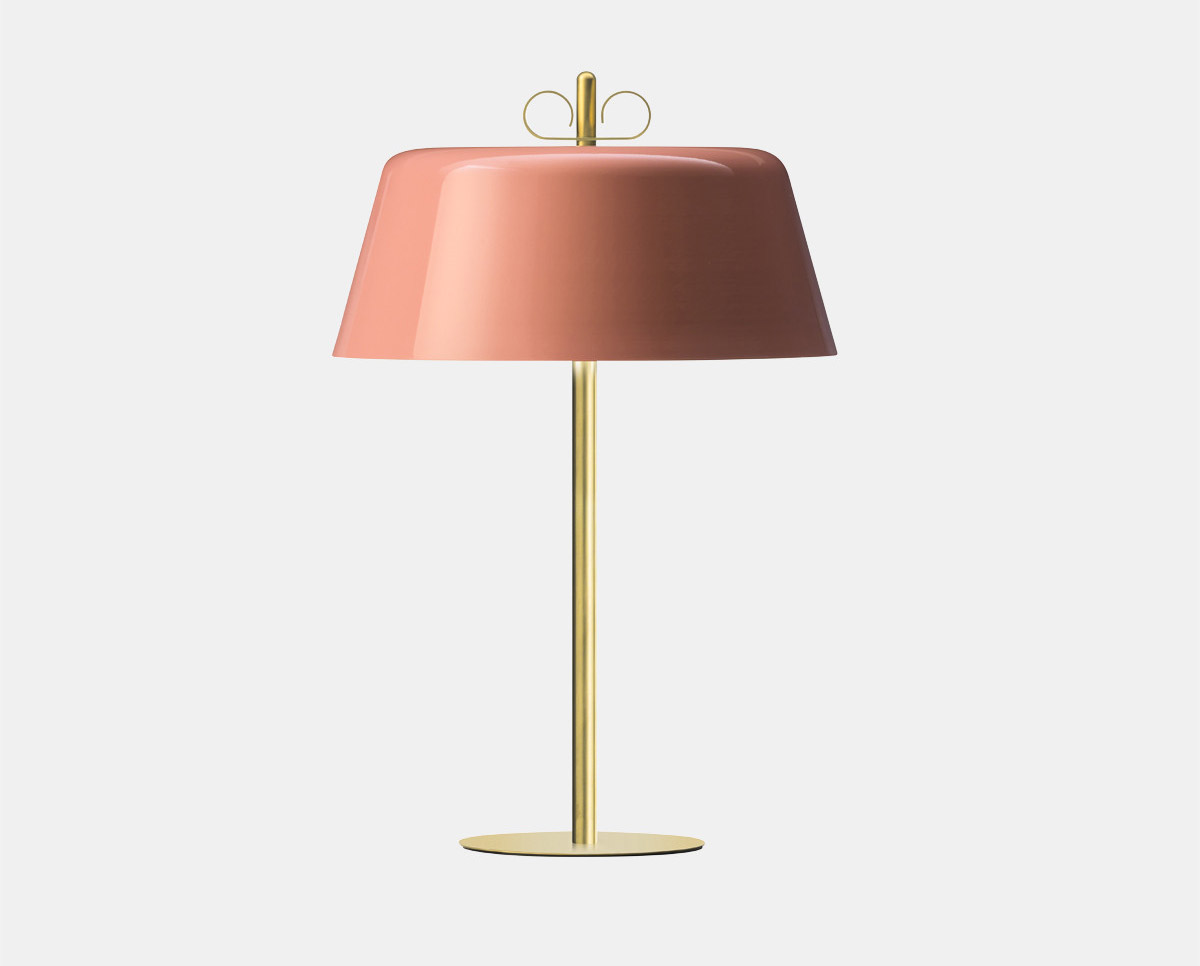 Astep Model 548
Model 548 provides both reflected and diffused light due to the adjustable spotlight that is directed up towards a reflecting screen. The large diffuser in orange, blue or white methacrylate provides a highly sophisticated light effect and is an essential part of the illusion and the play with perception. The spotlight in white painted aluminum is mounted on a tubular stem in polished or burnished brass, while a small brass bar at the base serves as a counterweight in the beautiful balancing act of the individual elements of Model 548.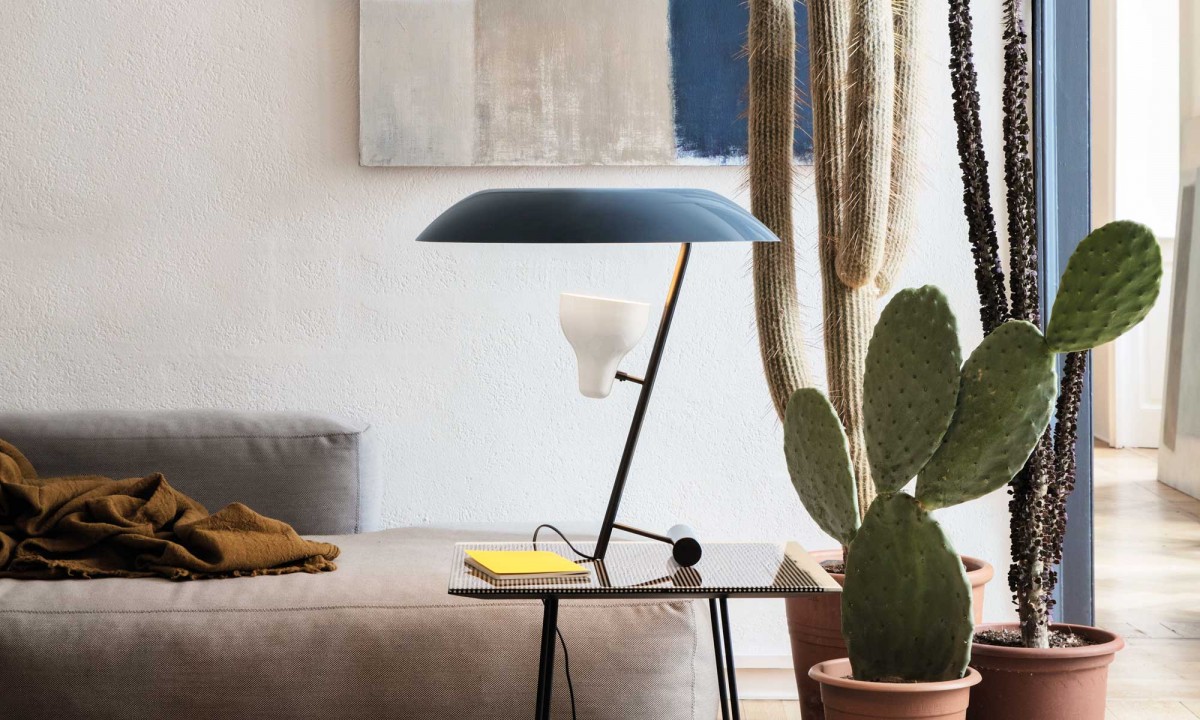 Astep Nox
Nox embodies the playful and innovative energy of Alfredo Häberli in a softly beautiful portable luminaire. Named for 'night' in Latin, Nox in its very essence invites being moved around to embellish and brighten up everyday life, both indoors and outdoors. Distinctive to Nox is its wireless charging system with induction technology, enabling this sophisticated and highly versatile lamp to be used unplugged. Featuring a touch dimmer, Nox can provide ample light for reading and a cozy soft light when dimmed. Ideal as a bedside lamp, Nox can be picked up and carried to the balcony, and with its rich materials it also seems perfectly at home on the dinner table.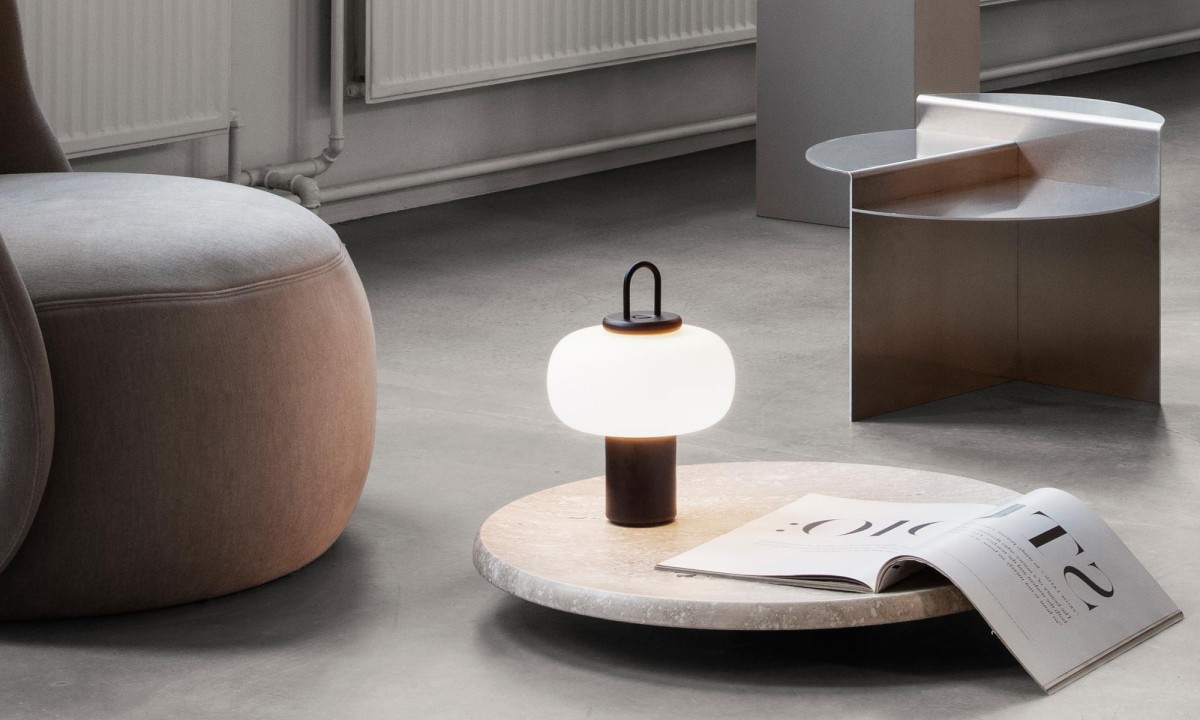 Magic Circus Table Lamp 06
Mounted on a circular base of Carrara marble, the table lamp 06 have such a purity of form that it strongly recall the modernist aesthetic of the 1920s. At the end of the shaft, an elegant opalescent glass globe rests on a brass cupola. Its restrained simplicity is a rare gift in the world of lighting.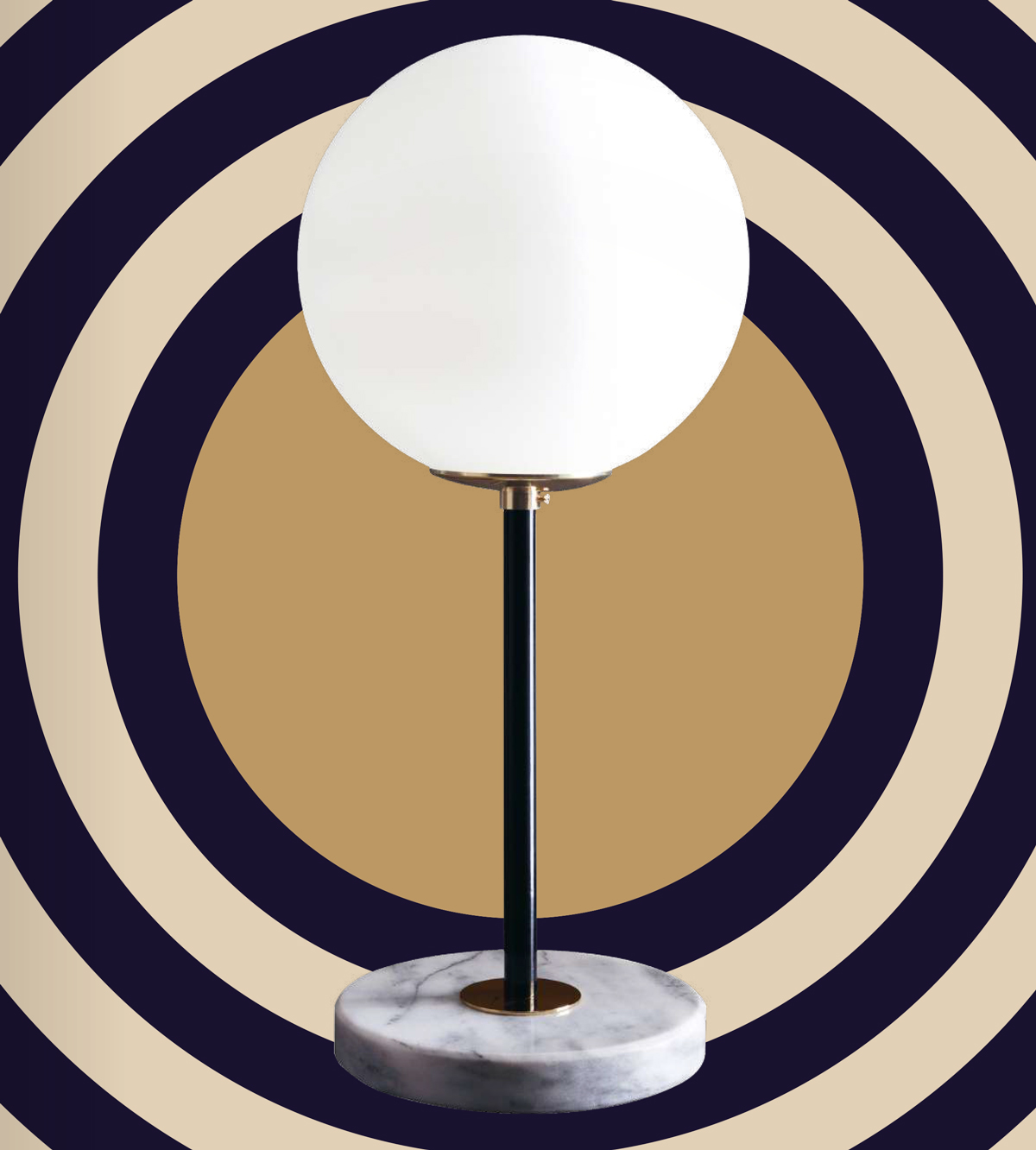 Venini Fungo
Spontaneous yet carefully hand-crafted; this is the twofold nature of Fungo, a unique mushroom that has grown in VENINI's Kiln. Nature meets design. This piece can be either in one color or made with glass pastes in different colors, transparent or matt, with infinite variations. The common denominator is the shape: the glass element is pulled into a long cane and has a circular section. The canes are usually lined up next to each other to be molten and blown. The result is an even more precious object due to the final effect and the difficulty of the execution.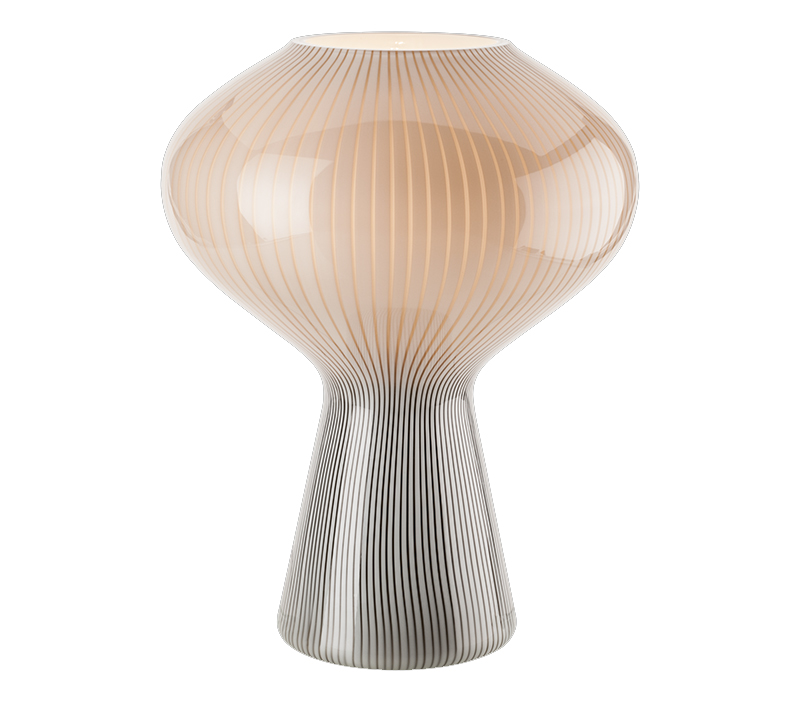 ModoLuce Aura
As soft as fabric yet as solid as a rock, the Aura table lamp combines contrasting elements in minimalist style. The lampshade fabrics and colors match with the natural or colored concrete base, creating perfect harmony.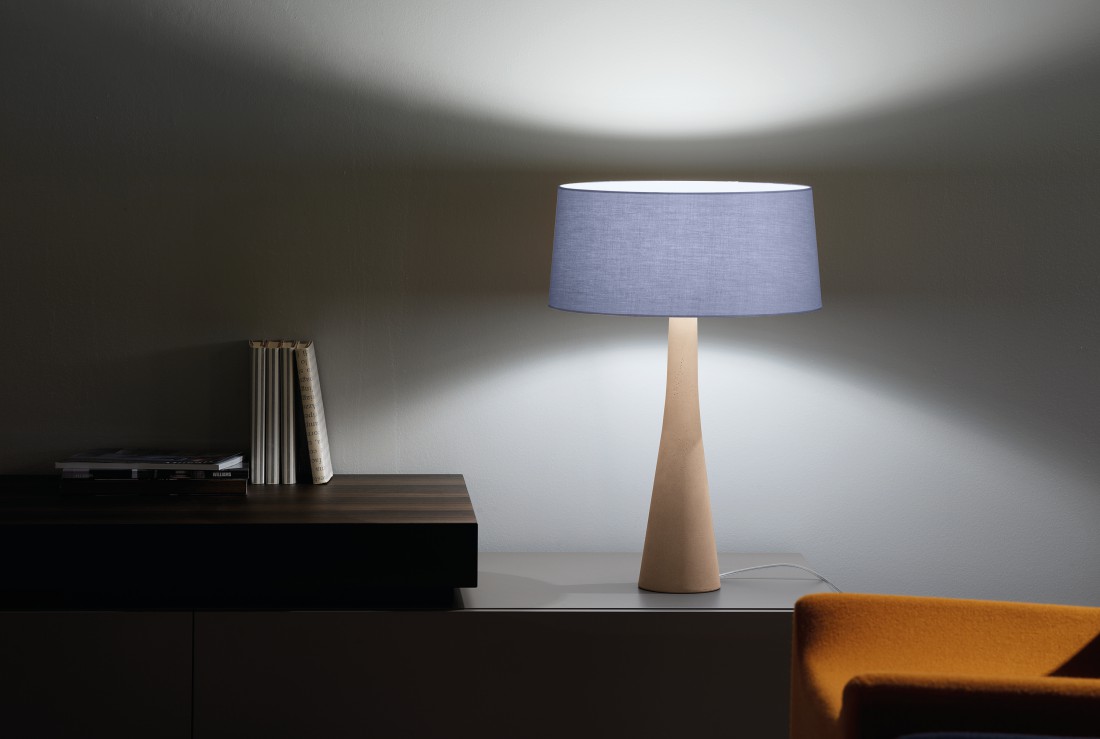 Oluce Atollo
The geometric shapes that compose it – cylinder, cone and hemisphere – have resulted in a product that is decorative and essential at the same time, disconnected from the historical period and the fashions of the moment, and one that has now fully become one of the icons of Italian design. Atollo is available in three different sizes and in different finishes: gold, white or black metal and opal glass.