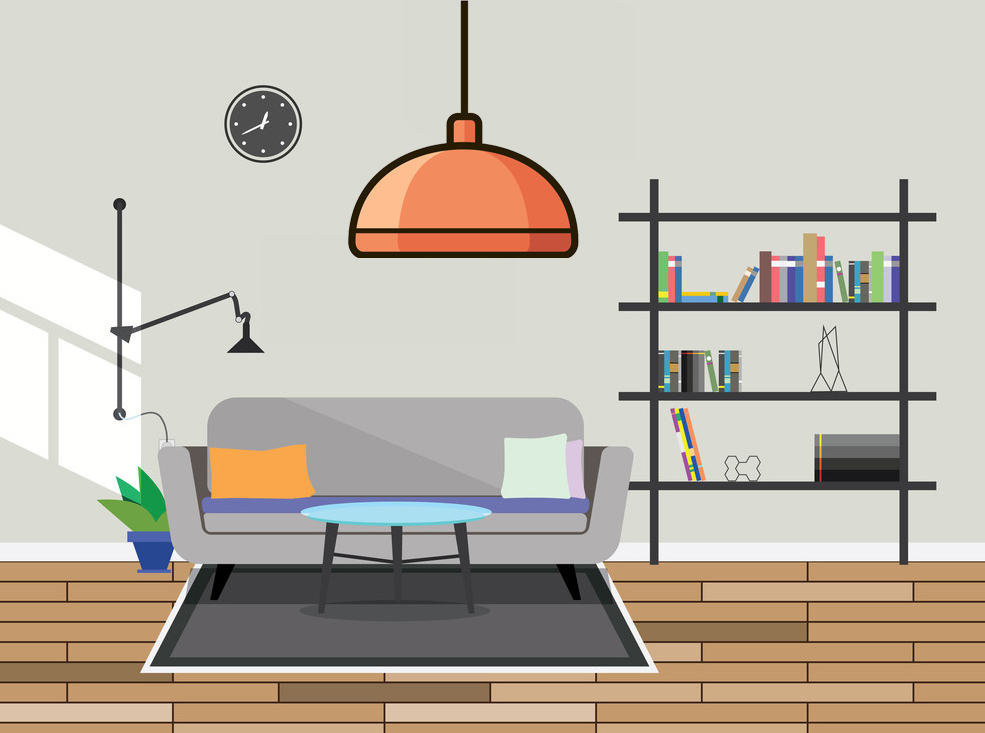 Create a striking sense of spatial play in your living room with an expertly crafted pendant light that invites breathtaking visual appeal from above and radiates a marvelous glow. Living room pendant lights are designed to inject an exciting rush of drama into to a stark interior design scheme. A commanding focal point with a perfect mix of art and illumination heightens the feeling of visual depth and vertical dimension in an atmosphere of sparkling splendor. A showpiece of decorative sentiment and material beauty will take your interior decor a new context and transform a utilitarian room into a relaxing oasis. Whether you want to channel a classic elegance or introduce a contemporary flourish into your room, pendant lighting never fails to leave an impression.
Challenging Lighting Design
A living room is the hub of a house and hosts multiple activities ranging from watching television, entertaining guests and playing games to reading, needlework, and at-home workouts, etc. As a retreat from the chaos of the outside world, the living room demands a thoughtful lighting design that pays attention to various components and qualities of light. In fact, living room lighting is very challenging because it is required to address all human needs on lighting: visibility, task performance, visual comfort, social communication, mood and atmosphere, aesthetic judgement, health, safety, and wellbeing. Every room should have a balanced mix of lighting which layers ambient, task and accent lighting together within a room to create a fully usable, adaptive space. And this layered approach to lighting design is particularly important in living room lighting which should always establish a visual hierarchy in the space, cultivate visual interest and aid visibility.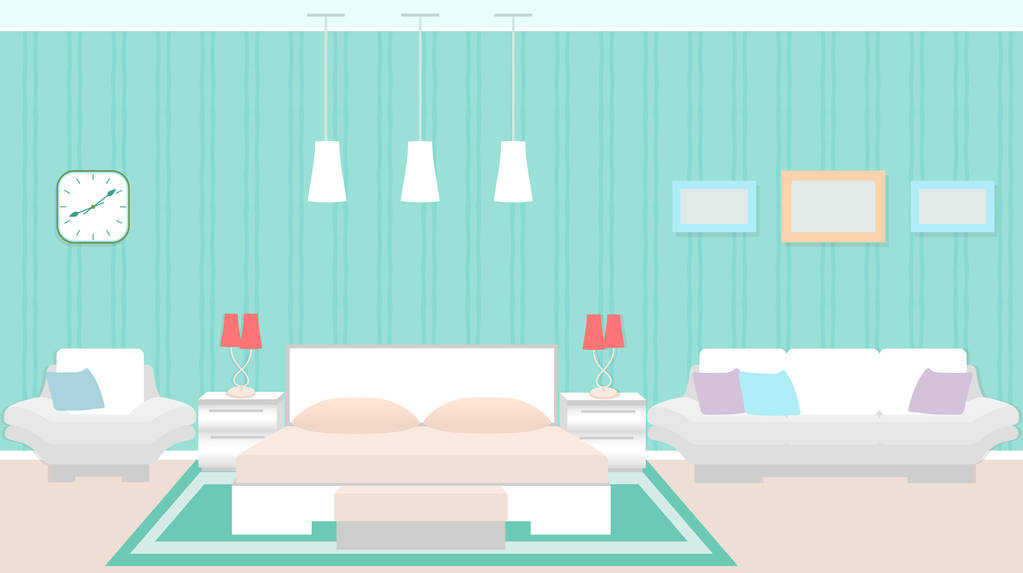 A Showpiece to Impress
Superb living room lighting can evoke positive emotional response, encourage social interaction, and foster mood and atmosphere, while improper lighting can weaken the effectiveness of all the other design elements. Stir up a cheerful conversation with your friends and guests, kick up your feet to relax with a drink and favorite television binge, or curl up on the couch and kill time with your smartphone in an intimate atmosphere and welcoming ambience. Among light fixtures that contribute to the lighting layers, pendant lights make a strong visual presence to reinforce the charming quality of your living room. Pendant lighting is an essential design element and functional device that combine to create a relaxing, inviting hangout environment and inspiring visual narrative for a living room. A unique handing lighting fixture can create dramatic contrast or aesthetic harmony with the recessed downlights and wall scones while embodying form and function in a perfect balance. A pendant light which exudes striking decorative personality and radiates with a captivating glow is sure to lend an irresistible glamour to the social and recreational center of the home.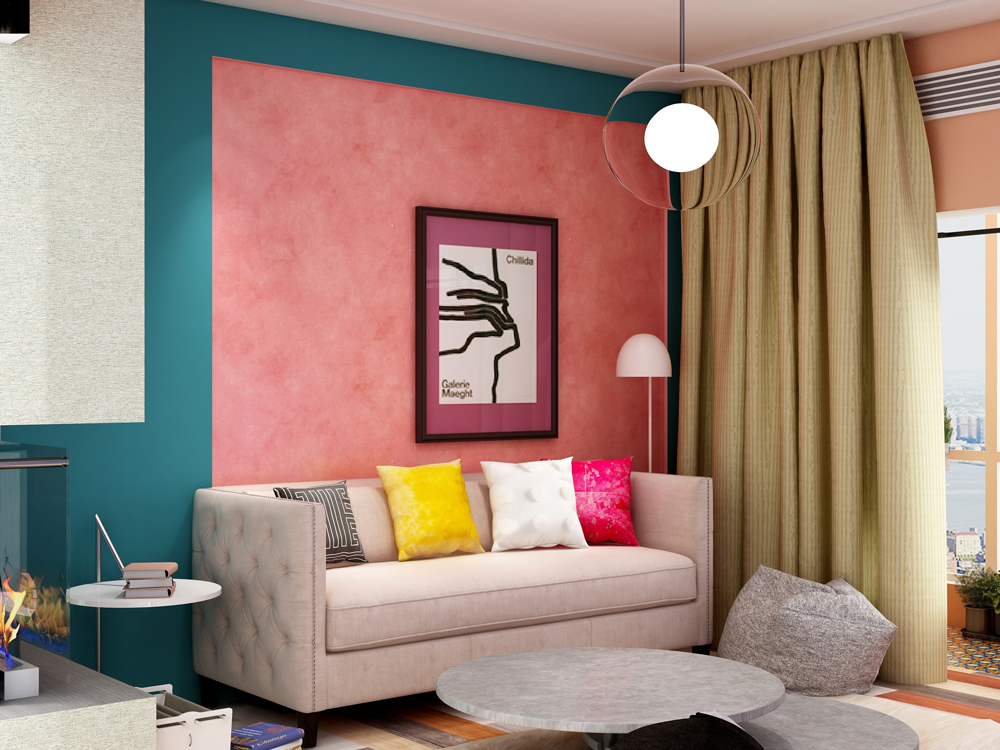 Diversified Offerings
Living room pendant lights are a product category that comes with a diverse expression of imagination and creativity. Perhaps the most versatile in aesthetic expression and robust in functionality of all decorative lighting fixtures, living room pendant lights can take the role of an artistic chandelier to make a big statement, a supplementary downlight to create contrast with the rest of the space, or a floor lamp to light up a corner of the room. Unlike dining room and kitchen island pendants which tier their design to tabletop or countertop lighting, a living room hanging light can be either a grand impression piece that is positioned in the center of the room and fill the void between the ceiling and the living space, or a decorative task light hat directs light to specific zones of the room, such as the main seating area where a pendant hangs low over the sofa as a reading light or an accent light emphasizing a sense of distinction for this zone. In living rooms, pendant lighting can be installed as a single fixture to create sparkle or grouped in a row for a stunning visual effect of floating halos.
Types of Living Room Pendant Lights
Flexible placement and versatile use of living room pendants translate into limitless possibilities in design. Virtually all types of pendant lights can find a worthy place in a living room. Fixture designers play with shades and frames to produce an infinite array of geometric creations and visual compositions that showcase impressive artistry and design sensibility. Hanging light fixtures are available in an extensive choice of shapes, which include globe, bowl, cube, cage, dome, drum, cone, cylinder, cluster, bell, disc, bucket, beaded, lanterns, sputnik, starburst, and teardrop, etc. Create visual drama or imaginary delicacies with attractive lampshades that can be made from a variety of materials such as glass, metal, fabric, plastic, paper and ceramic. Glass shades add an instant splash of elegance and glamour to a space. Clear glass shades serve up the sparkling styles. Frosted glass softens the light source and delivers visual comfort. Decorative glass makes an intriguing decor statement. Metallic shades inspire a feeling of contemporary sophistication. Fabric shades create an intimate setting. Pendant lights which expose light bulbs showcase the beauty of ultimate simplicity.
LED Lighting Design
Pendant lighting design is constantly evolving especially when LED lighting took the stage. Semiconductor based lighting technology fundamentally changed the way that lighting designers style and engineer their fixtures. In addition to update conventional light fixtures with energy efficient LED bulbs, modern pendant lighting design is injected with an integrated approach. This creates unprecedented design freedom and invites ingenious lighting designer s to exercise their creativity. Unusual shapes, innovative optical design, and pioneering uses of materials make pendant light fixtures an artistic and sculptural focal point while offering exceptional design coherence with the decor and architecture of a room. From low profile panels, seamless light rings, stunningly pure cylinders, to whimsical geometrical wonders, the expanding portfolio of LED pendant lights allows an extraordinary range of aesthetic scenarios to be created for both contemporary and classic interiors.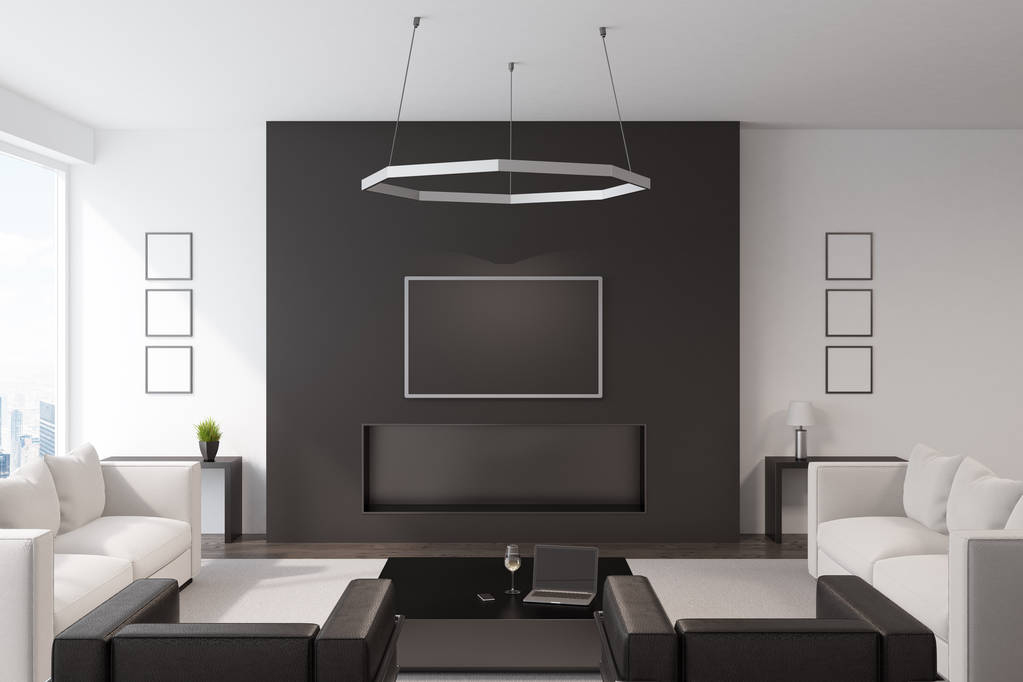 Fixture Styles
Make sure your light fixtures express your concept. Pendants come in a variety of styles and themes to fit every aesthetic. Traditional homes are usually decorated with light fixtures which are exquisitely adorned in perfect symmetry and complicated geometry. Contemporary pendant lights offer visually arresting beauty through sleek purity, clean lines, sophisticated look, and absence of decor. While the transitional style is a compromise between traditional and contemporary. It has roots in traditional mindsets but incorporates the clean and bright features of contemporary design. Transitional fixture design simplifies the complexity of traditional ornaments and takes away the monotonicity of modern and contemporary design, allowing for a more balanced decorative flair. Art Deco style pendant lights bring everyday glamor and elegance to your decor with zig-zag lines, shiny finishes, jumbled forms and abstract geometric shapes. Scandinavian inspired light fixtures are increasingly popular thanks to their organic incorporation of an industrial edge and minimalistic aesthetic. Explore more ways to express your personality with a light fixture from other design styles like Farmhouse, Industrial, Bohemian, Rustic, Mid-century Modern, Mission, Neoclassic, and Nautical.
Lighting Quality
Lighting is vital for vision, activity and perception. At a bare minimum, a pendant light should provide high quality illumination so that room occupants can safely, efficiently and accurately perform visual tasks without discomfort. Today, people all over the world spend most of their lives indoors and rely on artificial light to create worlds of perception and interpret architectural environments. In residential spaces where people retreat to recharge and relax, the quality of light has a profound effect on the quality of life. Adequate illuminances, optimal color temperatures, accurate color rendering, inoffensive luminance in the field of view, and stabilities of light output are all the good qualities of a lighting design. And these quality components are largely determined by the optical design and light quality of a light fixture.
Visual Comfort
Residential lighting designers are highly competent at creating visual aesthetics for the light fixtures. They also take note of the visual comfort of interior lighting, including maintaining an optimal point of high brightness for decorative fixtures so that they create sparkle, instead of glare. Pendant lights can direct light upwards or downwards or in a combination of uplighting and downlighting for a balanced light composition. Suspended uplights shine upward to create a soft, shadowless light for maximum visual comfort and an increased visual depth. Downlight pendants mitigate glare by light diffusion or light shielding or a combination of two. Glare control is particularly important for LED luminaires as LEDs are directional light sources that create harsh spots irritating to human eyes. In addition to using light diffusers to soften the harshness of LED light and lamp shades to conceal bright light sources from direct view, optical design innovations such as edge-lit technology which uses internal reflection and refraction of light guides to eliminate glare and spread the light out evenly offer enhanced visual comfort.
The Evil of LED Bulbs
Nonetheless, sophisticated optical design is rarely found on residential LED pendants. Most pendant light fixtures still use light bulbs as the light source and a decorative element. The problem is that most LED light bulbs available on the market have a poor color quality. In the lighting industry, LED bulbs are regarded as a type of consumer goods and they exist to produce light and save energy. Lighting manufacturers compete heavily on prices and try to undercut each other. In the end these light bulbs are produced using the cheapest LEDs, simplest driving circuits, and the lightest heat sink. Long gone the days when we can enjoy the highest quality artificial light produced by incandescent light bulbs. Light emitted by tungsten filament based incandescent and halogen bulbs has an excellent spectral power distribution (SPD) that allows human vision to perceive every color contained in an object in high fidelity. White light with phosphor conversion LEDs is produced by combining the blue wavelength from the LED and the yellow wavelength from the phosphor. If layers of different phosphors are used, the emitted spectrum is broadened, and a high color rendering index (CRI) can be achieved. But the tradeoff is increased cost. That's why most LED bulbs have a poor color rendering index (CRI) of 80, as compared to the 95 CRI of incandescent bulbs. Not only these LED bulbs have a poor color performance, their built-in low-cost, barebones driver circuits leave the LEDs more susceptible to electrical disturbance and result in flicker. Moreover, poor thermal management accelerates thermal degradation in the LED packaging material. This will lead to lumen depreciation and color shift.
Integrated Design
We strongly suggest lighting designers to take an integrated approach to product development. Incorporate high quality LEDs, high performance drivers and high efficiency heat sinks into your light fixtures. High CRI LEDs which produce full spectrum light allow your light fixture to deliver a fantastic color experience and bring out the best in their surroundings. In the context of smart lighting, the role of LED drivers becomes increasingly important as it's required to support digital dimming and advanced lighting controls while providing low ripple current for a higher quality of light. It's a lighting trend that interior light fixtures provide adaptive lighting to create the perfect atmosphere for a selected moment, while achieving positive impact on people. Dim-to-Warm and tunable white technologies which dynamically adjust the brightness and color temperature of the lighting give consumers the ability to adjust lighting from task to task and create light compositions around the natural circadian rhythm. Excellent thermal management ensures the light fixtures provide consistent optical performance throughout the long rated life of the product.
Unaffiliated Recommendations
There's an extensive array of exciting pendant light fixtures that make an incredible statement in your living rooms. We've pulled together some of our favorite designs for your consideration. (Disclaimer: We're not affiliated with any beneficiary of the external product links in this article.) This is a continuously updated list. We welcome product suggestions from those who take pride in building compelling value into their products. (Owners of products listed here are authorized to use our badge to promote your achievement. Please include a link to this page for listing verification.)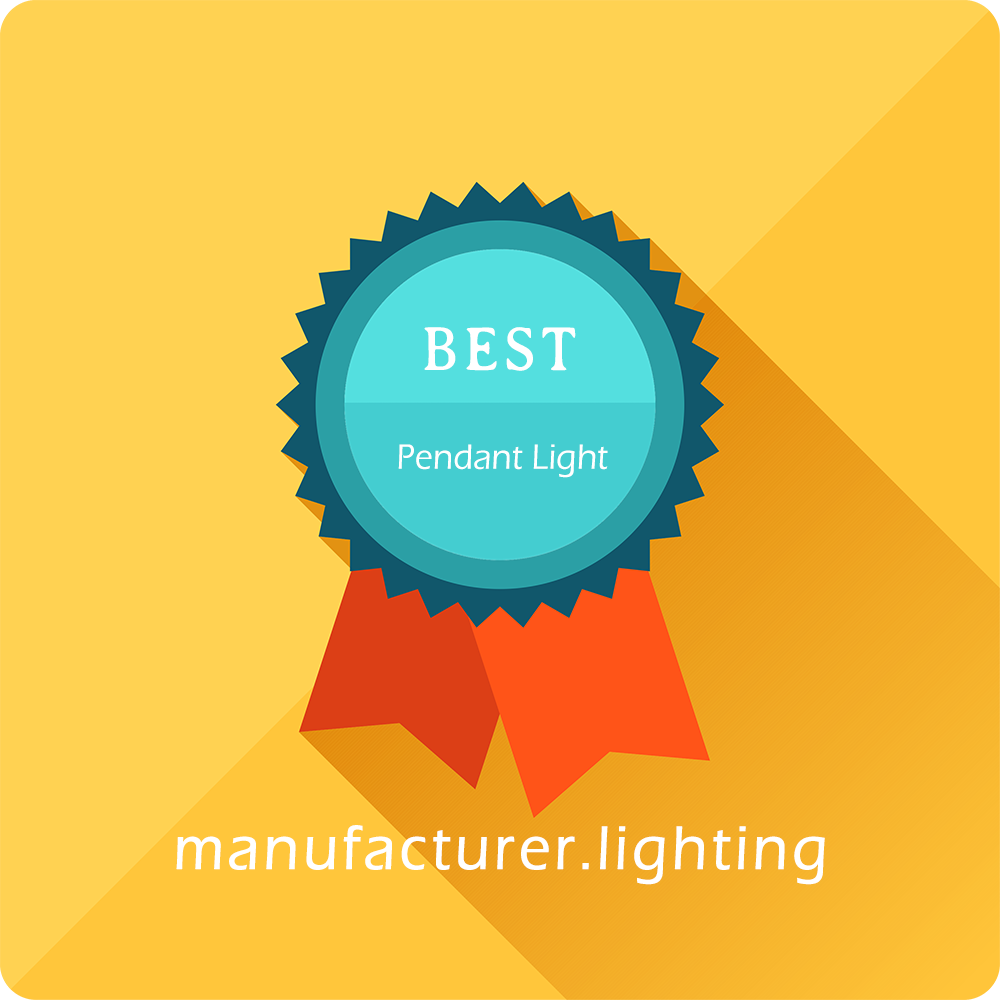 Lumina Dot
A celebration of minimalist styling and modern sensibility, DOT is a minimal pendant light that gives the appearance of a floating disc of light while showcasing an innovative approach towards lens technology and thermal management. The luminaire is an assembly of two parallel discs connected by a metal stem. The reflector has a super-matte white finish and is available in three different sizes: ø60cm, ø80cm, ø110cm. The smaller disc contains a ring of LEDs that bounce the light off the larger reflector disc. A custom made heat-pipe transfers the heat from the LED module into the heat sink in the reflector. This has made the extreme miniaturization of the head possible. The pendant fixture creates a floating assembly of luminous disk that generates homogeneous diffusion of light.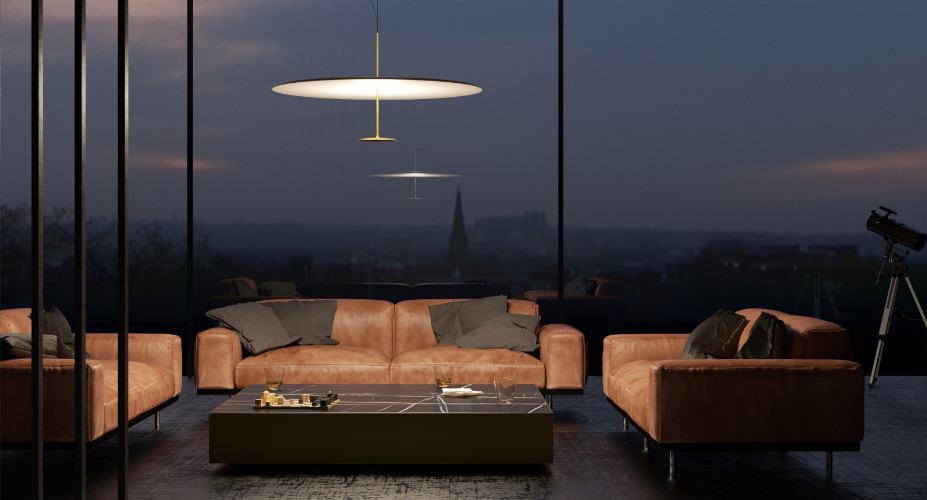 Foscarini Spokes 3
Spokes 3, a work of Studio Garcia Cumini, evokes a feeling of light weight and motion. As if crossing a magical and geometrical mesh, the light filters out from the inside, projecting a kaleidoscope of blocks and voids.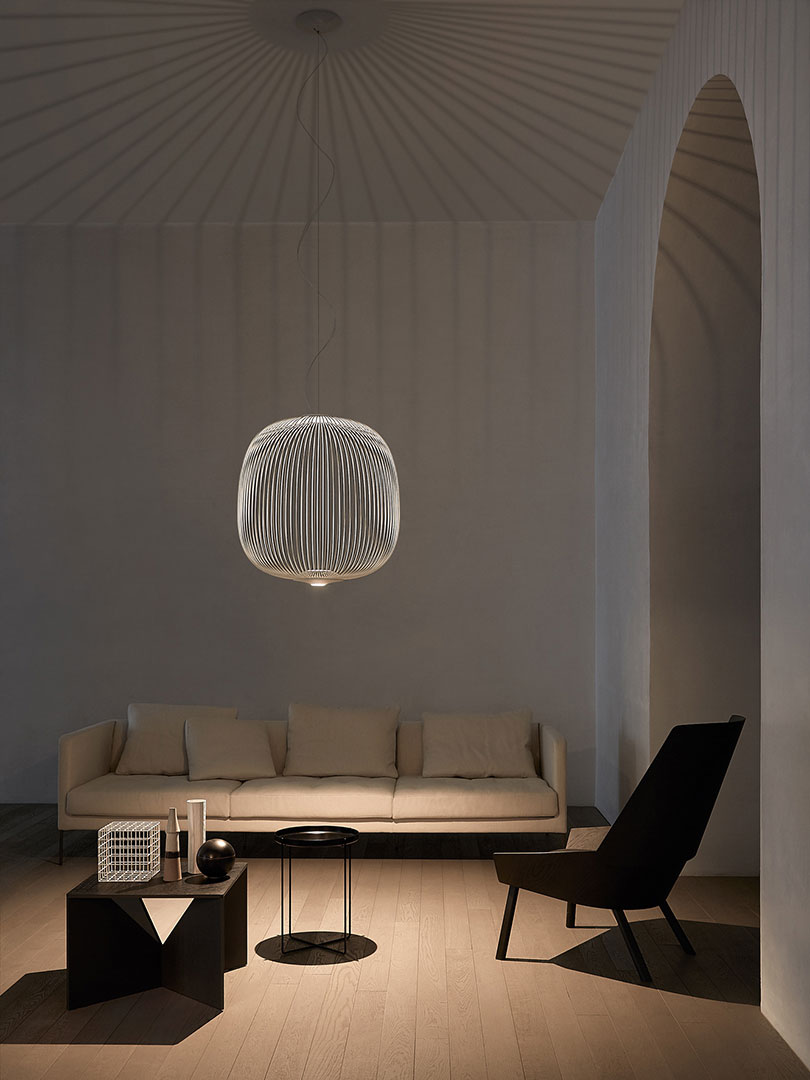 Vibia Flamingo
Designed by Antoni Arola, Vibia is a collection of pendant lights that combine an impacting and poetic aesthetic with functional design and performance. Flamingo provides an ambient light through a thermoplastic translucent diffuser which performs like a spot light thanks to its LED light source.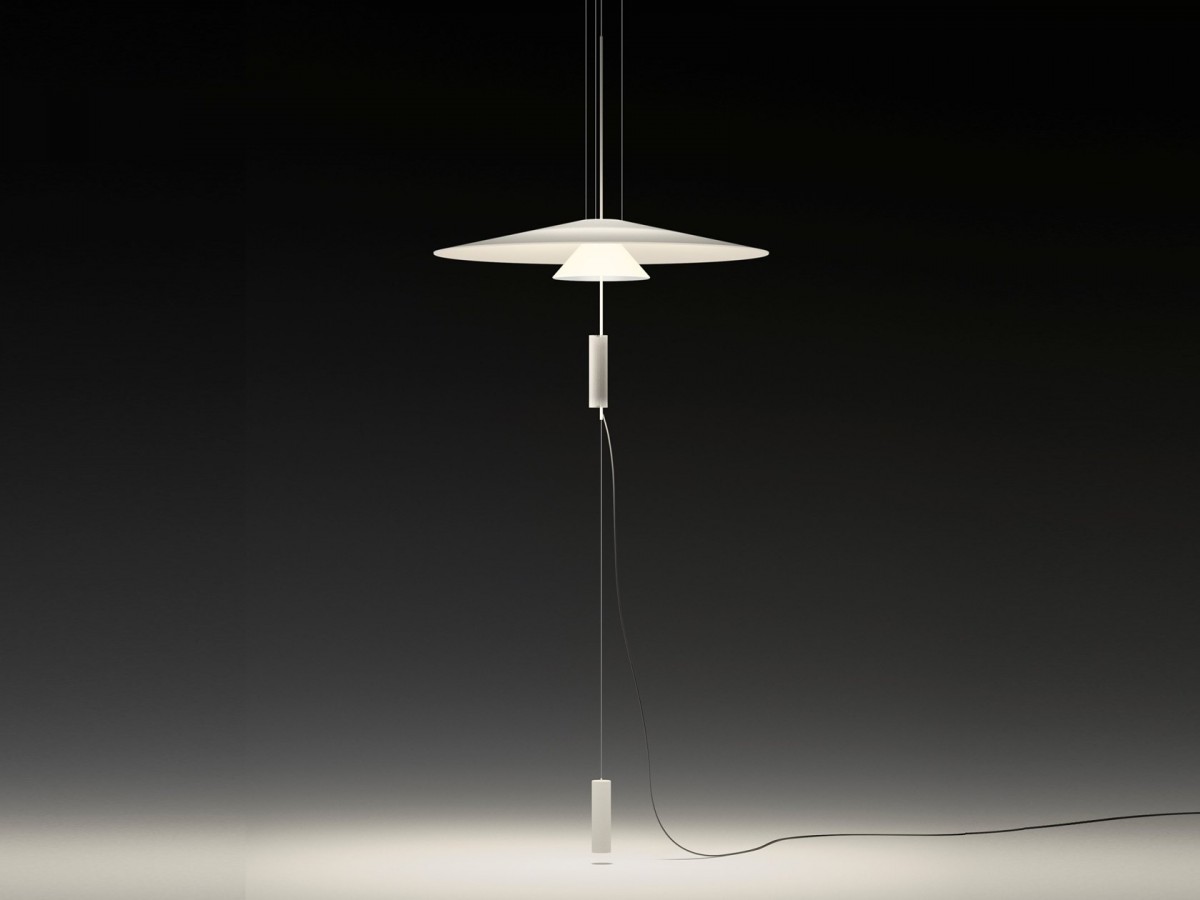 Foscarini Caboche
Rich, bright and sophisticated, the Caboche lamp is a mosaic of refractions, a perfect fusion of different personalities in the one form, coming together to create the body and light effect of the lamp. When it is turned on, the light diffuses from inside the spheres like lots of bright crystals, lighting the surrounding environment. The luminaire is the perfect protagonist for homes or public areas, uniting visual impact with lightness, decorative value and functionality. Acid-etched finish blown glass internal di user, external diffuser consisting of polycarbonate arches secured to a chromed metal mount and PMMA spheres.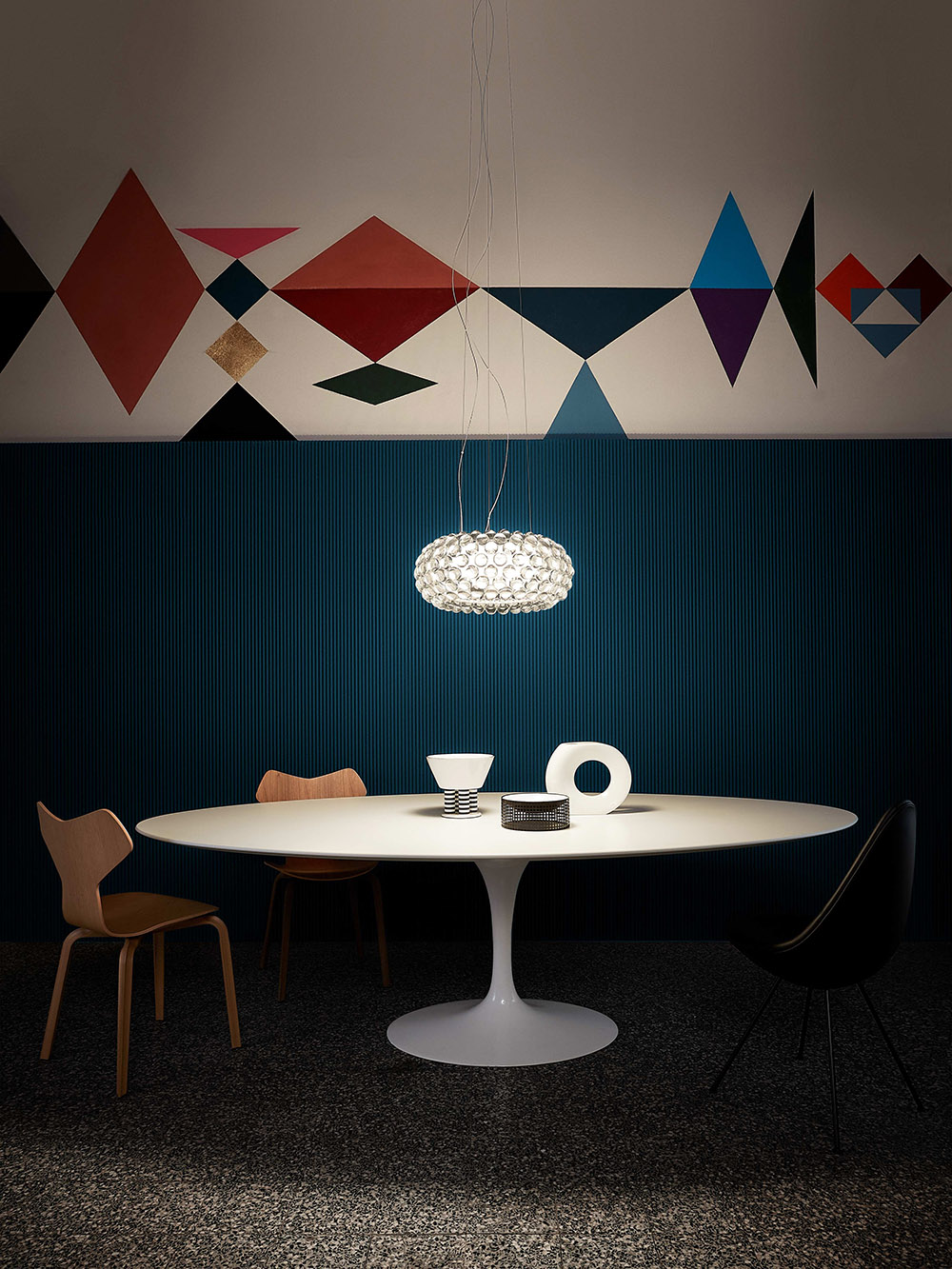 Artemide Ipno
Ipno is a pendant light with a magical effect. Michele De Lucchi designed a spiral patterned diffuser which directs and concentrates light with a soft emission through Total Internal Reflection (TIR). It comes to life when light passes through the material, only a minimum amount of light is emitted into the environment in a diffused and uncontrolled manner. Ipno combines tradition and innovation, manufacturing savoir faire and optical competence into a harmonious shape.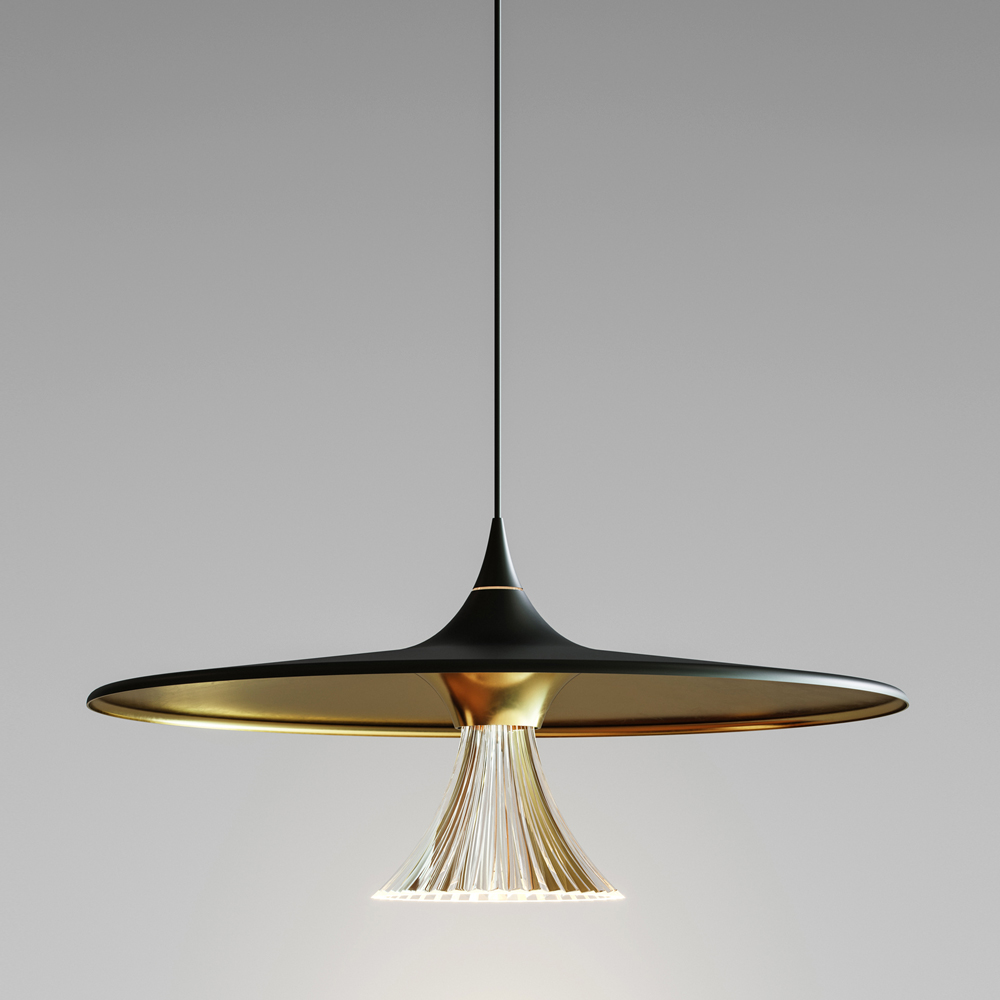 Slamp Flora
Nature, colors and artisan expertise bring life to this highly expressive piece. Designer Zanini de Zanine drew the inspiration from the Monstera Deliciosa plant and gave birth to the Flora collection. Sixty petals surround a satin sphere illuminated from its core. The petals' shiny finish, to which we have added gun-metal grey, is achieved through an innovative aluminum vaporization system that creates an evocative play on light, seemingly stolen from the sun at its zenith.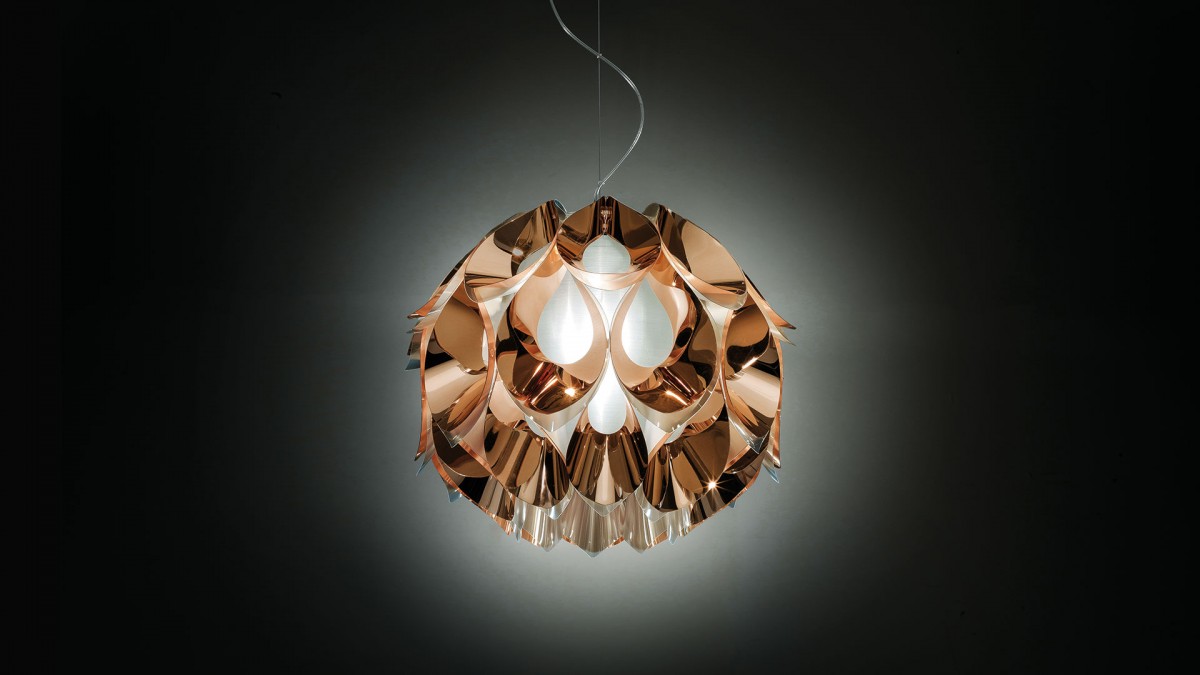 Marset Ginger
The Ginger collection, designed by Joan Gaspar, features a sleek shade made of compressed sheets of wood, paper and resins. The laminate enables the luminaire to offers uniform, warm, glare-free light that helps to accentuate spaces.
Adot Circle
The Adot Circle LED ring pendant light gives your home a fashionable flourish with its bidirectional lighting symmetry. The circular light fixture creates a fascinating ring of light that floats effortlessly in space. The pendant can create an exciting uplight that lights up the artistic atmosphere in any room.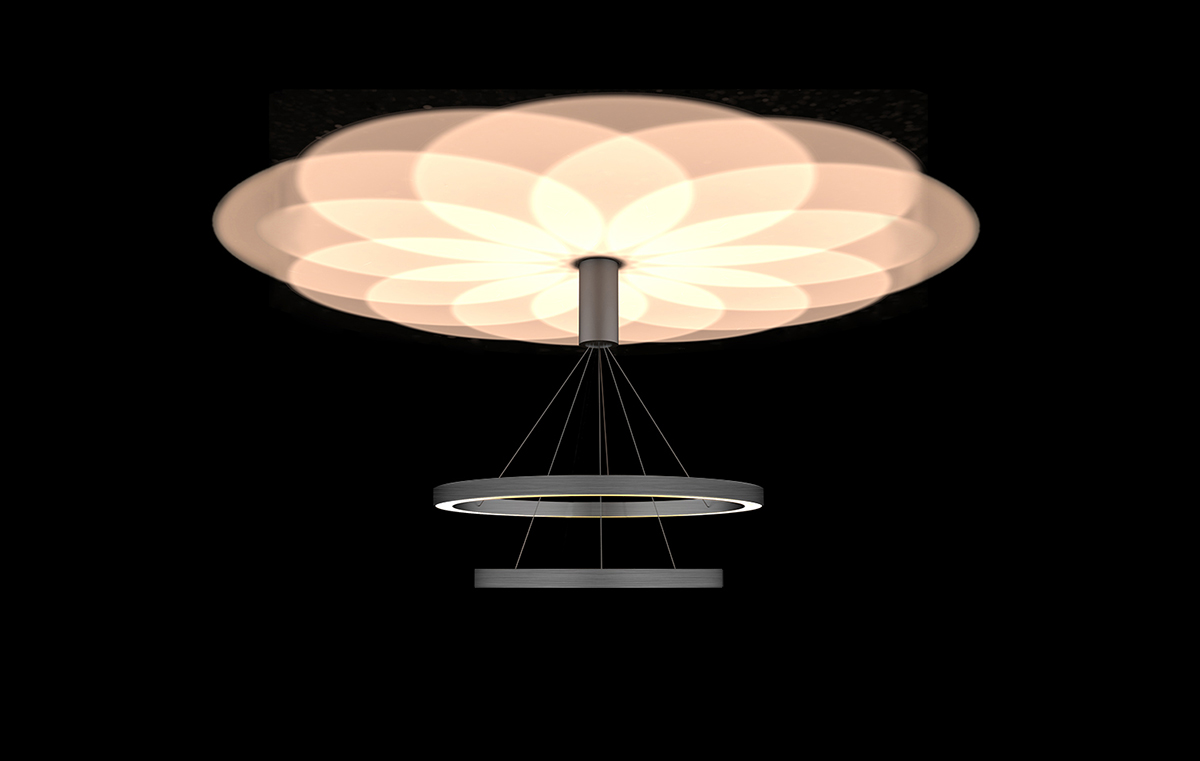 Vistosi Jube
The elegant and delicate look of blown glass finds a new dimension in Jube, which was conceived by Favaretto & Partners. Two glass units placed side are assembled to introduce an interplay of overlays that creates a tone-on-tone effect with a retro charm. The lower glass is glossy and white, while the upper glass shades is available in four colors: smoky, burnt earth, antique green, crystal, metal parts finishes are satin gold.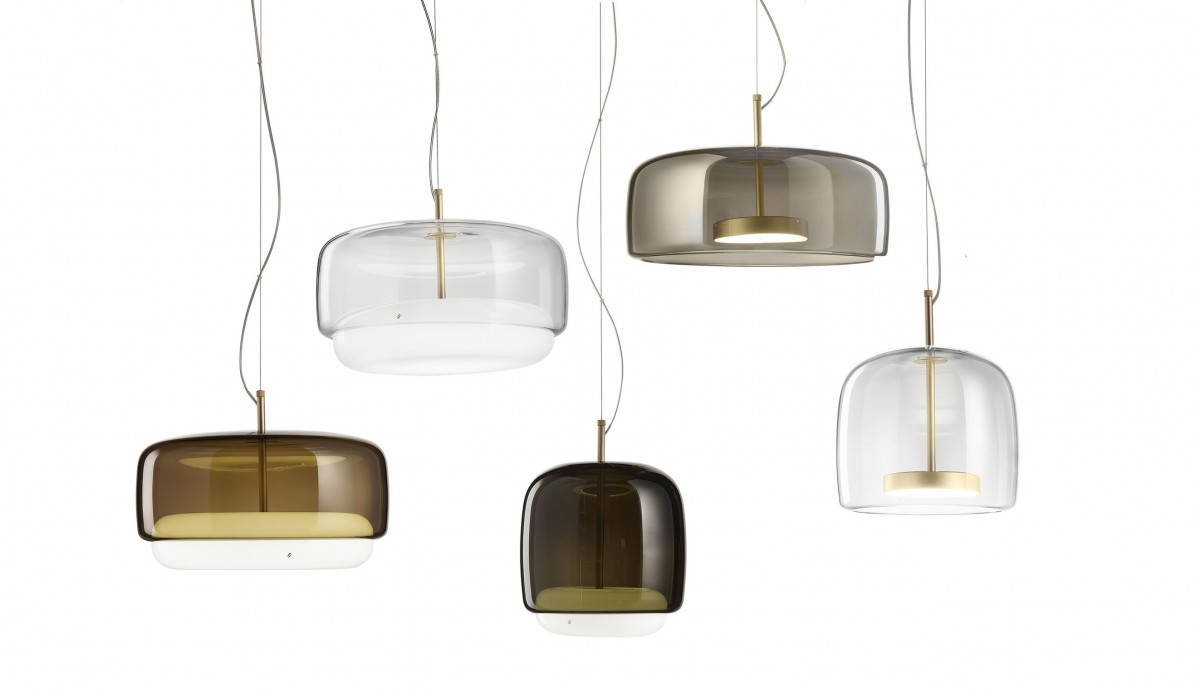 Nordlux Artist 25
Designed by Bønnelycke MDD for Nordlux A/S, the Artist 25 LED pendant light delivers a minimalist yet undeniably elegant and glamorous look with its highly refined quality and sleek shape. The compelling Scandinavian expression offers an artistic take on contemporary lighting.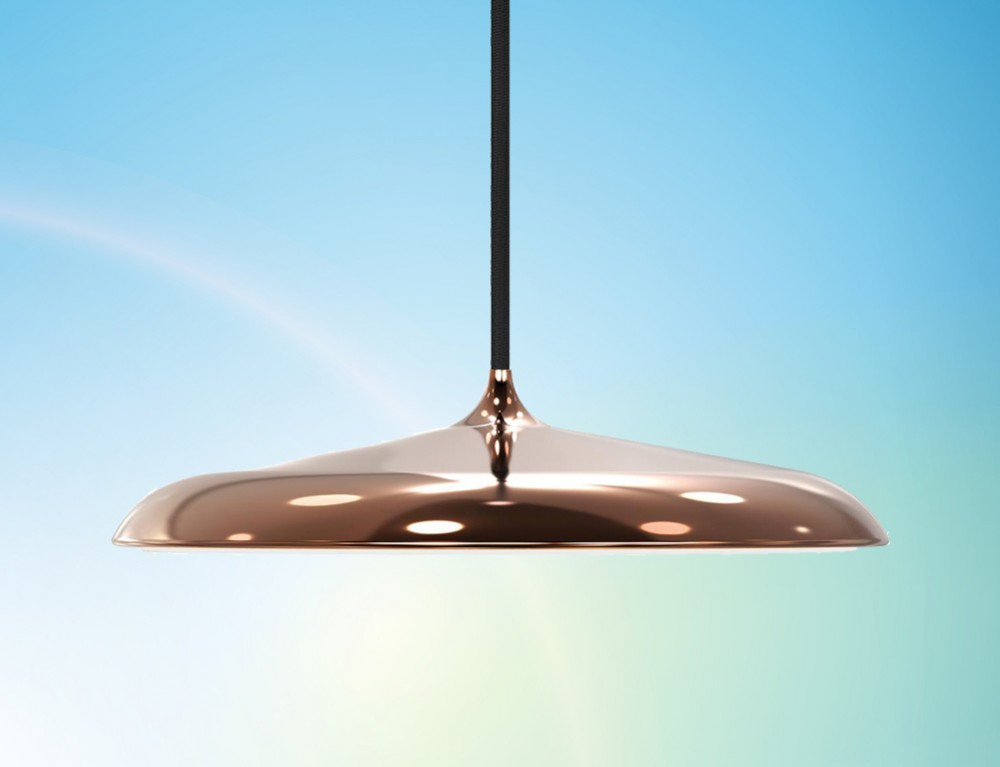 RZB Lighting Triona of Fire
Triona is engineered to address three aspects if lighting—visual function, biological effect and emotional impact. This series includes versions with tunable white technology which allows the luminaire to provide human centric lighting (HCL). Triona offers various diffuser versions, including a version with a maximum UGR of 19.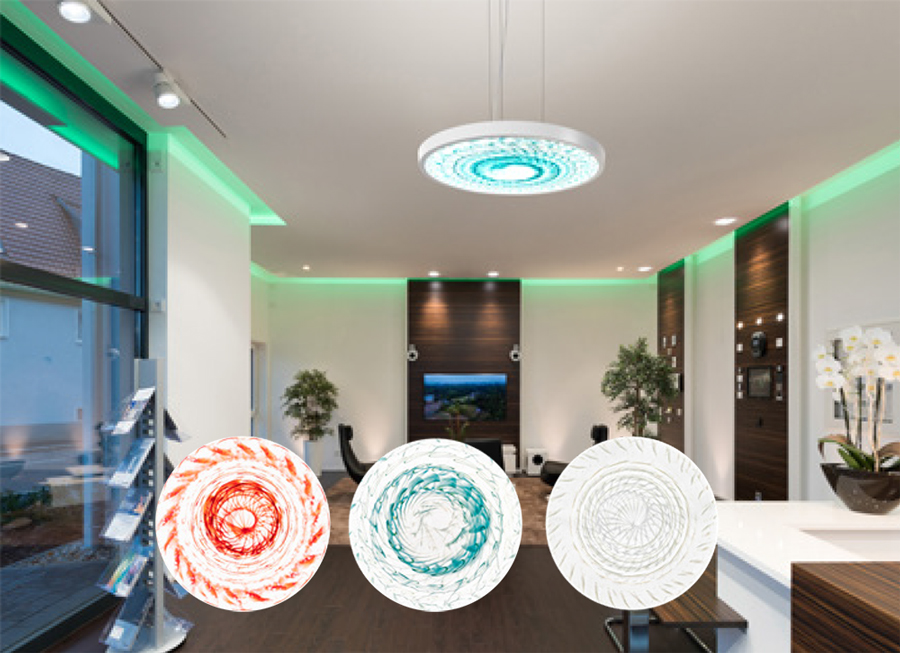 Brokis Big One
This designer pendant created by Lucie Koldova embodies a gentle poetry, simplicity, purity, and balanced proportions. The puristic, sophisticated design of a bubble suspended in the center of a large sphere evokes a sense of levitation. Outer glass available with glossy finish in colors: transparent and smoke grey transparent. The inner glass comes in matte finish in colors: triplex opal, smoke grey transparent, red transparent and light pink transparent.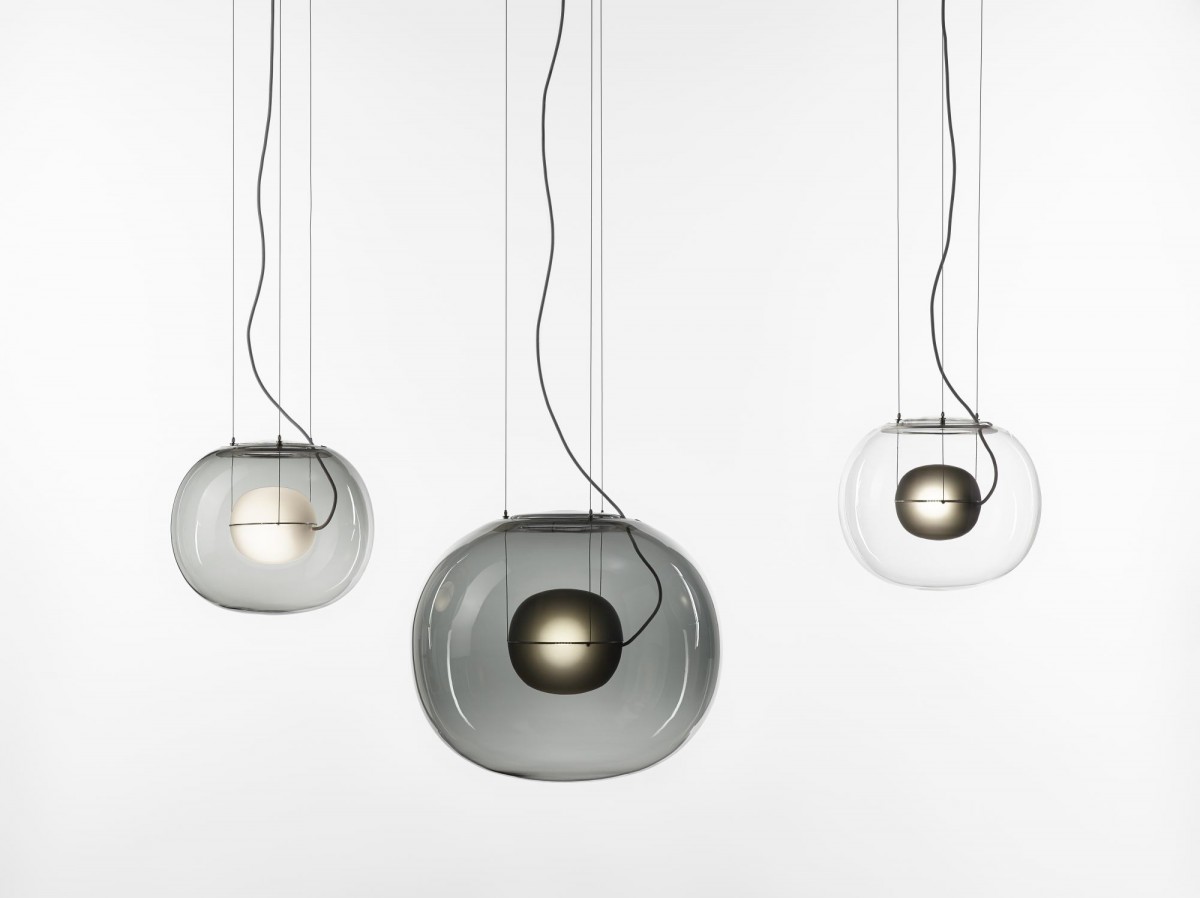 Zero Lighting Haze
Haze: A modern interpretation of an oriental lantern. The bespoke 3D knit shade and wooden collars neatly conceal the light source and give the luminaire a soft approachable personality.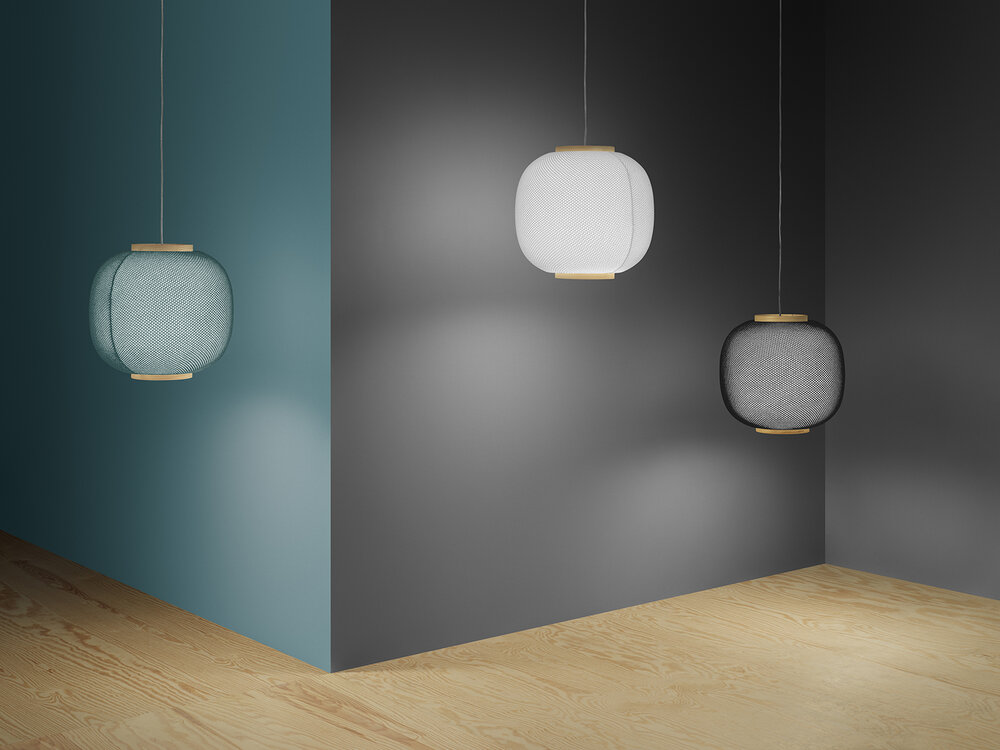 Oty Light POP Petit
Petit pendants are tall slender stems of light that offer a pin-point source of direct illumination. The contemporary design interacts perfectly with trends in furnishing private environments. Offered with a black coaxial cable with Kevlar core diameter 3mm as a simple pendant with surface mount canopy (driver in canopy), or with architectural canopy (driver can pass through), or as part of the Filo System which allows you to design with the coaxial cable and create linear designs with the pendants.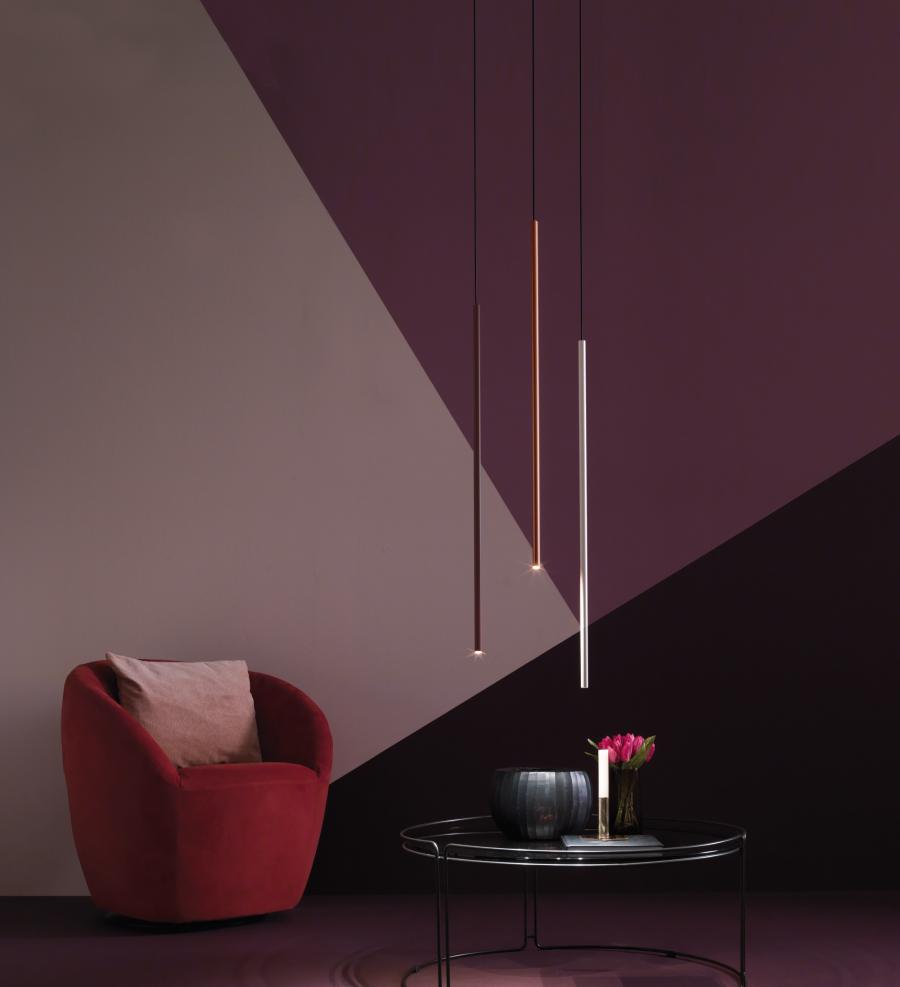 Bover Mediterrània Collection
Designed by Alex Fernandez Camps, the Mediterrània lamp is an ode to the light, the Mediterranean breeze and smell. A soft ocean wave that pays homage to this pendant light creates a wonderful soothing feeling in your room.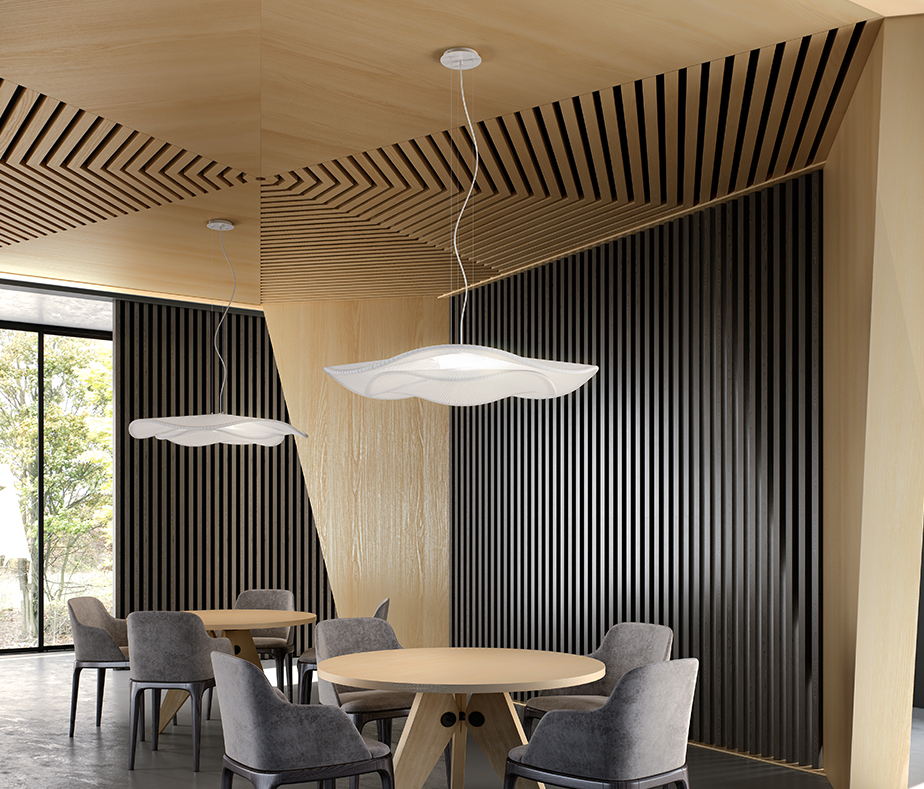 Yellow Goat Design Fence
This sleek steel cage captures a series of bright LED globes that pulse and peek through its slender bars. An array of satin aluminum tubes are simply pushed into slots cut into the acrylic diffuser discs, with the bottom of this fixture comprised of an opal and mirror composite disc.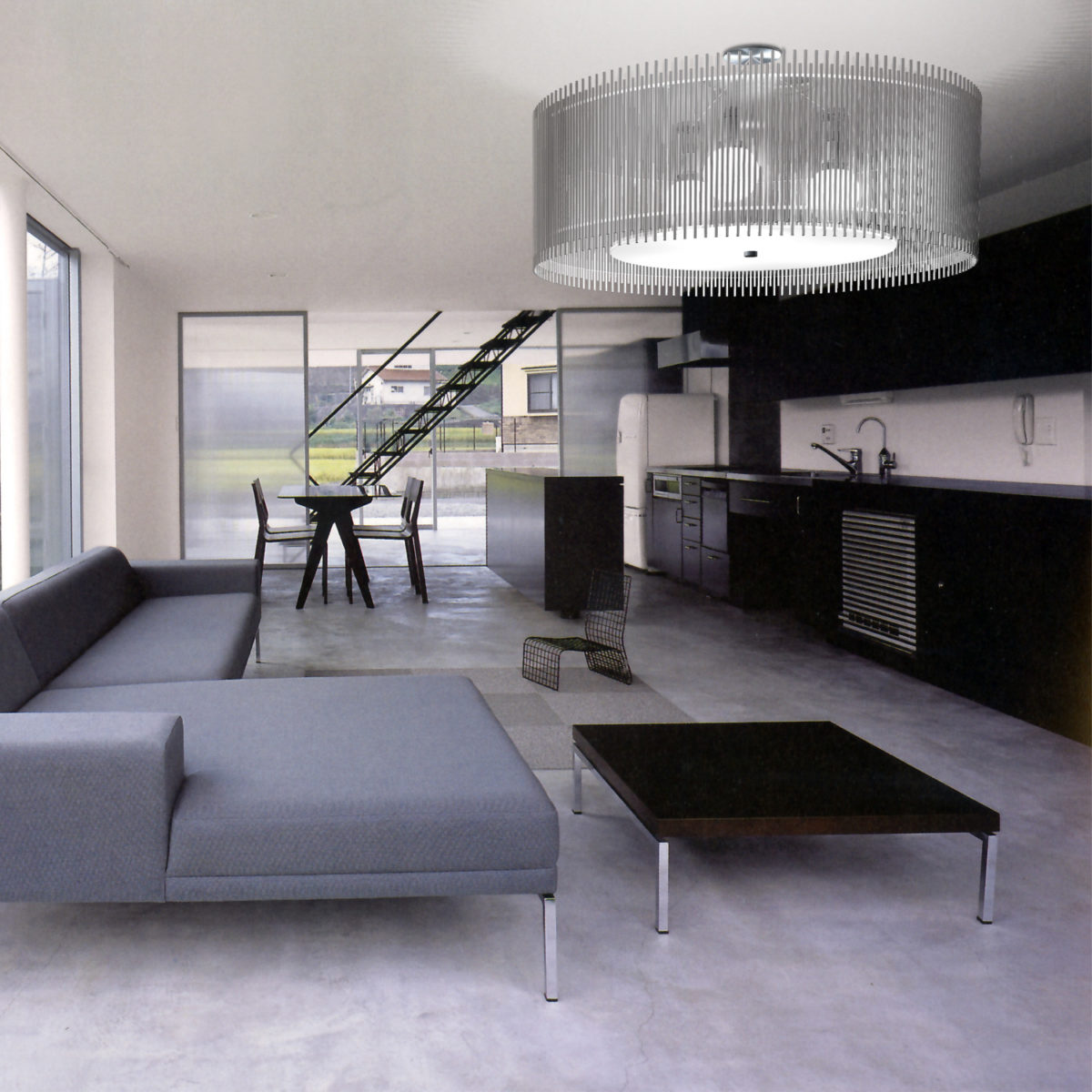 Il Fanale Bon Ton Marbles
Bon Ton Marbles: The allure of Bon Ton is enriched with a "precious" version in glass and marble, like an evening dress for special occasions that combines deco and lightness. The shaded glass sphere is available in pearl grey and pink and the marble element in white Carrara or alpine green. The detail of the brass ribbon, emblematic of the designer that brings to mind the earring, a symbol of elegance and femininity, has been retained in its original version. This is a work of light art where typical elements of the Italian style are reinterpreted gracefully in a contemporary and iconic way.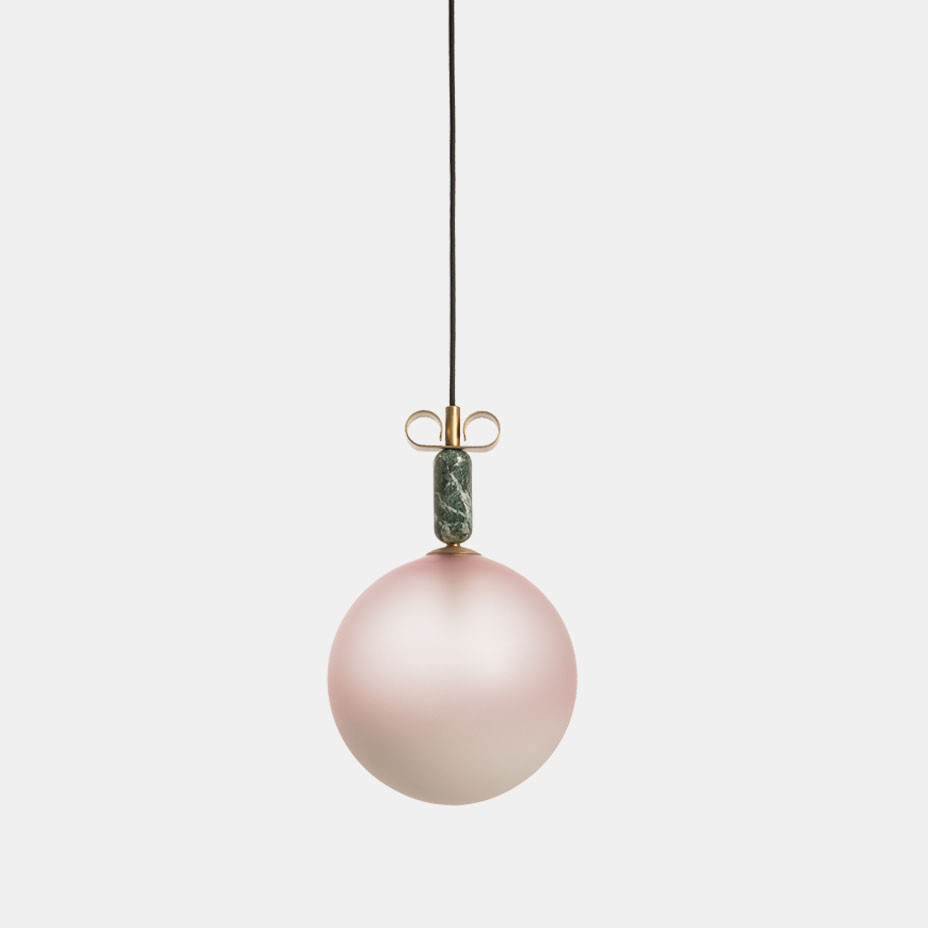 Venicem Urban Suspension 3
Urban Suspension 3: Suspended lamp with diffused light. Light or dark burnished brass structure with matte gold or matte black perforated metal lampshade. White Murano blown glass diffuser.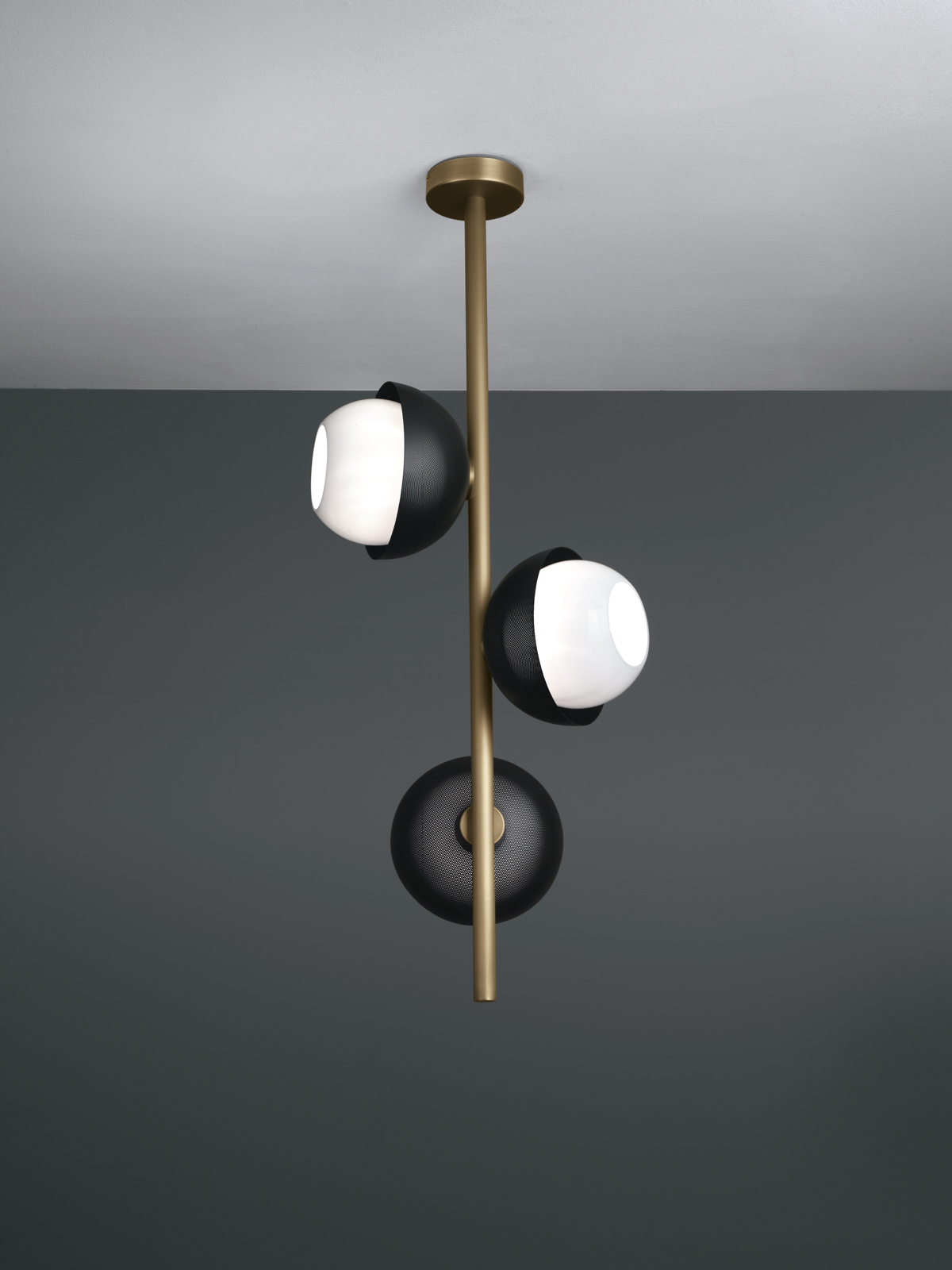 Wästberg W171 Alma
W171 Alma creates a circle of soft sine waves diffusing light, where light and shadow create a readily recognizable character. The lamp can be hung individually above a table, and in a group in a larger room where it can create a pattern of floating points of light, like a ceiling of lights.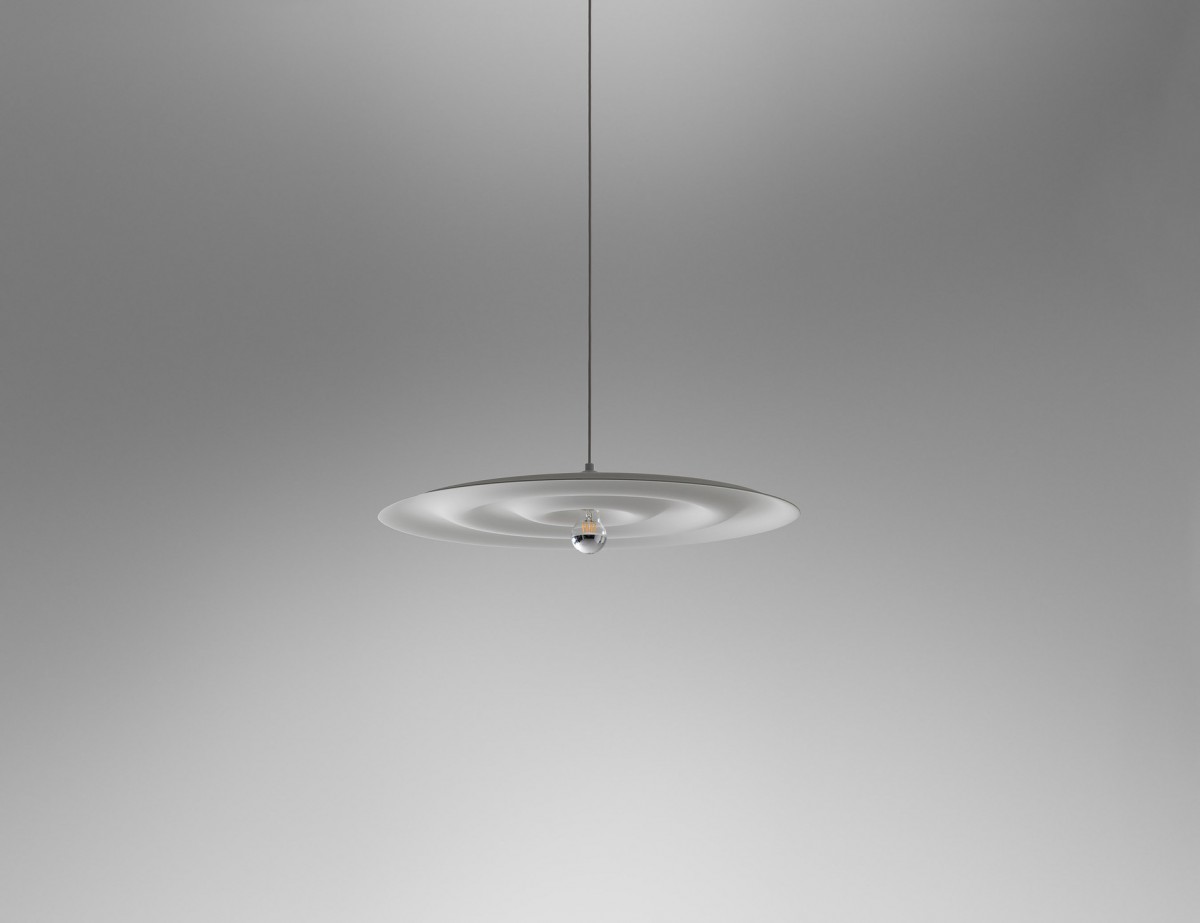 Foscarini Plena
Large in size but light and dynamic, Plena provides dual lighting: reflected on the surface below it, and spreading towards the ceiling. An intriguing light, of special charm, to completely permeate a room while remaining soft and enveloping. Placed over a table, Plena never emits the slightest glare.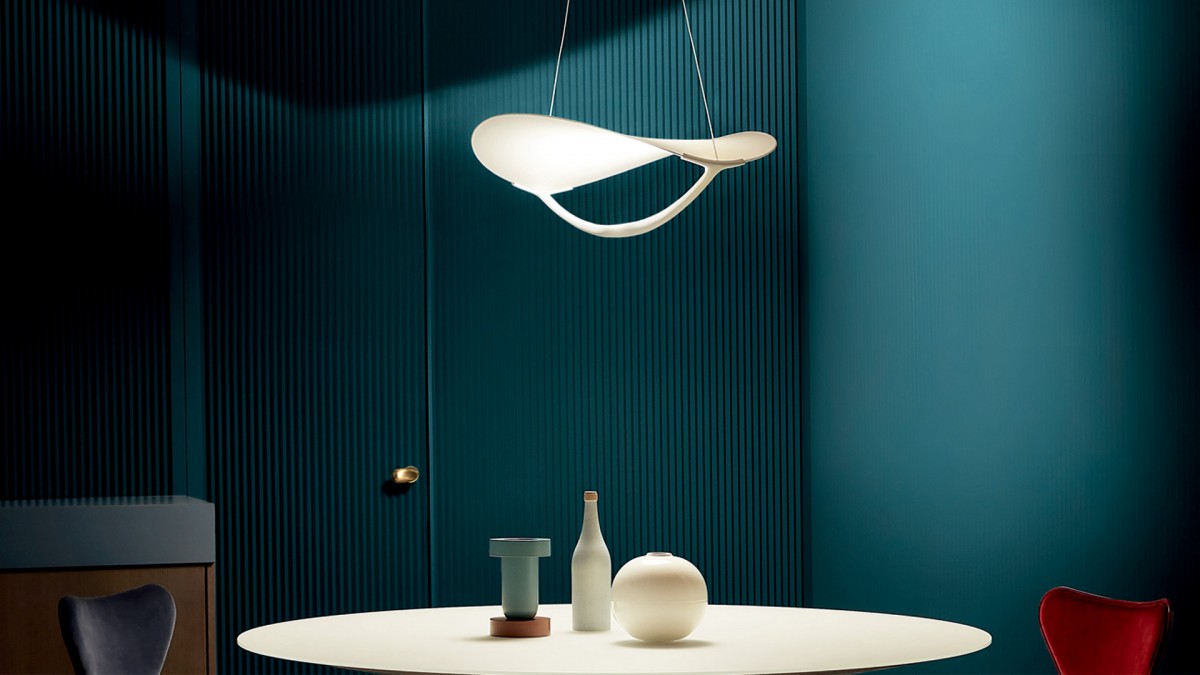 Swarovski Lighting Infinite Aura
Swarovski Lighting partnered with IDEO to create Infinite Aura, a collection that invites you into a world of wonder between reality and illusion. Combining exquisite craftsmanship, cutting-edge technology and innovative design, Infinite Aura conjures a vision of infinity that celebrates the human imagination and eclipses the ordinary limits of the mind. From radiant rays to a dim glimmer, the collection encapsulates the art of light and crystal with pre-programmed and customizable moods and effects that find harmony through a unique technology inspired by nature.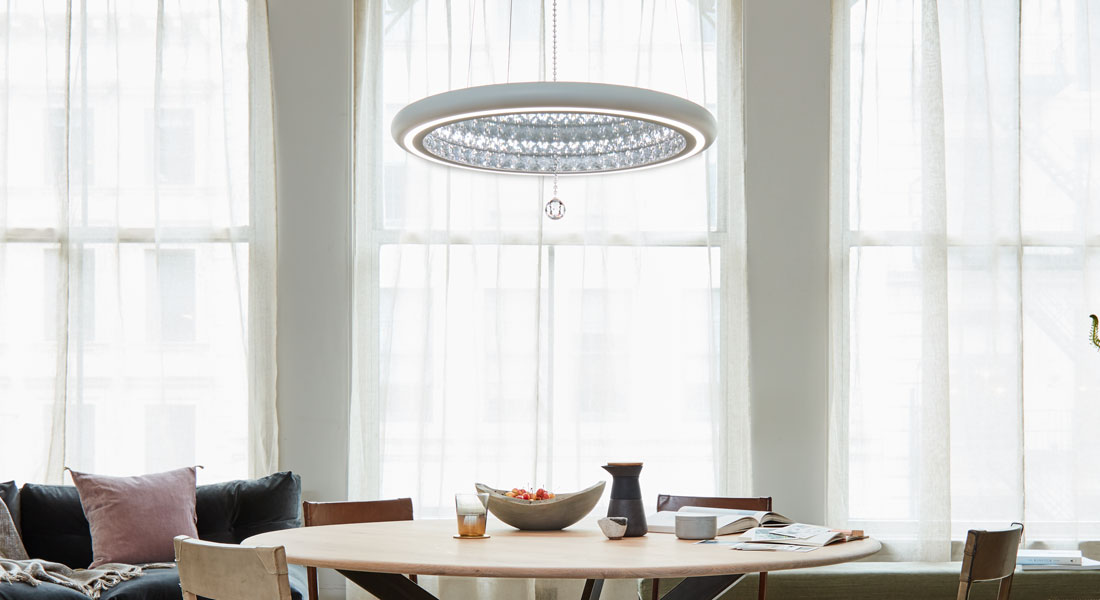 Yellow Goat Design Dandelion Crystal
Interior lighting does not come as delicately enchanting as this. The Dandelion pendant almost literally hangs in fragile wisps that look like they'll float away on the wind—yet these strands are fashioned from a laser cut clear acrylic or bright polished aluminum that is as sturdy as a rock. An LED bulb glows bright from the center, a beacon of light surrounded by all of that feathery bliss. This interior lighting is available with or without the crystal glam, and can be custom-fit to size. This piece is so ethereal, you almost might be tempted to blow on it just to assure yourself of its reality!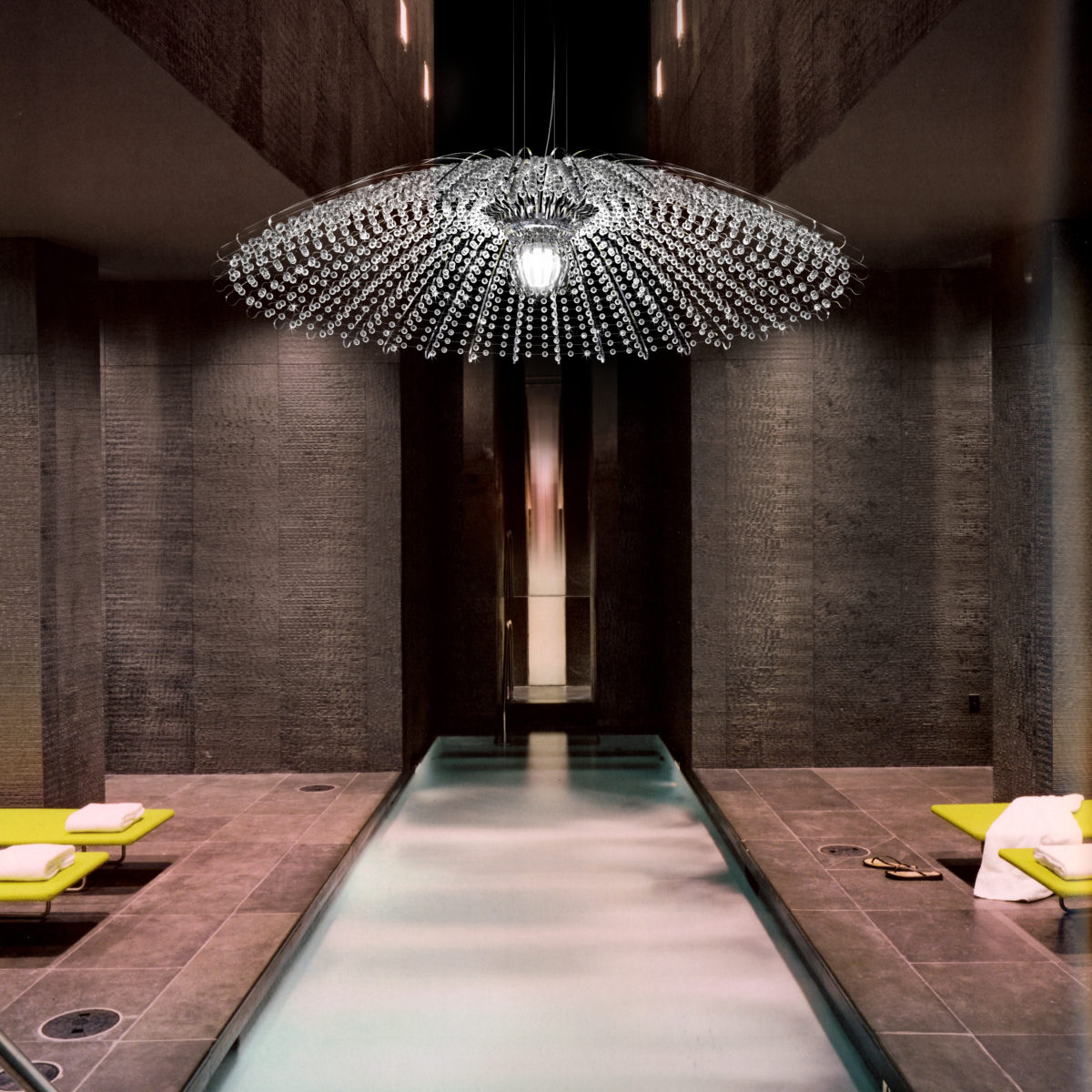 Astep Model 2065
Model 2065 consists of a diffuser made of two joined opalescent saucers, suspended from the ceiling with a black-painted aluminum canopy. The simplicity of Gino Sarfatti's elliptical design and the lightness of the materials make for a seemingly weightless luminaire.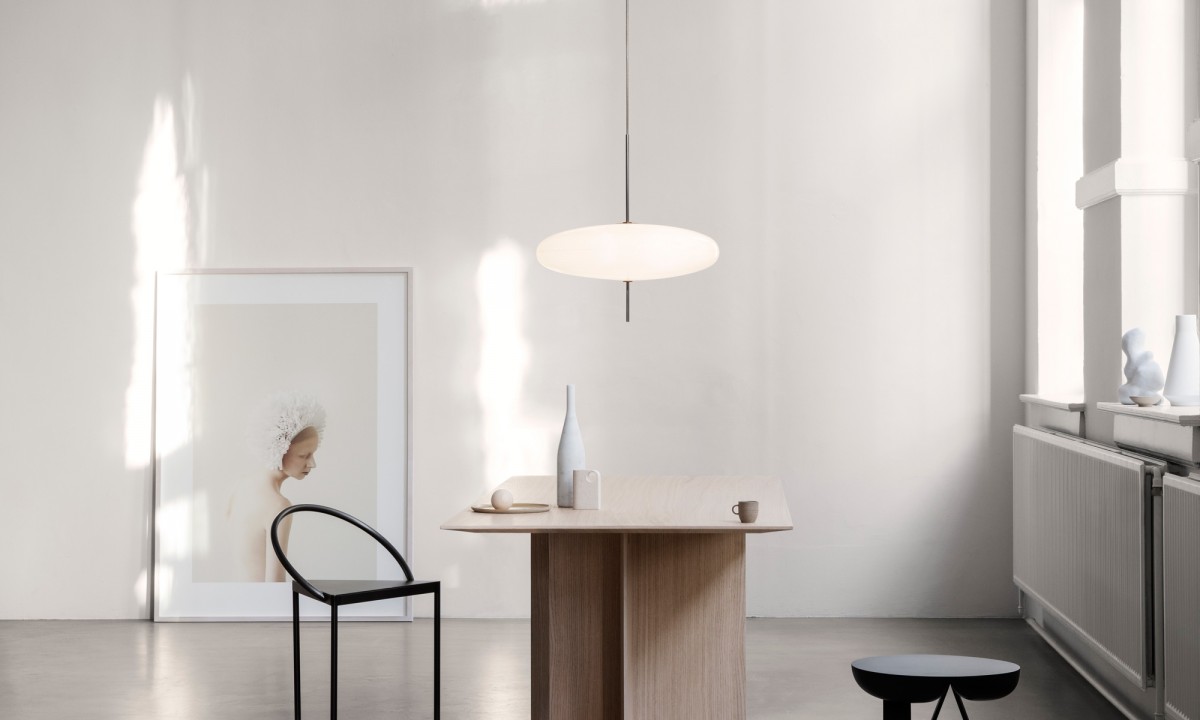 Louis Poulsen LP Circle
The fixture emits diffuse light via a high-efficiency acrylic diffuser. The diffuser, which is encircled by a voluminous colored or white ring, is hidden when viewed from low angles. The pendant makes use of the collar to give the fixture character and interplay with the building's architecture, thereby adding an extra dimension to the interior through randomized reflection of the light.