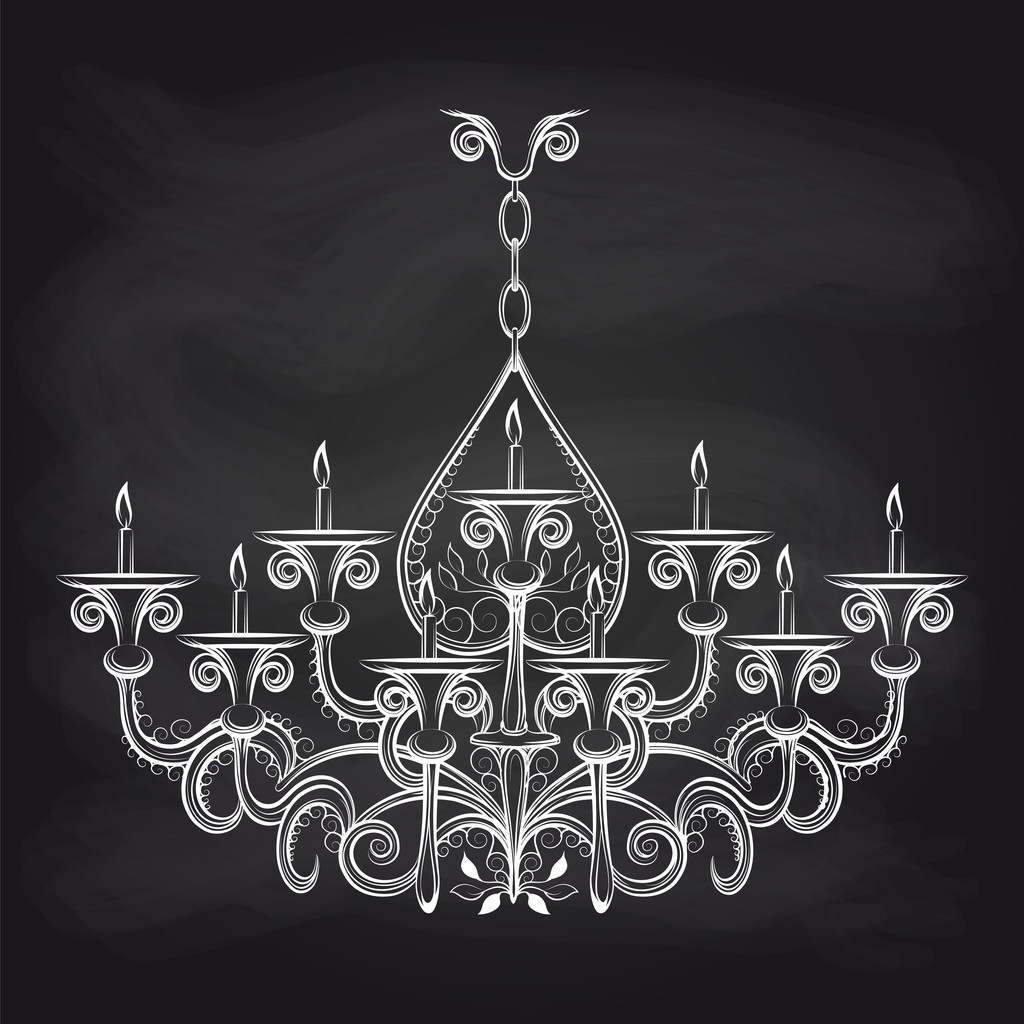 A chandelier is a hanging light fixture that brings design elements and lighting effects to a room. Chandeliers not only provide a layer of ambient light to an interior space, but also lend a distinctive visual statement, evoke a sense of pleasure, and leave a positive impression that lasts. In fact, nothing adds sparkle and visual interest to decor like a chandelier. Whether hanging above a dining table, in a foyer, a living room, or even a bedroom, a chandelier is a showstopper that ignites the spirit of a space and express excitement, high quality or elegance. The crown jewel of a room's lighting layout creates the personality you want in the space and stir up conversations with your friends or visitors.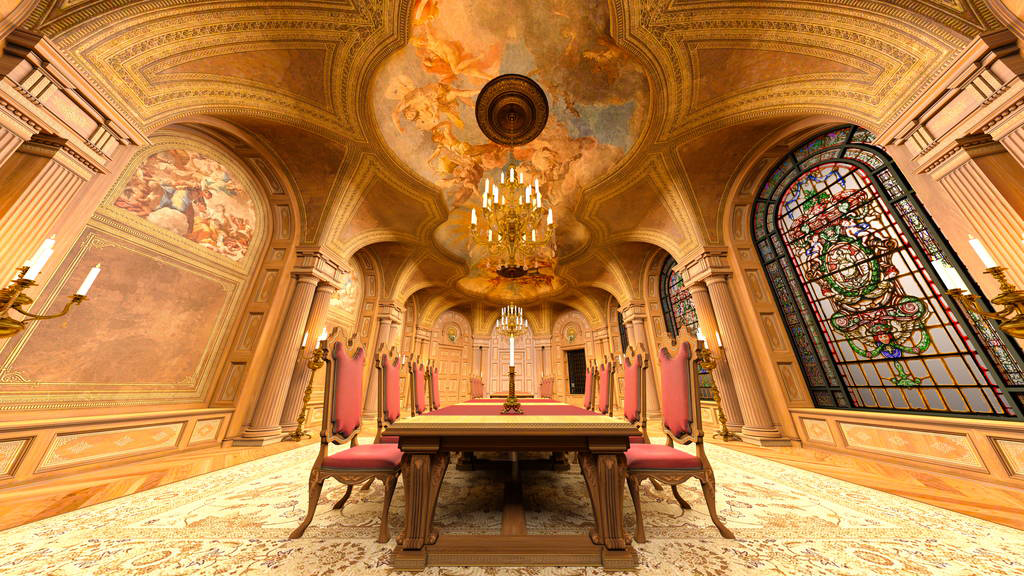 Construction
The decorative light fixture includes an intricate system of decorative and functional parts that combine to deliver a tasteful look and engaging illumination. Conventional branched chandeliers have a chain, a rod, or a column that links the principal body of the chandelier to the light canopy, with arms extending from the center column or the bowl of the fixture. The arms which can be curved, scrolling or angular hold lights that glow inside glass or fabric shades. Some chandeliers may incorporate exposed candelabra base bulbs as a decorative element. Although drip pans which are used to catch wax beneath candles are no longer functionally necessary, most of these fixtures still feature bobeches that sit under the electric lights to deliver the classic grandeur. Some chandeliers have strands of ornamental glass beads or crystal droplets that dangle below the lights to adorn the arms of the fixture and enhance the chandelier's graceful silhouette. The structure or frame of a chandelier can be built from aluminum, stainless steel, iron, or wood. From metal, glass and crystal to resin, acrylic, wood and porcelain, the materials for ornaments and lampshades leave plenty of scope for creativity. Most chandeliers direct light towards the ceiling to create a soft, shadowless light in a room and an impression of a higher ceiling. Downlight chandeliers have arms that point down is typically used to provide task or accent lighting over dining room tables.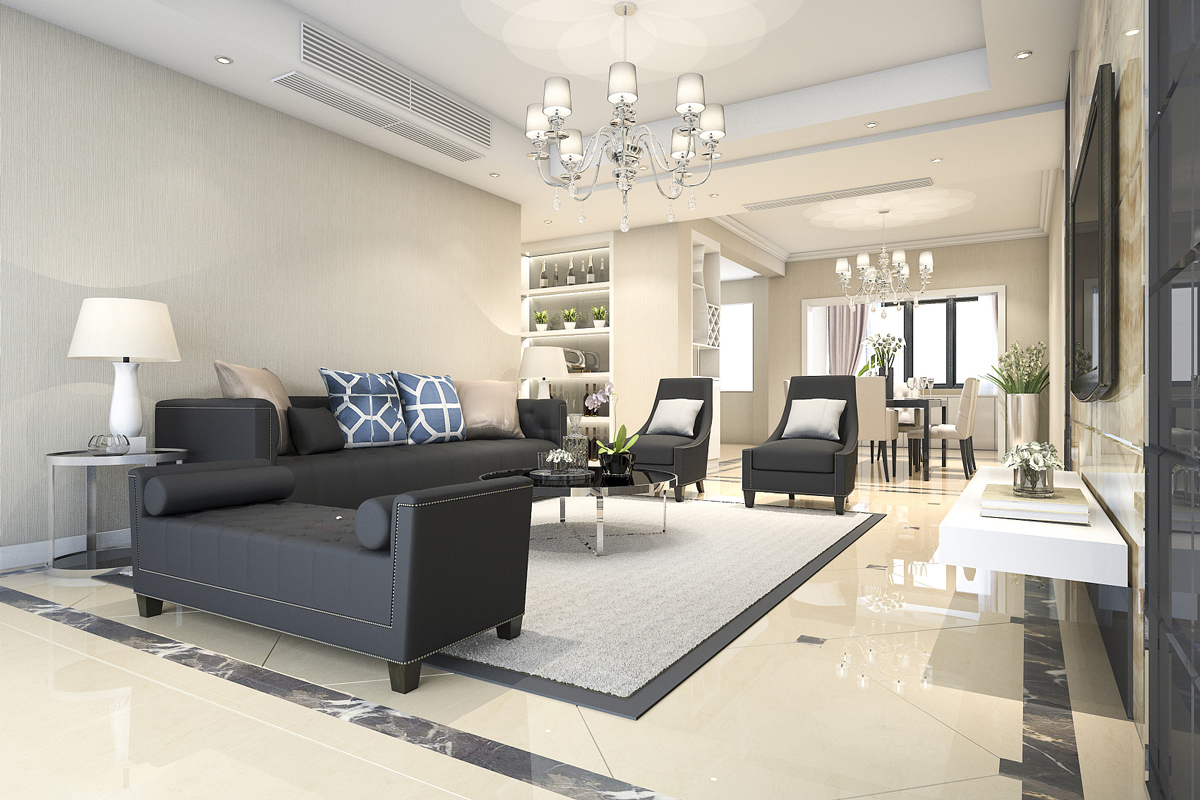 Charm Your Decor with Timeless Aesthetics
Today's chandeliers offer an ever expanding palette of fixture designs that invite lighting designers to exercise their creativity. While traditional chandeliers deliver an ornate look and influences of curvy silhouettes and classic details to recall a vintage European aesthetic, transitional chandeliers evoke a clean and serene atmosphere with a combination of traditional elegance and sleek modernity. Contemporary chandeliers embody the aesthetic features of contemporary artistry with a visually clean geometric look that exudes a sophisticated simplicity to complement today's home. Industrial style chandeliers offer a rugged charm which is delivered by cage lights, reclaimed wood, pipe fittings and iron facings. Rustic lighting takes inspiration from the outdoors and features a combination of farmhouse and industrial interior design styles. Art Deco chandeliers which are characterized by sleek, shiny metallic finishes offer an industrial feel and fascinating touch.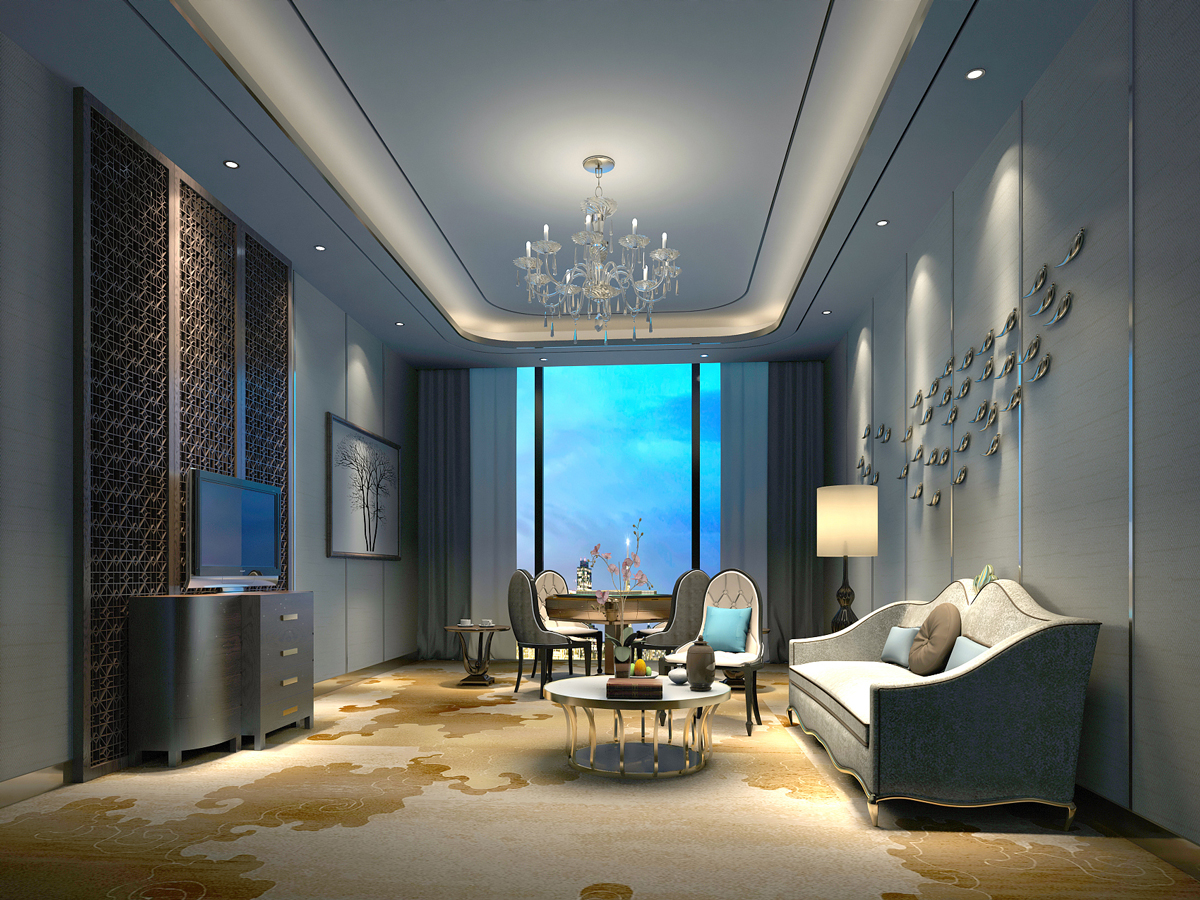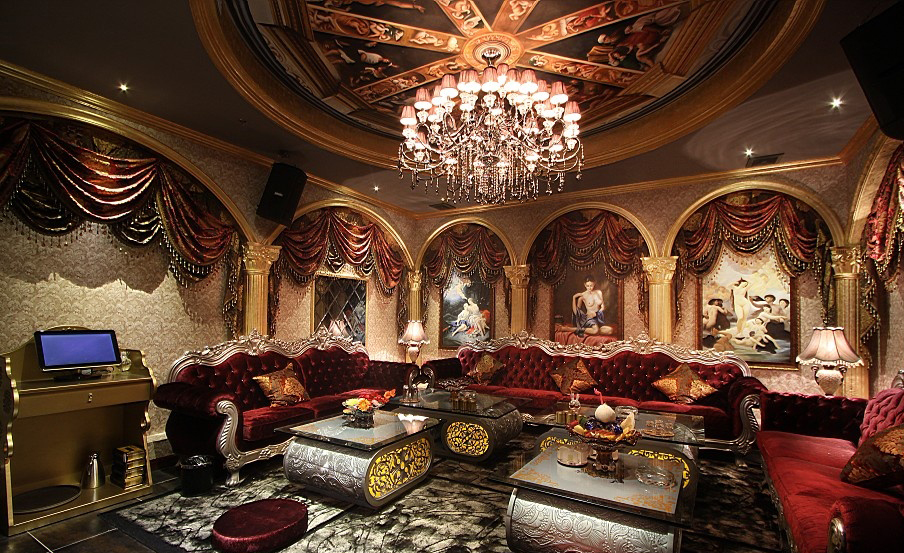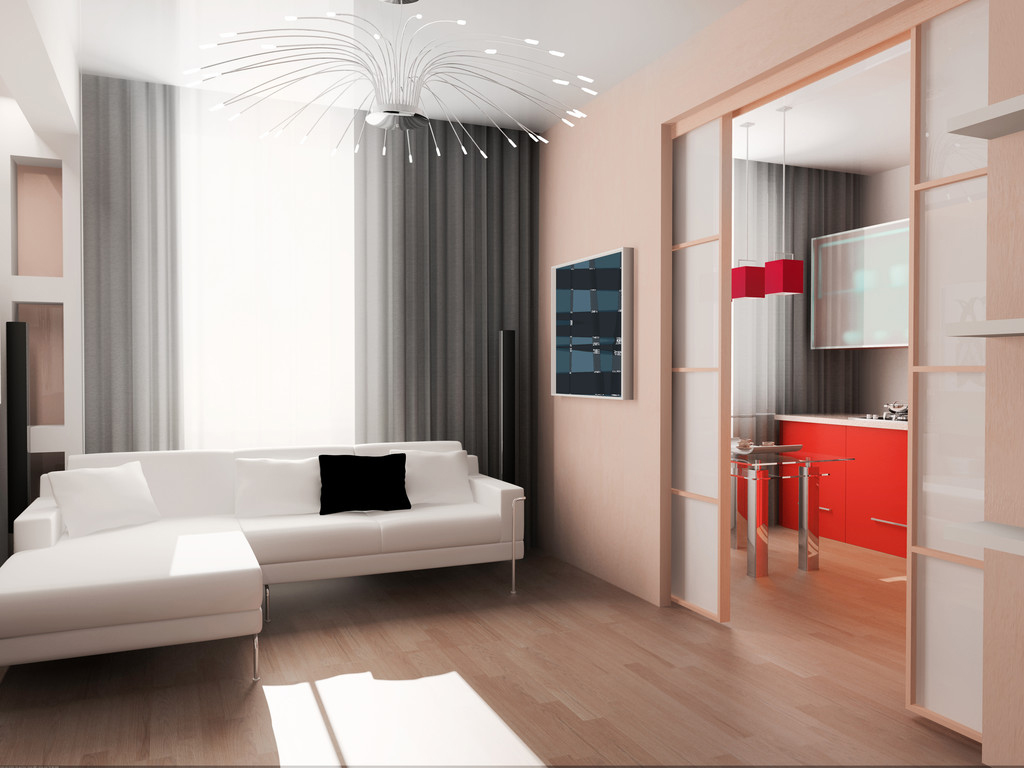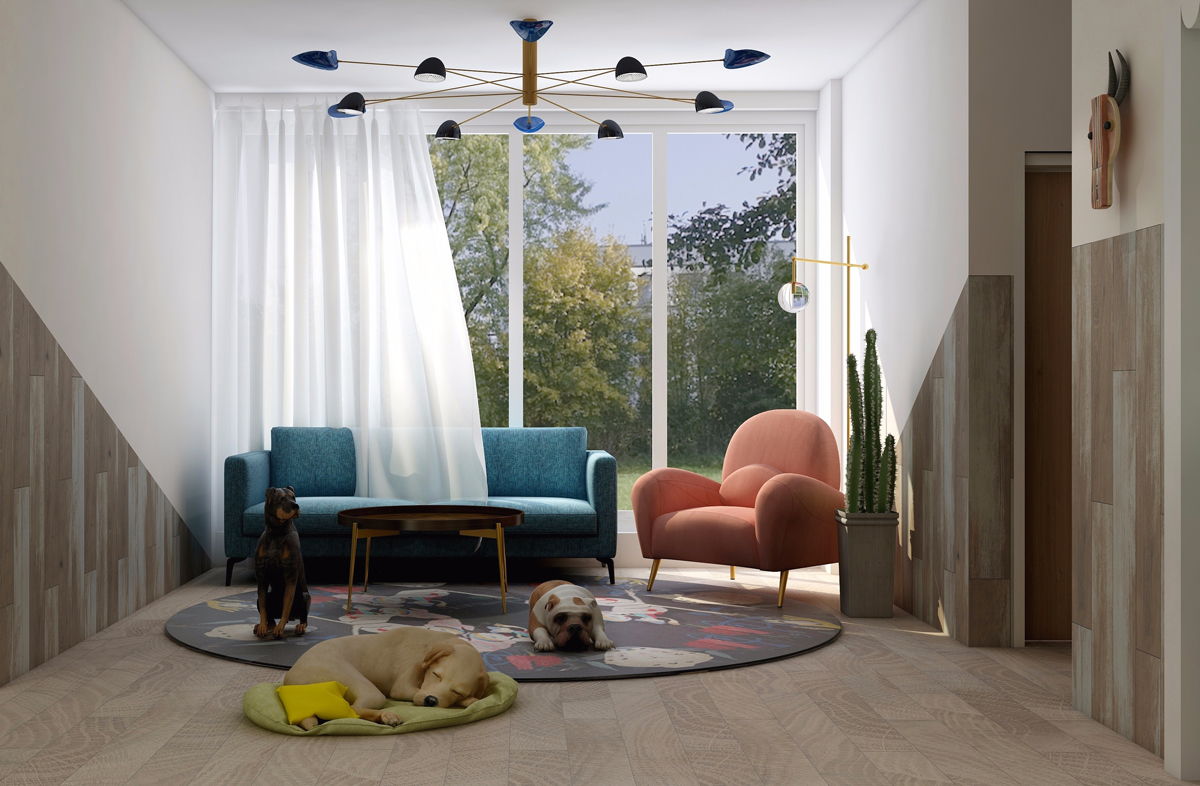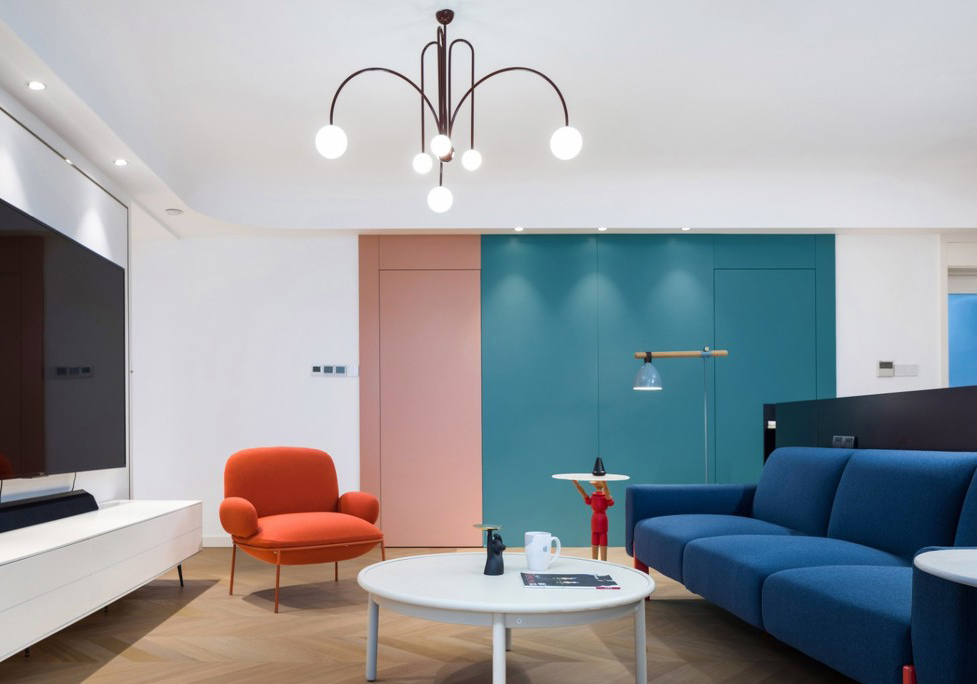 Types of Chandeliers
Many chandelier designs incorporate a varied mix of features to deliver exclusive decorative sentiment, material beauty, and optical functionality.
Candelabra or candle style chandeliers take the decoration back to the roots of European sensibilities. Instead of using angular shapes, candelabra chandeliers count on the soft, rounded look of traditional styles. These highly ornamental light fixtures typically have scrolling arms and filigree which elegantly hold exposed candelabra based light bulbs to give the signature look of a candle-filled chandelier, without the risk of burning your house down. This type of chandeliers often has at least five extensions and multiple tiers.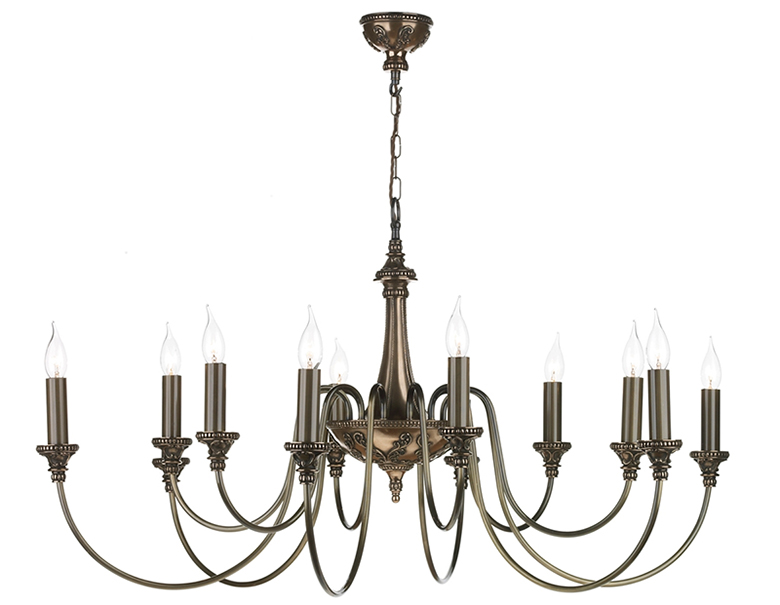 Crystal chandeliers deliver an ethereal, magical look that is sure to catch the eye. A crystal chandelier is comprised of glamorous sparkling crystals with prisms providing compelling light control to exude sparkle and glamour. The sculptural element reflects and refracts light to create a beautiful radiance. This refracted iridescence makes the crystal fixture so splendid that it offers plenty of sparkle and drama for dining rooms, living rooms, foyers, bedrooms, hotel lobbies, or entry areas.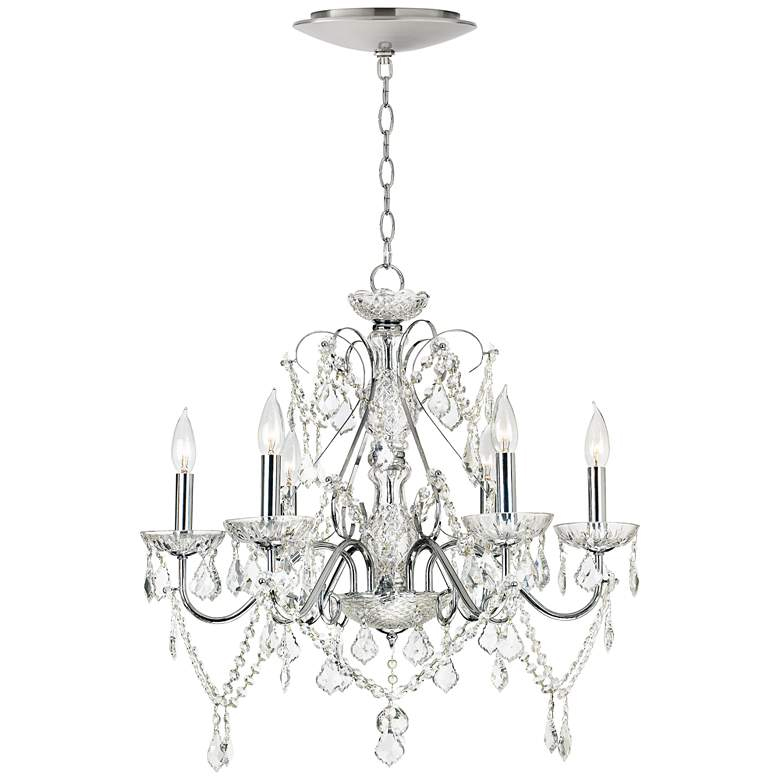 A drum chandelier that resembles a pendant light fixture features a shaded construction in which a drum shaped lampshade surrounds the entire light. The shade gets rid of the hardness in light for warmer and more muted lighting. This type of chandelier is the perfect centerpiece for creating a focal point in transitional interiors. The shade comes in a number of different materials such as fabric and acrylic, printed with decorative patterns to enhance the aesthetic appeal of the chandelier.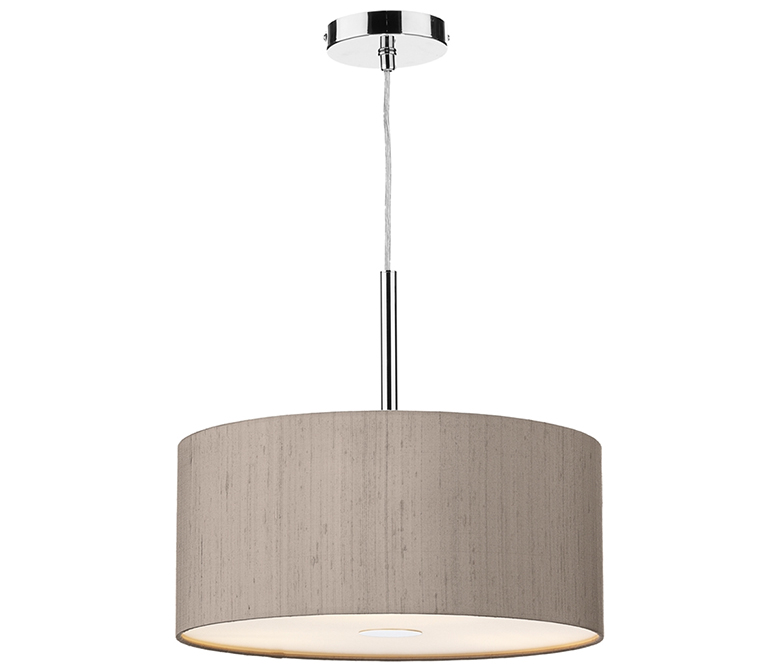 A center bowl chandelier radiates upwards and softly down via a large, translucent or opaque bowl suspended in the center of the light fixture. Its understated look and soft glow lend a delicate presence to rooms where the ambience cannot be overwhelming.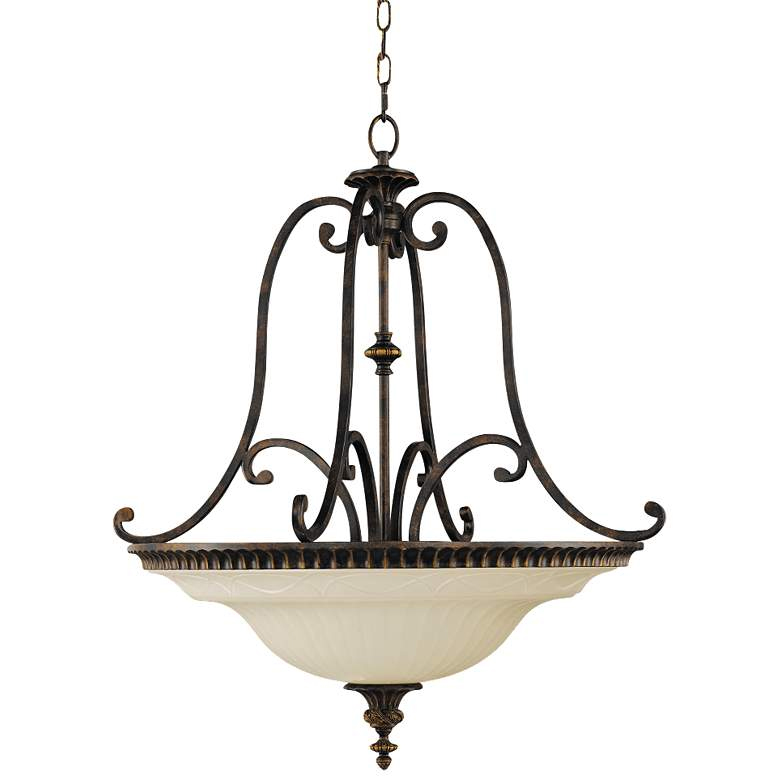 A cage style chandelier creates a round, square, rectangle, or triangle cage out of intersecting bars or wires. Lights reside in the center of the ornate cage. Its open geometric silhouette makes the chandelier go well with modern, retro and rustic interiors.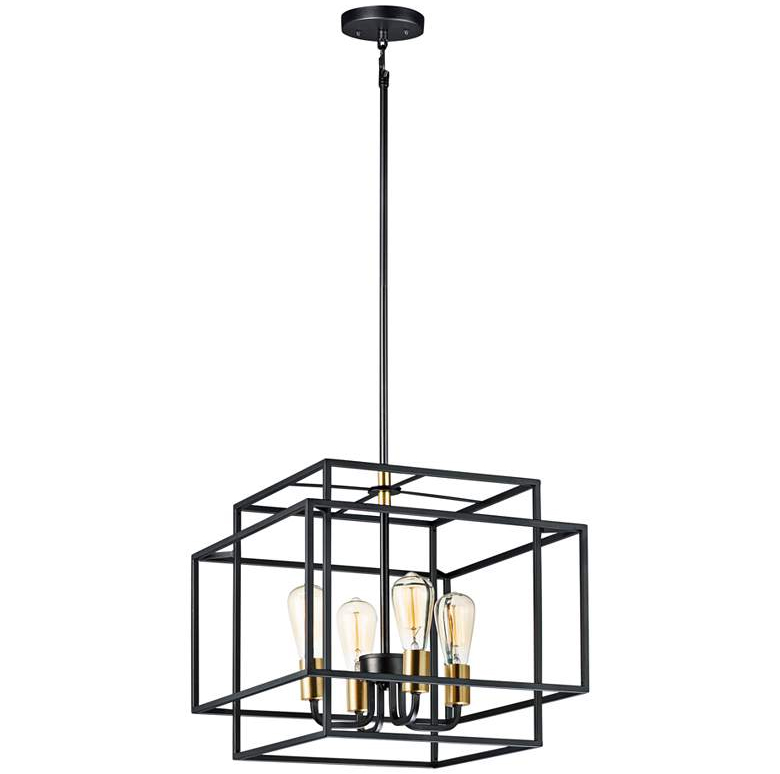 A sputnik chandelier brings the starry sky to your home with a series of straight arms extending from a center point in a either symmetrical or random configuration. Starburst chandeliers are similar to sputnik chandeliers but come with more decorative accents designed to produce more visual impact.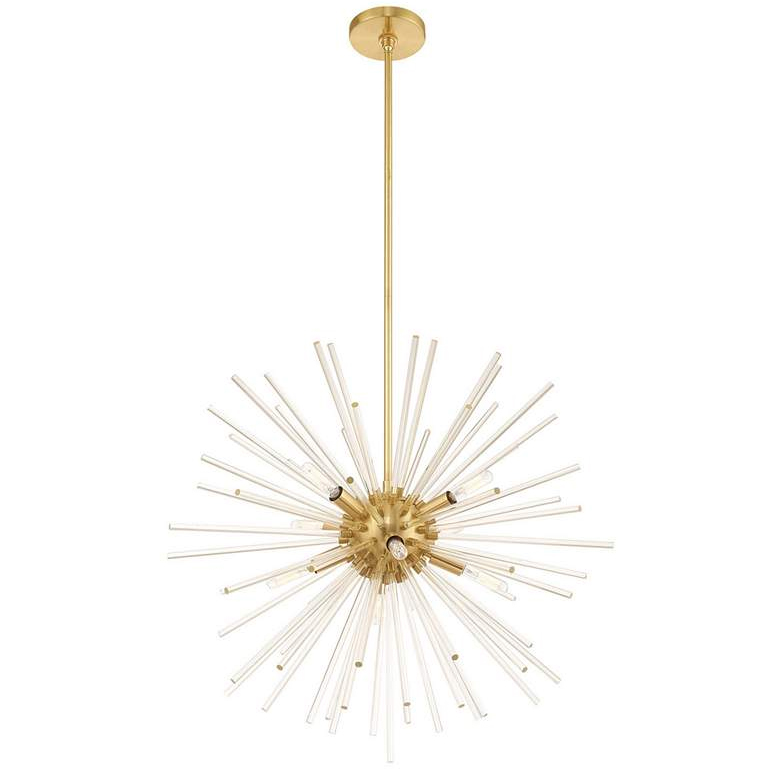 An island chandelier has an elongated geometrical structure that accommodates three or more lights in a straight row. This type of chandeliers is designed for kitchen islands but matches a dining or kitchen table as well.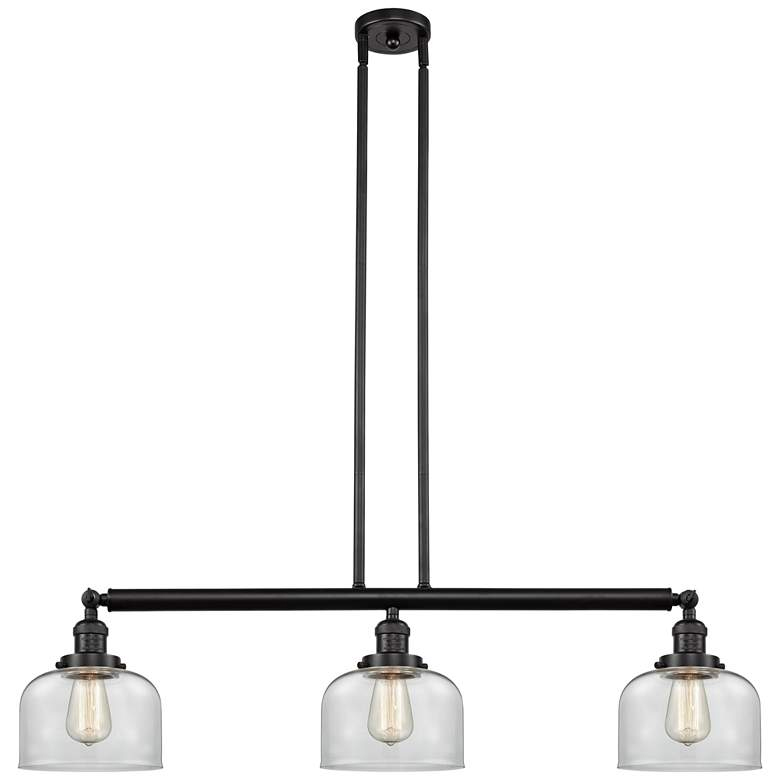 Mini chandeliers, also known as chandelettes, are petite versions of grand-scaled chandeliers. These small lights make a big statement without taking up much space. With a gamut of decor styles ranging from traditional to contemporary, mini chandeliers are a great choice for adding glamour to rooms where a massive chandelier is overkill.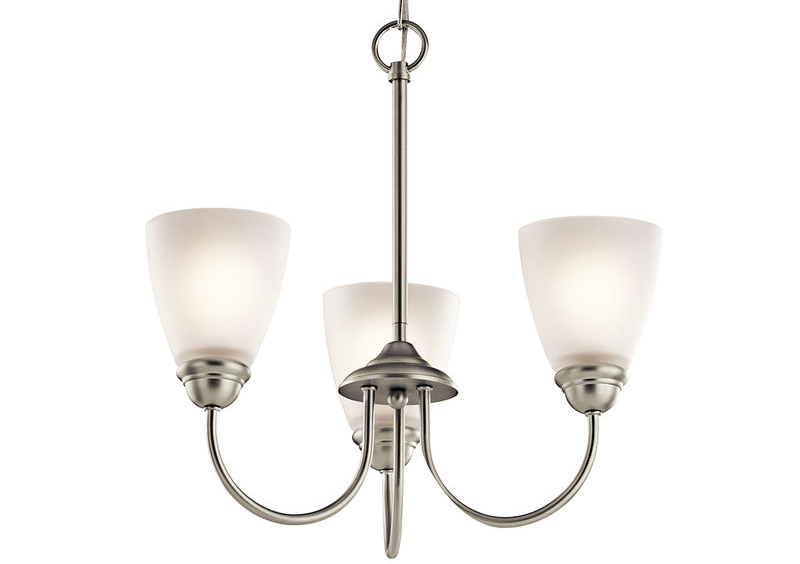 A tiered chandelier which can have anywhere from two up to five or more tiers brings a big impression to vaulted entryways and grand hotel lobbies. Multiple layers of arms suspended from different vertical points show off luxurious grandeur and exude a majestic look in rooms with soaring ceilings.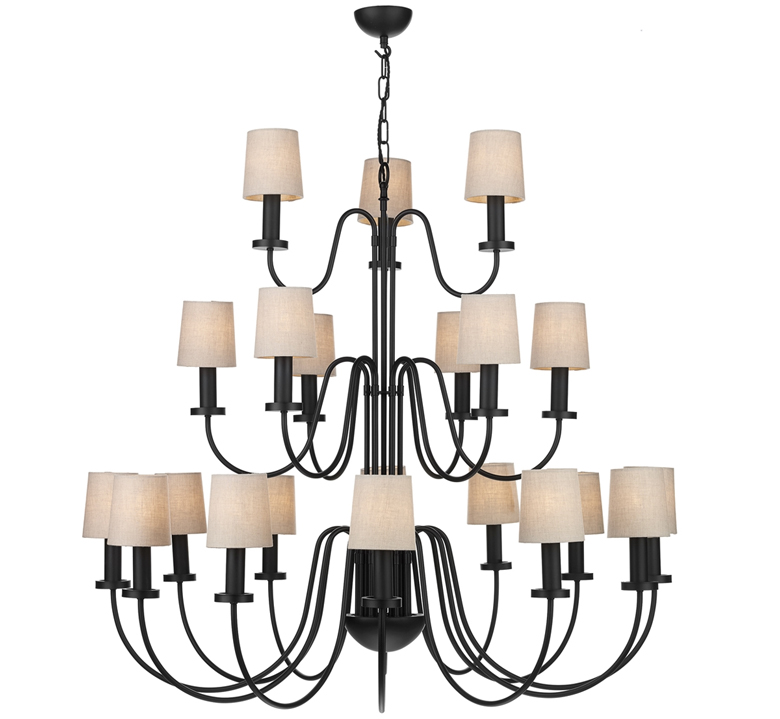 Every Space Has Its Decorative Personality and Functional Needs
Chandeliers can stand out as artistic centerpieces that add a focal point or conversation piece to a room, while contributing simultaneously to the base layer of lighting. In addition to finding a chandelier that immediately catches your eyes, you also want one that serves the decor needs and room functions.
Chandeliers are most often seen in dining rooms where inviting illumination and decorative accent underscore the room's diversified role. Today's dining rooms often accommodate an array of activities including dining, reading, family bookkeeping, and doing homework, etc. Consider if you want a fixture that provides balanced illumination with uplighting and downlighting, or a fixture that just shines light down on the table.
As both the social and recreational center of the home, living rooms call for a chandelier that not only exudes sparkle and glamour, but also can enhance the conviviality of the occasion. Extra attention to fixture sizes, style, illumination pattern, and even lighting control should be paid to as the chandelier is typically hung at the center of the living space and has a deep visual impact on the impression of your home.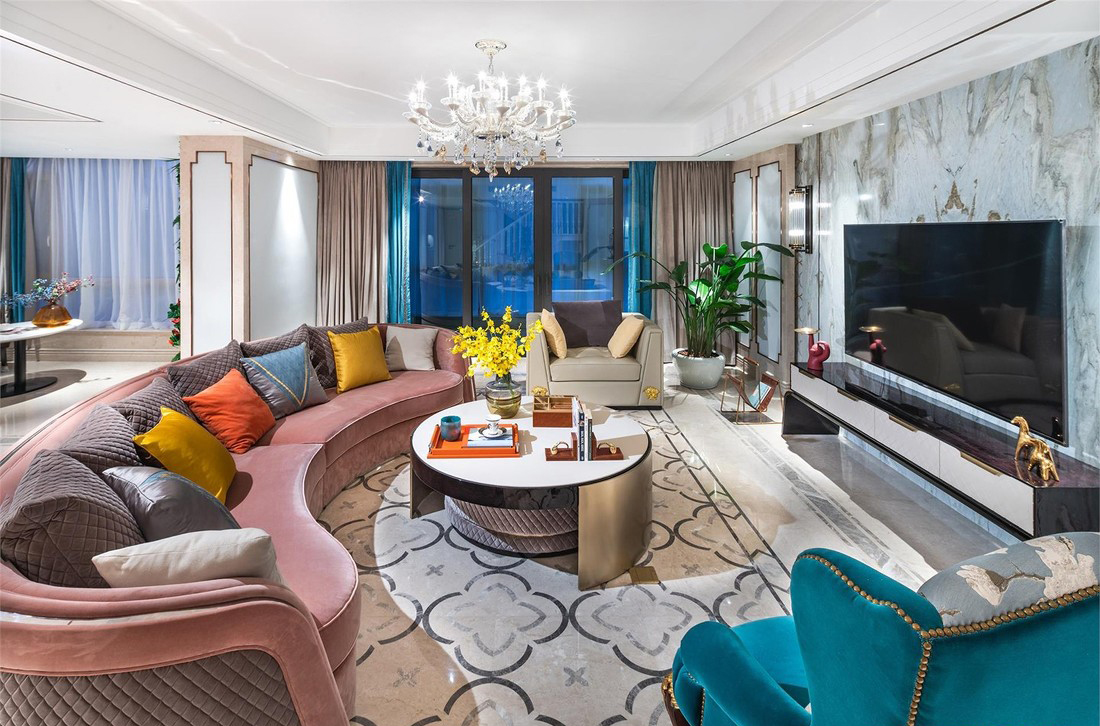 As a place of respite and rejuvenation, bedrooms requires visually comfortable overhead lighting. A bedroom chandelier that directs light upward should be used to make the fixture shine gently on the eyes. And it should not consume too much vertical space.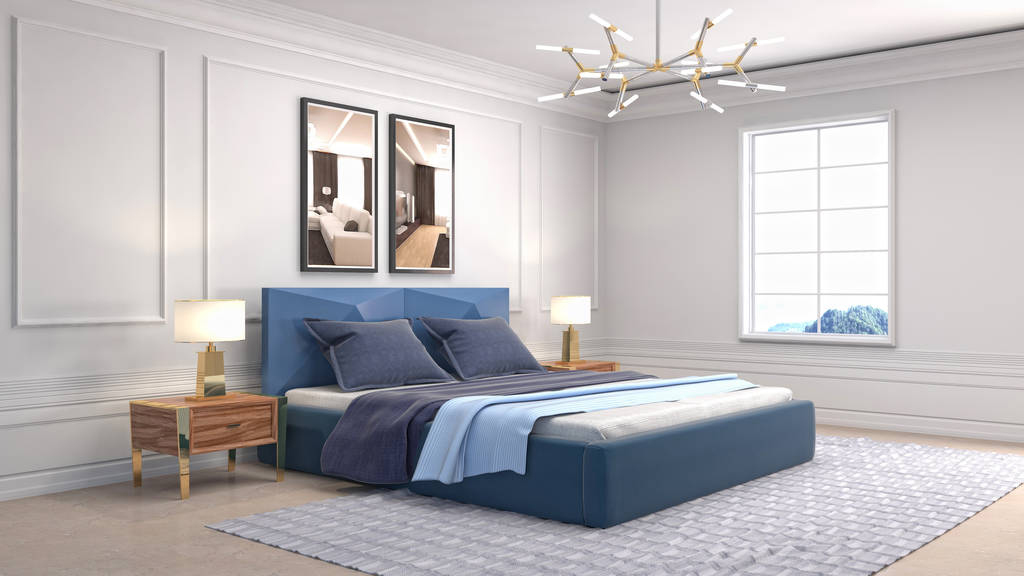 As a light fixture that welcomes your home and greet your guests, the foyer chandelier should be selected to bring both ambiance and a welcoming spirit to a home while conforming to the basic structure of the building.
Luxury Light Fixtures, Crappy Light Bulbs
Although an increasing number of fixtures are being designed as integrated systems, most chandeliers still use light bulbs as the light source. Many lighting designers don't realize that in the era of LED lighting there's a flood of inferior LED bulbs on the market. LED bulbs virtually become a joke in the industry as most of these products use the lowest quality LEDs and lowest cost driving circuits for an extremely low price point that caters to the misguided consumers. In terms of light quality, traditional incandescent bulbs are far better than LED bulbs. Incandescent and halogen bulbs exhibit high fidelity in color reproduction. With a spectral power distribution (SPD) closely emulates the characteristics of natural sunlight, incandescent radiators produce high quality light with a color rendering index (CRI Ra) greater than 95, whereas commercial LED bulbs have a poor color rendering performance (typical Ra in 80s).
Poor color fidelity makes it challenging for people to do visually demanding tasks. Inaccurate rendering negatively affects color perception of the human vision. One of the purposes of lighting design is to bring out the best in a space. When colors are distorted, the world appears lifeless. As people ages, yellowing of the crystalline lens changes the ways colors are discerned. Thus the spectral characteristics of the light source has become more important to keep our visual sensation as true as possible. Unfortunately, LED bulbs fall into a category that manufacturers pay the least attention to light source SPD. Moreover, high CRI doesn't mean the LED bulbs have a good color spectrum. CRI contains only measurements for R1-R8 values, which are pastel colors. This metric does not reflect solid "R" values from R9-R15 that indicate how well the light brings out saturated colors. R9, which is present in skin tones, wood finishes and artwork, is an important color quality parameter in interior lighting. It helps the white light to bring out more vibrant colors and makes our skin look more flattering. LED bulbs, however, have an extremely low R9 value. The improvement of this value means increased cost and reduced luminous efficacy, which is obviously unacceptable for lighting manufacturers.
Incandescent and halogen bulbs have minimal flicker due to the thermal capacity of the tungsten filament, whereas LED bulbs are prone to flickering because LEDs have no or very short persistence by nature. As the prices of LED bulbs are dropping to commodity levels, tight drive current regulation which is required for flicker-free lighting is traded for lower cost driver designs. Bare-bones, single-stage switching power supplies and linear power supplies often fail to suppress residual ripple of the alternating waveform after rectification. This will lead to undesirable flicker. Most LED drivers are able to filter out current ripples that contribute to low frequency (up to 80 Hz), visible flicker. However, low cost driver circuits that are often present in LED bulbs usually do not effectively filter out high frequency ripples which cause the lamp to produce invisible flicker such as in the 100-120 Hz range. While this flicker is not perceptible to the human eye it can still has negative effects on health, including headaches and epileptic seizures.
Thermal management is another concern neglected by general consumers. Those dirt cheap LED bulbs do not have a high-performing thermal management system that effectively draws the waste heat away from the LED junction. Prolonged thermal buildup will result in poor lumen maintenance as well as well color shift.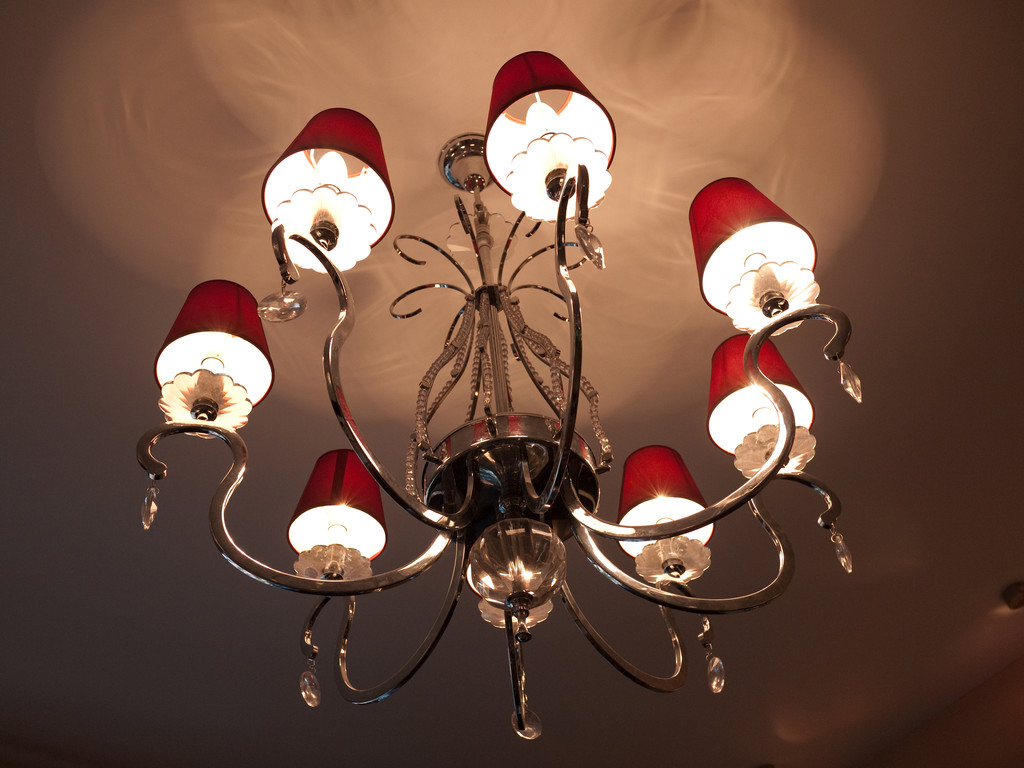 Fixture Sizes
Aside from fixture shapes, styles and aesthetics, selecting a chandelier that is in scale with the room is a critical factor in creating architectural harmony and visual balance of an interior design. A massive chandelier in a small room creates visual clutter and ruins the mood. On the other hand, a visually insignificant fixture will be lost among other elements and fails to make a visual statement. The goal is to have your chandelier blend harmoniously into the room while creating a lighting composition that includes all these elements: focal glow, ambient luminescence, and the play of brilliants.
Mini chandeliers which is 20" in diameter and under are typically installed over kitchen islands, in a bathroom, bedroom, or dressing room. Medium chandeliers which generally measure close to 28" in diameter fit well in an average-sized bedroom, living room, kitchen, or a small foyer. Large chandeliers which ranges in diameter from 32" up to hundreds of inches make for a visually stunning centerpiece in a hotel lobby, large dining room, or foyer.
Chandeliers that are hung over dining room tables should have a diameter no bigger than 2/3 the width of the table. For chandeliers hung in the center of a room, the classic rule of thumb is that the chandelier diameter should be in inches what the diagonal measurement is in feet, or in inches what the sum of the length and width of your room in inches. For example, if the diagonal measurement of a room is 24', the approximate chandelier diameter should be 24". If your room measures 10' x 14'. Add 10 plus 14 to get 24 total feet. And the sum in inches, 24", is the diameter for your chandelier. It is not a hard and fast rule but most designers recommend that the chandelier should have three inches of height for every foot of ceiling height. Multiply your ceiling height by 3 to get the recommended fixture height in inches. For example, a 9-foot ceiling would need a chandelier height of 27 inches.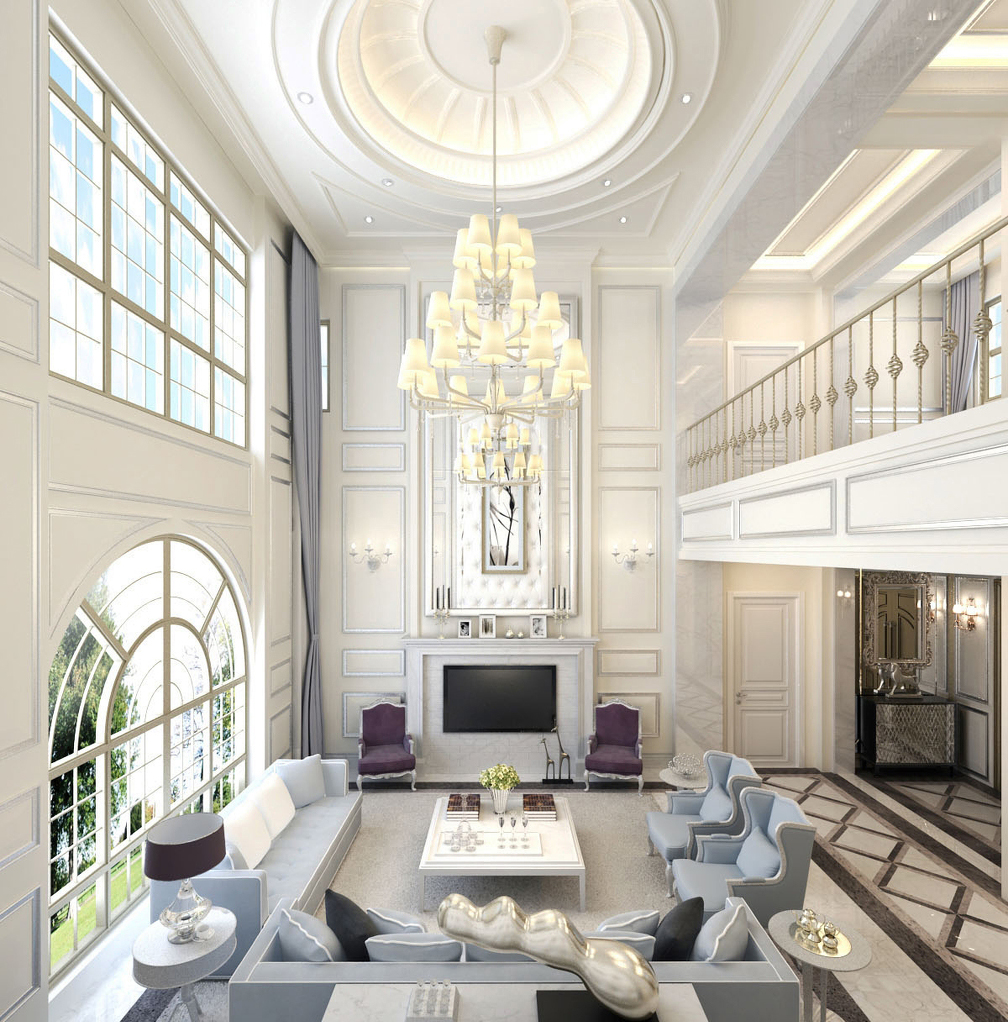 Hanging Height
The handing height of your chandelier depends on the ceiling height and the fixture's positioning within the space. If the chandelier is going to be positioned in a place where there's under-fixture traffic, the chandelier must be hung about 7 feet off the floor to ensure good illumination and no bumped heads. Hang chandeliers at least 6" above the door in a foyer. For installation over a dining table or kitchen island, leave 30-36 inches of space between the chandelier and tabletop.
Unaffiliated Recommendations
Below is a list of chandeliers that are worth a look. The styles and designs of chandeliers will morph over time, but all great pieces speak the same language of timeless design and lasting quality. Let a fixture that marries art and light radiate throughout your most cherished spaces. (Disclaimer: We're not affiliated with any beneficiary of the external product links in this article.) This list will be continuously updated. We welcome product suggestions from those who take pride in building compelling value into their products. (Owners of products listed here are authorized to use our badge to promote your achievement. Please include a link to this page for listing verification.)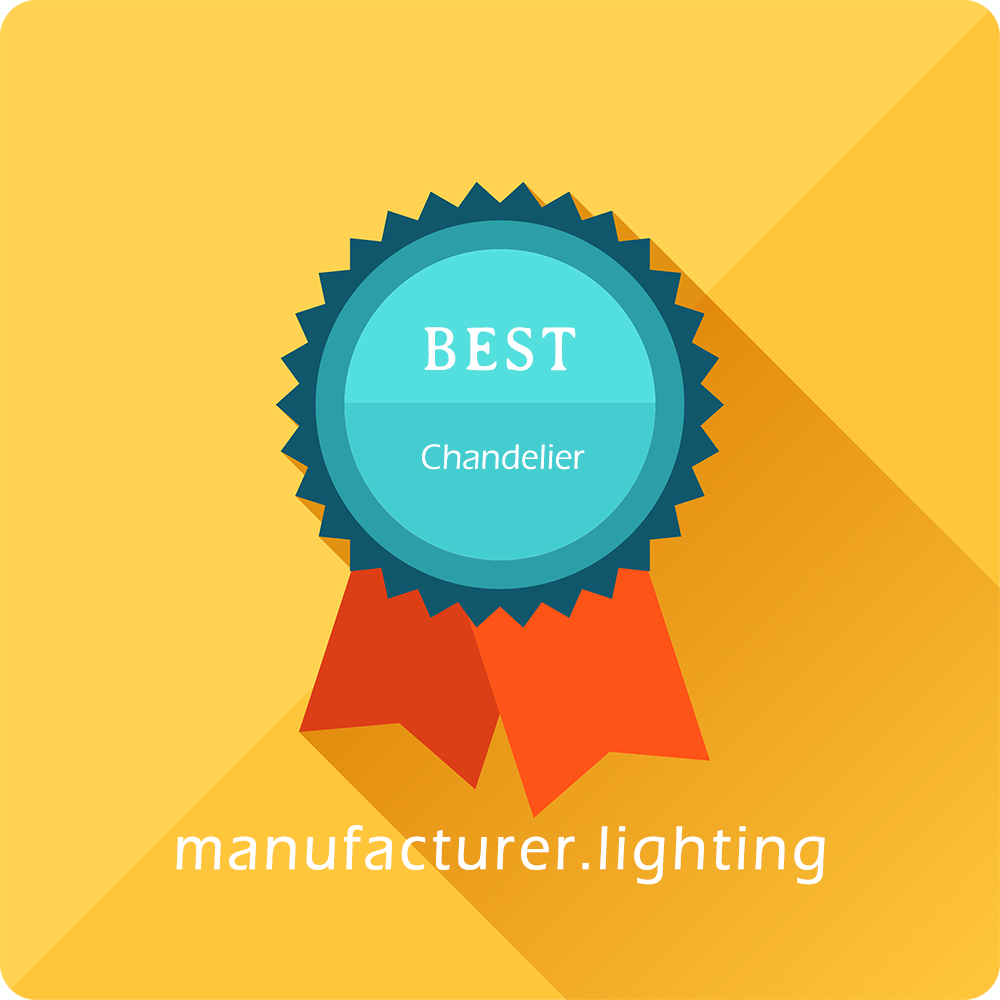 Adot Lighting Candle
Taking inspiration from the beautiful scene of crystal clear water dripping off twigs, Candle endeavors to create a symphony of nature-inspired artistry to intensify the aesthetics of your well-curated decor. With a splendid blend of refined details and elegant lines, this transitional centerpiece is a designer upgrade to a variety of architectural themes, from modern to rustic and everything in between.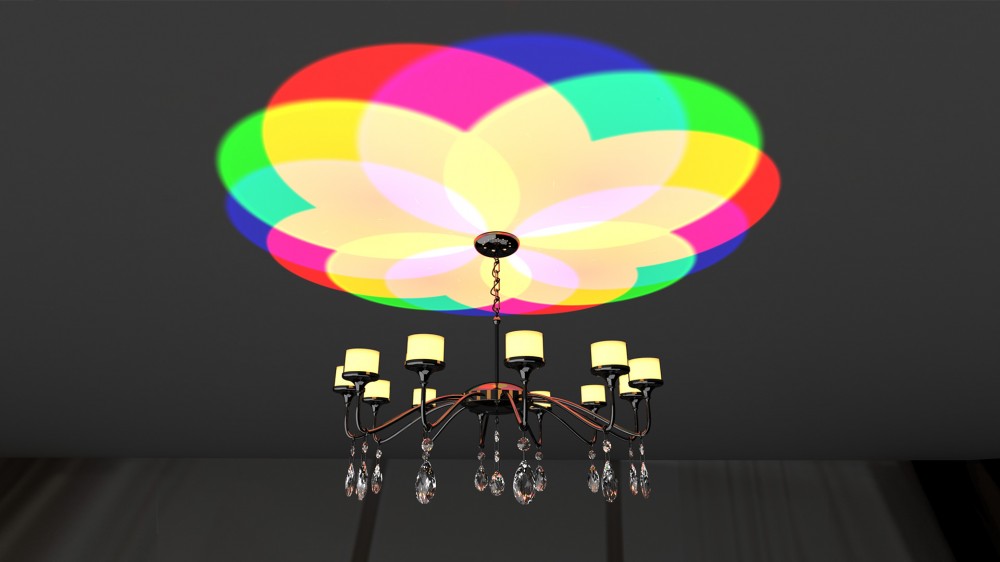 Cameron Design House Haara Seventeen
The branching frame of the Haara pendant has a delicate and finely engineered structure that exudes a nature-inspired artistic endeavor. The cylindrical lanterns are assembled from hand-drawn glass and polished brass concealing the lighting element and creating a unique and beautiful lighting diffuser to be admired whether the light is on or off. As in nature, this piece can grow to suit any interior environment.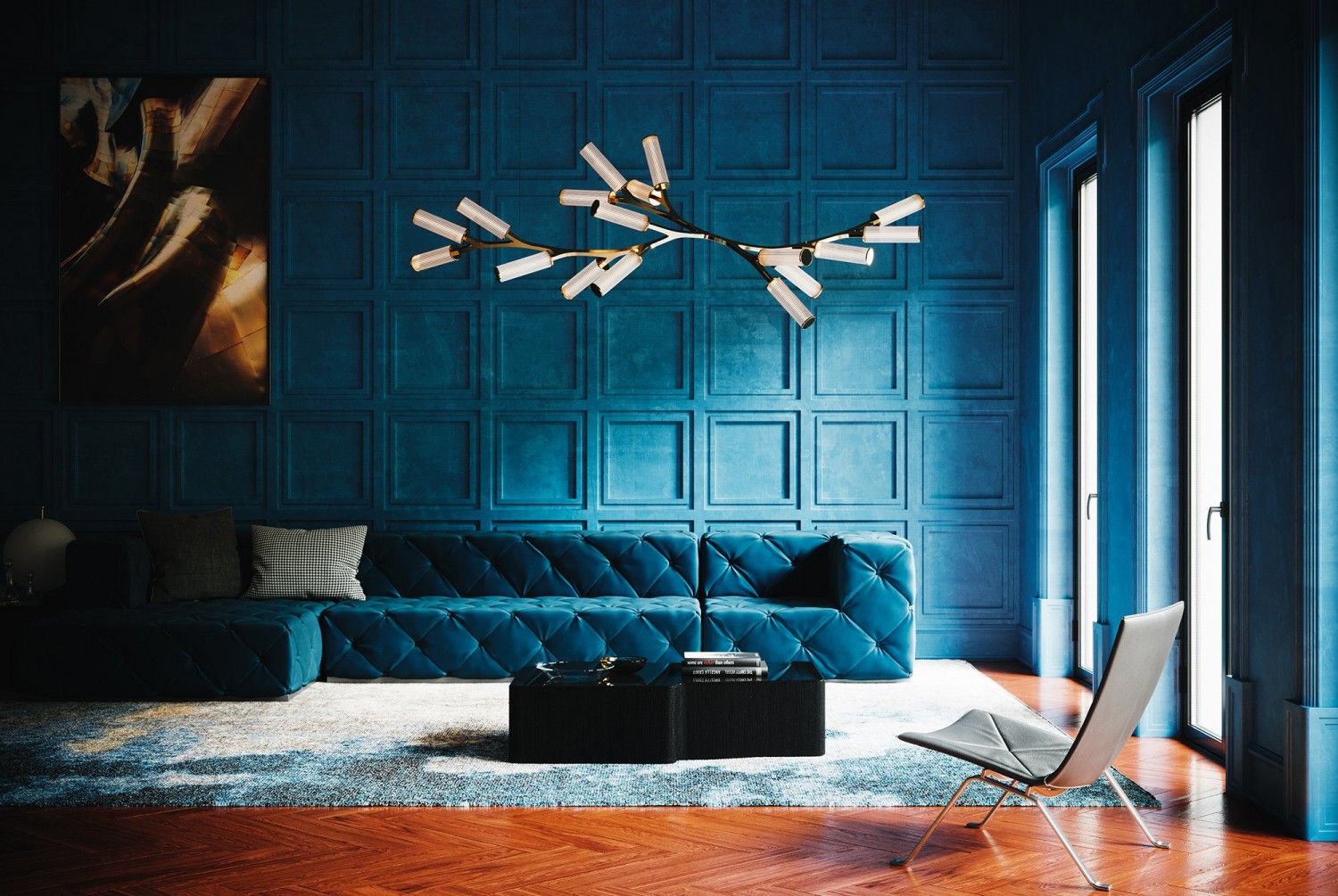 Alma Light TheLight
TheLight is a spectacular reversal of a classic chandelier pendant. Its combination of vintage reminiscence and contemporary design brings a high degree of elegance to any space.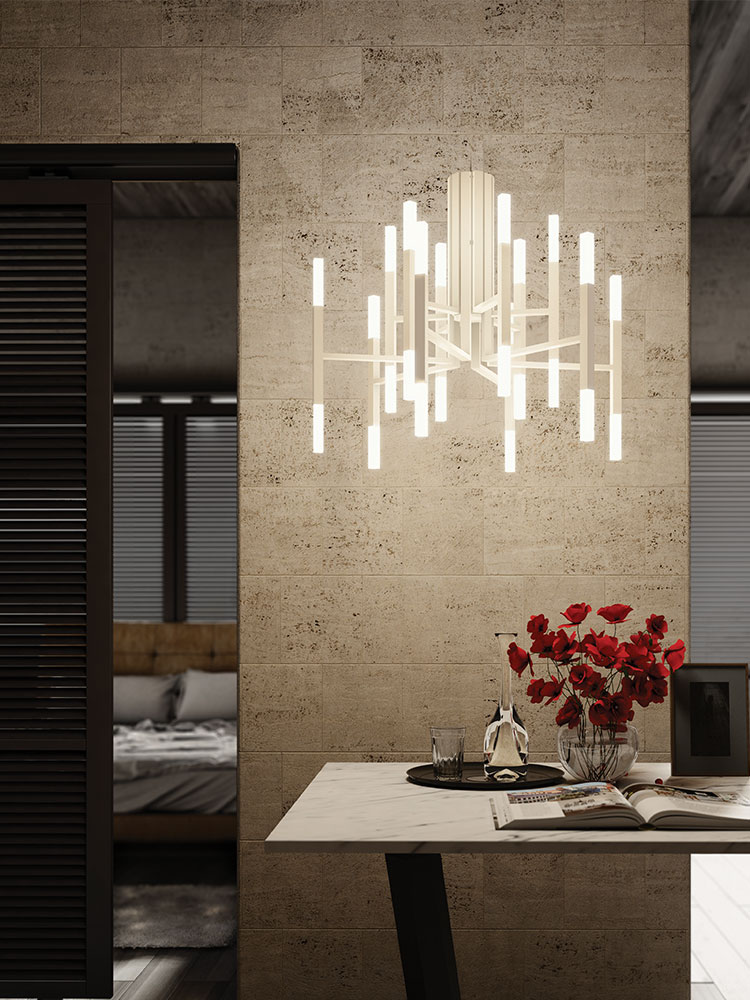 Oty Light POP P40
Pop P40 are grand scale chandeliers that offer minimalist, sculptural beauty as well as flexibility and generous amounts of ambient illumination. The chandelier is offered in 7 finishes specially developed by Oty light to meet the needs of interior designers. Available in choice of three forms: Oval 400cmx240cm; Oval 250cmx95cm or Round 180cm.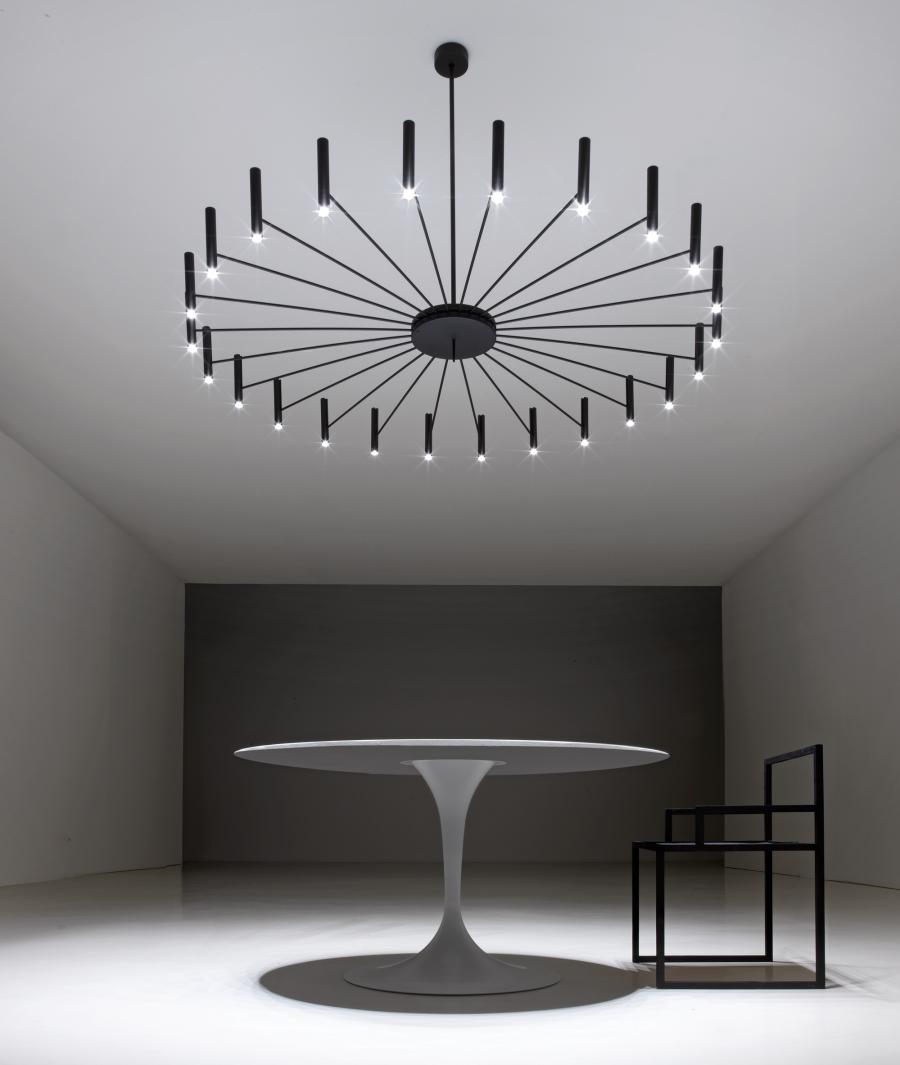 Nuura Apiales 9
With inspiration from flowers, Sofie Refer has designed the new chandelier collection, Apiales. Apiales 9 is a ceiling-mounted chandelier with 9 mouth-blown glass globes and is available in golden Brush Brass finish. From a specially-produced canopy, the arms unfold like flower stalks from which light is spread with grace. Apiales 9 Ceiling has a low height of just 40 cm. This gives the chandelier great flexibility in its application and makes it possible to hang a chandelier in rooms with lower ceilings or in intermediate spaces.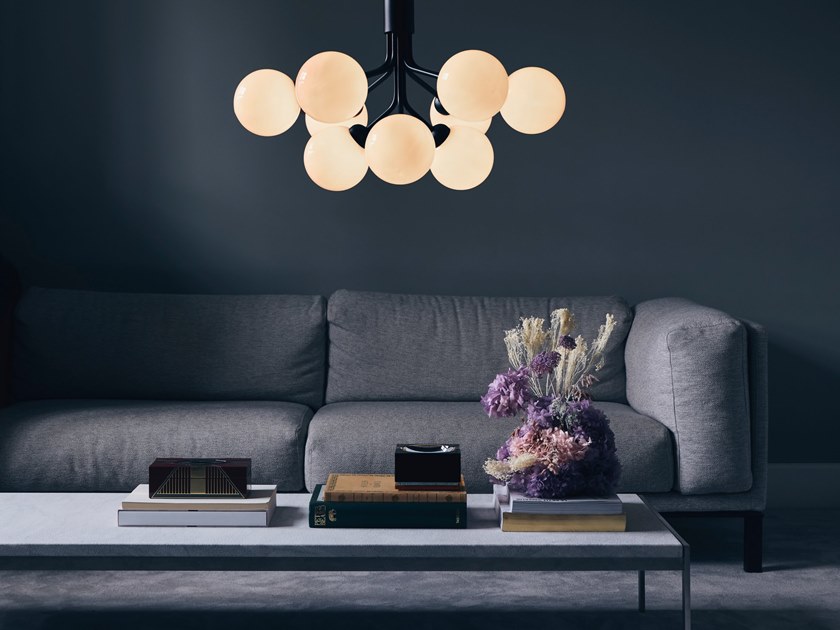 Oty Light Jumbo
A blend of simple design and clean lines characterizes the minimalistic charm of Jumbo. Each arm is held by a transparent cable anchored to the ceiling. Jumbo is available in two version: 7 and 14 arms.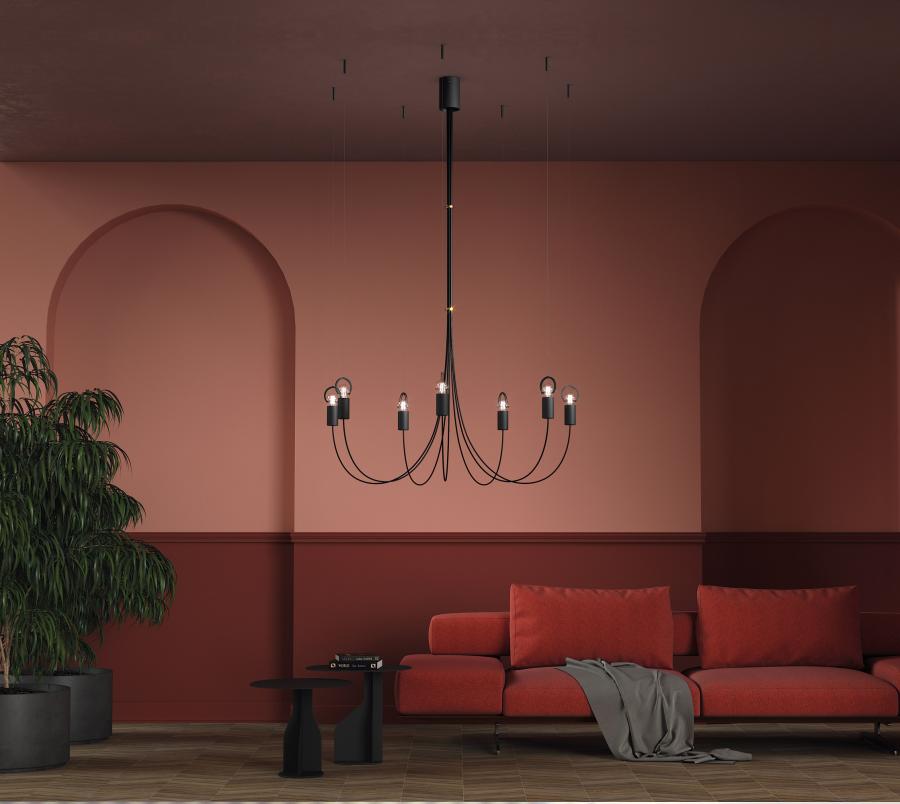 Yellow Goat Design Coaster
A multitude of polished stainless steel tubes hang on the end of a thin cable, with tiny LED bi-pins at the bottom of each tube coalescing to create an intricate lighting pattern. This breathtaking chandelier is sure to enchant in the foyer or dining room.
Yellow Goat Design Flick
A splendid artistic motif tells a story in golden splendor. This stunning chandelier shoots down from soaring ceilings, shaping itself as a musical note sent from heaven to earth. Only brass could provide the sense of grandiose presence to Flick as it takes a sheer drop and then curves away to form the shape of the note, with LED bi-pins flittering like stray celestial stars at its center. This work of art can be custom-sized and will astonish onlookers everywhere, from grand hotel lobbies to expansive banquet halls. It doesn't get any more jaw-dropping than this; display Flick when you want to impress your visitors with an image they'll never forget.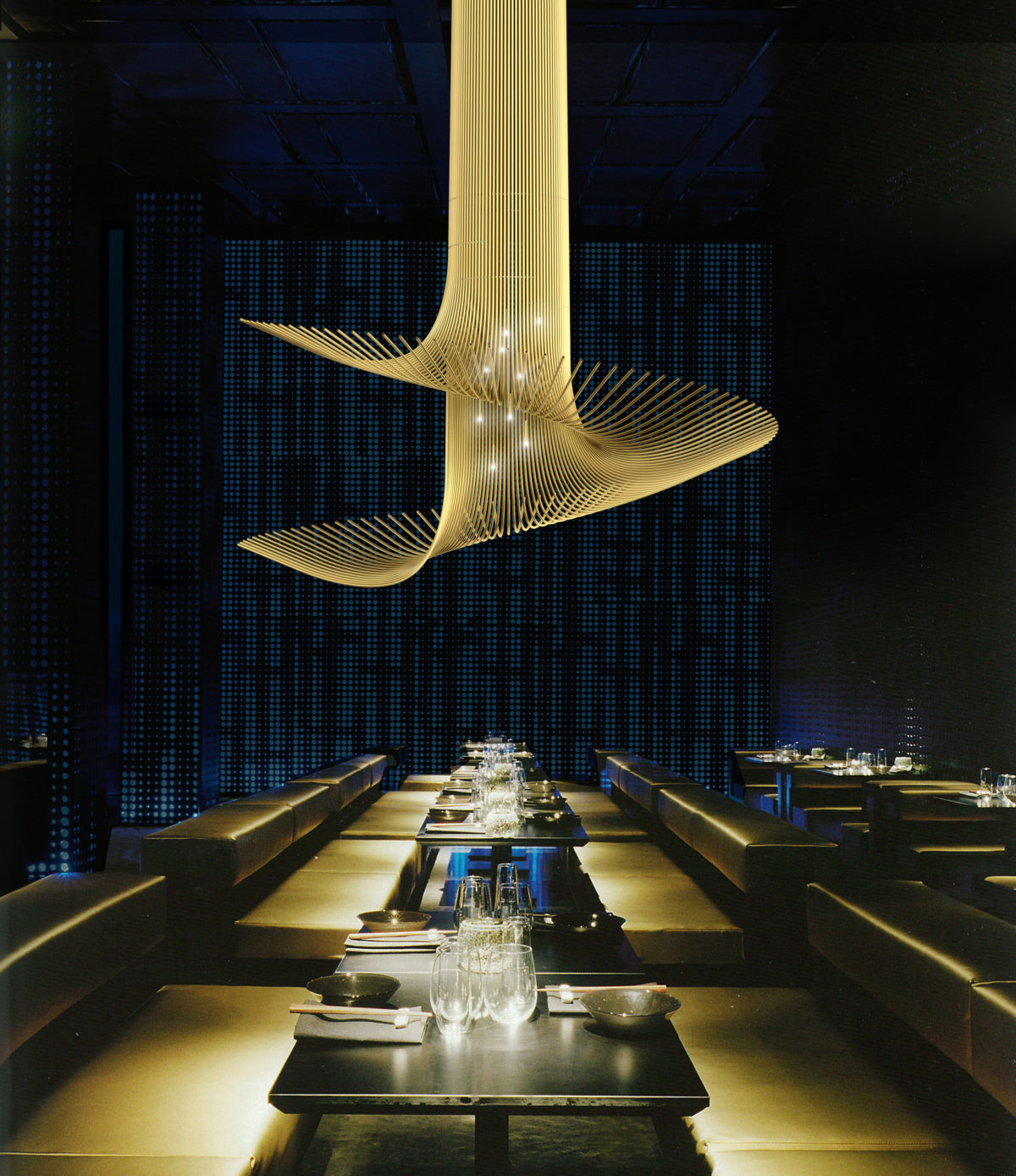 Moooi Heracleum Endless
A perpetual blossom of new branches that multiplies by the meter, Heracleum Endless by Bertjan Pot may really grow out of reach! The sparkling glamour of its LED leafs and the festivity of its foliage design can potentially decorate the perimeter of an entire room or hang above your dining table in its exact same shape. Heracleum is powered by Electrosandwich, a technique of coating conductive layers, very thin and delicate. A design not possible with normal wires.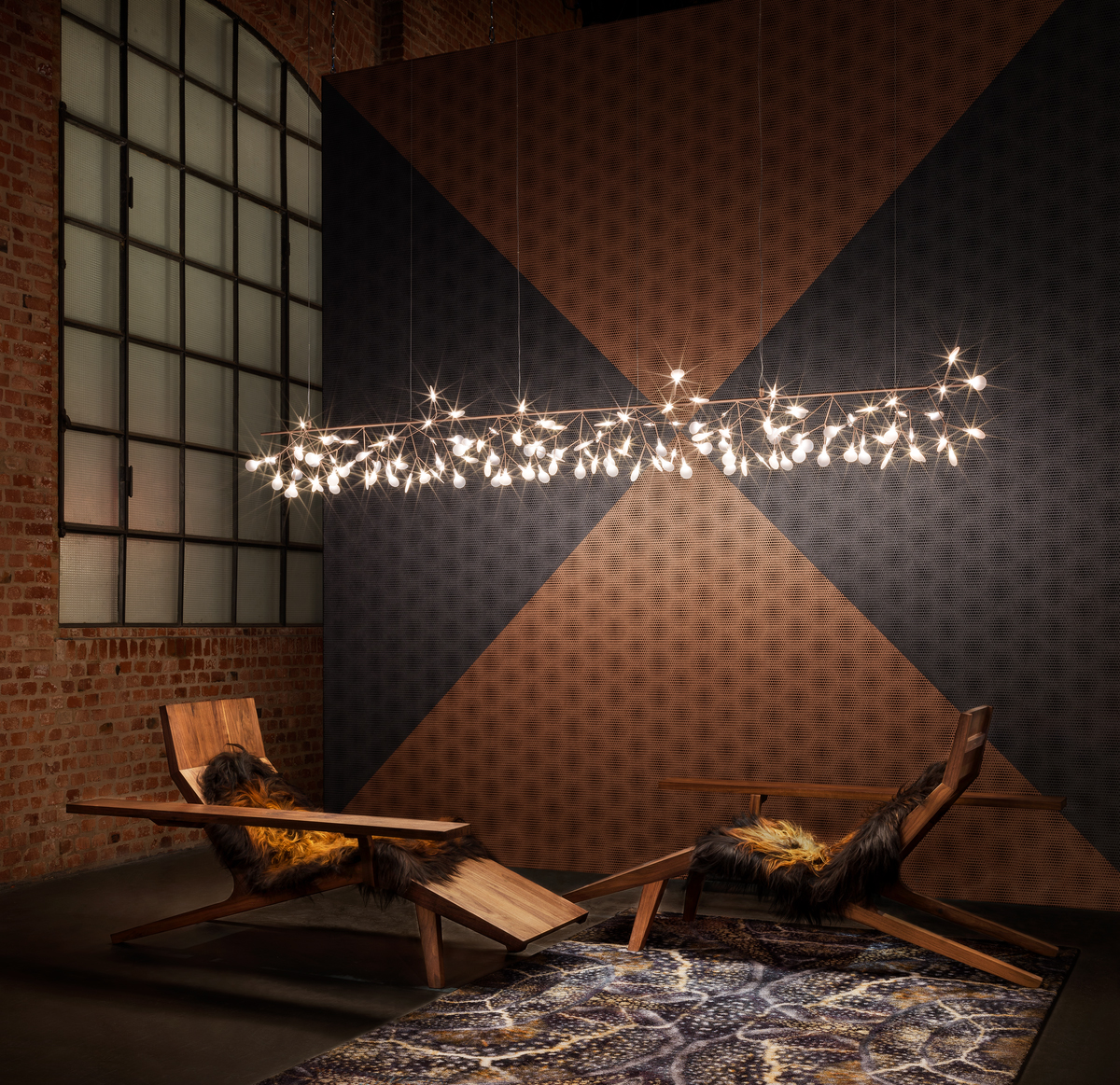 Moooi Coppelia
A technical masterpiece comparable to a high-class ballet. A double structure, forming a thin and open shape that transports the electric current. With a graceful sense of wonder, a beautiful mechanical doll appears to magically come to life in the famous ballet Coppélia. The graceful dance, staged by the three-dimensionally crossed wire structure, leads the spectator to dozens of glowing LED lights, which define the contour and the magical glow of Miyake's new interpretation of a classic chandelier.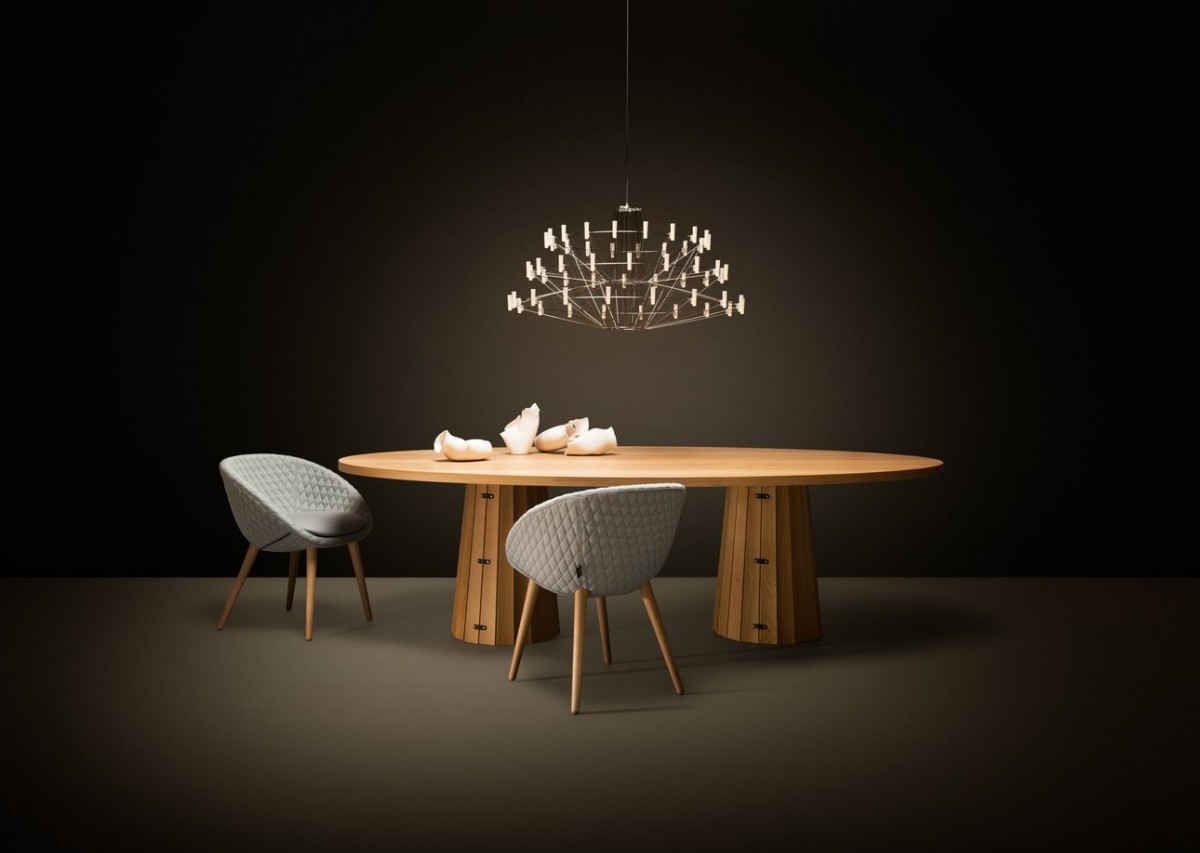 JSPR Dahlia
The Dahlia collection is inspired by the geometry of the Dahlia flower, whose petals spiral from the center with a mesmerizing pattern. This fascinating pattern, based on the Fibonacci sequence or well-known Golden Ratio, led to a collection of large illuminated light flowers. Each Dahlia is handcrafted from anodized aluminum and offers both functional and mood light: The rotating center spot light is accompanied by a powerful LED source that acts as mood light.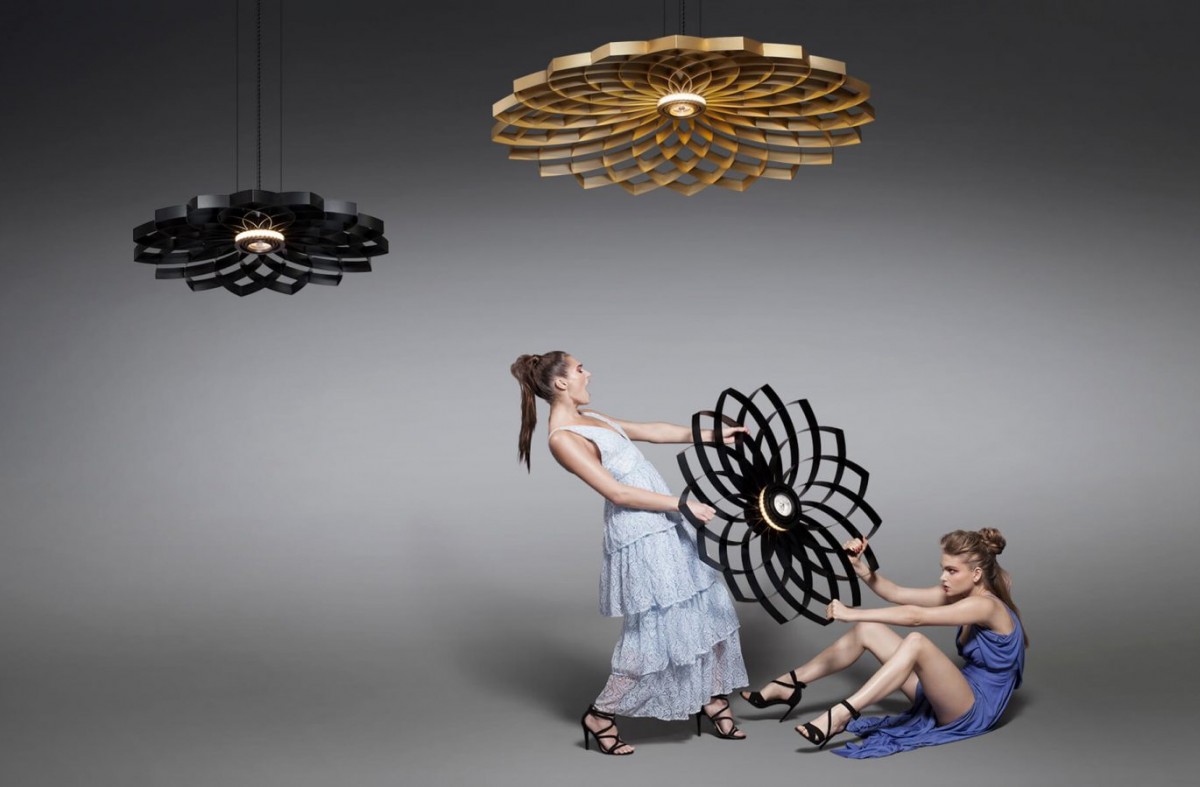 Yellow Goat Design: The Cube
The mathematical transcendence of spatial geometry highlights this striking and innovative centerpiece. The Cube adds dramatic impact to modern space. Suspended stainless steel balls are arranged1 together in neat rows, forming the shape which floats effortlessly in space. Lit from all sides from an external source and reflected by in the mirror ceiling panel above, this fixture appears to defy gravity.
Boyd Lighting San Miguel
San Miguel is inspired by the church bells of San Miguel de Allende in Mexico. The fixture is built of solid brass and composed of nearly 1,000 drops that dangle "live" from mesh panels. When the drops catch the slightest breeze, it "sings" gently with the tinkling sounds of a wind chime. When the drops catch the light, the polished inside surfaces sparkle and disperse a golden glow over the matte outside surfaces.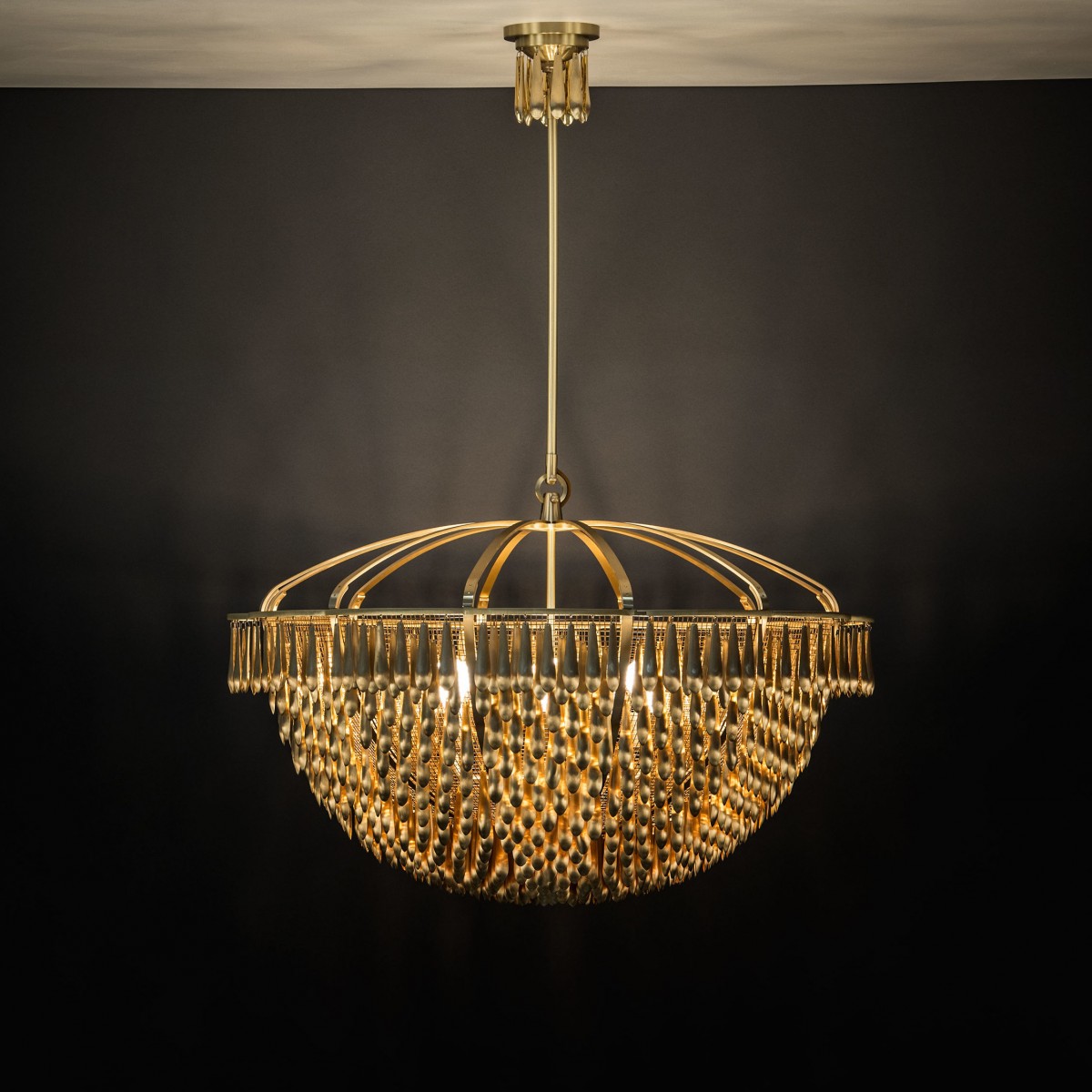 Cini&Nils Cini Light System
A clean, contemporary chandelier. The rose and the arm can be combined in a wide variety of ways. The rose has eight housings, each of which enables an individual arm to be oriented in eight different positions. The two sizes of arms available are applied to the rose by simply pressing them home. Indoor halogen fixtures for direct and diffused lighting.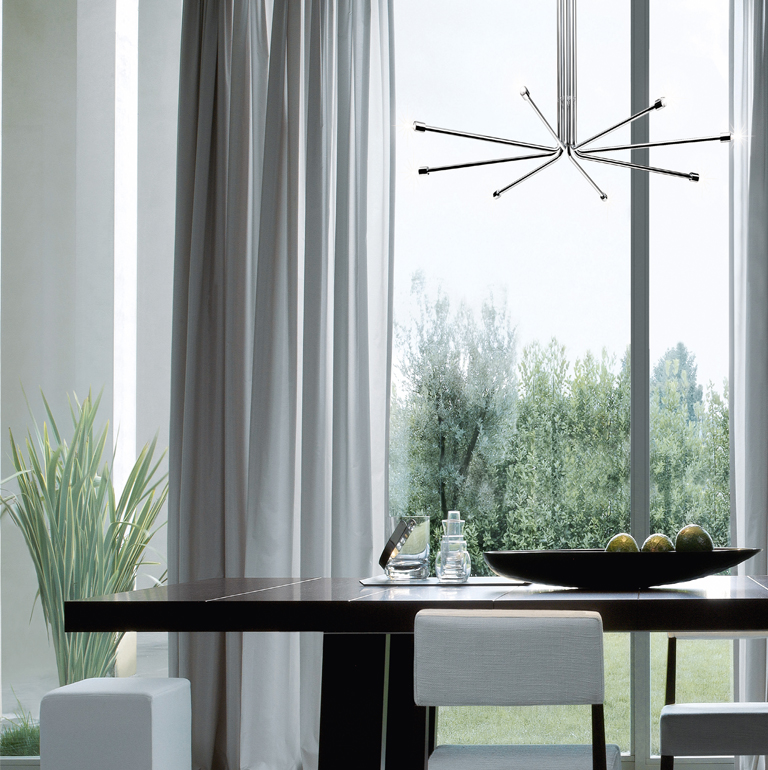 Matthew McCormick Studio Dawn
Akin to the intricacies of delicate jewelry, the Dawn chandelier is aesthetically refined from every angle and vantage point. Organic in feel and sporadic in nature, the fixture gleans a meticulously hand-polished finish and a system which can be articulated in any number of configurations. Dawn's hand-created glass LED tubing exudes a perfectly soft, gradation of light, elevating any space with its ambient illumination.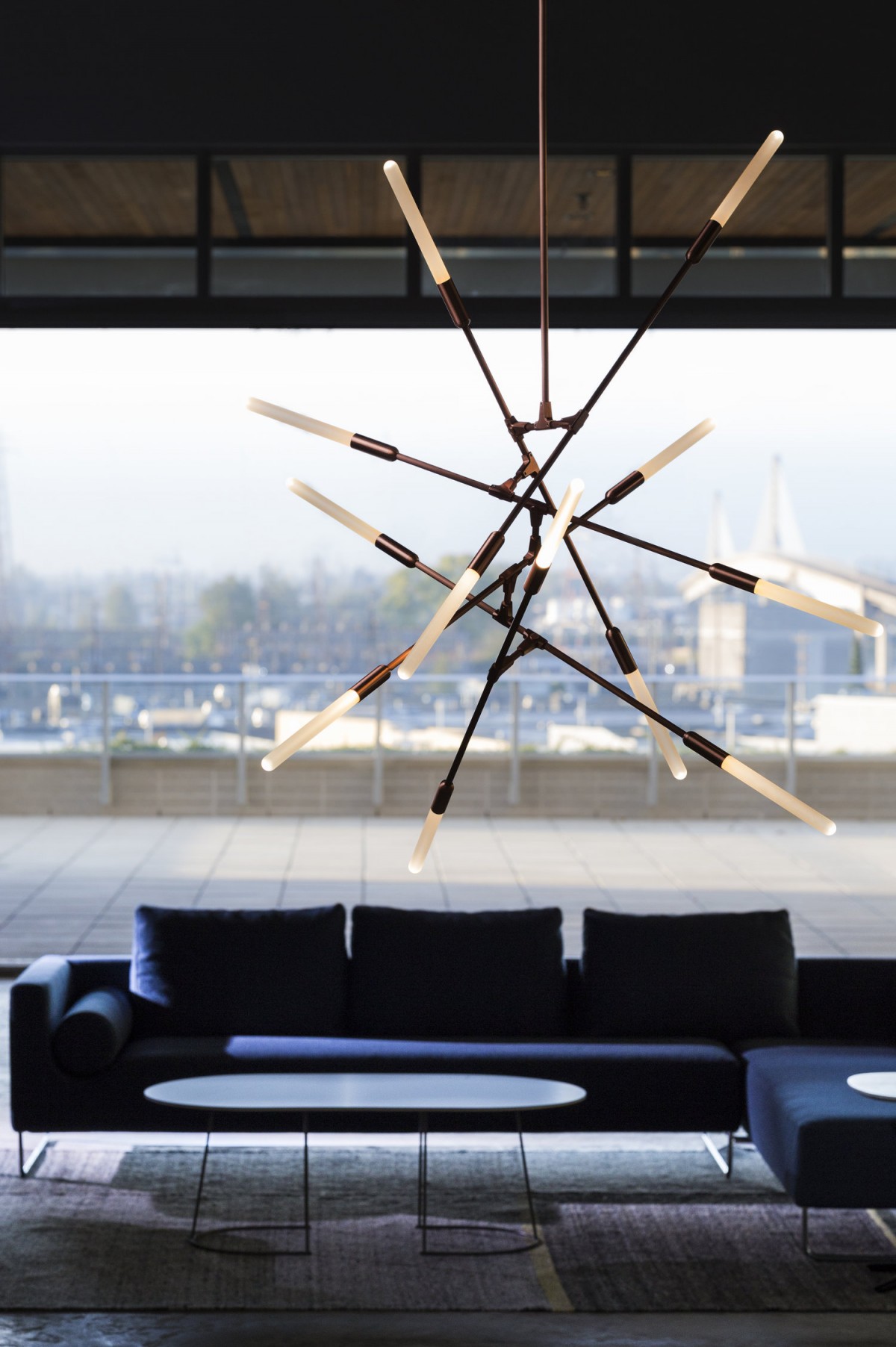 Elmarco Modena
Modena exudes a classic combination of simplicity and elegance. Careful finishing, fine materials, functionality are a perfect complement to both modern and classic interiors. The color of the lampshade sets the mood. These lamps are a charming interior complement in modern and avant-garde living rooms, as well as classic ones.
David Hunt Lighting Oxford 3
The Oxford 3 light pendant is a timeless design finished in a warm polished bronze with matching chain and ceiling cup. Shades are available to order from an extensive palette of luxurious silk dupions, silk linens and smooth satin fabrics, with a choice of white laminate, lavish gold, cool silver and warm bronze metallic linings.