The task lighting market is currently dominated by the LED table lamps which are promoted heavily on the market by making a fuss over the characteristic benefits of LEDs in terms of luminous efficacy, directionality, durability, energy consumption, and operation life, etc. However, task lighting demands a uniform and high level of illumination tuned to specific functions within the space. While LED technology provides many potential design advantages, it also presents a number of challenges that ought to be taken into consideration for its application in task lighting fields. Specifically, LED lights may produce a massive amount of perceived glare in the vicinity of the illumination area. Flickering in LED lamps can occur mainly because LED lamps are typically driven by LED drivers having regulated power supplies that supply regulated current and voltage to the LED lamps from AC utility lines. Glare and flickering may be non-aesthetically uncomfortable, and detrimental to vision health.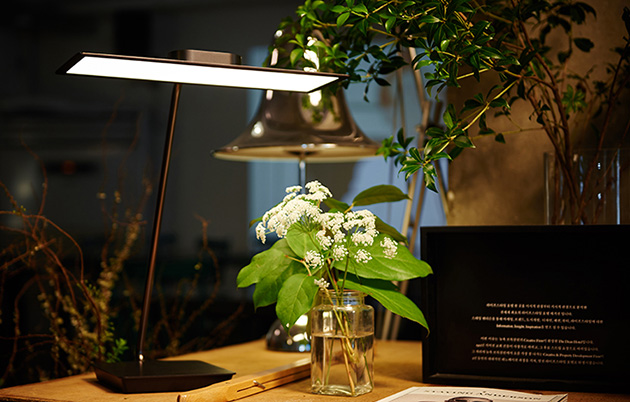 Designed to be natural, tenderness and non-flickering by using a collection of premium quality, low power-consumption organic light-emitting diodes (OLEDs), the UIV OLED SKY table lamp is friendly on your eyes while you're reading, working or writing. An OLED is a light-emitting device which has an emissive electroluminescent layer incorporating organic compounds. The luminescent efficiency of OLED is principally dependent upon the luminescent materials, the substrate and configuration of peripheral elements. OLEDs have exclusive electrical properties which distinguish them from their rival light emitting diodes (LEDs) and have advantages for instance a wide beam angle, excellent contrast, swift response, high brightness, and excellent driving voltage, and can also provide multicolored images.
Quality artificial lighting commonly will try to emulate the characteristics of natural light. Color rendering index (CRI) is a quantitative way of measuring the ability of a light source to replicate the colors of different objects faithfully when compared to an ideal or natural light source. There existing white LED light sources which are comparatively efficient but which have undesirable color rendering, typically having CRI Ra values of less than 80. For many general interior illumination, a CRI Ra around 80 is acceptable. For task lighting in close distance, this value is far from satisfactory in consideration of vision protection. OLEDs are notable for producing exceptionally high quality illumination that more closely resembles natural light. Its rating on the color rendering index is consistently above 90, which means an OLED lamp will always provide comfortable and natural lighting to minimize eye strain and fatigue.
The UIV OLED SKY provides a distinctive design statement for your task lighting application. It features an exceptional light color accuracy (CRI 90 minimum). Actively promoting eye care, this elegantly designed, modern looking table lamp provides flicker-free and ghost-free lighting, blending effortlessly into any work or living space. Simply press the 3-level dimmer button and enjoy 3 different brightness levels (250lm, 375lm, 500lm), suitable for any mood or task. With a touch switch which easily comply with your lighting needs, this lamp is perfect addition to any home or office. With an LED lifespan rated at 40,000 hours, enjoy this cutting edge lighting solution longer.