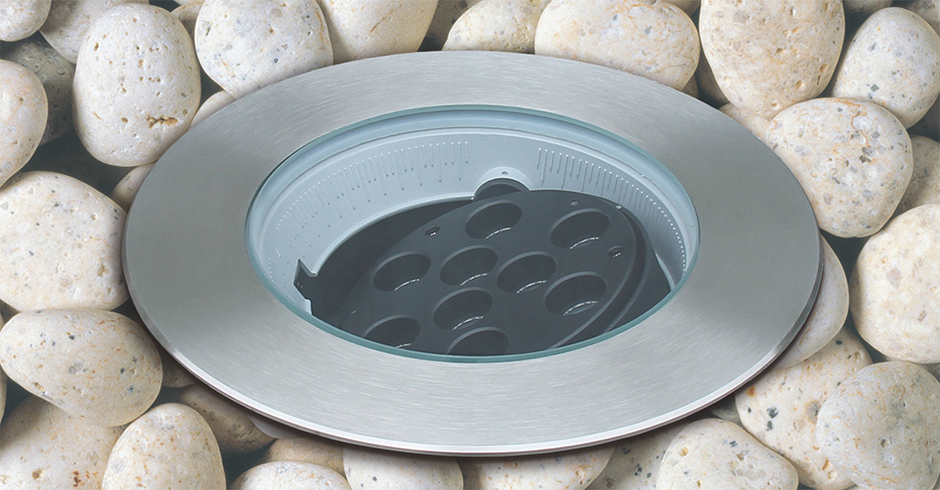 The Red Dot Design Award-winning LED inground lights from Jingri Lighting open new horizons for landscape lighting with an unprecedented array of features that lend sophistication to ground-recessed uplighting applications. The state-of-the-art LED lighting system integrates best-in-class componentry with an innovative design that adds incomparable controllability and adjustability to inground lighting applications. With a wide choice of lumen packages, light colors and light distribution patterns, this versatile fixture delivers exceptional wall washing, spot lighting, accent lighting and moonlighting performance. Whether you wish to accentuate key focal points in the landscape such as trees and shrubbery, or to highlight architectural features such as flags, columns, sculptures, facades and other vertical elements, the JRD5 LED inground light is the ultimate choice.
Construction
Designed for a lifetime of optimal performance and aesthetic appeal in the harsh environment of the great outdoors, JRD5 combines contemporary styling and heavy duty construction to deliver the luminous splendor of LED technology. Constructed from high pressure die cast aluminum alloy, the rugged housing provides the LED engine with robust structural support, optimal thermal management and enhanced protection against impacts and corrosion. The pre-poured nylon sleeve features exceptional dimensional stability and corrosion resistance. A thickened, impact resistant clear tempered glass lens sits flush with the round or square stainless steel trim which delivers a long-lasting sleek look to the fixture, allowing the fixture to remain level with ground surfaces. The trim is sealed to the housing with a molded, one-piece high temperature silicone gasket to IP67 rated ingress protection. The rugged construction allows the fixture to stand up in the toughest high-traffic environments with up to 2,500 kg of live load capacity for walk-over or drive-over applications.
LED Engine
The light engine of JRD5 is designed to accommodate RGB or white light LEDs from Orsam or Cree. The JRD5 range is supplied with 9-, 12-, 18- and 24-LED light engines which produce up to 1285 lumens of intensely saturated full-color light output or 2461 lumens of high quality white light. In addition to the efficacy, lifetime and reliability that Orsam/Cree LEDs are known for, these high performance light sources deliver superior light quality for clean, uniform illumination as well as outstanding color consistency which is a critical detail in architectural and landscape lighting. Thermally optimized LED packages, high solder joint reliability, low thermal resistance MCPCB and robust heat sinking from the die cast aluminum housing combine to achieve integrated thermal management that ensure the light sources have minimum 70,000 hours of maintenance-free operation as well as high chromaticity stability over the life of the lighting system.
Optics
This JRD5 range is available with a range of light distributions (6°, 10°, 25°, 40°, 60°) for spotlighting, floodlighting, uplighting, orientation and wayfinding applications. Precision engineered optics enable JRD5 to produce exceptionally uniform levels of illuminance. JRD5 delivers true glare-free illumination by recessing the light engine into cylindrical aluminum housing and regressing the LEDs in the individual optical chambers with their reflector surface geometry optimized for homogeneous glare reduction. A motorized gimbal mechanism allows the light engine to be tilted conveniently by up to 20° in both directions. The optical assembly has a beam angle scale which ensures precise aiming of the beam for angled uplighting. The optical system is particularly optimized to deliver advanced RGB color mixing for smooth and even outputs of a palette of attractive pastel or deep colors with striation-free saturation.
Lighting Control
JRD5 is not just a luminaire that works on its own, it's a Bluetooth controllable intelligent lighting system and a DMX addressable lighting node. The advanced ground recessing system can be controlled wirelessly via Jingri's Bluetooth mobile app that is free downloadable on the App Store and Google Play. The app allows you to perform tilt controls, adjust the light intensity and fine-tune RGB colors for a single fixture or multiple fixtures. The JRD5 series is also DMX compatible for infinite color choices and visual sequences. The inground light integrates seamlessly with a wide variety of DMX512 lighting control consoles which deliver dynamic effects and light show content to connected fixtures.
Product features
Wireless Bluetooth control via Android or iOS mobile devices.
DMX hardwired connectivity for large scale synchronized lighting effects.
Rugged construction with die cast aluminum housing, tempered glass lens, nylon sleeve.
RGB or white light Orsam/Cree LEDs with excellent color quality, lumen maintenance and chromaticity stability.
Multiple lumen packages.
Multiple light distributions with superior beam quality.
Motorized gimbal mechanism for optical aiming adjustment.
Vibrant color mixing performance.
Recessed installation in concrete, earth, wood, stones.
Pre-wired for DC 24V and AC 100-277V applications.
Walk/drive-over construction, for loads up to 2,500 kg.
IP67 ingress protection.