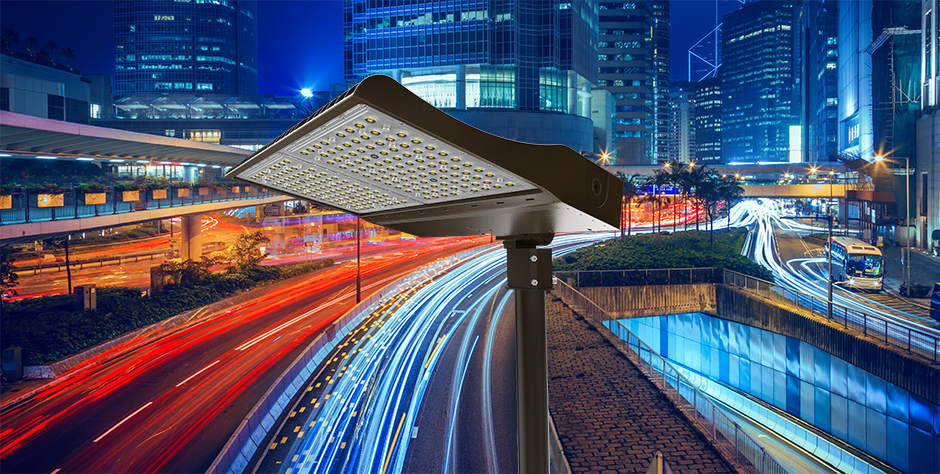 HiPole X LED street lights combine architectural styling, robust performance, failsafe reliability and energy efficiency. The essentials of good street lighting never change, AGC Lighting moves a step forward by introducing a sophisticated LED street lighting system that delivers high lumen packages with precise optical control while offering an industry leading financial payback. This luminaire incorporates a cutting edge design that enables it to achieve an outstanding luminous efficacy of 140 lm/W with exceptional vertical illuminance and uniformity.
HiPole X LED street lights are available in three lumen packages including 33,600lm, 44,800lm and 56,000lm. The addition of Nichia LED technology that offer exceptional performance and color quality ensures highly competitive system lumen per dollar performance for years of trouble-free operation. HiPole X effectively exploits the directional nature of LED light emission through an advanced LED optical system. High-efficiency injection-molded reflective optic system offers superior illuminance, luminance, uniformity and glare control. The interchangeable TIR lens system produces 6 symmetrical and asymmetrical optical distributions to accommodate a diverse range of applications including roadway, street, general parking, and other area lighting applications.
The low-profile, sleek architectural design offers no compromise on thermal management. The aerodynamically shaped heat sink drives efficient convective cooling. The die cast, copper-free aluminum housing provide excellent thermal conduction for the LED light engine. The innovative integration of air convection and conduction technology provides overall system redundancy that enables the luminaire to operate at higher ambient temperatures and drive currents without degrading the system efficiency and LED life.
The constant current LED driving technology for Mean Well and Inventronics provides outstanding efficiency. These high-performance drivers will maintain accurate and consistent current regulation over a wide range of output voltages. Integrated protection against short circuit, overcurrent, overvoltage and over-temperature provides the reliability and performance needed for outdoor lighting. HiPole X can withstand multiple strikes of up to 10kV OCV. These drivers can be programmed for constant light output (CLO) or 1-10V dimming. HiPole X LED street lights offer superior lighting control, including daylight harvesting through photocell dusk-to-dawn control, time schedule control, and DALI digital control.