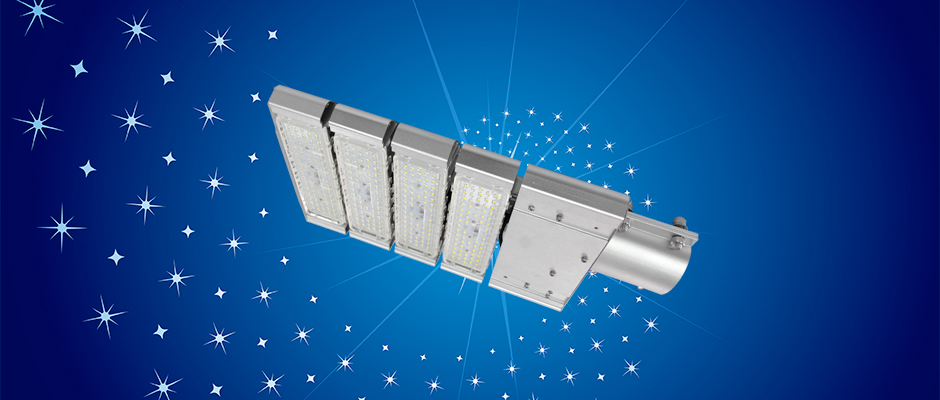 The HPWINNER T31A Series LED street lights bring
outdoor lighting systems
to a new level of modularization. Simply frame up a number of modular light engines along the aluminum backbone rail, a robust street lighting system is created. T31A offers a comprehensive product family with a full range of lumen packages and optical distributions, providing budget-friendly solutions without sacrificing performance. The innovative design of this modular system maximizes ease of use, design flexibility, application efficiency, and the future scalability of roadway and area lighting.
The modular family of T31A LED street lights provides a complete and scalable offer from 80 to 250 watts in two system efficacy versions. With a standard luminous efficacy of 110-120 LPW, these models deliver the energy and maintenance savings of LED technology with the front-end economics of a dependable street lighting system. HPWINNER's total systems approach yields a highly engineered LED platform that supports an ecosystem to achieve a high luminous efficacy of up to 160 LPW at high current density without accelerating the degradation process of the LEDs and other critical components. T31A's superior performance can be attributed to HPWINNER's comprehensive engineering philosophy that synergistically incorporates the most advanced LED sources, driver technologies, optical design and thermal engineering into a durable, cost-competitive package.
T31A has been built around HPWINNER's world-class modular light engine solutions. These highly integrated LED modules utilize Lumileds' flip chip LED packaging technology which offers improved heat sinking performance due to the proximity of the front-side active layers to the metallized ceramic substrate. Removal of metal bonding wires also eliminates the potential of open circuit failures. High lumen density Lumileds LUXEON 3030 LEDs are mounted on a metal core PCB which is thermally interfaced with a die cast aluminum heat sink. A plurality of integral cast fins increase the surface area of the heat sink to maximize the transfer of heat from the LED junction to the surrounding air. The light engine has precision designed, injection molded optics to provide the batwing light distribution pattern with superior uniformity and glare control. The optical assembly is tightly sealed by a double-lock coupling silicone gasket to provide IP66 weatherproof protection.
Product features at a glance
Scalable and modular design, field replaceable and upgradeable.
High lumen density Lumileds LUXEON LEDs delivers industry leading luminous efficacy at high driver current.
Flip-chip packaging technology eliminates weak bonding between the electrode and the substrate.
Serial LED wiring prevents catastrophic malfunction of LED strings upon an electrical short of single or multiple LED chips.
Integrated thermal conduction through wedge interlocking mechanism.
Aerodynamic flow-through ventilation, facilitating convective heat transfer.
Screwless sealing using double-lock coupling silicone gaskets for IP68 ingress protection of optical assembly.
Precision molded reflective lens ensures improved horizontal and vertical uniformity.
High efficiency Inventronics constant current driver, hot wiring, reduced ripple current and thermal derating.
Resistant to peaks and surges of up to 10kV/5kA.
Ultra-durable polyester powder coating provides superior resistance to corrosion, UV degradation and abrasion.