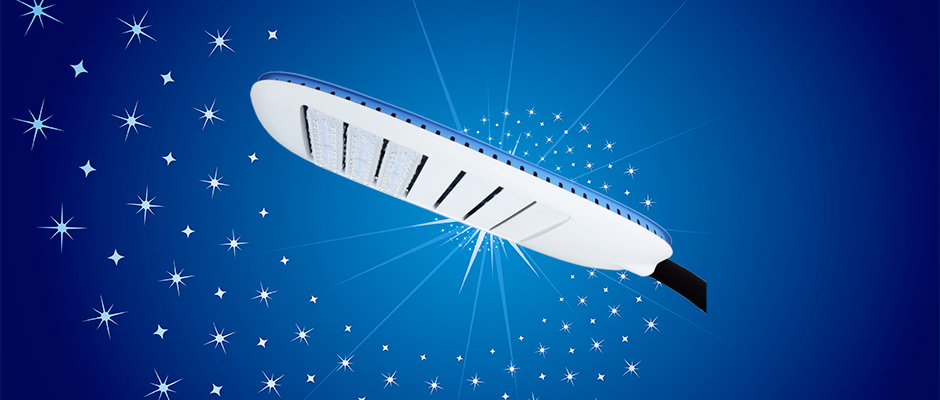 The HPWINNER T3A Series is a family of universal and scalable
LED street and area luminaires
that deliver repeatable photometric performance with significant maintenance and energy savings over conventional HID luminaires. Its harmonious design allows it to blend seamlessly into a multitude of environmental scenarios. Thermally and optically integrated modular systems give the ultimate flexibility to accommodate an array of application requirements on lumen packages, drive currents, optical distributions and color temperatures.
This highly configurable luminaire consists of a variable combination of independent light engines with up to 1050 mA drive current, for maximum lumen output of over 26,000 lumens. The high performing Lumileds LUXEON LEDs incorporated in T3A light engines take advantage of flip-chip packaging technology which eliminates weak bonding between the electrode and the substrate in conventional LED packages. The attachment of the LED chip to a metallized ceramic substrate using gold-to-gold interconnects improves heat sinking performance as well as circuit reliability. The configuration of multiple LED connection in a single (series) string mitigates the impact of the short failure of a single LED on the whole LED string.
The LED modules feature injection molded optics that allow for excellent illuminance uniformity, minimized hot spots and superior glare control. The optical lens is sealed in place by a double-lock coupling silicone gasket without using screws, which completely blocks the moisture penetration path along the screw holes and offers the light engine the highest ingress protection (IP68).
T3A utilizes a hybrid thermal management strategy to transport heat away from the junction of the diode. A wedge structure ensures low thermal resistance along the entire thermal path from the LED junction through the modular heat sinks, and way to the luminaire housing. The flow-through design creates inlet and outlet of the airflow, thereby maximizing heat dissipation by convection.
The Inventronics drivers operate with high efficiency utilizing a power factor correction (PFC) and current balancing scheme. The constant driver delivers high reliability with a full set of protection features including overcurrent, short-circuit, overvoltage and overtemperature protections. An integral surge protection device protects luminaire from electrical surge up to 10kV/5kA.