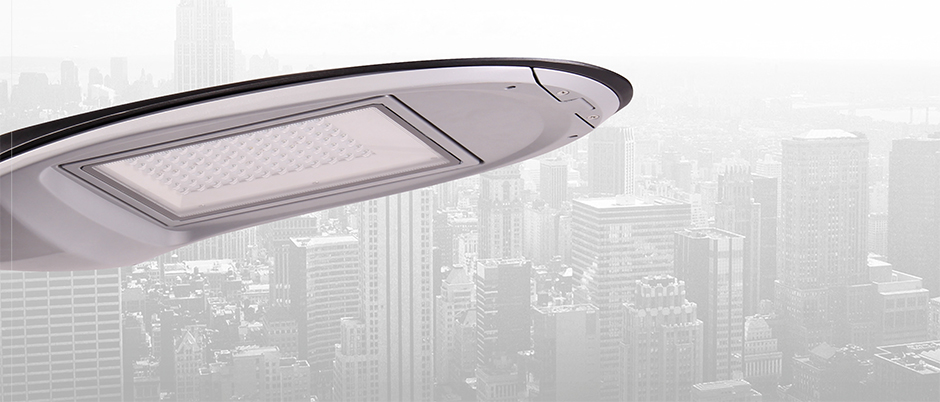 Designed from the ground up as a state-of-the-art street lighting system, the JRA3 Series LED street lights from Jingri Lighting bring high performance and quality of light to a wide range of lighting applications while addressing the stringent efficacy and reliability standards. This system features clean, functional styling that is defined by its streamlined geometry and rock solid construction. Beyond substantial energy savings and excellent return on investment (ROI), the future-safe lighting system delivers accurate and comfortable visibility from the enhanced illumination performance while its aesthetically pleasing design complements a plethora of contemporary architectural settings.
Construction
The JRA3 LED street lights embrace a compact, cohesive design that incorporates a heavy duty heat sink directly into a weather tight housing, ensuring excellent thermal managment as well as superior durability against adverse environmental conditions. The smooth, aerodynamic design of the luminaire housing offers a reduced resistance to the wind coefficient as well as a pleasant daytime appearance. Die cast aluminum construction gives the lighting system exceptional architectural strength and corrosion resistance. Simple and reliable hinged opening and closing structure provides great serviceability and ease of maintenance. When the top service door is open the power supply is automatically cut off for electrical safety.
Thermal Management
This product family is designed with a robust heat sink that allows high efficacy LEDs operate at very high drive currents without compromising chromaticity stability and lumen maintenance. The high density heat sink is constructed of die cast aluminum alloy that is custom formulated to achieve high thermal conduction performance. The lateral heat dissipation fins correspond to the luminaire's lateral air convection design. The air passages formed by the fins facilitates optimal airflow. The self-cleaning aluminum housing doubles as a heat sink that reinforces the external thermal management system. High-efficacy LEDs are mounted to metal-core circuit board with high solder joint thermal fatigue resistance to ensure heat is efficiently conducted away from the LED junction.
Light Source and Optics
JRA3 takes advantage of high efficacy Cree/Osram LED packages to deliver optimized combinations of light quality and light output. The thermally optimized package have extremely low thermal resistance that enables them to survive the thermal stresses over a wide range of drive currents. The discrete LEDs which are soldered to the MCPCB deliver repeatable photometric performance with a precision molded lens that is indexed to the circuit board with consistent optical alignment. The high efficiency optics provide optimal luminaire spacing, reduced glare and improved uniformity for Type I, Type II, and Type III asymmetrical distributions. JRA3 operates at 23-172 watts of electrical power with lumen delivery ranging from 1500 to 19080lm.
Electrical
High end Mean Well/Inventronics driver technology provides unsurpassed system efficiency, control and protection. These constant current, universal voltage LED drivers with input from 100v to 277v at 50 Hz or 60 Hz unleash the capabilities of Cree/Osram's LEDs. Each driver is precisely matched to the electrical characteristics of a light engine to deliver high system efficacy with maximum-level of protection against overload, undervoltage, short-circuit and over-temperature. The JRA3 Series is equipped with field replaceable surge protection device to protect the electrical components from electrical disturbances, including nearby lightning strikes.
Finish
The aluminum housings of JRA3 LED street lights are electrostatically applied with an ultradurable layer of TGIC polyester powder coat finish after a multi-stage cleaning and chromating process which creates a corrosion resistant substrate. Laboratory tested for superior salt and humidity resistance as well as UV resistance for color retention.
Mounting
Designed for both slipfitter and horizontal arm mount, the JRA3 Series LED street lights accept 48mm or 60mm O.D. tenons with adjustable +/- 5° tilt (horizontal) and +10° (slipfitter, 5° increment) to allow for fixture leveling.