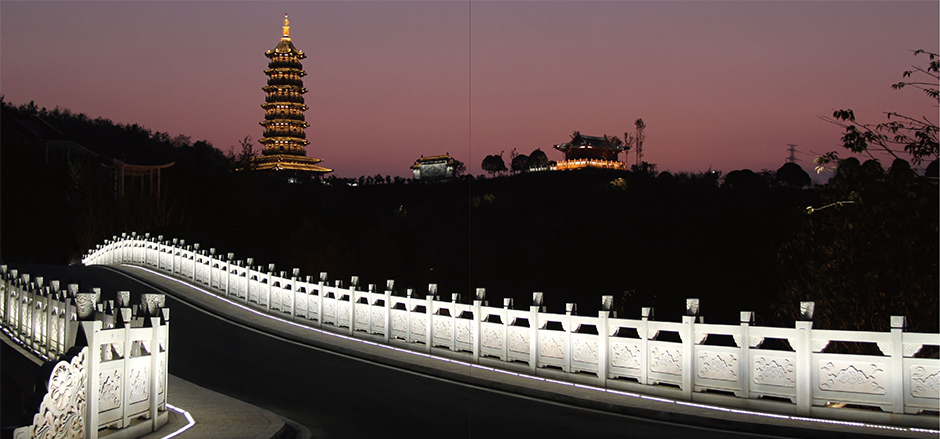 The JRD3 LED linear inground uplights from Jingri Lighting are designed to produce asymmetric wallwash for smooth, uniform wall illumination in a seamless, continuous row. The ground recessed linear wall-grazing fixture brings out the finest texture of brick, stone, or other rough or sculpted surfaces with highly uniform solid white or saturated colored light. Available in 220, 369, 523, 678, and 987 millimeters of fixture lengths (recessed portion) with corresponding incorporation of 3, 6, 9, 12, and 18 RGB/white light LEDs, the JRD3 family supports a variety of layouts with multiple lumen packages, fixture lengths and LED configurations.
Built to thrive in all types of environments with style, the linear grazing fixture has a rugged housing constructed of extruded aluminum channels with die cast aluminum end caps. A trim plate made of heavy gauge, machined stainless steel is screwed to housing and sealed in place together with a flush-fit tempered glass lens, allowing the fixture to sit flush with the level of the ground and protecting the light assembly from water pooling and dirt ingress (IP67). The durable fixture holds a driver-over load up to 2,500 kg, making it the perfect choice for demanding areas with heavy vehicular and pedestrian traffic such as parking lots, public squares, walking paths and bridges.
The fixture's watertight integrity is doubled with a water-repellent layer that is potted to the LED bar using silicone sealants which possess excellent bond strength, heat stability and adhesion. The LED bar is tilted to produce an asymmetrical light distribution (30° x 65°) which allows the fixture to have a setback distance while minimizing direct glare. JRD3 uses Cree or Osram LED packages which are known for their intrinsic characteristics of great color quality and superior lumen maintenance. They're soldered tightly to the LED board with high solder joint reliability, which ensures a robust thermal path along the LED junction, the low thermal resistance circuit board and high thermal conductivity aluminum housing. The fixture is pre-wired to accept DC 24V or AC 100-277V power input through a built-in transformer/driver.
With precision designed optics and high quality LEDs, the JRD3 series provide an impressive blend of optical control, color mixing and quality of light. These highly desired architectural and landscape lighting features allow the inground lighting system to add dimensionality and context to a nighttime scene through DMX control. The JRD3 series is compatible with all standard DMX512 controllers and can be customized to produce a vibrant spectrum of colors for rich, saturated, wall-washing color and color-changing effects.
Product features
DMX addressable for large scale synchronized lighting effects.
Heavy duty, anodized extruded aluminum housing sealed with flush-fit tempered glass lens.
RGB or white light Orsam/Cree LEDs with excellent color quality, lumen maintenance and chromaticity stability.
Asymmetrical light distribution with superior beam quality and glare control..
Advanced RGB color mixing system.
Durable, corrosion resistant nylon pour box.
Flush installation in concrete, earth, wood, stone.
Pre-wired for DC 24V and AC 100-277V applications.
Walk/drive-over construction, for loads up to 2,500 kg.
IP67 ingress protection.