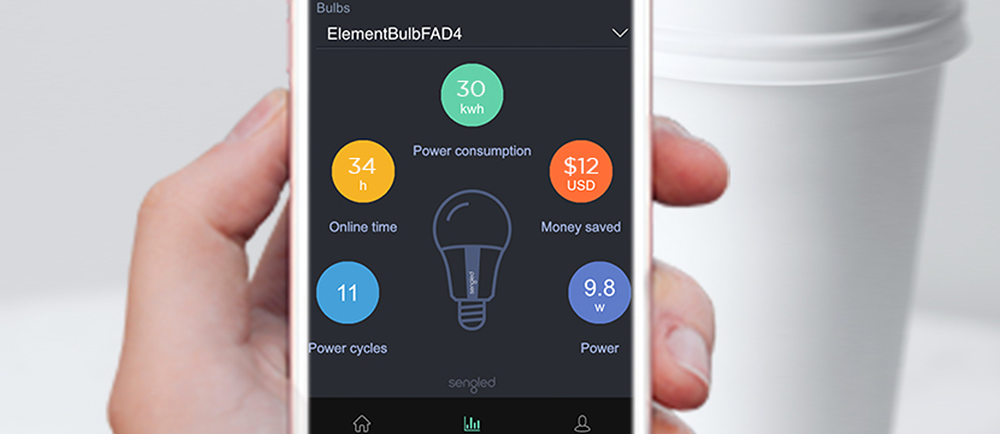 Element Classic
A19 smart bulbs
bring your smart home lighting experience to the next level with app-based control. The intuitive and connected bulb offers an easy-to-use and cost-effective way to enjoy the convenience of intelligent and automated lighting remotely wherever you are. Simply screw Element into a standard E26/E27/B22 light socket and create stunning lighting ambiences for your home. With its reliable mesh architecture, ZigBee technology ensures a safe, reliable and robust system to control your lights. With Sengled Element Home app, lighting control, automation and monitoring are just a click away. The smart bulb event grants you the ability to control your lights via voice commands.
With a form factor and bulb base that conform to the ANSI A19 standard, Element Classic is designed to facilitate simplified, energy efficient replacement of incandescent, halogen, CFL and HID bulbs. Illuminated by high performance LEDs which deliver superior light quality and high luminous efficacy, Element Classic light bulbs are perfect for any general lighting application in living rooms, bedrooms, hallways, bathrooms, dining rooms, offices, and kitchens. Element Classic makes an excellent choice for use in table lamps, floor lamps, sconces, pendants and ceiling fixtures with long-lasting performance and smooth dimming capability. Element Classic bulbs is available in 2700K and 5000K CCTs, Warm white lighting provides the perfect ambience that helps establish a comforting or relaxing environment. Cool white is ideal in applications that require brighter, invigorating lighting to enhance concentration and maximize human productivity. The 9W LED bulb produces 800 lumens in a 270° beam angle. Its polycarbonate diffuser in an opal finish ensures a smoothly dispersed, softened light with minimal glare.
Element Classic A19 smart bulbs is catalyzing a home's transition into the cutting edge performance of smart lighting, a key component of IoT systems and smart home networks. Using robust c stack and market-proven wireless SoCs, Element bulbs can be connected easily to multi-node mesh networks deployed in smart homes. The impressive scalability of a c network provides enormous coverage. Simply add a ZigBee hub to your home Wi-Fi network and enjoy smart lighting in every room. The Element hub allows you to connect up to 64 bulbs for whole home lighting that you can switch on/off, dim and schedule in response to app or voice assistant commands and programs. Element Classic functions with all open, ZigBee HA 1.2 and ZigBee Pro-certified hubs and devices including Amazon Echo Plus, SmartThings, iControl, Wink 1 and Wink 2.
The Sengled Element Home app for iOS or Android devices allows you to connect lamps, create groups, adjust brightness, set timings, and track energy use from anywhere. Once connected to a hub, the Element Classic LED bulbs can be connected to Amazon Alexa or the Google Assistant and control your lights via voice commands. Sengled Element Classic bulbs are also now compatible with IFTTT (if this, then that). Smooth IFTTT integration enables you to trigger the lights based on time of day, location, weather, music and more. On/off control of Element Classic bulbs can be perform via the app or through a wall dimmer.
The bulb is built to last with its high quality componentry, shatterproof construction, and superior thermal management. High flux density light sources with tight correlated color temperature control deliver superior luminous flux at max current, light quality and color consistency. Industry-leading lighting system design ensures the high efficacy, lifetime, and reliability benefits of LED lighting. Element Classic A19 smart bulbs feature a long lifespan of over 25,000 hours with lumen delivery maintained at 70% of initial output. A constant current driver provides excellent load regulation and continuous, flicker-free dimming.
Product features
App-controlled lighting control, customizable scheduling and energy tracking.
Continuous, flicker-free dimming via app or leading edge/trailing edge dimmers.
Zigbee mesh networking technology supports individual or group control.
Work with Amazon Alexa, Google Home, Samsung SmartThings, Wink, AT&T Digital Life and Stringify.
Remotely controllable with Wi-Fi compatible Element hub.
High efficacy, long lifespan LEDs in soft white 2700K and daylight 5000K CCT options.
Premium thermal management ensures an ideal operating environment for LEDs and intricate electronics.