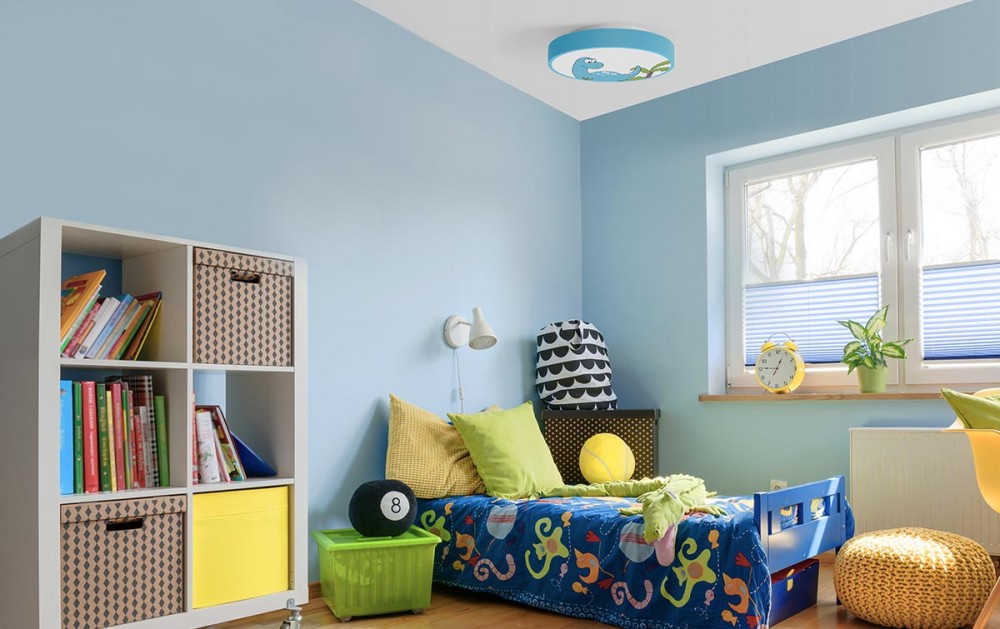 Add a playful ambience to your kids' room and let your little ones indulge in fun and creativity. Yeelight children LED ceiling lights bring intelligent, connected solutions with high quality illumination that adapt at any time to your kids' activity. Crafted of ABS, the frame of this flush mount light takes on a circular silhouette with a finish that corresponds to the cartoon animal theme of acrylic shade. Available in Chick Biddy, Giraffe Tally, and Dino Sean themes, these cute, cheery cartoon ceiling lights give a pleasant diffusion of light that is sure to keep your children entertained in their very own spaces. The smart and energy-efficient LED lights offer a range of lighting possibilities that make it possible to create custom lighting automations to enhance the comfort of any room as well as light up your kids' imagination.
The Yeelight LED ceiling lights utilize state-of-the-art LED technology to produce superb, color-consistent light and deliver outstanding levels of efficiency with enhanced reliability. Powered by Osram's high performance LEDs which feature innovative phosphor technology and precise wavelength control, the LED ceiling light delivers a near perfect combination of the industry's best light quality, luminous efficacy and output consistency. The ceiling light incorporates 240 high efficacy and flux density Osram LEDs to produce 1500 lumens of high quality light using a fraction of the energy of traditional light sources. With a color rendering index (CRI) of up to 95 in all available color temperatures, the best-in-class LEDs emulate the characteristics of natural light and provide more accurate color rendering across a full range of color. Excellent spectral qualities of the light source used in Yeelight lamps guarantee correct perception of the colors and eliminate eye strain and other adverse health effects associated with low color rendering lighting products. Vibrantly rendered colors also help create a pleasing environment that your kids enjoy.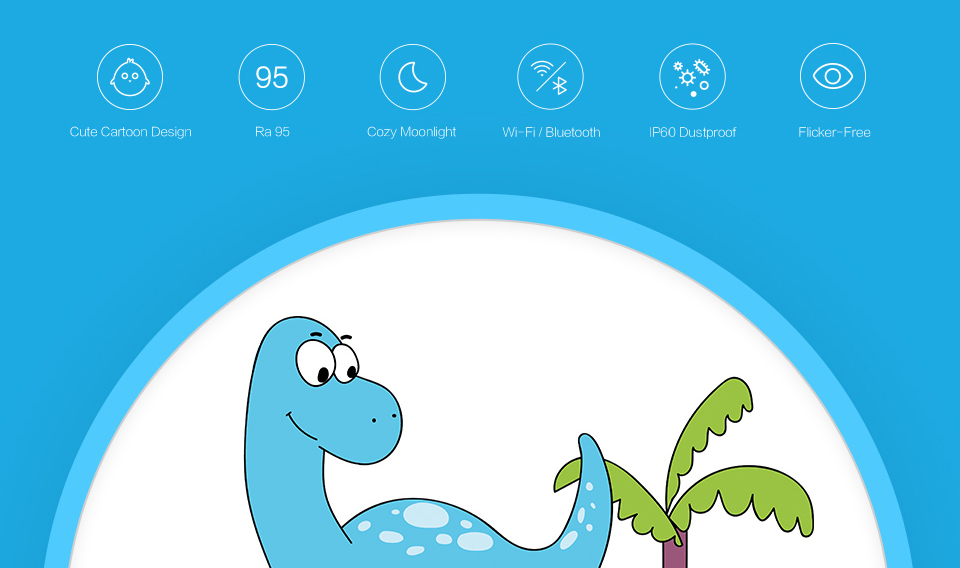 The Yeelight ceiling light is a tunable lighting system that allows you to tailor correlated color temperature (CCT) to replicate the many benefits of natural light and dynamically set the mood for any interior space. The light takes advantage of bi-color LEDs for color temperature adjustment from 2,700K to 6,500K at constant luminous flux. This continuous CCT tuning feature brings the intriguing benefit of human centric lighting (HCL) into your kids' space and helps them maintain a balanced circadian rhythm. Warm white lighting creates an inviting and intimate environment that gives your kids a feeling of comfort, coziness and relaxation. Higher CCT light suppresses the release of melatonin, increases motivation and commitment, and raises concentration levels, which is desirable for activities that require attention.
The Wi-Fi enabled LED ceiling light brings together intelligent control, network connectivity, and the possibility to individualize for smarter home automation. The intuitive, user-friendly Yeelight and Mi Home apps, which runs on Apple iOS 8.0 or above and Android 4.1 or above, let you enjoy full control of your lights from your smart phone or tablet even when you're away from home. The Yeelight app allows you to dim and switch lights on and off, adjust color temperatures, schedule events, set timers, create scenes and manage groups. Yeelight ceiling lamps work with Amazon Alexa and the Google Assistant to allow you and your kids to enjoy the hands-free voice control. To make things more fun, the smart ceiling light can be linked to IFTTT (If This Then That) to give you another digital layer of lighting. The task automation platform for IoT and web services allows users to create applets which are triggered based on changes to other web services and other IFTTT enabled devices. The light comes with an embedded Bluetooth module that communicated with the remote control for the basic level on/off and dimming control.
At the heart of Yeelight's product philosophy is their firm commitment to product engineering to ensure the intelligent, automated lighting system lasts as long as promised. The children ceiling light begins with the highest quality componentry in the industry and is designed and manufactured to the highest standard of performance, reliability and efficiency. The LED light integrates advanced thermal management to ensure optimal junction temperature control for excellent lumen maintenance and chromaticity stability over the lifetime of the product. The impact-resistant light assembly provides tight protection against dust ingress, making it less likely to attract dirt and insects. An innovative mechanical structure enables ease of installation and hassle-free maintenance.
Product features
Visually comfortable lighting in combination with playful lamp designs creates a wonderful environment.
High quality Osram light sources deliver a superior combination of lumen output and efficacy.
Exceptional color rendering (95 CRI) brings out the vibrant colors, patterns and textures.
Efficient heat dissipation minimizes thermally induced stresses into the diodes and prevent premature phosphor degradation.
High performance LED driver provides excellent load regulation with low total harmonic distortion (THD) and a high power factor (PF).
App-controlled remote access, color temperature tuning, brightness adjustment, automated scheduling via Wi-Fi.
0.1 - 1500 lm full range, in-app dimming allows for custom lighting scenarios.
IFTTT integration creates a vast array of interactions between web services and the lights.
Supports voice control with Amazon Alexa and Google Home.
IP60 rated housing protects components from dust and dirt ingress.