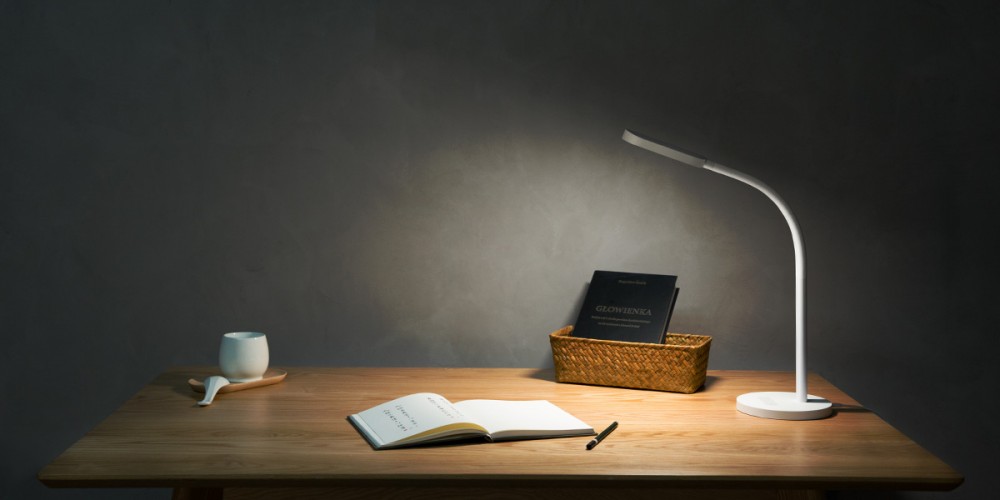 The Yeelight LED desk lamp integrates performance and sustainability into an unmistakable form to create a value-engineered lamp with modern and minimalistic aesthetics. This attractive combination of design and functionality not only brings an approachable contemporary look to your space, but also delivers a comfortable balance of illumination throughout the work environment. From the ergonomy of the fixture to the quality of light it produces, this highly utilitarian task light features a surprising amount of flexibility, making it the perfect companion for today's happy, healthy and productive work environments.
The Yeelight LED desk lamp has a fully adjustable gooseneck arm which carries a low profile, broad coverage lamp head. The lamp head incorporates 64 high quality, dual-white CCT LEDs which produce up to 260 lumens exceptional 88 CRI light while achieving a luminous efficacy of up to 87 lumens per watt. Task lighting should be designed to faithfully reflect the anticipated colors, hues, and lamination for whatever task project you might have - reading, painting, crafting, computer work, tattoo, makeup, etc. The lamp's brilliant color rendering which is far above the usual standard ensures a wide color perception range of human eyes and allows colors and whites to be rendered faithfully. The ability of human vision to differentiate colors and subtle color shades is critical for tasks involving color matching or evaluation.
Yeelight introduces tunable white on this budget friendly desk lamp. The dual-white CCT LEDs are mounted to the MCPCB with optimized LED spacings and combinations to perform high caliber spatial color mixing. From highly engaged reading and writing tasks to relaxed breaks, the Yeelight LED desk lamps can now be tuned to simulate the natural color variation of the sky that occurs from sunrise to sunset, thereby creating an atmosphere that has a positive impact on our productivity and health. Mixing the light emissions with accurate ratios comes up with 5 most desired color temperatures within the 2700K - 6500K range. Create a restful ambience with 2700K warm white light which promotes the release of melatonin, a sleep hormone that encourages relaxation and regeneration. Select the 6500K CCT to emulate the noon on an overcast day for mental acuity, muscle coordination, and alertness while reducing fatigue and daytime sleepiness. Or tune to neutral whites to promote concentration while maintaining a comfortable environment. In combination with a 5-step touch dimming function, Yeelight desk lamps allows you to switch between 25 different lighting modes to bring the natural course of daylight and its biological effects into your space.

The desk lamp casts a pool of softly diffused light through an impact resistant acrylic diffuser. The frosted diffuser offsets harsh LED illumination for maximum visual comfort and delivers a balanced combination of high light diffusion and high light transmission. Softened, uniformly distributed light delivers a pleasant feel without the irritating direct glare. The optical diffuser is formulated to filter out blue light (420nm-470nm) which can cause photochemical damage of the retina (blue light hazard). The desk lamp is powered by a constant current LED driver which is developed specifically for flikerless lighting. Flicker in LED lighting is typically caused by the temporal variation or imbalanced current waveforms in the power supply to the LEDs. Long time exposure to flicker may lead to eyestrain, eye fatigue, blurred vision, and distraction. The state-of-the-art LED driver delivers to the LED load a precisely regulated output current with minimal ripples thereby eliminating flicker and stroboscopic effects.
Yeelight LED desk lamps are designed and engineered to provide the best possible ergonomics and lifelong reliability and durability. A flexible metal gooseneck arm delivers the ultimate reach and flexibility that allow you to position the light where you need it most. This silicon rubberized gooseneck arm has very good bending stability can tolerate tight, repeated bending. Aluminum and ABS plastic construction ensures excellent structural strength, impact resistance and thermal performance while providing a soft-touch feel and low-gloss look. The on/off, dimming and CCT touch switches with feather-light adjustability are located at the base of the lamp. The MCPCB provides high efficiency dissipation of the waste heat generated at the LED junction, which makes the lamp stays cool to the touch as well as ensures excellent lumen maintenance and consistent color quality of LEDs over the product's life.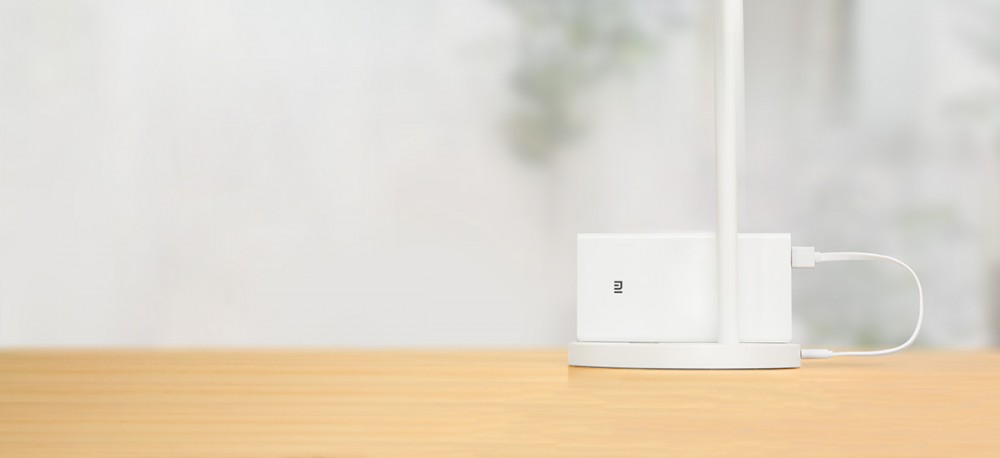 In addition to a standard, line-powered version, Yeelight LED desk lamps are available with a rechargeable option. The rechargeable desk lamp is equipped with an external 2000mAH lithium ion battery which powers the lamp through a built-in micro USB port. The backup battery is designed to operate the LEDs at a reduced lumen output (60%) for up to 5 hours. A slide switch at the bottom of the base is designed to prevent the draining of battery when the lamp is not in operation.