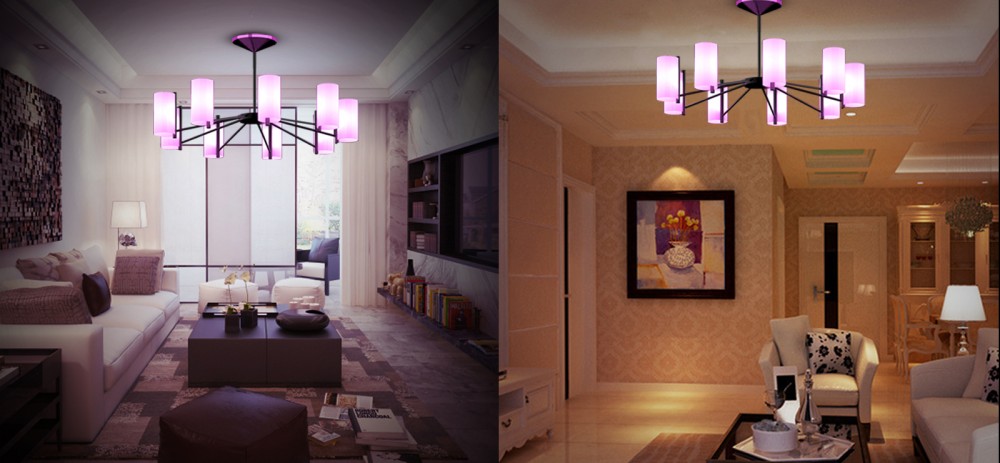 Adot Lighting brings exquisite lighting to your home with this timeless chandelier. The elegant centerpiece captivates with its contemporary expression of traditional Chinese aesthetics. Keeping equilibrium and harmony between human and nature has always been a key concept in designing this Western-originated light fixture. The Jade Bamboo
chandelier
takes inspirations from the aesthetic characteristics and artistic traditions of Chinese culture which values bamboo as a symbol of virtue and associates jade with qualities of high moral character. This transitional-contemporary light offers an updated take on the classic chandelier form. With a stunning hint of artistry and flair, Jade Bamboo will flourish in any decor with eye-catching personality.
Jade Bamboo is an eight-light single-tier
chandelier
available in 35.66" and 19.68" widths. A round aluminum structure finished in gleaming silver, luxurious gold or prestigious black takes a minimalist form that lends this chandelier a contemporary appeal. The straight arms outstretch downwards from the center hub and uphold the high cylindrical lights to form a geometrically clean yet gracefully silhouetted framework. Eight lights are the anchor elements of this fascinating design. The cylinder design of these lights visualizes the sections of bamboo, while the light shades made of white etched glass creates the appeal of Chinese white jade. The combination of two traditional Chinese aesthetical elements intensifies its unique artistic expression. Jade which has a warm color and rich luster occupies a special position in Chinese artistic culture. It has been equated with nobility, perfection, wisdom, bravery, purity and immortality. As a symbol of virtue, bamboo has been held in profound esteem in Chinese culture and philosophy for thousands of years. Bamboo culture plays a positive role in encouraging people to live with integrity, persistence, modesty and loyalty.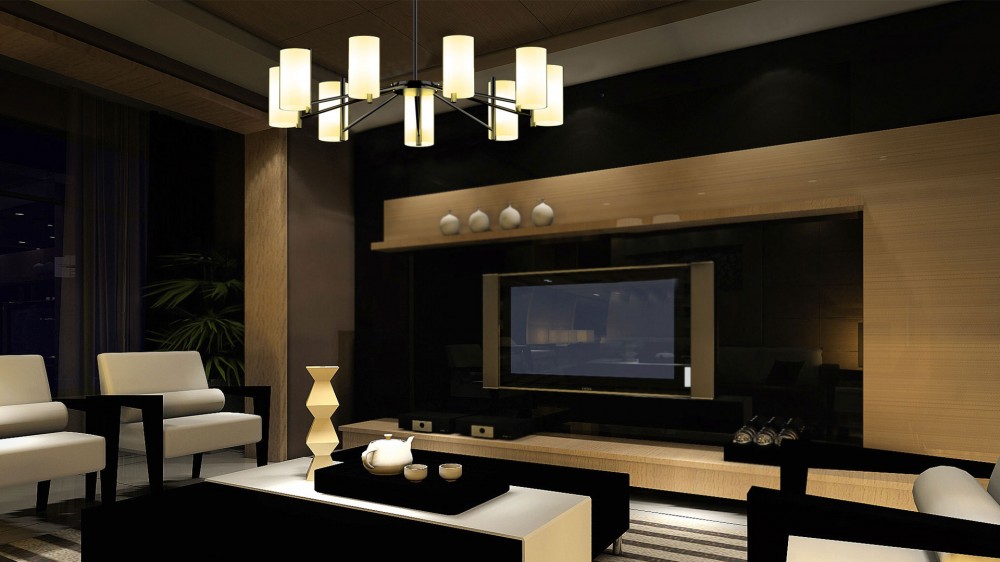 Cylindrical glass shades are held with visual prominence on delicately finished vertical metal stems, balancing out the minimalist frame and creating a beautiful contrast that adds to the clean aesthetics and approachable elegance of this elegant artwork. The climax of this design rests with the wonderful ambiance made available through sophisticated optical engineering. Inside the light shade the LED modules are overmolded with a high transmission glass lens which disperses the directional LED luminance across the cylinder. Light flows through the jade white glass shades which create uniformly diffused, visually pleasing ambience around the cylinders. Jade Bamboo is designed with three color modes - white, pink, and the mingled pink and white. Available in 3000K warm white and 5700K daylight white color temperature options, the soft glow in pure white radiates modernity and simplicity while bringing to mind a clean appeal and sense of tranquility. In pink mode the gentle pink light introduces to the room a sweet feel and allows you to indulge in the ocean of romance at home. Lighting with mingled pink and white colors creates a subtle romantic ambiance. Pink and white meet beautifully to impart irresistible visual captivation.
A dramatic blend of art, engineering and technology. State-of-the-art LED technology and highly engineered mechanical components give birth to this artfully designed chandelier where beautiful light and compelling styling converge. Equipped with best-in-class SMD2835 LEDs and high performance
power electronics
, Jade Bamboo delivers high quality light with no compromise between light output and efficacy. Constructed of 5052 aluminum alloy, the chandelier frame provides high efficiency thermal energy transfer and keep the the junction temperature low to enhance lumen maintenance, color stability and system life. The metalwork is fabricated and finished to maintain its lifetime glamour through advanced mechanical engineering and a proprietary electrochemical process.
The chandelier comes equipped with 2.4G RF remote control that provides you convenient on/off switch, dimming control, and lighting customization with its choice of color modes.