Low entrance threshold ends up in the disorganized, chaotic condition in LED industry. Competition intensifies and the lighting industry heads into low pricing era. LED lighting manufacturers are implementing various low-pricing strategies to beat their competitors and expand their market share. Vertical integration is a strategy for a company to improve competitiveness by expanding its business operations into different steps on the same production path.
The incredible depth of backward (upstream) vertical integration capabilities caused a big reshuffle in the LED industry and surge in the global lighting market. More and more Chinese LED lighting manufacturers started to source raw materials such as aluminum and plastic resin, and electronic parts e.g. capacitors, PCBs, and ICs to manufacture virtually all of the components and subsystems required to manufacture a diversified collection of finished LED lighting products.
Then we see this type of vertical integration: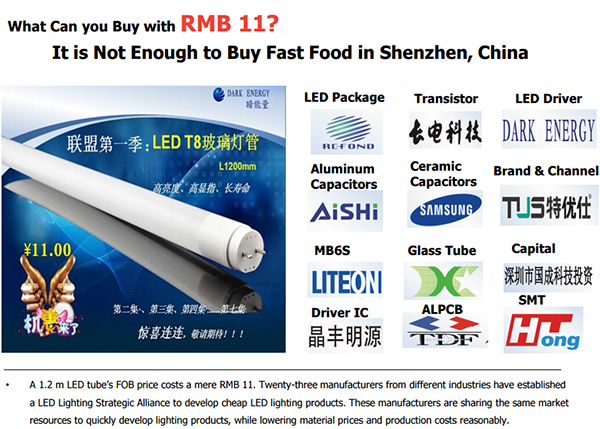 I personally don't think such a loose coalition is sustainable because of the intrinsic nature of business. This asset-light model can deliver higher scale-driven cost savings but they lack in flexibility in embracing the ever-changing market due to its weak implementation capacity.
Internal vertical integration is feasible for financially backed companies. Months ago I noticed a discussion in our QQ group (214416643). Mr. Dong Kui, the marketing director from Shenzhen Bonld Electronics Co., Ltd., shared their success on how a strong vertical integration strategy strengthened the company's competitiveness.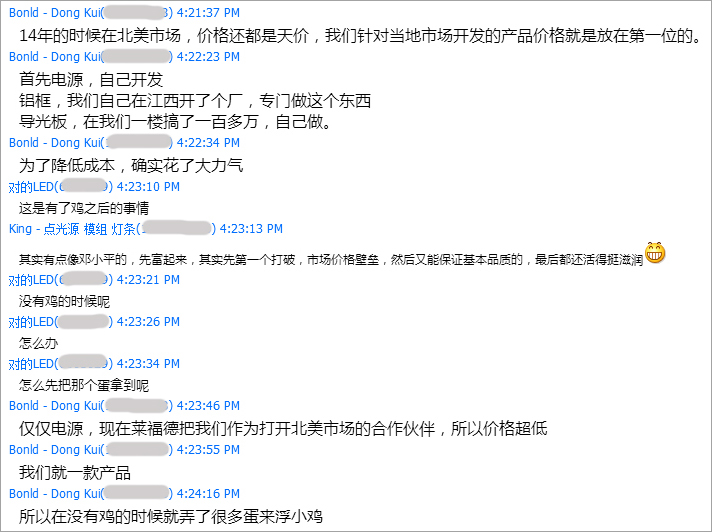 The company was established in July, 2014, the time when the market was already saturated with a massive number of LED panel light manufacturers. Their marketing focus was clear and straight to the point - breaking into the US market with unbeatable prices! They invested in a new plant in Jiangxi province to exclusively make aluminum frames. A dedicated production line at the cost of one million RMB was established for manufacturing light guide plates (LGPs), the key and expensive optical component for LED panel lights. The ambitious manufacturer also partnered with Lifud, one of the major LED driver manufacturers in China, to further strengthen their cost competitiveness. The product cost was dramatically cut to the level that their competitors were not able to compete with. On the other hand the product quality was not sacrificed. The door was finally opened. At the time of discussion they were one of the largest exporter of edge-lit LED panel lights in the global market with a monthly export quantity of 1000,000 pieces!
The low-price strategy sounds easy. But behind this simple business model a lot of effort and investment were made. Along with a precise market and cost analysis their upstream vertical integration was a big success. Congratulations!