The ESL-TGC-1000W is the premium lighting solution designed to meet the most demanding specification criteria while offering maximum energy savings, reduced maintenance costs, and a superior quality of light. The 1000 watt LED sports flood is designed to replace HID light sources of up to 2500 watts while delivering equivalent photopic illumination levels to traditional metal halide, high pressure sodium, and fluorescent fixtures with better uniformity and coverage for professional arena applications. The high power Cree XLamp XT-E white LED light engine delivers high performance and high reliability in the industry-standard XP/XT footprint. A color rendering index (CRI) provides illumiantion as close to natural daylight as possible which is perfect for applications requiring 'high definition' performance. This luminaire incorporates proprietary optics which provides the highest level of uniformity and illumination needed for playing surfaces and minimizes wasted angles of light typically emitted by traditional sources. The high quality optics illuminates the fields very uniformly and produces, at the same time, very little stray light.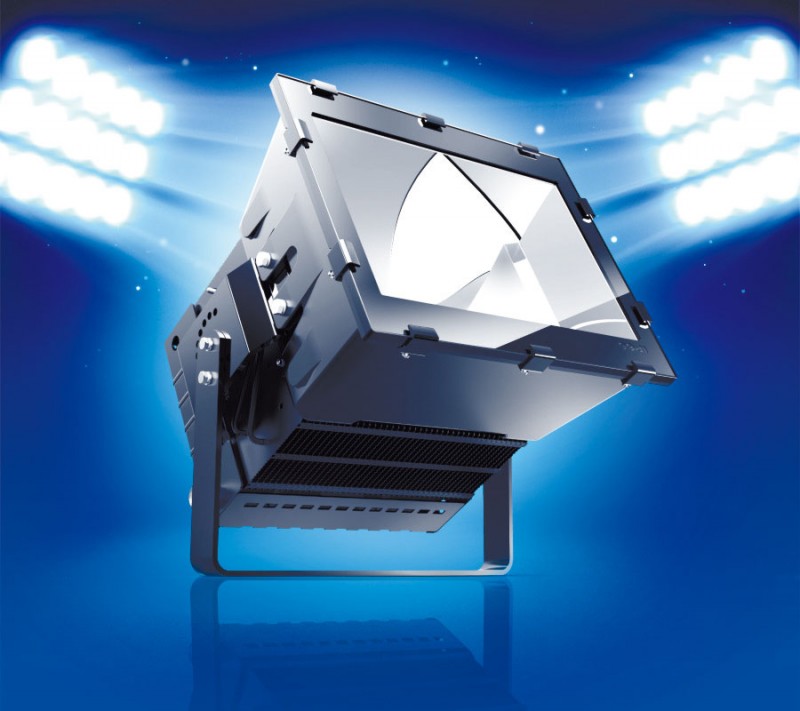 High power LED luminaires used in continuous duty are often limited by the ability of the fixture to remove heat from the LED such that the junction temperature stays below a critical level. Engineered for premium performance and durability, a robust heat sink design keeps ESL-TGC-1000W's critical components cool without relying on air movement. The advanced heat removal technology extracts heat from within the housing moving it away from LED components. The lower temperatures result in long LED life and component life and also allows for higher light output. The specially designed heat sinks comes with optimized geometries in which the heat radiation fins are integrally engaged with each other to provide improved heat circulation performance and strengthened luminaire structure. 12xΦ8mm heat pipes made of high purity copper are riveted directly under the LED substrate to transfer the heat away from heat sources.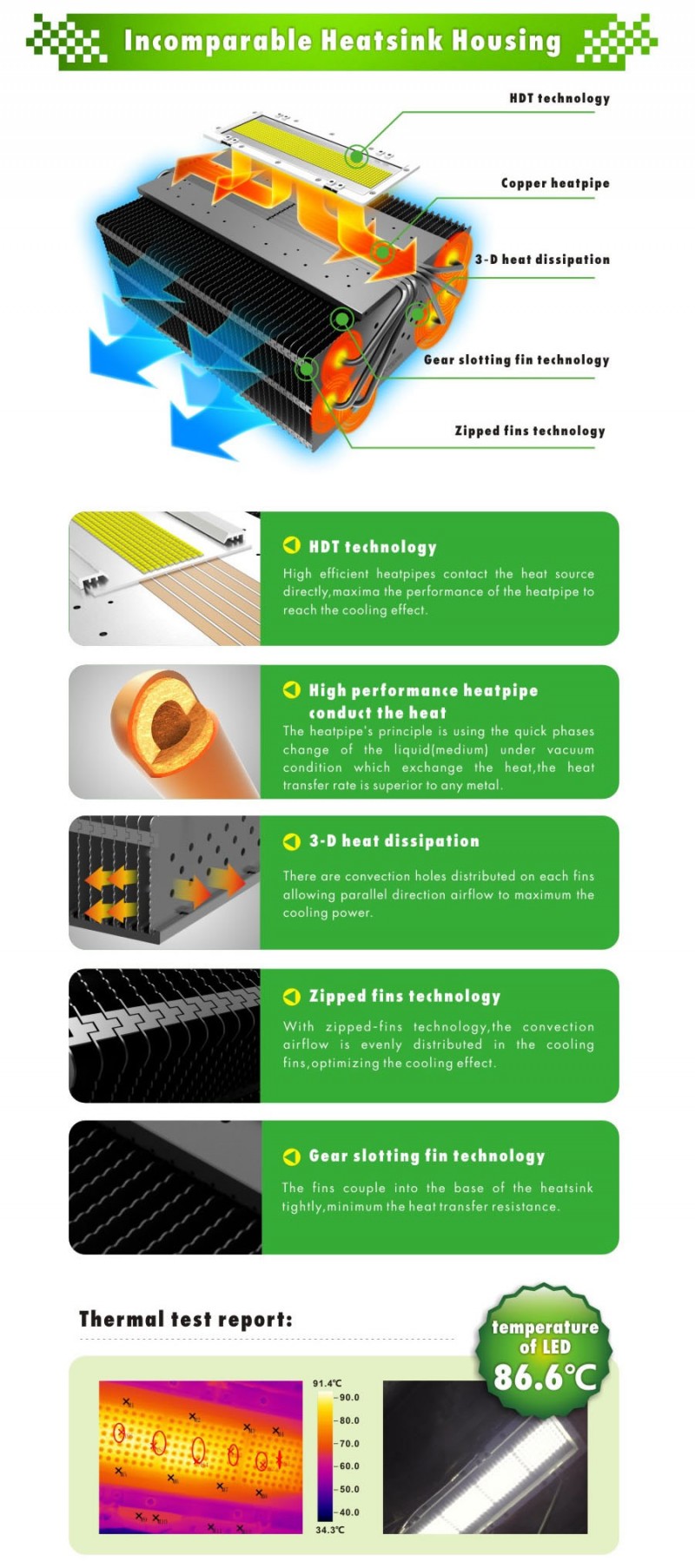 Heavy grade die-cast aluminum alloy construction is built for extreme weather and durability. Corrosion resistant polyester powder coat finish withstands extreme weather changes without cracking or peeling. Highly transmissive tampered glass lens and polished reflector effectively deliver a maximal amount of flux onto a playing area for brilliant illumination. The reliable, high efficiency, and thermally isolated constant current Meanwell driver accepts 90 to 305V power input at 50/60Hz and operates at greater than 0.9 power factor and low total harmonic distortion (THD <20%). A surge suppressor rated to 10kV/10kA of transient line surge is standard. A three foot (914 mm) power cord passes through a waterproof connector in the electrical junction housing to facilitate wiring. The LED driver has built-in surge suppressor and over temperature protection. The floodlight has optional 0-10V dimming capability which deliver smooth, flicker-free, high-performance dimming. The high power flood light is IP65 rated for all weather applications and dusty environment such as sports arenas, airports, road and building constructions, golf courses, playgrounds, exhibition halls, aircraft hangars, shipyards, and more.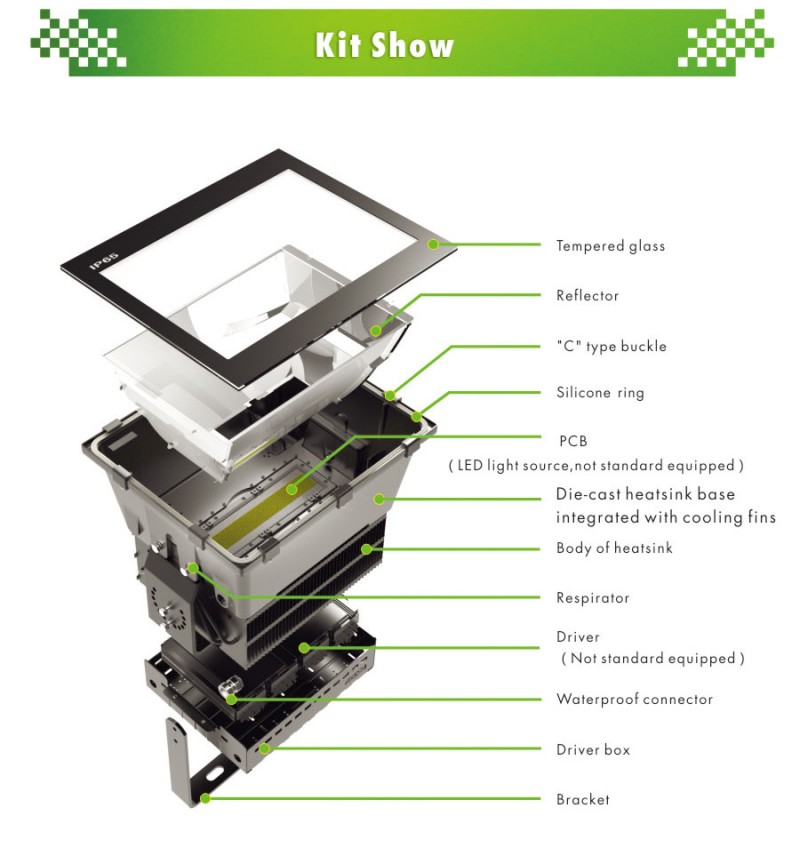 | | |
| --- | --- |
| Total Watts: | 1,000W |
| Input voltage: | 90-305V |
| Light Engine: | Cree XLamp XT-E White LEDs |
| Total Lumens: | 125,000 lm |
| Luminous Efficiency: | 125 lm/W |
| Beam Angle: | 10°x90° , 50°x90° |
| CRI: | Ra 80 min. |
| Color Temperature (±300K) | Neutral White - 4000K, Cool White - 5500K |
| Ambient Temperature | -40°C to +80°C |
| Ingress Protection | IP65 |
| Mount: | Flat surface trunnion mount U-bracket |
| Warranty: | 3 Years |