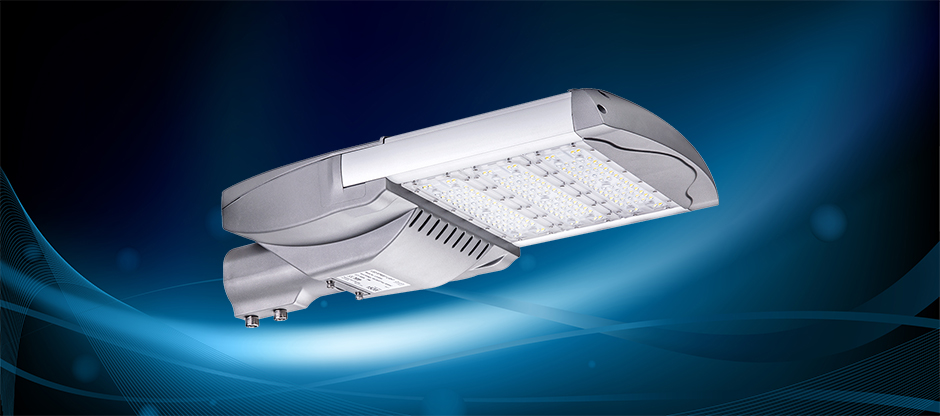 The ZGSM H Series (H, H2, H4, H5, H6) LED street lights combine high-grade components with modular design to fulfill the demanding needs of roadway, street and area lighting applications. Designed with forward thinking sustainability in mind, the ZGSM H family that was born 4 years ago has been at the forefront of lighting efficiency thanks to its scalable platform that accommodates consistent technology upgrades. The LED street lights feature modern styling that blends effortlessly into the surrounding architectural and landscape features. Its rugged and solid construction gives this line of products maximum durability for lasting value. The unpromising product quality and performance of the ZGSM H Series are endorsed by an industry leading warranty of up to 7 years.

Construction
Made of high strength, low copper aluminum alloy, the die cast housing provides structural strength along with superior resistance to impact and corrosion. The heavy duty housing is designed to mechanically frame up a number of LED modules with architectural stability while thermally interfacing the heat sinks of LED modules for enhanced heat transfer. The durable luminaire has passed a rigorous series of tests for IK10 rated protection against mechanical impact as well as compliance with 3G bridge and overpass vibration standards. In addition to the ruggedness delivered by the all-aluminum construction, the ZGSM H Series is fully sealed to maintain an IP66 rating for all weather applications. Marine grade stainless steel screws ensure excellent resistance to rust and corrosion.
Thermal Management
The ZGSM H Series utilizes both convection and conduction methodology to draw heat away from LED junctions and maintain maximum lumen output, lumen maintenance and color consistency. The modular LED engine is integrated with an extruded aluminum heat sink which is scaled to lumen package of the LED engine. The heat sink fins effectively increase surface area while the air passages formed by the fins allow for sufficient air movement. The extruded heat sinks are anodized to improve thermal radiation ability and prevent corrosion. The modular LED engines are mechanically bonded to the luminaire housing, which allows the heat to be spread out over a maximized surface area. The gaps between the LED engines create vertical air flow inlets for convective heat transfer. The LED driver and other electrical components are mounted in a separate compartment to mitigate thermal impact imposed by the LED assembly.

Light Engine
The ZGSM H Series is equipped with IP67 rated modular LED engines which are available in multiple chip specs, drive currents and lumen packages. The superior line of products takes advantage of Lumileds LUXEON LEDs to deliver optimized performance in combination with excellent lumen maintenance and assurance of ANSI color compliance over their extended lifetime. The H, H2 ranges incorporate LUXEON TX LEDs which are designed to deliver a system luminous efficacy of 110 lm/W. The H4, H5, and H6 ranges are available with LUXEON 3030 2D and LUXEON 5050 LEDs. LUXEON 3030 2D is the first hot-color targeted mid-power LED which utilizes an epoxy molding compound (EMC) QFN package for high flux applications with exceptional reliability and long L70 lifetimes at both high temperature and current. LUXEON 5050 is a multi-die, high power package which enables highest efficacy system design by driving at low current. The LUXEON 3030 2D LED engines offer luminous efficacies in the 125-140 lm/W range. The LUXEON 5050 LED engines provide industry-leading efficacy of up to 165 lm/W. The modular street light family provides a complete and scalable offer from 35 watts to 280 watts and from 48 mA to 900 mA, with lumen outpot ranging from 3850 lm to 38400 lm.
Optics
The luminaire provides IES Type I (50°x 160°), Type II (65°x 155°) , Type III (80°x 160°) , and Type V (10°x 110°) asymmetric distribution patterns. Precision engineered optics optimize the light distribution to comply with road and area lighting standards in terms of illuminance, luminance, uniformity, and glare control regardless of the mounting height.
Electrical
The ZGSM H Series uses brand name high efficiency LED drivers including the non-dimmable Mean Well HLG LED drivers and dimmable Inventronics LED drivers. These LED drivers are equipped with high power factor technology and provide constant currents to operate the array of LEDs with low total harmonic distortion (THD). High-performance driver features overcurrent, short-circuit, overvoltage and over-temperature protection. The drivers are fully potted in silicone for electrical insulation, thermal management, and watertight integrity. A surge protection device (SPD) provides robust lightning protection protects all downstream electronics against surges up to 10kV / 10kA.

Lighting Control
The ZGSM H Series LED street lights are optimized to meet the ever-evolving needs of today's energy management systems. The programmable and dimmable Inventronics LED drivers offer a full range of dimming options that allow the street lighting systems to be used with a myriad of controls for maximizing energy savings. In addition to the standalone 0-5V, 0-10V, PWM and timer dimming protocols that are built into the driver, the street lights can be operated wirelessly through an intelligent roadway lighting management system using the ZigBee protocol. The optional photocell provides the daylight harvesting ability for dusk-to-dawn control.
Finish
The aluminum housing is chromate conversion coated and electrostatically applied with a thermoset polyester powder coat finish which provides robust protection against impact, UV and salt spray damage. Standard exterior finish color options include silver (RAL9022) and black (RAL9005). Custom RAL colors are available.
Mounting
The luminaires are provided with die cast fitters that accommodate 60-80 mm O.D. tenons or arms. An adjustable head joint with mounting steps allows 0-15° tilt to facilitate photometric adjustments in both horizontal arm mount applications and vertical pole top installations. Wall mounting brackets and square pole mounting adapters are available.