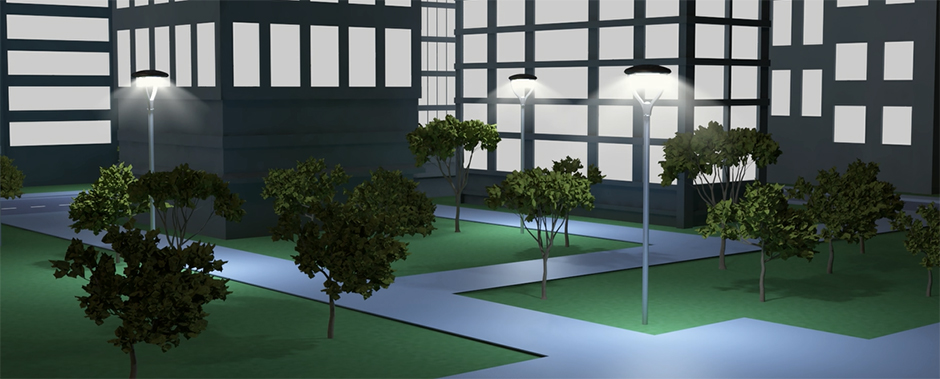 The ZGSM L Series LED post top lights are a superior line of area lighting fixtures with a modern visual appeal that delivers unobtrusive architectural blending. The post top luminaire provides excellent downward symmetrical light distribution as well as asymmetric Type 1, 2 and 3 beam patterns. With superior photometrics and energy efficient lighting technology, the ZGSM L post top lights are a great solution to a multitude of outdoor open-space lighting applications including low-level lighting of parks, squares, and linear asymmetric street and walkway lighting.
With the ZGSM L Series, you'll enjoy all the great benefits of performance, energy savings, long lifespan and maintenance-free operation of an LED luminaire. The post top luminaire features a round, fully cast aluminum housing that accommodates an LED light engine with 72, 96 120, 144 or 168 LEDs in 56, 59, 70, 78, 86 or 110 mA ratings. The light engine operates at a choice of wattages including 27W, 37W, 56W, 70W, 90W and 120W with light output of 3510, 4810, 7280, 9100, 11700 and 15000 lumens respectively. A precision-molded PC lens is indexed to the metal core circuit board to ensure consistent optical alignment and optimizes the beams produced by LEDs. The precision optical system provides improved horizontal and vertical uniformity with greater fixture spacing, homogeneous glare reduction, minimized light trespass and sky glow.
Utilizing Lumiled's proven and highly reliable epoxy molding compound (EMC) QFN packaging technology and an advanced passive thermal management design, the post top luminaire offers an exceptional combination of high efficacy and high lumen output at high drive currents with an L70 rating of 100,000 hours or more. Through a tightly controlled reflow soldering process, the MCPCB system features high operating temperature capable interconnects with improved creep resistance and solder joint reliability. Robust solder joint performance ensures significantly reduced thermal stresses from the LED junction area to the circuit board. A high conductivity dielectric layer keeps the thermal resistance of entire MCPCB board low for an efficient thermal conduction pathway from LED chips to the aluminum housing with which the LED assembly is thermally and mechanically interfaced.
The LED light engine is operated by a constant current LED driver which is available in non-dimmable version (Mean Well) and dimmable version (Inventronics). State-of-the-art driver technology provides high power factor (up to 0.95) regulation over a wide range of operating conditions for maximum efficiency. In addition to the built-in 0-10V/PWM/Time dimming, the dimmable Inventronics driver can operate with a roof mounted twistlock photocell for dusk-to-dawn lighting. The LED driver is equipped with a full set of advanced protection features including overcurrent, short-circuit, overvoltage and over-temperature protections. The electrical system is provided with a surge protection device (SPD) to ensure that the luminaire is immune to 10kV of transient line surges. The post top luminaire comes with a disconnect switch to de-energized the electrical circuit when the top housing is open for service or maintenance.
Constructed of high pressure die cast aluminum alloy, the rugged yet sleekly designed housing provides excellent heat dissipation and durable protection for LED components. The aluminum housing with high dimensional stability and architectural strength protects the optical and electrical components from mechanical shocks and vibrations. The top opening cover that is mounted with all the functional components is sealed to the tempered-glass-lensed bottom housing with a one-piece, weather and ageing resistant silicone rubber gasket for IP66 level ingress protection. The bottom cover has a pressure stabilizing breather that equalizes the internal/external air pressure. To ensure superior weatherability and fade resistance, the aluminum housings undergo a multi-stage cleaning and chromating process and are powder-coated with an electrostatically applied with TGIC polyester powder paint.
Product features
Modern geometric design complements a wide range of contemporary architectural settings.
Rugged die cast aluminum construction provides durability, strength and longevity.
Superior thermal management for high lumen maintenance, luminous efficacy and chromaticity stability.
LUXEON 3030 2D LEDs with superior light quality, high efficacy, and lifetime value.
High efficiency LED drivers with high PF and low THD.
UV stabilized PC Lens ensures excellent uniformity and superior visibility.
Corrosion resistant TGIC polyester powder coating provide excellent salt, humidity, fade resistance, and optimal color and gloss retention.
Surge protection up to 10kV.
Optional photocell integration provides daylight harvesting capability
Disconnecting switch ensures operation safety.
Hinged housing with a tool-less latching system allowing easy entry.
IP66 ingress protection.
7-year warranty.