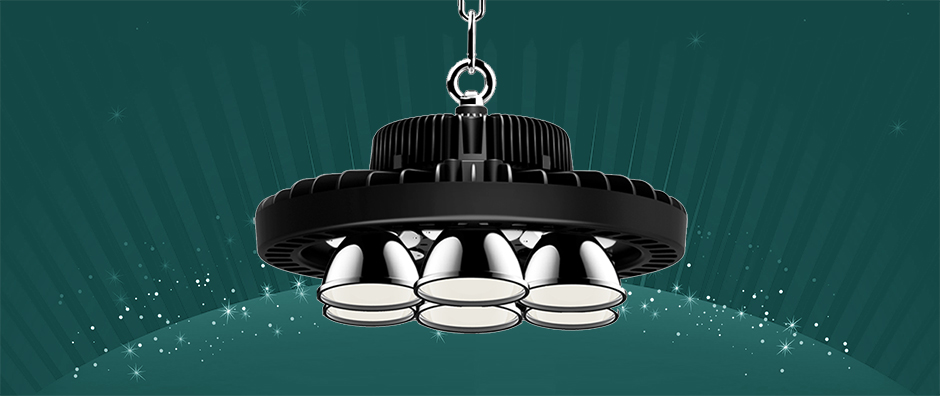 The UFOLux
high bay LED luminaires
are designed specifically for high ceiling buildings with mounting heights in the 8-25 m or 26-82 ft range. An exclusive optical design combined with a state-of-the-art lighting system in contemporary UFO-inspired geometry makes it a robust high bay lighting solution with an extremely attractive ROI. The UFOLux family is supplied in 200 and 240 watts with a bundle of three beam angle options including 40°, 75° and 110°. Combining the latest LED technology with excellence in both design and quality, the UFOLux high bay luminaires address the stringent efficacy and reliability challenges for high ceiling applications. This range of high bay lights is ideally suited for use in airport terminals, convention centers, industrial facilities, shopping centers, sports complexes, gymnasiums, distribution centers, warehouses, and architecturally demanding public areas requiring extraordinary performance and durability.
Construction
The UFOLux LED luminaire is built to excel in demanding conditions with a rugged housing constructed from high pressure die cast aluminum alloy. The marine-grade, heavy duty aluminum construction provides durable protection and excellent thermal management for LED components. The luminaire is designed to resist dust and contaminants with an IP65 rating. Its high watertight integrity makes the luminaire suitable for wet locations and hose-down environments such as outdoor canopy structures, car washes, food processing, waste water treatment, and general wash down areas. The functional design and engineering depth balance the technical needs of a sophisticated LED system with a robust construction that accommodates the long life of optical and electrical components.
Thermal Management
The UFOLux family boasts superior thermal capabilities thanks to its redundant thermal design by maximizing material thermal conductivity and effective surface area of the thermal path. The quality of thermal conduction is guaranteed with the use of low thermal resistance components along the entire thermal path. The metal core PCB boards are thermally optimized for high power and high circuit density applications. A tightly monitored reflow soldering process ensures the reliability of the solder joints between the LED packages and MCPCBs. Robust solder joints provide a dependable conduction pathway between the LED junctions and external thermal management system. Made from Al-Si-Cu-based cast aluminum alloys (ADC12) that have a thermal conductivity of 100 W/mk, the thick aluminum housing provides substantial volumetric thermal capacity. The heat dissipation fins are designed with optimized spacings for thermodynamic equilibrium to ensure effective thermal radiation performance. A separated die cast aluminum driver housing thermally isolates driver from heat-intensive LED light engine for minimized thermal interaction.
Light Engine
The UFOLux family is equipped with modular LED arrays to support its system design for long-throw light projection. An added benefits is that with modular design and parallel connection the system reliability is significantly improved. The luminaire will not fail systemwide when one of the LED modules crashes abruptly. The LED modules incorporate Nichia SMD3030 LEDs for a superior combination of high efficacy and high lumen output. These LED packages are solder joined to MCPCB with high thermal conductivity dielectrics for efficient heat transfer to the heat sink. High quality componentry combined with optimum thermal management makes the luminaire virtually immune to parametric failures such as degradation or shifts in luminous flux, luminous efficacy, chromaticity stability, and color rendering index (CRI).
Optics
UFOLux utilizes hybrid optical systems that comprise of aluminum reflectors and optical lenses (tempered glass lenses for 40° /75° optics, polycarbonate lenses for 110° optics). The independently designed module-level optical system delivers maximum optical efficiency and ensures every lumen produced by the LED module is distributed for long-range light throw. The innovative optical design makes it possible to achieve high workstation illuminance from a high ceiling light source with low power consumption. Tight beam control eliminates spill light and light trespass. The Unified Glare Rating (UGR) of UFOLux LED luminaires are less 19, which eliminates discomfort glare to room occupants and complies with IESNA RP1-04 and EN12464 glare specifications.
Electrical
The UFOLux high bay LED luminaire is powered by a high performance Mean Well driver that operates within an input voltage range of 100-277VAC. State-of-the-art driver technology provides superb power conversion efficiency with high reliability that offers peace of mind and lower maintenance costs.
Lighting Control
Hybrid dimming technology (1-10 VDC, PWM, resistance) that is built into the Mean Well drivers addresses the growing demand for controllability. Microwave occupancy sensors can be optionally integrated. With this feature the luminaire will automatically illuminate from low to high power or off to on upon detection of motion. UFOLux is compatible with DALI digital dimming systems for complete control over multiple light fixtures.
Mounting
The luminaire can be easily mounted by hanging from loop on a chain or aircraft cable, pendant mounting with 3/4" NPT conduit entry, or using an adjustable bracket for ceiling or wall mounting.