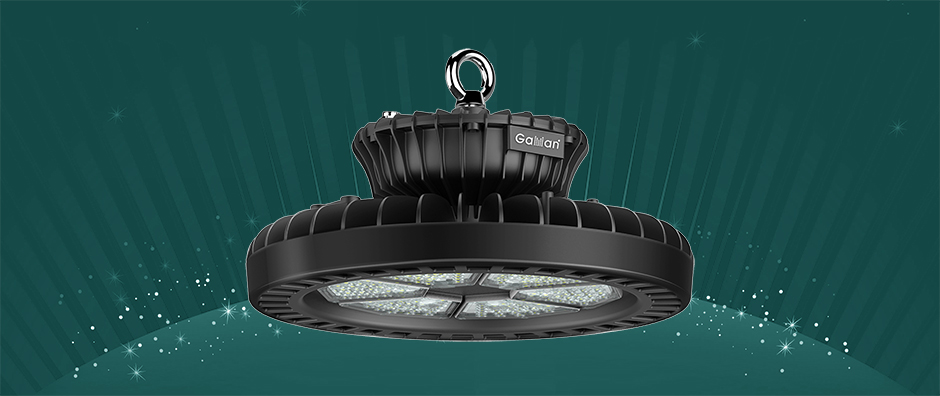 The CrownLux LED
high bay light
is a robust lighting system that takes the form of low profile UFO geometry. The extremely efficient and reliable LED luminaire brings across many benefits of utilizing solid state lighting technology. This distinctive architectural solution is built to operate to their full potential over the guaranteed 5 year period and beyond. The high return on investment deems these fixtures ideal for commercial and industrial interiors with middle or high open ceilings, including warehouses, manufacturing facilities, hangars, atriums, lobbies, auto dealership showrooms, convention centers, supermarkets, retail stores, sports complexes, gymnasiums, and airport terminals.
Construction
CrownLux gains its architectural strength and excellent thermal performance from a heavy duty housing constructed of high pressure die cast aluminum alloy. The refined and solid aesthetic of UFO-inspired design delivers a modern industrial look that gives architectural interiors a timeless, sophisticated edge. A die cast driver housing with a coherent aesthetic appearance is screw fixed to the flat luminaire housing for a compact, seamlessly integrated mechanical structure that allows for shallow mounting. The shock and impact resistant construction with a rugged housing endures the most demanding installations and environments, which translates to a longer luminaire life. IP65 rated optical assembly and driver housing allow the luminaire to be used not only in interior lighting, but also outdoor spaces such as canopy lighting which requires the luminaire to be protected from dust ingress and rain/water invasion from any angle.
Thermal Management
The CrownLux family is designed to accommodate lifelong operation of high power LED light engines with its efficient thermal management system. The heavy duty housing is made from Al-Si-Cu-based cast aluminum alloys (ADC12) that have a thermal conductivity of 100 W/mk. CrownLux makes a distinction among the rampant UFO products in terms of thermal design. In contrast to some of the products that leave no extra thermal capacity for high temperature and/or high driver current lighting applications to bring down the BOM cost, CrownLux makes no compromise on quality and performance of any of its components. The sturdy aluminum housing offers substantial volumetric thermal capacity that outperforms other UFO high bay lights. Integrally cast heat dissipation fins with optimized spacings effectively increases surface area and accelerates thermal transmission. To ensure low thermal resistance (Rth) along the entire thermal path, thermally conductive LED MCPCBs are mounted in direct contact with the heat sink for a larger active surface area for conduction. The die cast aluminum driver housing thermally isolates driver from heat-intensive LED light engine, thereby enabling the design of high circuit density.
Light Engine
Virtually all UFO LED high bay lights currently available on the market use an integral LED board on which an array of discrete LEDs that are bundled together to produce a cumulative output. The weak point of this design is that any malfunction in the LED assembly could lead to the failure of the complete lighting system. CrownLux unprecedentedly brings modular concept to UFO LED high bay design. The inventive modular family features significantly improved system reliability over other UFO high bays. With modular design and parallel connection, the luminaire continues to operate with minimal loss of light output even when one of the LED modules fails.
The CrownLux LED modules use superior Nichia SMD3030 LEDs which offers the unique combination of high efficacy and high lumen output with excellent L70 performance. Available in 100, 150, 200 and 240 watts, these modular UFO LED high bay luminaires deliver a minimum 135 lumens-per-watt system-level efficacy.
Optics
The CrownLux family is equipped with precision molded PC lenses to produce accurate light distribution patterns. These UV stabilized, impact resistant, high transmissivity TIR optics are supplied in 40°, 75° and 100°beam spread options. Advanced lens technology provides excellent light uniformity and glare control without sacrificing optical efficiency.
Electrical
The CrownLux LED modules are operated by Mean Well LED drivers which provide reliability and performance needed for high bay lighting. These constant current LED drivers provide high performance load regulation with low total harmonic distortion (THD) and a high power factor (PF) to maximize efficiency. The built-in overvoltage, overload, overcurrent and overtemperature protections ensure the luminaire operate to specification under wide temperature and electrical ranges.
Lighting Control
The CrownLux family offers multiple dimming options including resistive, 1-10 VDC and pulse width modulation (PWM) dimming to provide the optimal design flexibility for energy management. Optional integration and operation with microwave occupancy sensors allows the luminaire to be configured to provide automated, multilevel brightness control for additional energy efficiency.
Finish
The aluminum housing of CrownLux LED high bays is powder coated with a durable TGIC polyester layer through a multi-stage cleaning, pretreatment and chemical conversion coating process. The high quality, electrostatically applied, thermoset black finish provides excellent salt and humidity resistance as well as gloss retention.

Mounting
The luminaire can be easily mounted by hanging from loop on a chain or aircraft cable, pendant mounting with 3/4" NPT conduit entry, or using an adjustable bracket for ceiling or wall mounting.