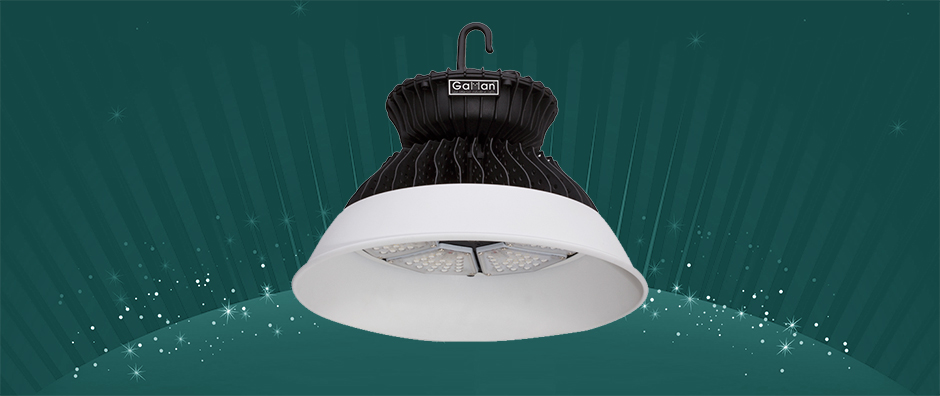 SuparLux is a robust low-bay and mid-bay LED luminaire that is designed for 5-10 m (16-32 feet) mounting heights in an array of commercial and industrial applications, including warehouses, manufacturing facilities, retail stores, assembly lines, athletic facilities, bus terminals, etc. Engineered from the ground up with performance and reliability in mind, the SuparLux family is ideal for hard-to-reach areas where maintenance-free and energy-efficient light sources are critical. The SuparLux LED low bay fixtures are available in 90, 110, 130 and 150 watts with a system luminous efficacy of 135 LPW.
Construction
The SuparLux family brings a distinctive design that makes it stand out in the crowd. The manufacturer did not follow the craze of UFO-style bay luminaire design. SuparLux is a revolutionarily updated form of legacy low bay fixtures with an unparalleled emphasis on thermal management while striking a perfect balance between form and function. The patented design incorporates the highest quality componentry in the industry into a durable and lightweight housing which offers significantly better thermal performance than other products in its class. Heavy duty aluminum construction that blends with a sleek and modern profile provides the ruggedness as well as a sophisticated industrial appeal required for modern industrial, warehousing and commercial spaces. With its IP65 rated ingress protection, the luminaire can be installed where dust and water spray may be present.
Thermal Management
Inspired by the design of aircraft engines, SuparLux's heat sink capitalizes on the superior geometric characteristics of radial fin arrays. The computer designed and optimized aluminum heat sink takes full advantage of the three-dimensional geometry capability which maximizes convection surface area and facilitates airflow. The radial heat sinks with an optimized balance between thermal mass and surface area boasts an industry-leading thermal efficiency of up to 78W/kg. Its cooling capability is 30-40% higher than other aluminum heat sinks in the same footprint. The black-anodized aluminum heat sink offers improved thermal radiation ability and excellent corrosion resistance.
Light Engine
Conventional round LED bay light fixtures typically use an array of discrete LEDs that are bundled together to collectively produce a desired output. SuparLux's light engine is designed in a modular configuration which allows for both easy module replacement and future upgrade. Modular design delivers the added benefit of failsafe reliability. The luminaire continues to operate with minimal loss of lumen delivery even when one of the LED modules fails. The SuparLux family delivers optimized combinations of light quality and light output as well as lumen efficacy and lumen maintenance using Nichia 3030 LEDs (or Osram/Lumileds 3030 LEDs). These high quality LEDs supports high flux density lighting with robustness and reliability in high temperature and high drive current applications.
Optics
Precision designed optics offer a choice of three distributions, including a 100 degree beam spread for lower mounting heights and maximum fixture spacing, 40 and 70 degree beam options for higher ceilings. Impact resistant, UV stabilized polycarbonate lenses are molded over LEDs to provide uniform light distribution throughout the area of coverage. In contrast to UFO LED bay lights that rely on TIR optics for optical control, SuparLux utilizes aluminum reflectors to provide supplementary optical control. The hybrid TIR/reflector optical system overcomes negative aspects of current UFO LED luminaires which still produce spill light and light trespass despite the use of TIR lenses. Integrated optical control contributes to significant reduction in spottiness which is undesirable in low bay applications. Optional prismatic refractors maximize the horizontal delivery of light and deliver superior visual comfort as well as enhanced aesthetics.
Electrical
The SuparLux LED modules are operated by constant current Mean Well LED drivers which accommodate inputs within a wide 100-277 VAC range. The reliable, high current matched driver delivers consistent, high performance to LED modules with a full set of diagnostic and protection features against over-voltage, over-current, short-circuit, and overtemperature conditions. The high-quality drivers provide a service life matching the long lifetime of the LEDs.
Lighting Control
The SuparLux Series LED low bay lights are designed to address the growing demand for controllability. The Mean Well LED driver offers 3-in-1 (1-10 VDC, PWM, resistance) dimming control. Optional integration with microwave occupancy sensors allows the luminaire to illuminate from low to high power or off to on upon detection of motion.
Mounting
SuparLux adapts to a variety of installations including chain or aircraft cable hook mount, pendant mount with 3/4" NPT conduit entry, surface mount with rotatable brackets.