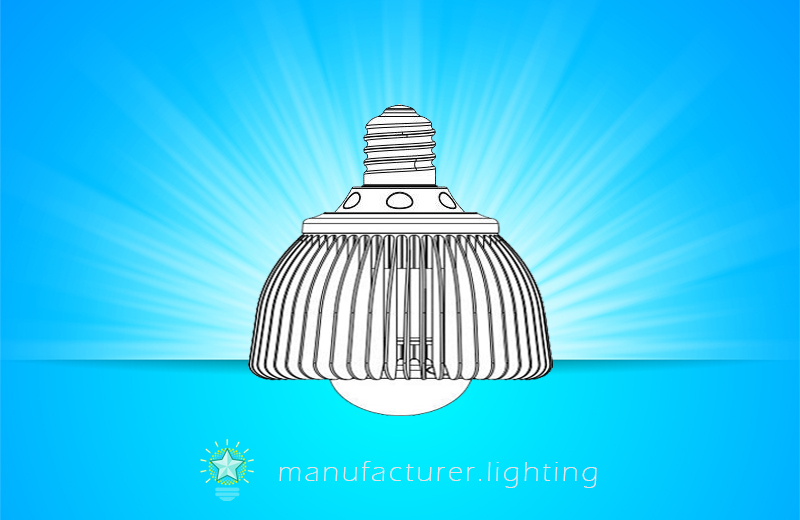 Industrial lighting fixtures or luminaires are employed in virtually every type of industrial application, whether it be automotive factories, steel mills, electronic assemblies, forging operations, machine shops, or warehouses. A welt-designed lighting system makes an important contribution to the success of an industrial facility. Industrial lighting can be categorized into low bay and high bay applications. Low bay lighting is used to provide adequate vertical illumination for spaces with mounting heights that are lower than about 20 feet. High bay luminaires, nevertheless, are typically used in applications with mounting heights that are higher than 20 feet. These high bay or low bay spaces are typically seen in large indoor facilities such as factories, warehouses, large retail stores, athletic facilities or gymnasiums, etc. Low bay fixtures are preferred for applications in warehouses, assembly plants, material handling, maintenance, manufacturing, inspection, and other sectors where maintenance and energy-efficient light sources are essential. High bay luminaires can also be employed at lower mounting heights to create light distributions that vary from narrow to wide, based on the application and the requirement of vertical illumination. Floodlight fixtures are used in a number of industrial applications and various tough environments, including but not limited to military applications, onboard ships, assembly plants, power plants, oil refineries, and petrochemical plants.

Over the lifetime of an industrial lighting system, the running costs associated with operating and maintaining the system are substantial. Luminaires that incorporate metal halide lamps, high pressure sodium lamps, or fluorescent lamps were the most widely used industrial light sources up until recently. In recent years, the application of light emitting diodes (LEDs) for various industrial lighting solutions has increased, and this trend has accelerated as improvements have been made in high power LEDs. LED luminaires have unique advantages with regards to photometric and mechanical performances which can be extremely important in industrial applications. By way of example, industrial lighting is vital to have a consistent luminaire performance in environmental extremes including water spray, moisture, or dust. High bay applications generally have environments that are comparatively more harsh and corrosive than low bay applications. Specifically, high bay environments can have more airborne dust and oil particulates. Industrial applications present an array of challenging, dangerous, and demanding tasks that are performed, and appropriate illumination is essential. High humidity or corrosive atmospheres are often present in at least some areas in a typical plant. Some applications require luminaires which are resistant against liquid and/or vapor infiltration. These areas typically require special luminaires such as a tri-proof light which is designed to be waterproof, dustproof and anti-corrosion.

Supplementary luminaries are frequently used in industrial lighting to provide higher illuminances in difficult visual activities, for example inspection, often require a specific quality and quantity of light that won't be able to readily be obtained by general lighting methods. LED work light is designed for tight work areas such as garages, work shops or automobiles. Such task lights enable occupants to adjust lighting to accommodate their personal needs, which may vary in line with the nature of their work or their age.