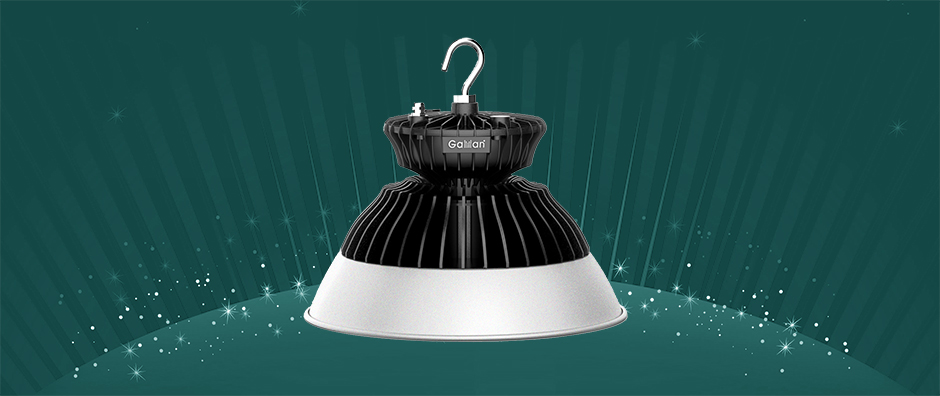 The ThunderLux
LED high bay light
from Gaman Lighting is a performance model with a purposeful design ethos that responds to the needs of industrial, retail and commercial lighting markets. Unlike the majority of currently available products on the market that chase the UFO frenzy, the ThunderLux series upholds high standards across all dimensions of design and utility, without sacrificing the lasting quality for styling and fashion.
The ThunderLux Series
LED high bay lights
are offered in 120, 160, and 180 watt models with 60°, 90°, and 120° beam options. This product family is designed for applications with 7-15 m (23-50 ft) ceiling heights (e.g., warehouses, manufacturing and processing facilities, large retail stores, cold storage facilities, sports arenas, and distribution centers). These thoughtfully designed and meticulously engineered LED luminaires are built to last and surpass expectations with their superior optical performance as well as dependability and reliability that make the product indispensable for mission-critical applications.
Construction
ThunderLux is a contemporary interpretation of modern LED industrial lighting with a distinctive design language. The rugged construction in a streamlined look strikes a perfect balance between state-of-the-art technology and functional design. From the die cast driver housing and cold forged heat sink to spun aluminum reflector, the coherent, all-aluminum construction throughout gives the luminaire lifelong durability, superior thermal control and exceptional corrosion resistance while offering an impressive industrial appeal. The luminaire can survive high, repeated vibration and mechanical impacts. The driver housing and optical system are IP65 rated to make the luminaire fully protected from dust ingress and water jets.
Thermal Management
The element of thermal management is one of the priority considerations in the design of this product family. The ThunderLux series provides excellent overall thermal management that ensures the temperature of all optical and electrical components is maintained within functional and absolute maximum limits. One-piece aluminum heat sink is cold forged to provide an outstanding thermal conductivity of 227 W/mK, which outperforms die cast aluminum LED high bays by a ratio of 2.36:1. The integral, high aspect ratio fins with computer optimized geometry maximize the total ambient contact surface area for excellent heat dissipation performance. Efficient heat sinking and superior MCPCB thermal conductivity combine to provide the thermal durability that allows the LEDs to be driven at higher power levels without compromising the shelf-life of system and optical performance of LEDs. The LED driver is encased in an independent die cast aluminum housing for optimal thermal management while protecting the driving circuit from thermal impact of LEDs.
Light Engine
The ThunderLux Series offers a unique modular family of
high bay LED lighting products
. Its light engine consists of six LED modules which are replaceable and upgradeable. Modular design adds to the system reliability. The luminaire continues to work even one of the modules fails. The modular configuration also eliminates the need for the whole luminaire or light assembly to be replaced during a system modification or upgrade. The ThunderLux LED modules use Nichia 3030 LEDs which have a chip-level efficacy of minimum 155 lm/W. With superior optical design and high efficiency LED driving technology ThunderLux achieves an industry-leading system efficacy of 145 lm/W.
Optics
ThunderLux makes use of UV stabilized, high transmissivity polycarbonate lenses to maximize light extraction and minimizes LED pixilation. Precision molded TIR optics produce a precise beam pattern with excellent light homogeneity. The ThunderLux high bay luminaires come standard with aluminum reflectors for a more targeted light distribution and improved glare control. Optional prismatic refractors provide a balanced combination of horizontal and vertical distribution to increase fixture spacing, along with enhanced aesthetics that make ThunderLux easily blend in with any architectural setting.
Electrical
The ThunderLux high bay LED luminaires are equipped with Mean Well
LED power supplies
which bring renowned reliability and performance to the highly engineered lighting system. These constant current LED drivers produce consistent outputs matched to the electrical characteristics of the array of LEDs. A comprehensive set of protection features, including overvoltage, overload, overcurrent and overtemperature protection, ensures the luminaire's upstream failsafe reliability over wide variations in line voltage.
Lighting Control
ThunderLux offers multiple dimming options including resistive, 1-10 VDC and pulse width modulation (PWM) dimming. Optional integration with microwave occupancy sensors allows the luminaire to be configured to provide automated, multilevel dimming control.
Finish
The aluminum housings are electrostatically applied with 2 to 4 mil coat of durable polyester powder paint through a multi-stage cleaning, pretreatment and chemical conversion coating process.
Mounting
ThunderLux adapts to a variety of installations including chain or aircraft cable hook mount, pendant mount with 3/4" NPT conduit entry, surface mount with rotatable brackets.