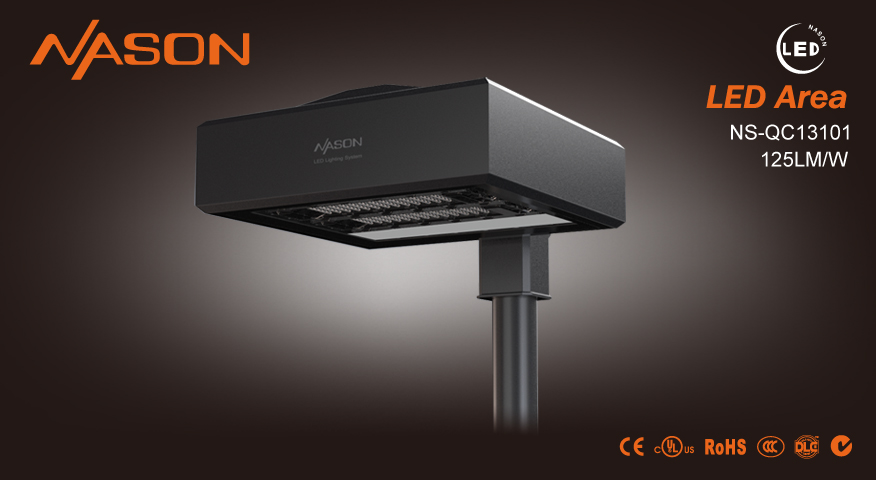 Nason QC13101 Series LED area lights offer an excellent alternative to legacy high pressure sodium or metal halide fixtures typically found in tennis courts, parking lots, car dealerships, exhibition areas, service stations, truck stops, and other open area applications. QC13100 Series comes in a variety of wattage options and lumen packages that range from 100W/12,500 lumens to 300W/37,500 lumens. The shoebox style LED luminaire incorporates scalable light modules into a rugged housing with a familiar and traditional look to deliver enhanced performance and substantial energy savings.
The QC13100 Series LED luminaires are developed with Nason's comprehensive engineering philosophy, integrating best-in-class LED sources, driver technologies, optical design and thermal management. High-quality components as well as sophisticated system design makes Nason QC13100 Series a future-proof investment. The modular subsystems incorporate LG Innotek LEMWS36X LEDs that are mounted on thermally efficient metal-core printed circuit boards (MCPCBs) to provide high luminance through purposefully engineered secondary optics. The advanced optical design delivers repeatable photometric performance while meeting Dark Sky criteria. Precision-molded PC lenses provide optimal luminaire spacing, minimized glare and improved uniformity.
QC13100 LED luminaires are designed with extreme reliability in mind to ensure manay years of maintenance-free operation. A high-class Meanwell HLG LED driver with advanced protection features ensures the highest system reliability and efficiency under wide temperature and electrical ranges. The heavy duty aluminum housing with integral heat sinks provides excellent thermal dissipation as well as durable protection against shock and vibration. The high ingress protection allows QC13100 luminaires to provide consistence performance in extreme weather. Powder coat finish over the aluminum housing ensures high corrosion resistance and chemical chromatized protection.