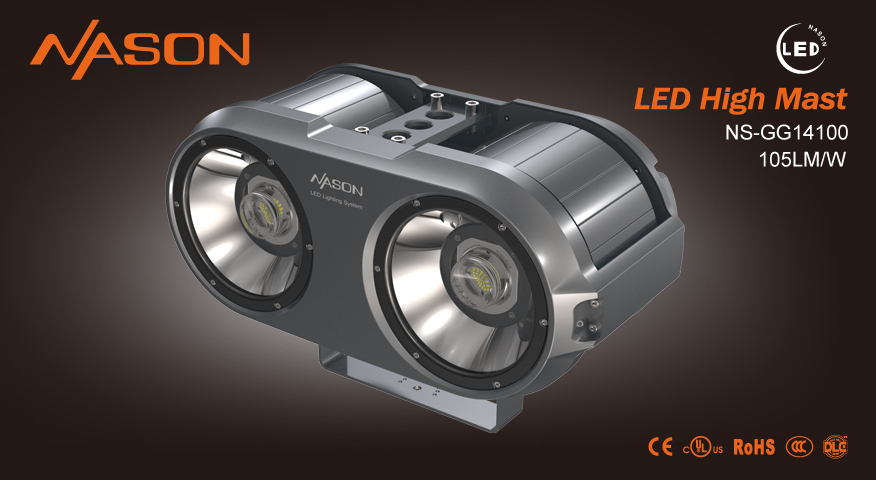 Nason NS-GG14100 incorporates a revolutionary design to deliver superior performance and reliability that meet the most demanding specification criteria while offering maximum energy savings and a long rated operation life that virtually eliminates ongoing maintenance expenses. Offered in a choice of lumen packages including 42,000, 52,500, 63,000, 84,000 and 94,500 lm with NEMA 1, NEMA 3 and NEMA 4 type light distributions, this product is the right solution for an extensive portfolio of lighting applications e.g. sports arenas, golf courses, parking lots, container terminals, hangars, and apron fields.
The innovatively engineered high mast luminaire is designed with a proprietary thermal management system to maintain tight control of LED junction temperatures. The round, telescopic style heat sink utilizes a chimney effect to convect the heated air away from semiconductor dies. The heat sink creates its own airflow inside the cylinder as heated air rises. The thermal energy of heated air is subsequently absorbed by aluminum heat sink and dissipated into the ambient air. The redundant thermal design ensures no excessive heat remains in the p-n junction and degrades system performance and reliability.
Nason NS-GG14100 LED high mast lights reap the benefits of the game-changing Cree XLamp XP-L high-density-class discrete LEDs to deliver maximum candelas and efficacy at high current density with superior lumen maintenance and color consistency through to the end. Precision engineered hybrid optics, consisting of polycarbonate lens and aluminum reflectors, provide precise control of light and enable superior uniformity levels for long range concentrated illumination or wide area flood lighting.
NS-GG14100 takes advantage of high performance Mean Well HLG LED drivers with a PF-corrected and low THD input to provide a constant current output at a full load efficiency of 93%. These drivers come standard with robust protection against transient surge, overcurrent, short-circuit, overvoltage and over-temperature to ensure maximum reliability under a wide range of electrical and temperature conditions.
The rugged construction gives this luminaire excellent durability and resistance to vibration and impacts. High ingress protection allows NS-GG14100 to withstand dust, moisture and airborne contaminants. Unfinned, streamlined heat sink design prevents dust and dirt buildup on the critical heat sinking surfaces. A thermoset TGIC polyester powder coating over all expose aluminum surfaces provides superior salt and humidity resistance as well as ultraviolet resistance for color retention.