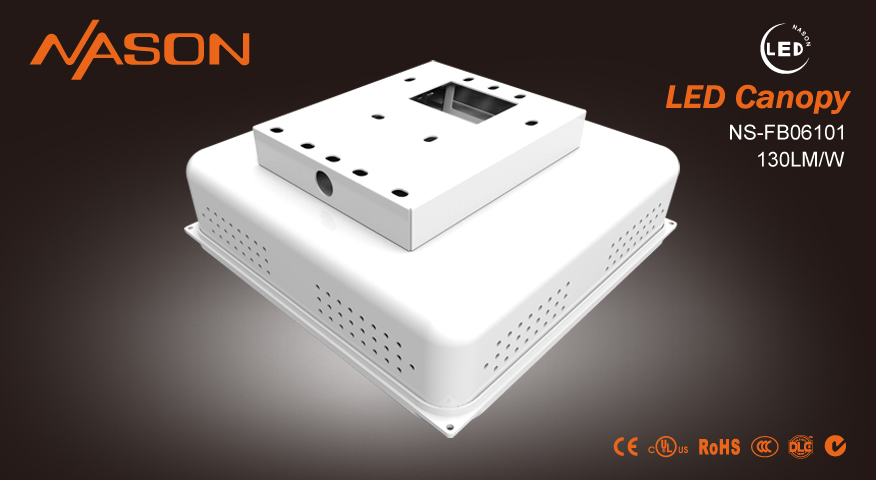 The Nason FB06101 Series LED canopy lights are optimized for performance, functionality and durability while addressing the stringent efficacy and safety standards required for installation in open top or enclosed canopies. With a choice of four lumen packages including 10,400, 13,000, 15,600 and 19,500 lumens, the recessed canopy luminaire can be used in a variety of commercial applications for mounting heights ranging from 10' to 20', including fuel stations, convenience stores, hotel/airport drop-off centers, bank and pharmacy drive thru canopies.
Nason LED canopy lights have been conscientiously engineered to achieve high-class illumination performance under every canopy and soffit. With a rugged construction and heavy-duty cast alumnum housing, the FB06101 can thrive in the most challenging outdoor environments and provide facility operators the lowest total cost of ownership. Patented modular structure offers flexible performance capability depending on the required lumen output. The robust light engines utilize Lumileds LUXEON 3030 2D LEDs to deliver an outstanding combination of high flux density and high efficacy. High performance refractive PC lenses minimize glare while maintaining outstanding uniformity levels. State-of-the-art Meanwell ELG LED drivers provide excellent system efficiency, programmable control and maximized reliability.
The luminaire's die-cast aluminum housing has integral high performance heat sinks to receive and dissipate heat from the LED jucntion to the ambient atmosphere. The luminaire construction form corresponds exactly to the size of conventional canopy light fixtures, making a one-to-one retrofitting of existing recessed systems a hassle-free job. With an IP65 weatherproof protection, Nason FB06101 LED canopy lights are protected from total dust ingress and moisture invasion. The powder-coated variant offers additional pro - tection for use in demanding environments where corrosion is a risk, such as seaside settings. The rugged aluminum housing with UV resistant thermoset polyester powder coat finish offers additional protection for use in extremet environments where corrosion is a concern.