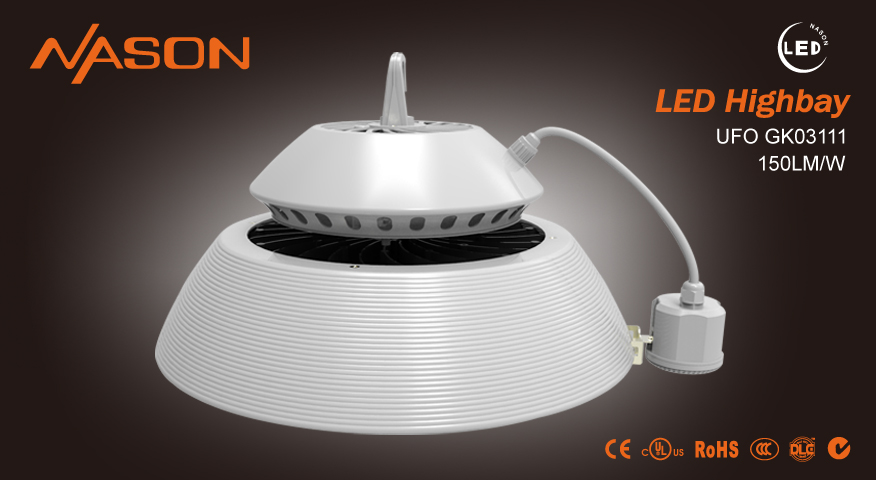 The NS-GK03111 Series
LED high bay lights
from Nason combine industry-leading efficacy, superior optical performance and long-term reliability to create a reliable lighting solution for industrial and commercial applications which requires high quality, energy efficient illumination but minimum maintenance. The NS-GK03111 Series offers a high lumen output ranging from 13,500 to 25,500 lumens to allow one-for-one replacement of metal halide fixtures up to 400W, while consuming significantly less electricity and offering substantially longer operating life.
NS-GK03111 LED high bay features a hybrid optical system that consists of a Fresnel lens and optical reflector. The optimized structure of Fresnel lens enables improved light transmissibility and uniform light distribution. The nano coated aluminum reflector provides enhanced glare control. Optional prismatic acrylic reflectors help eliminate cave effect and reduces harsh shadows on vertical work surfaces. Excellent optical engineering combined with LG Innotek LEMWS36X LEDs enables the luminaire to produce unmatched quality of light with a luminous efficacy of 150 lm/W.
The luminaire includes a die cast aluminum heat sink with a chimney design to promote air convection to disperse heat away from the LED junction. A dust shield ensures no dust settles on the heat sink while adding a sleek look to the luminaire. Durable TGIC thermoset powder coating provides superior resistance to corrosion. The optical assembly and driver compartment are sealed and gasketed for IP65 weatherproof protection.
NS-GK03111 is powered by a constant current Mean Well HLG LED driver which provides excellent load regulation for optimized system efficacy with low THD and a high PF. A built-in surge suppressor allows the driver to survive a 10 kV surge voltage. These driver include 0-10V dimming function that makes it possible for the lighting system to be used with various dimming controllers. Integration with microwave occupancy detection and daylight harvesting sensor allows maximum energy saving without compromising comfort.