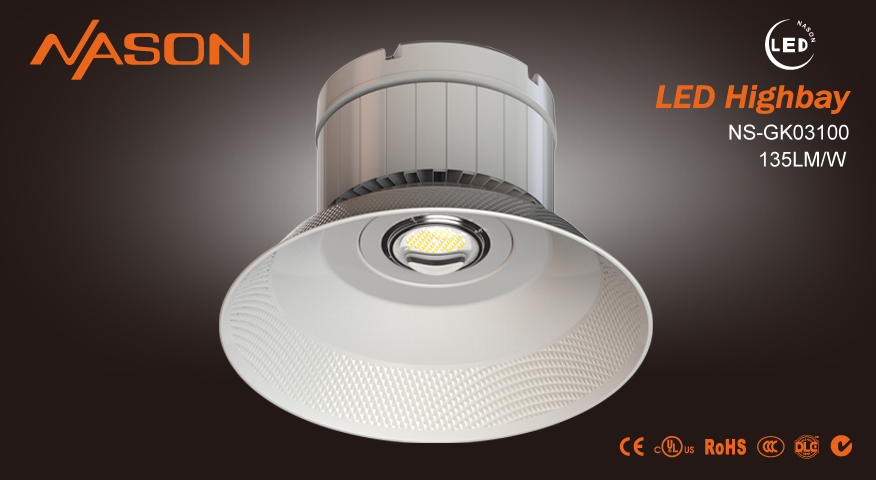 Engineered for premium performance and fail-safe reliability in medium and high ceiling applications, Nason NS-GK03100
LED high bay lights
provide huge operation cost and energy savings for commercial and industrial complexes. Their modern and compact design complements seamlessly with almost all new and existing architecture. The superb combination of high quality lighting and architecturally captivating appearance offers a distinctive lighting solution for lighting-design concisions commercial applications such as retail stores, supermarkets, auto dealerships and exhibition centers.
NS-GK03100 features a patented heat sink design that strikes a perfect balance between thermal conduction and heat convection. The novel heat sink design utilizes a chimney effect to convect the heated air away from the MCPCB. High performance heat sink made of high purity die cast aluminum provides excellent thermal conductivity that allows heat transfer away rapidly from the heat sink to ambient air. The unfinned heat sink combined with the thermally isolated round driver compartment integrally offers a smooth and sleek look.
NS-GK03100 offers uncompromising optical engineering that is unrivalled in its class. An optically domed tempered glass lens with crystalline transparency provides 120° omni-directional viewing characteristics and protects the LEDs from environmental contaminants and physical damage. The hybrid optics include an optical reflector available in aluminum and PC versions. The aluminum reflector utilizes nanocoating technology to improve the reflection power. A circular array of prisms embossed over the reflector surface ensures a uniform light distribution along with the lowest glare factor. The prismatic PC reflector is designed to provide superior visual comfort whilst also controlling glare from every angle of view. The added benefit of attractive aesthetic makes it ideal for refurbishing commercial facilities and retail stores.
NS-GK03100 incorporates best-in-class components to deliver robust lighting performance over an extended operation life. LG Innotek's LEMWS36X LEDs which are selected specifically for their excellent ability to deliver high lumen output at high current densities flux up to 135 LPW of system luminous efficacy. The precisely matched Mean Well HLG LED driver maximizes circuit efficiency over wide input voltage and temperature ranges. Full set of advanced protection features sets the standard for reliability.
The luminaire's dust-repelling design ensures no dust and debris are accumulated on the driver box and heat sink. Its IP65 ingress rating provides inherent protection against moisture penetration in wet locations. A thermoset polyester powder coating provides the aluminum housings and reflectors superior resistance to corrosion and oxidation.