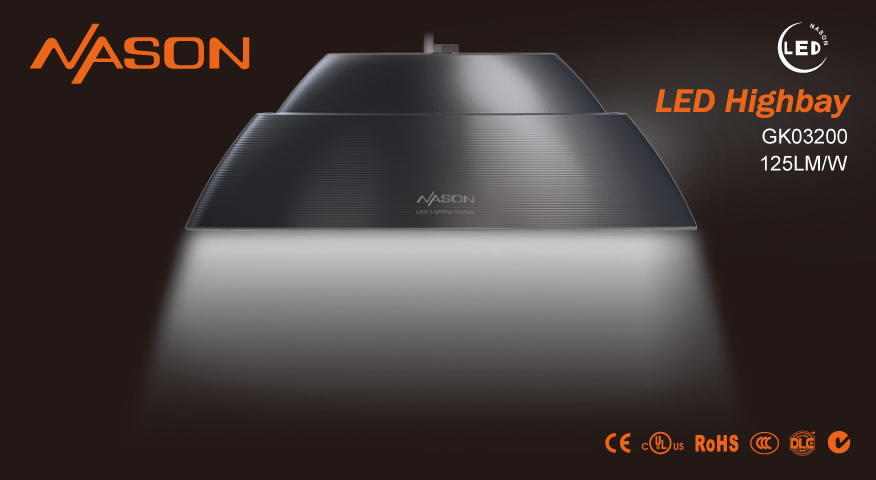 Nason GK03200 LED
high bay luminaires
take advantage of AC HV technology which addresses the critical design consideration of an LED lighting system -- the mission-critical driving circuit that is directly associated with the reliability of the lighting system. SMPS driver circuits typically employ bulky and unreliable reactive components, such as oscillating coils (e.g., inductors or transformers) to convert alternating current into a direct current and electrolytic capacitors for smoothing a direct current voltage outputted from the rectifier so as to reduce ripple which may cause flicker and other visual anomalies. However, such components, electrolytic capacitors in particular, are prone to failure, resulting in malfunction and ultimately reducing the rated lifetime of the LED lighting system.
Nason's AC LED lighting solution eliminates the weakest components in a driver circuit and brings more reliability to the lighting system while providing excellent load regulation with low total harmonic distortion (THD) and achieving a high power factor (PF) and system efficiency without using a traditional PFC correction circuit. The removal of reactive (e.g., inductive and/or capacitive) elements further eradicates the need for EMI suppression measures to filter out electromagnetic radiation noise. GK03200 LED high bay luminaires integrate small, compact circuit components into a board-level architecture, reducing the system form factor as well as total cost of ownership. An added benefit of this technology is the full range dimmability and compatibility with phase-cut (triac) dimmers. A 10kV surge suppressor is also built into the luminaire's driver to maximize system reliability.
The GK03200 Series LED high bay luminaires are available in rated inputs of 80, 100, 120 and 150 watts. The light engine incorporates LG Innotek's LEMWS36X LEDs to offer exceptional performance and color quality. The luminaire delivers a a system level luminous efficacy of 125 lm/W with excellent uniformity guaranteed by a fresnel lens. A die cast aluminum heat sink utilize a chimney effect to facilitate heat dissipation in order to ensure the luminaire operates below the maximum allowable junction temperature. The aluminum reflector is painted with nanometer optical coating to minimize glare. Its sleek design adds architectural aesthetics and shields against dust and debris. The luminaire is IP65 rated for use in wet locations.