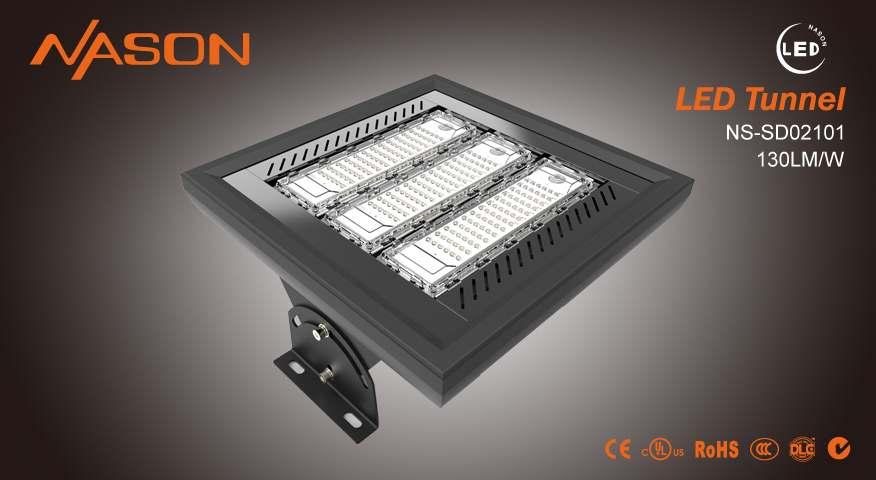 Nason NS-SD02101 Series LED tunnel lights are designed to address the complex nature of lighting a tunnel application. The highly engineered optical, mechanical and electrical ecosystem delivers quality white light, high lumen out and great uniformity to provide excellent visibility for driver safety and visual comfort. Specialized tunnel optics optimized for Probeam application distribute the light as evenly as possible over the road with minimal disturbance of the vision by glare and blinding. The modular LED engines powered by LG Innotek LEMWS36X LEDs deliver up to 130 lumens-per-watt luminaire efficacy combined with high-reliability performance.
Constant current Mean Well HLG LED drivers
offer unparalleled reliability and efficiency while completely eliminating flicker.
Integrated thermal management achieved by minimizing the effective thermal resistance for every component and accelerating heat dissipation via a thermally efficient extruded aluminum housing. The smooth aluminum surfaces are coated with a thermoset super TGIC polyester powder finish for superior weatherability and fade resistance, along with an added benefits of natural cleaning and removal of dirt and debris. The rugged construction offers complete compliance to ANSI C136.31-2001, 3G bridge and overpass vibration standards. These IP65 rated luminaires offer robust protection against dust and moisture.