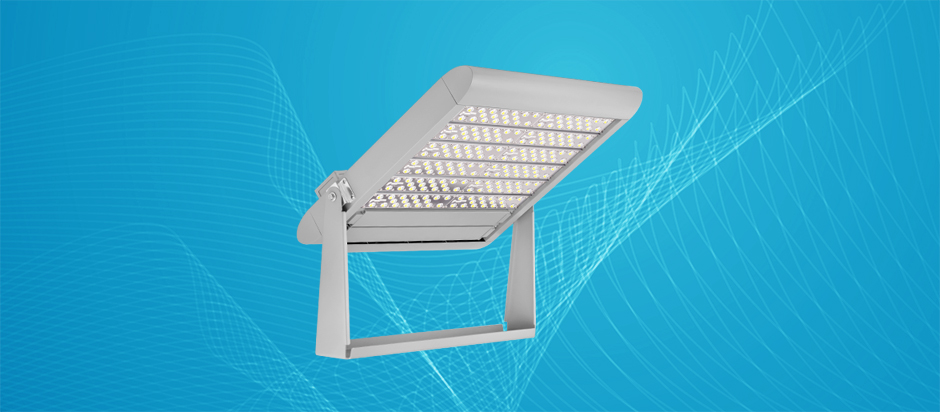 The Arrlux AURORA-U Series LED flood lights are designed to shine far across large target surfaces for wide area
flood lighting
and narrow beam spot lighting in an extensive range of applications such as high mast lighting, parking lot lighting, sports field lighting, as well as industrial and commercial lighting applications. With functional design, rugged construction and superior engineering, the technology behind this range of high power LED luminaries addresses the concerns of commercial, retail and industrial property owners who have been obsessed by challenge of reducing energy use and maintenance cost to sustainability goals.
Utilizing top-of-the-line LEDs and optics along with optimal thermal management, AURORA-U delivers more directional lumens per fixture than metal halide and high pressure sodium systems with high efficacy (up to 135 lm/W). The scalable and modular feature of AURORA-U LED luminaires allows for variable combinations of modules to generate lumen packages ranging from 62,000 lm to 125,000 lm while drawing power ranging from 450 watts to 900 watts at 700mA from a 120-277 VAC (220-240 VAC or 347-480 VAC optional) electrical system. State-of-the-art optical assemblies accommodate over 20 PC lenses for spot, narrow, medium, wide, horizontal and forward throw light distributions. Targeted optics deliver superior uniformity and minimize pixilation concerns to provide excellent illumination to the targeted application.
Designed to perform reliably in high ambient temperatures up to +50°C, a robust thermal management system provides an efficient thermal path from the metal core PCBs to heat sink assemblies of the LED modules. A rugged die cast aluminum housing provides superior external thermal dissipation to facilitate heat transfer from the LED modules. Optimized thermal management results in the enhanced level of lumen maintenance (L90>200,000 hours).
The luminaires are powered by high efficiency constant current LED drivers with active PFC correction and full set protection against over-voltage, over-temperature, short circuit conditions, and lightning. AURORA-U is compatible with the DALI dimming system. Occupancy and daylight sensors can be integrated for daylight harvesting and motion control.