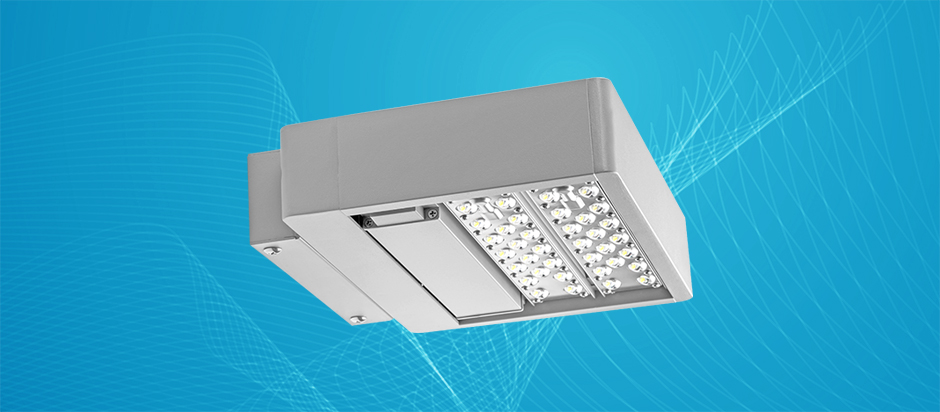 The Arrlux GAMA-W Series
LED wall packs
are designed for outdoor wall-mounted lighting applications where high lumen output, uniform light distribution, reduced energy consumption, and low maintenance are required. The modern design of the luminaire allows it to be seamlessly integrated into today's retail, commercial, industrial exteriors. Patented modular structure in which LED arrays are wired in parallel offers scalable packages with lumen output ranging from 4,030 lm to 20,280 lm. Modular design also offers hassle-free field maintenance and effortless upgrades to future LED generations. Delivering an excellent luminaire efficacy of up to 135 lumens per circuit watt, GAMA-W consumes up to a whopping 75% less electricity over traditional sources. Additional energy savings can be achieved easily by integrating photocontrols via the twistlock 3/5/7-pin NEMA receptacle and motion sensors modularly mounted in the housing.
Rugged die-cast housing provides advanced thermal management that ensure the
high efficacy LEDs
operate up to 200,000 hours (L70). Customized secondary optics made of high transmicity polycarbonate material deliver superior vertical light distribution and outstanding uniformity levels with reduced on-site glare. The UV and abrasion resistant PC lenses are sealed to the circuit boards to create an IP65 rated ingress protection. An integrated electrical compartment thermally isolates the LED drivers from LED modules and provides waterproof integrity, allowing the driver to operate with consistently high efficiency as well as a significantly improved lifetime and reliability. Rugged construction combined with weatherproof design protects the luminaire against dust and water penetration and provides superior resistance to impact, UV and salt spray damage.