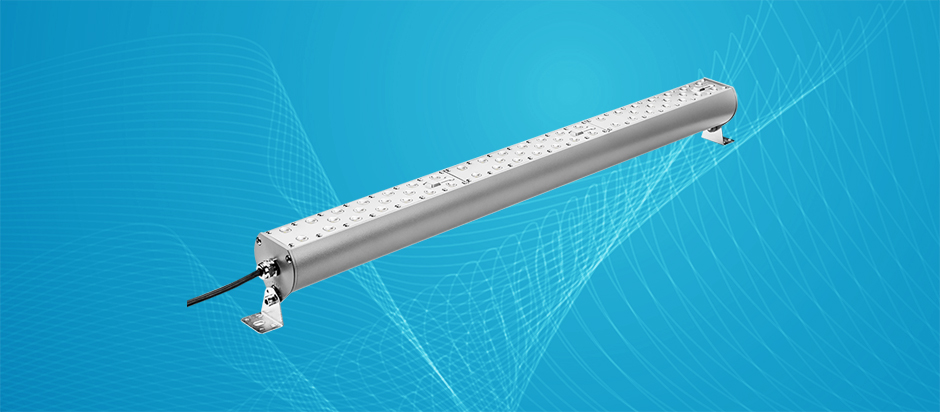 The Arrlux EDGE Series linear LED luminaires are a versatile product family that can be specified in a myriad of applications ranging from interior ceiling lighting for industrial and commercial facilities to outdoor flood lighting, wall washing and landscape accent lighting. The impressive application flexibility is accomplished through sealed high brightness LED light modules with Arrlux' proprietary TIR optics that offer 14 light distributions. This highly engineered LED lighting system with high degree of ingress protection is ideally suited to applications where high efficiency, premium performance and excellent dust/water resistance are required.
The linear luminaire consists of an extruded aluminum housing which provides high rigidity and excellent heat sinking performance to conduct heat away from the LED junction and key electrical components. The high strength aluminum housing are available in different lengths and accommodates up to 5 LED modules. The modular design allows plug-n-play light engine integration for a number of configurations and ensures long term serviceability. The EDGE Series is available in 61W, 87W, 110W and 141W models, which producing 8,000, 11,700, 14,800 and 19,000 lumens, correspondingly. High flux density CREE XLamp XPG3/LUXEON 3030 LEDs deliver high quality illumination in a wide range of CCT and CRI options. Precision-molded polycarbonate lenses generate uniform Type II, Type III, Type IV, or Type V light distributions.
These linear fixtures can be optionally equipped with occupancy sensors to interacts with the 1-10 VDC dimmable or DALI compatible LED drivers and provide multi-level controls based on motion. High levels of line transient protection (10kA/20kA) enables the constant current LED driver to perform reliably in outdoor environments. Emergency power supplies can be integrated for emergency operation in the event of a power outage.