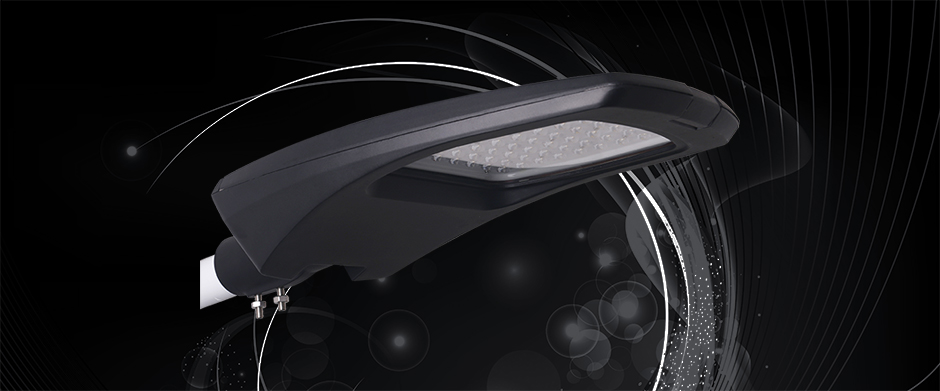 The BBE SEKALO Series LED street lights were built with the design motivation of a minimal total cost of ownership and the reliability to maintain photometric performance over a minimal operation life of 50,000 hours. Beyond tremendous energy and maintenance savings by carrying a system luminous efficacy of 110 lumens per circuit watt, SEKALO demonstrates the value of investing in LED through a unique approach to design, technology and engineering. This product family provides the ultimate solution to transform the way cities, municipalities and utility customers illuminate their high ways, expressways, local streets, urban roads, bike paths and car parks.
The SEKALO incorporates all the critical design elements needed to deliver cost effective, premium quality, durable luminaires customized to suit any project. A die cast housing embraces an ingenious aerodynamic design with precisely cast channels to facilitate natural air flow over the housing. Improved laminar flow velocity allows for natural cleaning and removal of dirt and debris to maintain the integrity of the luminaire's thermal path. The robust housing is fabricated to meet high levels of ingress protection and corrosion resistance with one-piece silicone gasket sealing and super durable polyester TGIC powder coating. Rugged construction and weatherproof protection offer SEKALO distinguished architectural and environmental reliability.
BBE's SEKALO LED street lights use CREE XLamp LEDs to deliver a unique combination of high light output, high efficacy and high reliability at high current density. Thermally optimized LED packages are mounted onto a metal-core printed circuit board with superior solder joint performance to facilitate thermal conduction and eliminate open circuit failures. A high efficiency polycarbonate lens is molded over the LEDs with consistent optical alignment to extract and direct the light into a preferable angle for maximized lumen delivery and uniform beam patterns. Optimized optics provide the widest possible pole spacing while increasing visual comfort within the field of view.
SEKALO operates between 35 and 180 watts of electrical power and produces up to 18,800 lumens, respectively. A Philips Xitanium driver, with high efficiency up to 91%, and high power factor up to 0.95, provides high performance current regulation across wide range of loads and electrical conditions. The driver is equipped with dimming capability ranging from analog voltage-based 1-10V dimming and pulse-width modulation (PWM) dimming to digital addressable lighting interface (DALI) dimming.