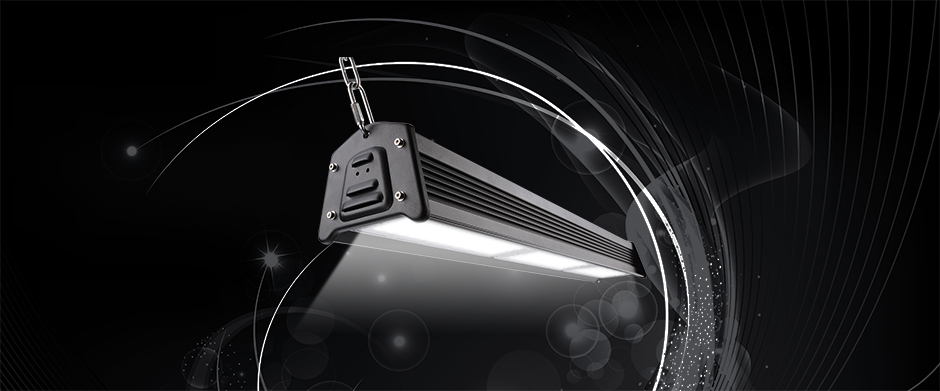 The BBE NOVIGO Series
linear high bay fixtures
were created to address the challenging performance, efficacy and maintenance requirements of modern warehouses, distribution centers, order fulfillment centers, production facilities, hangers and gymnasiums. The modular feature of the NOVIGO range delivers a scalable lighting solution that facilitates greater product flexibility and application efficiency. With excellence in quality and reliability being the design motivation, NOVIGO LED luminaires are engineered to provide a unique combination of sustainability and affordability that enhances productivity and maximizes return on investment.
NOVIGO LED luminaires accommodate up to 6 LED bars in their modular housings in the corresponding fixture lengths of 1-6 feets. This product family operates at 50, 100, 150, 200, 250 and 300 watts of electrical power, producing up to 30,000 lumens with a luminaire efficacy of 120 LPW. Heavy-duty, extruded 6063 aluminum housing protects the LED components from vibration and mechanical impacts. The thermally efficient housing serves as a robust heat sink to extract the heat by conduction to the ambient atmosphere, ensuring the fixture to perform in ambient temperatures from -40°C to 55°C (-40°F to 131°F) with a long rated life of 50,000 hours (L70). The aluminum surfaces are electrostatically applied with a black TGIC polyester powder coat finish for maximum corrosion resistance and a high scribe creepage rating.
NOVIGO incorporates LUXEON 3030 2D LEDs that utilize EMC QFN packages for exceptional lumen output and maintenance. These high flux density light sources deliver uniformly distributed light without pixilation through precision engineered secondary optics. These high efficiency optics are available in a choice of 4 optical distributions including 90°, 65x100°, 40x100°, and 70x135°. They are sealed to the LED assembly with a continuous gasket and secured with stainless steel screws for IP66 level watertight integrity. The LED fixture is operated by high efficiency Philips Advance Xitanium LED drivers that provide both central and standalone dimming protocols. These linear high bay fixtures are available with optional integration with occupancy sensors or photosensors that provide multi-level controls based on motion or light levels.